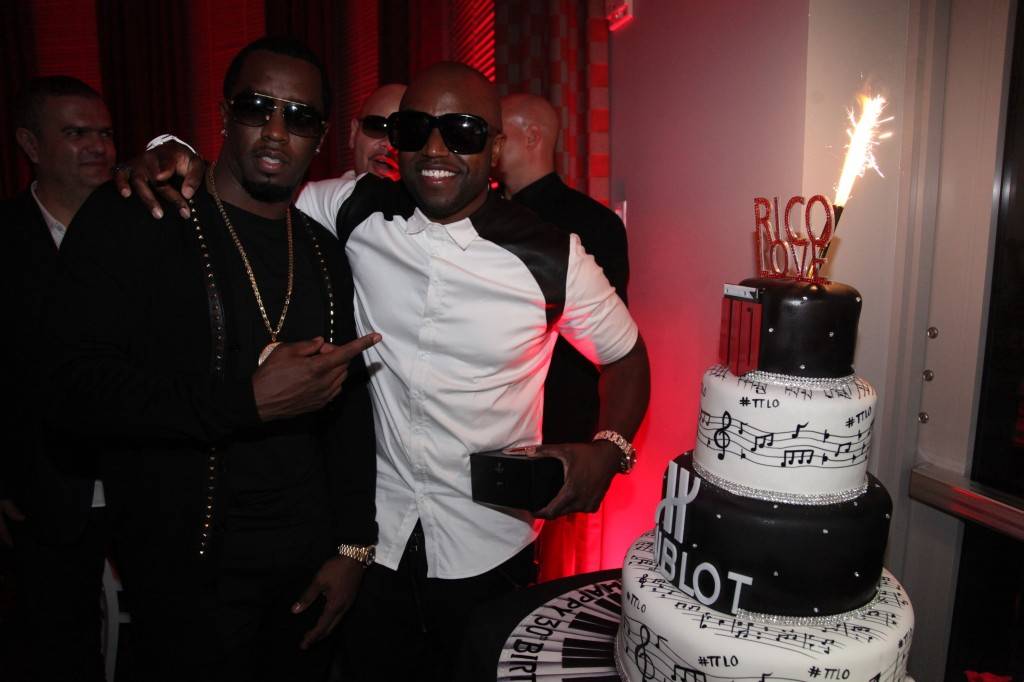 Images: courtesy Johnny Nunez
It was a star-studded event on December 10 as music mogul P. Diddy and his celebrity friends toasted to producer Rico Love's 30th birthday at SLS Hotel in South Beach.
Put together by Roberto Cavalli and Saks Fifth Avenue, Bal Harbour, the exclusive invitation-only event was held during Art Basel Miami Beach at newly opened SLS Hotel in South Beach. A long list of A-list celebrities came together including Rico's closest friends and family, according to a press release. The party began with a welcome cocktail reception and guests enjoyed an assortment of Grey Goose Cherry Noir beverages by the pool as celebrity guests arrived to an "unmistakable rapid-fire array of flashing cameras". Colorful cocktails included Grey Good Cherry Noir Trey Noir, Grey Goose Cherry Noir Triple Platinum and Grey Good Le Fizz.
Celebrity guests included Eva Cavalli, Kelly Rowland, Fat Joe, Pharrell, Russell Simmons, Andre Harrell, Janice Combs, Angie Beyince, Kenny Burns, Manning Summer, DJ Cassidy and Adriana de Moura, among others. DJ Affect provided musical entertainment throughout the evening.
There was also an exclusive 45-minute poolside Cavalli fashion show, orchestrated by Eva Cavalli, featuring the Roberto Cavalli Spring/Summer 2013 collection with both men and women's lines. According to the press release, Rico and Saks Fifth Avenue, Bal Harbour have partnered up this year to "give back to the community by donating 10% of the proceeds of sales from the Cavalli fashion show and pop-up store, as well as in-store sales, to Usher's New Look Foundation".
Following the fashion show, guests went inside to SLS's Asian-inspired restaurant, Katsuya, for a private dinner. The meal included edamame, crispy rice with spicy tuna, creamy rock shrimp tempura, baked crab cut rolls, vegetable marinated black cod, stir fry vegetables and steamed white rice. A five-layer birthday cake was also presented to Rico that included notes and bars of music on each tier, Rico's name on the top and a Hublot logo written in white icing on the middle layer.
P. Diddy toasted to his friend Rico and said, "I knew Rico while he was growing up in Harlem. I was blown away by his music then, and I still continue to listen to it now. Please raise your glasses to our friend, Rico Love."
Rick Delacroix, owner of Hublot Americas, then made a speech and presented Rico with a limited edition Hublot Miami edition, named the "Hublot 305", one of just 10 made.
Rico said, "I am lucky, honored and privileged to have such a warm and heartfelt group of family and friends around me on such a special day. I'd like to thank Eva and Roberto Cavalli and our sponsors Saks Fifth Avenue, Bal Harbour, Hublot and Grey Goose, for making this momentous birthday occasion the most memorable ever.
Like Haute Living Miami? Join our Facebook page or follow us on Twitter @HauteLivingFL. Want Haute Living Miami delivered to your inbox once a week? Sign up for our newsletter.