Photo Credit: Zoey Grossman
Photography: Zoey Grossman
Styling: Karen Clarkson
Makeup: Kali Kennedy
Hair: Rob Talty 
Christina Aguilera wants you to take it off—take it all off—at her Las Vegas show, The Xperience. But she doesn't mean your clothes. At each and every one of her 16 Sin City performances, the six-time Grammy winner urges fans to take off their so-called masks. What she's encouraging, simply, is freedom.
"We are in Las Vegas," the 38-year-old singer explains, "the city where anything goes. This is where people go to get an escape from their everyday lives. It's very important to me that, for this night, they get to be who they really are."
Aguilera has been figuring out her own identity since she was discovered on Star Search in 1992 and first rose to fame at age 13 on The Mickey Mouse Club. Now, 25 years later, with more than $43 million in album sales, three top-five albums, four number-one singles on the Billboard Hot 100 chart, and those golden Grammys to her name, she's done pretending—and she wants her fans to find similar self-acceptance.
"I've never been one in my career to shy away from any kind of controversy based on my opinions, what feels true to me or what's in my heart, and I bring that to my show," she maintains. "We're always giving to our jobs, our families, our friends, our children, but [my show] is a safe space to feel that you're welcome and [able] to take a mask off or put one on to allow your true reflection of self to come out."
'What happens in Vegas stays in Vegas' is a saying for a reason—and the perfect forum for Aguilera and her "fighters" to let it all hang out. Given that her fourth album was entitled Stripped, a residency on The Strip also seemed inevitable.
Photo Credit: Luke Gilford
It's certainly something she's been thinking about for the last few years, especially during her tenure at The Voice between 2011 and 2016. "Las Vegas has grown into such an amazing hot spot and features talent from so many different genres. It's so fun and exciting there on so many levels."
She continues, "Given that it is closer to home [in L.A.], it is easier with my kids to not have to travel so far. And it's nice to be able to build a show around one place instead of having to pare it down all the time when you travel. All in all, it's just been […] such a great experience being there and making it a second home."
 As of May 31, her home away from home is specifically Planet Hollywood's Zappos Theater. For the first number of dates, her fans were treated to an incredible, immersive 90-minute show on an X-shaped stage (to connotate her 2018 album, Liberation) that engaged the senses: six acts with their own scents, colors, textures, and costumes courtesy of Hollywood stylist Karen Clarkson.
"I wanted people to not just see a concert, listening to music, but really feel immersed in the world itself—whether it's tasting, smelling, touching or feeling. We used a lot of different scents and fragrances to bring to life different video aspects, like fire and earth elements, that make you feel like you're engulfed in the atmosphere," she notes. 
There are dancers dressed like priests and female empowerment slogans for girl power anthems such as "Dirrty" and "Lady Marmalade"—not to mention performances of her greatest hits, from "What A Girl Wants" to "Genie in a Bottle", and an exclusive of the Max Martin-penned hit "Your Body." She also throws in an homage to fellow diva greats, Cher, Whitney Houston and Donna Summer. And, to top it all off, Aguilera shares enough insights into her personal life to keep even the most knowledgeable fan happy.
Those who catch her second set of residency dates, however, which kicks off on September 20, should expect some subtle differences—and even more over-the-top action for her surprise New Year's Eve show. "Agreeing to more dates and doing New Year's there is going to be really fun," she enthuses. But we hope she actually finds the time to have her personal fun, too.
When she initially landed the gig, she planned on doing a girls' trip to catch acts from her peers like Britney Spears, Gwen Stefani and Lady Gaga. But, alas, life got in the way. "I didn't actually get to go! I've had dinners, but it's all wishful thinking until you get into it, and then it's all work mode."
"I've gotten to experience a few fun things," she muses, "like taking all the dancers out and being able to celebrate them and our hard work on our last night. There are so many fun things to do and I still have a mini wish-list, but [it might have to wait until] next time that I'm there." 
Photo Credit: Zoey Grossman
In the meantime, Aguilera is focused on tweaking the show. "Creatively, I get bored easily, so I have to keep evolving and changing. [Also], I have fans who come to multiple shows, and I want to keep them on their toes and constantly entertained. Whether it's changes to the set list or creative and video, there's always ways to make things different. Basically, everything takes notes and nods from things that have inspired me." 
This includes where she got her start. Although Disney isn't a likely part of a show in which she wears gold chaps, she's adamant that these roots are part of who she is—the whole is greater than the sum of its parts, like it or leave it. For example, the curved screen you see on stage was inspired by the Soarin' Over California ride at California Adventure. And during the show (as of May 31), she performs her debut 1998 hit, "Reflection" from Disney's Mulan soundtrack for the first time since 2000.
"Interestingly enough, I haven't sang 'Reflection' in a set list since I was coming out on the scene when I was promoting 'Genie in a Bottle.' Getting that break in my life was the same week that I landed my record deal," she recalls. "It all went hand in hand. There's an interesting line, ['Every day it's as if I play a part, now I see if I wear a mask, I can fool the world but I cannot fool my heart…'] that was completely part of the creative of tying everything together and going full throttle, from the start of my career until now."
Talk about full circle: not only is she about to accept the Disney Legends award [some fellow 2019 recipients include Robert Downey Jr., James Earl Jones, Bette Midler, Diane Sawyer and Hans Zimmer], when she'll sing 'Reflection' again, but she may also create tunes for the soundtrack of a live action adaptation of Mulan, due to hit theaters next year. "It's in discussion," she confirms. "I don't know much about the project, but things are going back and forth, and I'm discussing being part of it."
Incidentally, Mulan will celebrate its 20th anniversary this year, which coincides with the 20th anniversary of Aguilera's self-titled first album. Both denote massive milestones for the singer.
"[When I look back], especially when I see pictures, it's a different world," she observes. "It was a very specific time. Would I want to go back to that time? No, absolutely not. I appreciate what comes with the journey of discovering yourself and growing and evolving and the changes that take place. God, when I look at some of the pictures, it's so cute. It's Baby Christina!"
She continues, "I remember the space I was in, too—everything being so green, and [having] all my insecurities. It's a weird juxtaposition when you're younger: caring too much or not caring and, at the same time, there's a fearlessness about it. It's very sweet to look back at that time and remember how things felt, to see my journey until now. I'm very proud of it, but it was a very funny time. It's been quite the ride."
To commemorate her arrival on the music scene, she released a special anniversary edition of her debut album on August 23—including rare versions, remixes and a cappella tracks that were previously unreleased digitally. The original was put out by RCA Records on August 24, 1999 and earned her the 2000 Grammy for Best New Artist. It has since been certified 8x Platinum by the Recording Industry Association of America and sold more than 14 million copies worldwide.
Photo Credit: Zoey Grossman
Looking back on that time, 20 years ago, Aguilera can't help but marvel at how much her life (and she, personally) has changed. "Life in general is one obstacle after another, and I'm most proud of how I've been able to grow with each stage of my life and push myself to grow. I know that when I had to play the game as far as what the label wanted me to be and do, it was a very pop explosion time. It didn't feel right to me. I definitely had things I wanted to say—lyrics, specifically—that I wanted to mean something, to say something."
What she feels created her fan base, and defined her as an artist, was 2002's Stripped. "[With that album, I made] the decision to say, 'Well, now I'm taking matters into my own hands and if I sell one or one million copies of a record, I have to be true to myself.'"
"That's where my real fan base began," she says, "connecting with me on a deeper level with songs like 'Beautiful,' 'Fighter,' 'The Voice Within' or even 'Dirrty'—that was so self-expressive of being able to let go and be free and not under anyone's thumb. It was definitely a coming-of-age moment. All the changes [I made] after that have been about staying true to myself and not being afraid of change. I think that's an eternal lesson we have all gone through."
Of course, there have been other massive changes in her life—namely, her two children: 11-year-old Max, her son with ex-husband Jordan Bratman, and 5-year-old Summer Rain, her daughter with fiancé Matthew Rutler.
"[My children have changed my life] in many ways; it just shifts your focus so much when you have a child. In business, in general, and as an artist, you're in a sea of extreme narcissism. It is your focus. You are your work, your focus and goals. Being a very ambitious girl at a very young age and having worked my whole life, [having my kids] was a time where it wasn't about [me] anymore."
Actually, Aguilera confides, "I couldn't wait for that, to be honest. I was a very young mom. I'm a huge kid at heart, and they give me the opportunity to play and be able to instill and encourage their imaginations. You're part of these amazing little people's lives, and it teaches you patience and teaches you things about yourself that you don't like, that you want to work on. It's a constant journey of learning. They teach me so much and they challenge me all the time to be better."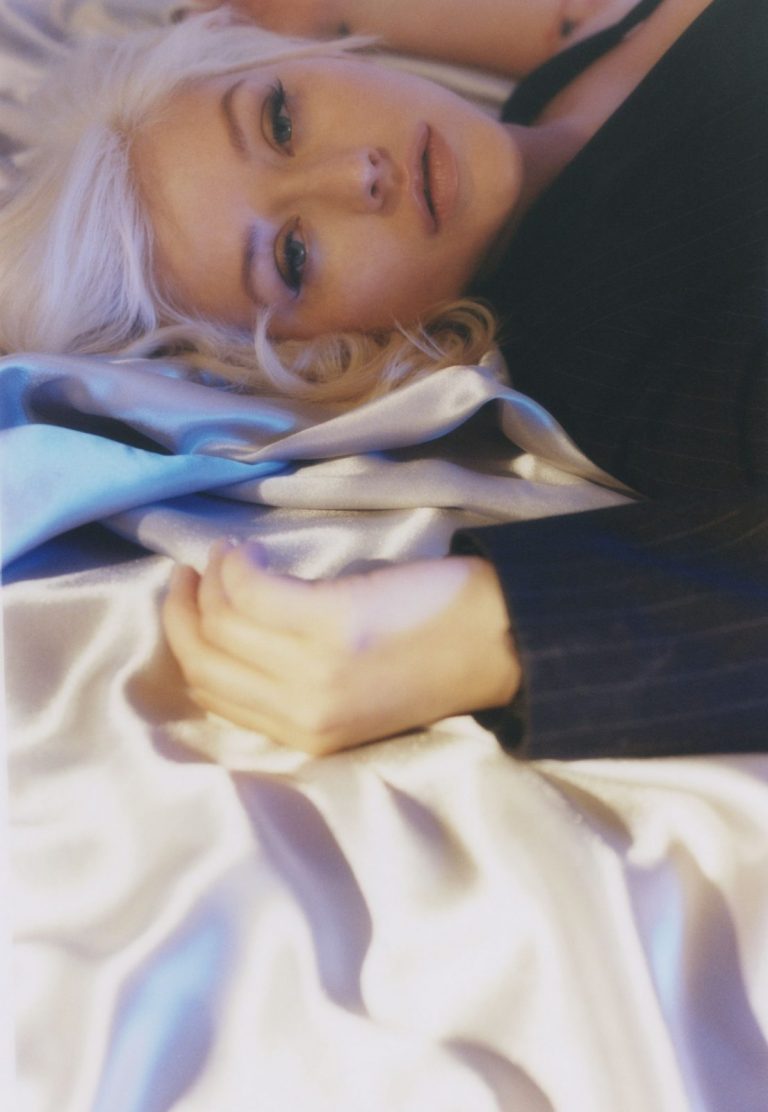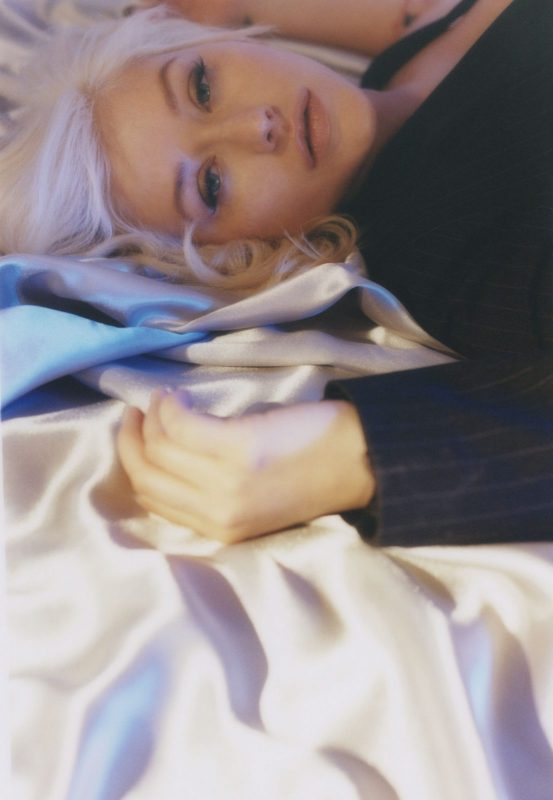 Photo Credit: Lea Colombo
And it was her kids, at the end of the day, who influenced her decision to make the Las Vegas show a reality. "I think of my kids first, always," she declares. "I made the decision for quite some time not to tour for a while because I thought it was the best thing to make a more stable, routine life for my children. Even when I took the spot on [The Voice], it wasn't really something I wanted to pursue; I just decided, 'It keeps me in L.A. and in a place where I can focus on my kids.'" 
But Aguilera couldn't ignore that something was missing. She needed to perform, to make new music, to "get back to what I was put on this earth to do—to connect with people and to inspire." Which is why, for the moment at least, her focus is on work, rather than expanding her family.
"You know, it's funny—even the children I have had, I haven't necessarily planned! I'm very spontaneous when it comes to that," she says with a laugh. "What the universe thinks will be, will be. Who knows what's in the future? But, as of now, [I'm not planning on having more kids]."
Instead, she's concentrating on her career. "At a certain point, Mama had to get back to work. I was suffering inside because I wasn't touring. I wasn't doing what I love to do, so we fixed that." She did so by releasing her eighth studio album, Liberation, last year (featuring collaborations with Demi Lovato, Ty Dolla $ign and 2Chainz, among others) and embarking on two consecutive tours: the Liberation Tour and her 2019 X Tour, which will take the singer across Europe through November. 
"Everything I've pretty much decided to do has been influenced by [my kids], but at the same time, I need to make sure that I don't lose myself and that I always stay grounded in what's important for me. Because that's part of the example I want to impose on them: to follow your heart and not lose yourself when life changes."
Now that is what we call a reflection.
Subscribe to discover the best kept secrets in your city