No one does fashion better than Lady Gaga. She has always been a trendsetter whether it's on red carpets, performing on stage or in music videos. For the first time ever, Haus of Gaga—the creative team behind the pop star's signature ensembles—has opened the singer's private collection for a new exhibition at Park MGM in Las Vegas, curated by fashion director Nicola Formichetti.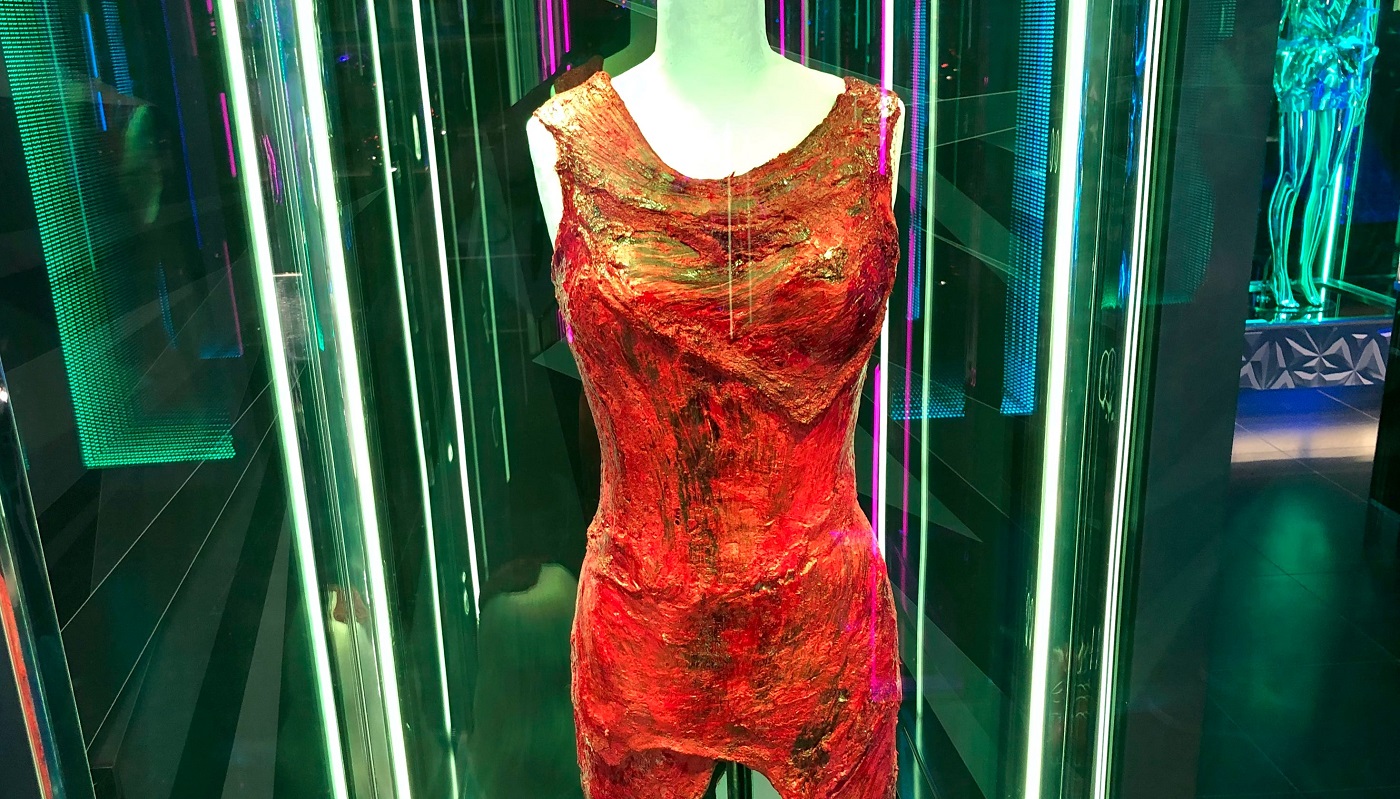 Photo Credit: Cycy Sanders
Gaga stunned the entire world at the 2010 MTV Video Music Awards when she donned a dress made of flank steak, designed by Franc Fernandez. She even had a hat, boots, and purse to match. Her style set a new trend and had people talking as it was named by Time as the top fashion statement of 2010. "It's been dried and we've preserved it all this time, but it has another life now in this experience, all of these clothes do," Formichetti told Vogue.
Photo Credit: Cycy Sanders
Not only does Gaga make a statement on the red carpet but also in her music videos which visually bring her songs to life. In the 2010 captivating music video for "Telephone," Gaga is seen wearing everything from crime scene tape to a leopard print onesie but nothing was more noticeable than the pair of customized sunglasses made out of burning cigarettes.
Photo Credit: Cycy Sanders
Gaga channeled her inner galactic self at the 2010 Grammy Awards as she was dressed in a Giorgio Armani Privé solar-system-inspired gown, among other costume changes. All of her pieces for the red carpet and her live performance were designed exclusively for her. It was so unique and different that Teen Vogue rated her among one of the best-dressed celebrities at the award ceremony that year.
Photo Credit: Cycy Sanders
If you're going to do the Super Bowl, you have to come ready to slay. Not only did Gaga crush her performance during the Super Bowl LI Halftime show in 2017 but she also crushed her style while doing it. One of her memorable looks during the performance was a sparkly, Swarovski-encrusted Atelier Versace bodysuit with matching boots. You can say she shined in more ways than one.
Photo Credit: Cycy Sanders
These are just some looks to check out as the exhibition features more than 50 items from her collection. Select pieces will be up for auction with proceeds going to Gaga's nonprofit Born This Way Foundation. The exhibition is free and open to the public noon to 8 p.m. daily and until midnight when Gaga performs at Park Theater.