Photo Credit: Isaiah Jay
Cocktail lovers in search of a fairytale ending are going to have a fantasy field day with the new Brothers Grimm-themed cocktail menu at Michelin starred Chicago restaurant, Claudia.. 
Photo Credit: Claudia Restaurant
Dining at Chef Trevor Teich's eatery is a fairytale experience in itself: whimsical, dynamic and colorful with a touch of nostalgia at every turn. As the signature 10 course menu at Claudia is designed to tell a story (with each dish crafted as a new "chapter"), it makes perfect sense that the winter cocktail menu at the newly-minted Michelin-starred restaurant would draw inspiration from some of the world's most prolific storytellers: the Brothers Grimm.
Photo Credit: Isaiah Jay
The work of Brothers Grimm, the German duo of authors, academics, and cultural researchers who collected and published folklore, is the inspiration behind Claudia's new collection of cocktails. The brothers are widely known for popularizing now iconic stories like Cinderella, Hansel & Gretel, Snow White, Little Red Riding Hood, Rapunzel, and Sleeping Beauty and are considered pivotal figures in the development of modern folklore study. Claudia's Brothers Grimm cocktail menu was created by bartender Terence Shapcott; stories of each libation are told through illustrations by Chicago artist Tom Keating.
Photo Credit: Isaiah Jay
Highlights of the whimsical menu include:
SNOW-WHITE AND ROSE-RED
Mashiro Shuzo Okinawa Gin | Ceylon Tip White Tea | Roasted Chestnut Orgeat | Lemon | Egg White | Smoked Trout Roe | Boozy 'Roe'
ASHPUTTEL (CINDERELLA)
San Zanj Clarin | Avuá Bálsamo Cachaça | La Venenosa Costa De Jalisco Raicilla | Hazelnut Orgeat | Mint + Pear + Lime Soda
RAPUNZEL
Cherry Bomb Radish 8000 Generations Shochu | Viola Flower Bordiga Maraschino | Green Chartreuse | Sudachi
THE JUNIPER TREE
Hayman's Royal Dock Navy Strength Gin | G.E. Massenez Pomme Prisonniére Calvados | Vieux Pontarlier Absinthe | Hot Lemon Water | Cinnamon
DOG AND SPARROW
Charred Corn Husk Abasolo Whisky | Nixtamalizated Corn Washed Hacienda De Bañuelos Tequilana | Corn Milk Agave Syrup | Corn Silk Bitters | Fermented Corn
THE QUEEN BEE
Duck Fat Washed Marie Daffau Armagnac | Root Beer Leaf | Fey Anmé Forest Liqueur | Amaro Sfumato Rabarbaro | Black Ants | Shiso Bitters | Honey Comb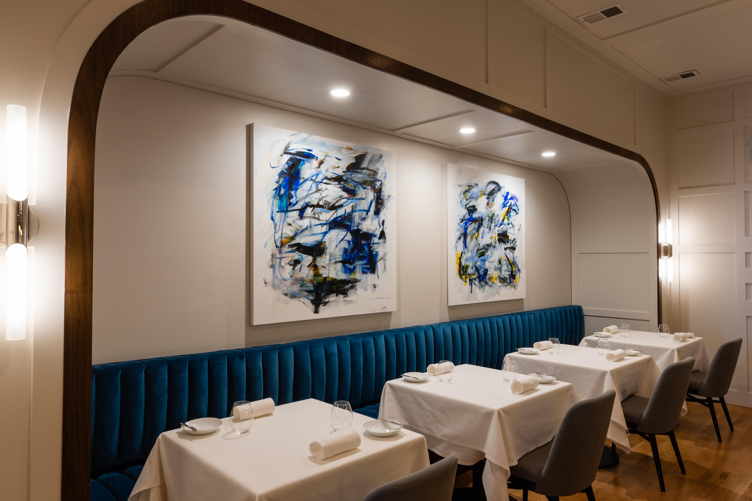 Photo Credit: Claudia Restaurant
Claudia is located at 1952 N. Damen Ave in Chicago, IL.
Subscribe to discover the best kept secrets in your city