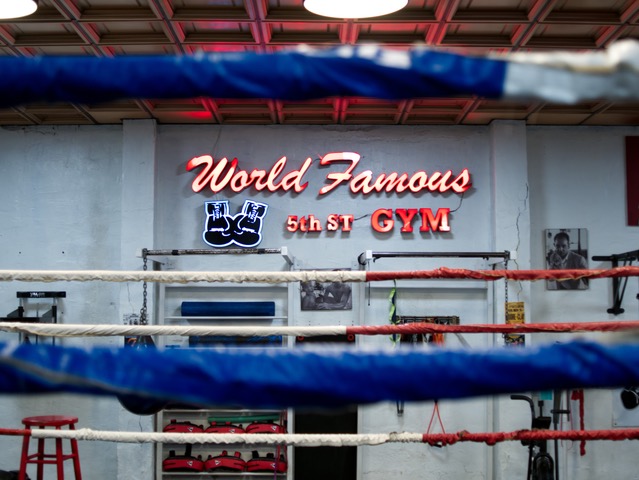 Photo Credit: Chuck Figueroa   From high kicks to mean uppercuts, boxing is the top workout amongst the runway's fittest bodies this season. And Adriana Lima, a globetrotting supermodel, is crediting her toned silhouette to the 5th St. Gym located in Miami Beach. The original stomping ground where Muhammad Ali learned how to punch like a pro with then owner and trainer Angelo Dundee, this garage fight house off Michigan Ct. is like watching a great movie about entering the ring with a fresh top-tier script, with actors and actresses who find themselves conquering all their fears in the final scene. But what makes this workout and its unparalleled setting so efficient and fueled with sculpting powers is its emotional benefits that prove to make every woman feel empowered.
Lima, tapping into her inner source of strength behind every clinching technique of challenging one-on-ones and defensive right hooks, discovered a newfound power to achieve both mentally and physically, realizing what she was capable of and overcoming all apprehensions that she couldn't do it. She trained her mind to never give up, and with the help of her coach and co-owner of the 5th St. Gym, Dino Spencer, Lima is determined to succeed and impact the lives of all women to believe in themselves. And with a pair of new gloves, they'll feel like heavyweight world champions too.
In light of the upcoming International Women's Day on March 8th, Haute Living sat down with Lima, Spencer and Anthony Fontana of New York's UMA to hear more on breaking out into this no-nonsense workout, discovering your inner power and the life-changing tools that boxing provides.
Photo Credit: Courtesy of Puma
HAUTE LIVING: Adriana, breaking out into a fresh new fitness routine with boxing and martial arts, what first inspired you to train at the 5th St. Gym located in Miami Beach?
ADRIANA LIMA: I'm a big fan of boxing. I used to live in New York and I knew someone there who introduced me to the sport. I moved here and thought that I needed to find someone who I could trust and is an incredible trainer because it's not only about the body. When you hit the gym, you also work the mind. It's like a second therapy. So, someone recommended me to Dino. Since day one that I arrived here, I fell in love. I fell in love with the 5th St. Gym and with Dino. He's an incredible coach. I've been here for almost nine years and there wasn't one single day that I've seen him in a bad mood. He's always positive and inspiring.
HL: Through boxing, you tapped into a newfound source of empowerment. How did Spencer help you to discover your inner power?
AL: He loves doing the workout. You don't have to say what's going on in your life. He can tell right away. He has magic that inspires you. He knows exactly what to teach you to make you feel empowered. It's intimidating. When I first started nine or 10 years ago, boxing wasn't trending, especially for women. Boxing was a sport, known most of the time, for men. I related boxing to men. But I fell in love. My first day training, I wasn't 100-percent strong, but Dino really knew how to help me discover myself and understand my power.
There were many days, and there still are many days, that I don't think I can do it. But it's a training for your mind. You keep doing it and you keep doing it and with repetition and inspiration, you realize at one point, 'look where I am and look what I achieved.' To me, everything is possible. In your mind, if you want to be an actress, no matter how old you are, it doesn't matter. If you have that goal in mind, you can achieve it. Everyone is different, yes. Some will achieve faster than others. But the key is not giving up.
HL: What's your no-nonsense advice for hitting the gym when you're in a fitness rut? Was there one time, when you were having a really bad day where getting into the ring turned it around?
AL: Every day! Even the simple ones. I have children. There are days that my kids are sick all through the night and it's not even about me. It's just about getting out of bed. Dino will be the first to text me saying, I'll see you soon!
DINO SPENCER: It's funny she says that because it's reciprocal. I've always wanted to do inspirational speaking. She's convinced me to do it. She's given me the confidence. It's my job technically to motivate her. But just through one short conversation, she said you can do it. I never even thought about taking the step until she said it. So, everyone here has energy. We all flow off of each other. We all give to each other. It' a small gym and only people who are serious are allowed in here.
HL: The 5th St. Gym was originally opened by Angelo Dundee who made a name for himself training one of the greatest sporting figures of the 20th century, Muhammad Ali. Today, catering to a vast trove of international world champions, supermodels and former NYPD police officers, this Miami Beach landmark treats everyone like themselves, personalizing techniques for certain body types. How would you describe Adriana's individual technique and style?
DS: It's funny because before I met her, I had someone call me and ask if I could train a model. This was 10 years ago. Just because they say the word model, you have preconceived notions. But nothing that I thought applied. She was super intense and physically strong. If you shake her hand, you can feel it. When she punched the pad, you could feel it. So, through time and experience with her, you feel what she needs.
For every fighter to be themselves is important. That's essential to what Angelo preached because you and I could never do what Muhammad Ali did. We couldn't do that style if we tried. To define what technique works for you—that's the opportunity for everyone here, whether it is my three-year-old daughter or Adriana. To use martial arts and boxing as an avenue to express ourselves is really what makes it an art, not a system, where you can really be creative.
HL: With Spencer challenging you weekly at one-one-ones, what are your top tips to staying motivated before and during the workout?  
AL: Number one, this is a family. Everyone has such positive energy. To be there, to be positive, to know what I am going to learn because it's a build-up. You see your strength and every day isn't the same. And you're not going to know until you're there. So you have to go and train and be there.
Sometimes, I also shop! I buy something new, either a pair of shoes or work out pants. And I can't wait to use them.
Photo Credit: Courtesy of Puma
HL: What's your favorite workout accessory right now?
AL: Everything Puma! But I'm a big fan of gloves. I'm obsessed. When you get a new pair of gloves, trust me, it's the best.
DS: A new pair of boxing gloves motivates world champions! When they get a new pair of gloves, they can't wait to get in there and bang it out. It's so exciting. It seems like nothing, but then when you put them on, you feel like a world champion.
AL: When I started boxing, nine or 10 years ago, boxing wasn't for women. And when I started training and realized how strong I was and what I was capable of, I felt empowered. I really did. I realized my strength. And not only physical strength, but mental strength because sometimes your body stops responding to certain movements. You're breathless. You can't breathe. You want to give up but you can't. You have to say no and continue. Then after you say, I can do this and the next day, you try again. By repetition and trying, you get better and better. You're not born walking. So by repetition, you learn to walk. It's the same thing here. With discipline and following directions, you can achieve. It doesn't matter who you are.
HL: The 5th St. Gym recently partnered with New York's UMA (Unlimited Martial Arts). In addition to serious punches and high kicks, will you be teaching women combat-based exercises and self-defense practices?
ANTHONY FONTANA: We touch on awareness and willingness. As you train, you become more confident in what you're capable of doing. With the sensitivity of the drills, it heightens your awareness. So, if someone is walking behind you, you can feel it. You'll be more alert than the average person that doesn't train. For one, this isn't a safe world we live in and two, you have the tools to understand how to use them and get away and see another day.
We teach you how to use your phone, bag, mascara and lipstick as a weapon. Anything like that can be used if you know the fundamentals. My goal as a teacher is that I don't want you to be a deer in headlights, and sometimes that happens because of stress.
HL: Boxing helps to build emotional and physical strength. Do you feel that it's an important tool for all women to learn and have in their back pocket?
DS: Every interaction we have with humans is fundamentally animalistic. You can develop the ability to develop yourself. You can have that confidence. You know not to go up to a wolf because the wolf might bite you. When you develop that confidence, you give off the air of confidence like a wolf, like a lion. People can smell it. So if you're negotiating business or alone on a date, the other animal can sense what kind of animal you are. You develop true confidence in yourself when watching yourself punch so hard. You prove to yourself that you can do it. In turn, if you believe it, then everyone believes it.