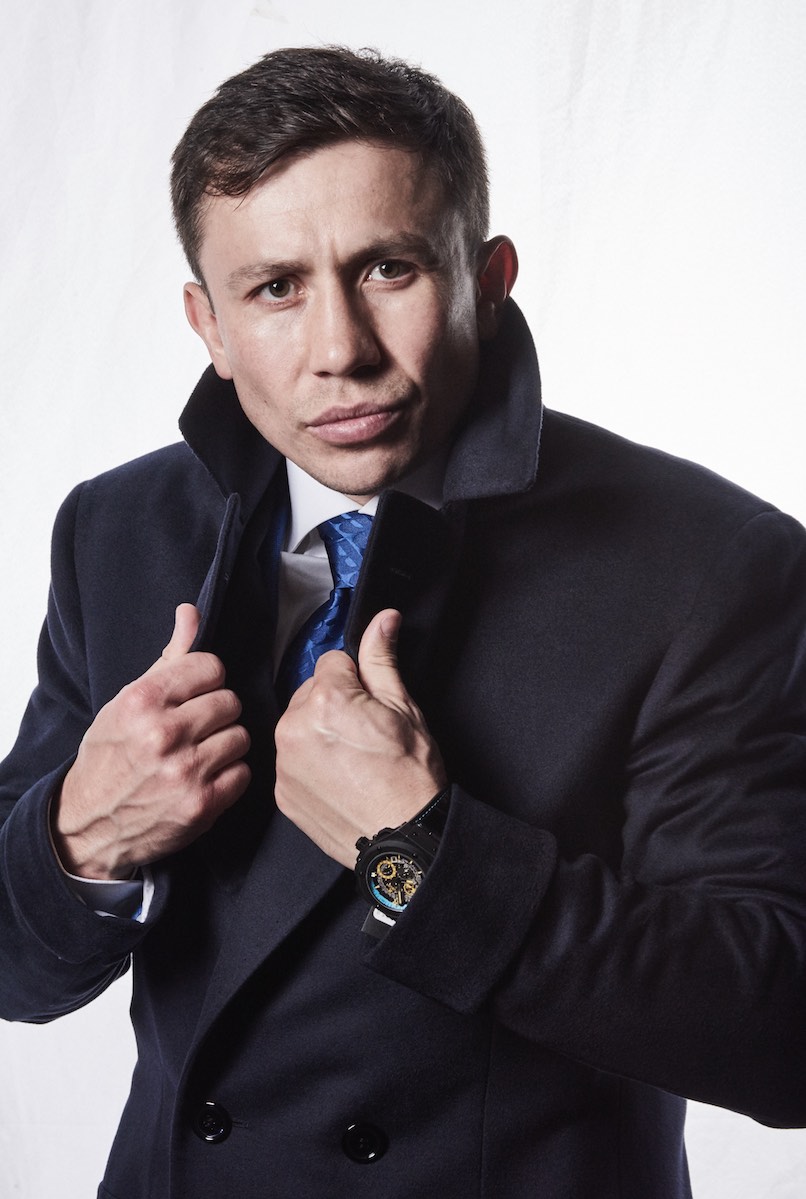 Photo Credit: Mark Squires
Photography by Mark Squires 
Styling by Nicolas Bijan
Wardrobe by House of Bijan
Shot on location at House of Bijan Beverly Hills Boutique 
With the rise of social media, it seems as though a lot of the pomp and circumstance that goes hand in hand with the sport of boxing is at an all-time high. Whether it's the inflated ego of a boxer-turned-showman or his fans creating unnecessary hoopla, it can be hard to discern the talent from the talk. That is, unless you are Gennady Gennadyevich Golovkin. GGG, as he is better known by his worldwide fan base, is one of the most feared and revered boxers of all time. It may be because of his undefeated boxing record. Perhaps it is because of his nearly 90 percent knockout rate. Or maybe, and most importantly, it is because it's always the quiet ones you should watch out for. Whatever it may be, Golovkin's statistics speak for themselves, so he doesn't have to. Haute Living had the pleasure of sitting down to talk to "Triple G" in advance of his highly anticipated, upcoming fight, in what should have been a rematch between himself and Canelo Álvarez.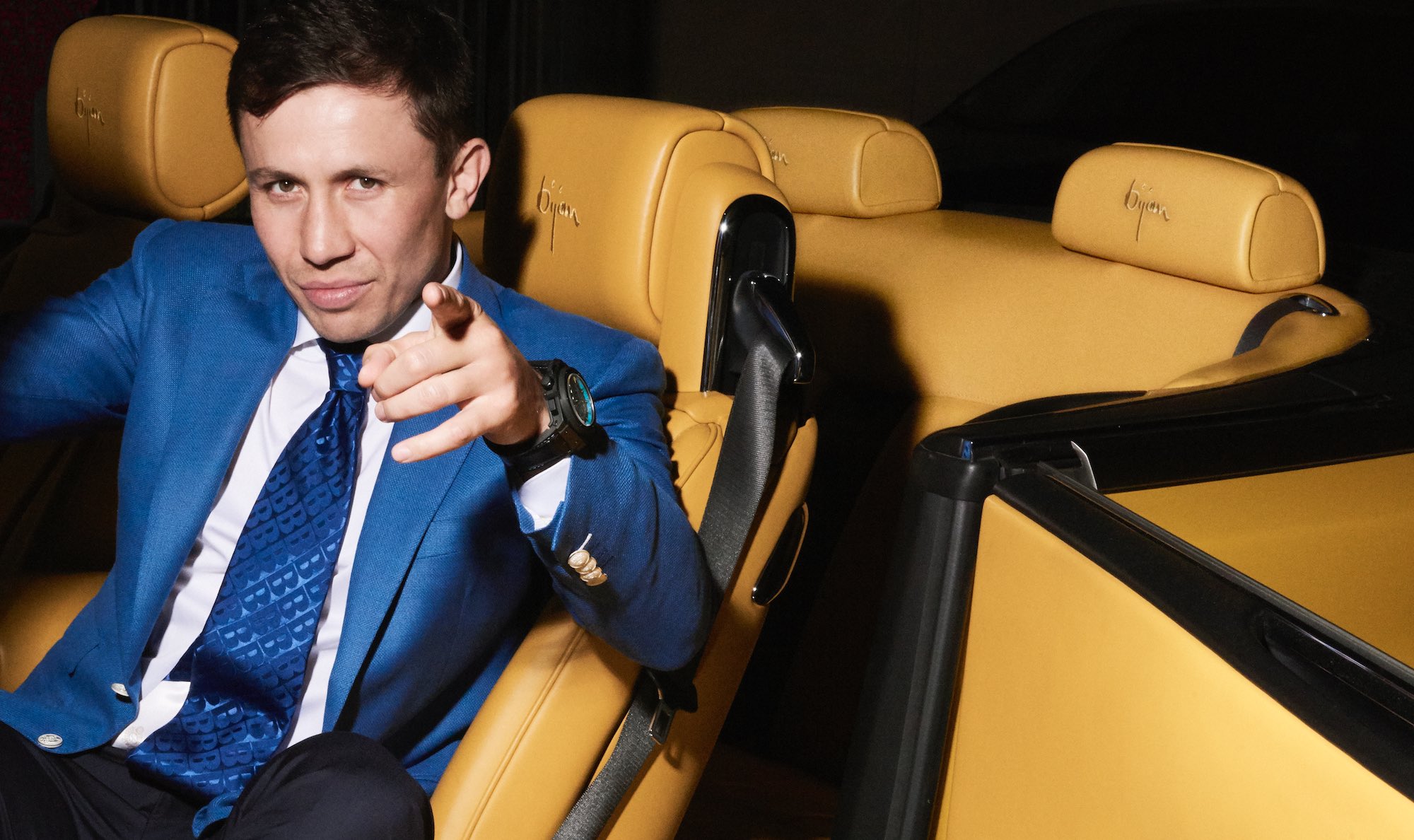 Photo Credit: Mark Squires
As he sits down and sets up at the Bijan Beverly Hills boutique, GGG is wearing the designer's (and one of his close friend's) pieces, including a Bijan yellow, single-breasted linen and silk sports jacket. In fact, as one of the best-dressed boxers in history, he exclusively wears Bijan and sports the logo on his boxing shorts in the ring. "It is such a huge brand that I believe in," begins Golovkin. "My brand, GGG, is like his—first in class and first in quality."
Bijan and GGG garnered a special friendship after meeting some years ago at a charity event for Muhammad Ali. It is apparent that they have a mutual respect for one another. "We actually don't dress any celebrities or athletes," says Nicolas Bijan, who was also onsite. "We dress him because he is a gentleman, he is humble, he is very talented and, of course, he is a true champion. It is such an honor for us."
Photo Credit: Mark Squires
"Humble" is a word that comes up often when people, both close friends/family and fans alike, are asked to describe GGG. Though regarded as one of the most dangerous men in the world, he is, somehow, also one of the most unpretentious and down-to-earth. It is a refreshing quality in general, but especially in the world of boxing. "I am a professional athlete. Not a showman or a clown," he states, with authority. "First of all, for me, this is a sport. Then second, it's a business. I like the old-school mentality."
As he shifts on the sofa to cross his leg, GGG unintentionally flashes part of his striking timepiece: a Hublot King Power UNICO Special Edition Gennady Golovkin—the first-edition watch he launched with the Swiss-based luxury brand, limited to only 25 pieces. Needless to say, it sold out very quickly, as did the second edition: the Classic Fusion Special Edition 'GGG.' His third collaboration with Hublot is set to launch in early May, just before his upcoming fight night. Golovkin became an ambassador to Hublot over a year ago and when initially asked about joining the brand's team, GGG was again, humbled. "I'm very thankful for Hublot and its people. They asked me only once and I said, 'Of course. Wow.' It's very special for me and it's an amazing brand to represent." Hublot CEO Ricardo Guadalupe echoes that sentiment as well. When he first announced the partnership, Guadalupe called GGG "A remarkable champion." The partnership is one that made sense, given that both Hublot and Golovkin are champions in their respective fields.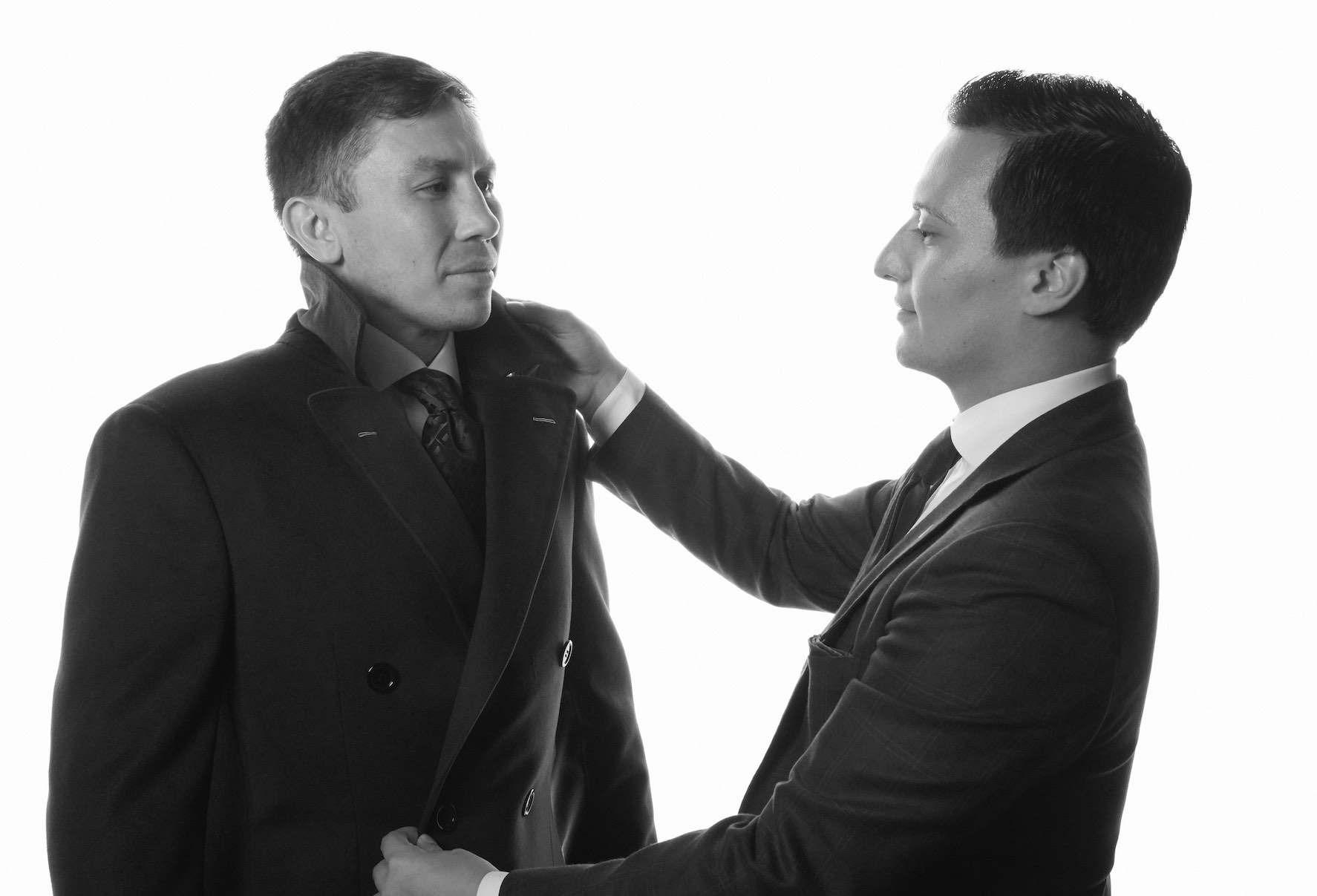 Photo Credit: Mark Squires
And it isn't without an intense amount of hard work, dedication and sacrifice that led GGG to become a world champion, which is why he is, understandably, frustrated that his rematch with Mexican superstar Canelo Álvarez has been rescheduled to an unknown date. Most recently, Álvarez tested positive for a performance-enhancing drug called clenbuterol. Though Álvarez's promotion company, Golden Boy Promotions, claims contaminated meat was the culprit, GGG thinks otherwise. "I just can't believe it," he says, while showing us a bit of his competitive nature. "Everyone on our side was so disappointed. I train so hard and I'm so frustrated. For me, Canelo is a fake and I take this more seriously."
Golovkin and Álvarez first faced off in September of last year, where both parties left disappointed with the final score: a draw. Equally disappointed were the GGG fans, whose "Tri-ple G! Tri-ple G!" chants drowned out the entire crowd, which we, at Haute Living, were fortunate enough to witness onsite at the T-Mobile Arena in Las Vegas. "The first fight was very interesting for me," says GGG. "I know who Canelo is and his style. He is a superstar from Mexico. But I am the champion and he is the No. 2. I just want to beat him once and for all. I know that I am better, and I just want to show it to the people, without question."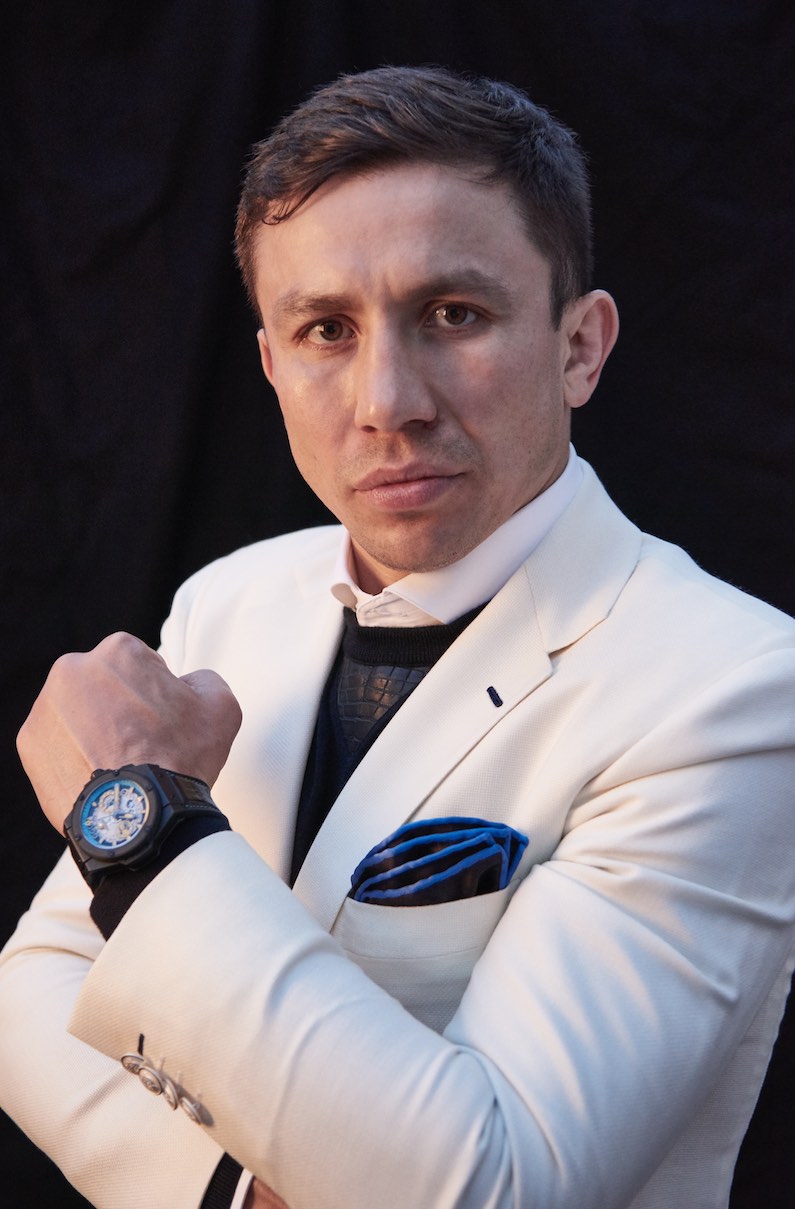 Photo Credit: Mark Squires
His winning mentality partners well with his strong morals and values. One might say he really puts in the work to "fight for it," which happens to be the slogan of Chivas Regal. Last year, the luxury whiskey brand joined forces with GGG when it introduced The Chivas Fight Club, "aiming to inspire a new generation while making a positive impact on the lives of others," according to the brand. Golovkin stresses a few times how important it is for him to "win the right way," which continues to come with a lot of discipline and a lot of sacrifice.
The GGG/Canelo rematch scheduled for the fifth of May would have been the biggest of his career. Though rescheduled, Golovkin is still ready to go, as Canelo's fill-in, Vanes Martirosyan, had stepped up to the plate. "I feel very comfortable and I am very confident. I feel that I am No. 1, and I'm always ready for anybody at any time," notes Golovkin. And why wouldn't he be? It is his extraordinary work ethic, coupled with his sure-footed tenacity and of course, his undefeated boxing record that will certainly earn him a spot on the list of all-time greats, alongside legends like Sugar Ray Robinson and Muhammad Ali, both of whom he idolized as a young boxer, among others. When asked what he hopes to leave behind as a legacy, GGG, without hesitation, answers in just as matter-of-fact of a fashion as his indisputable record: "I am a true champion and that's why they'll remember me."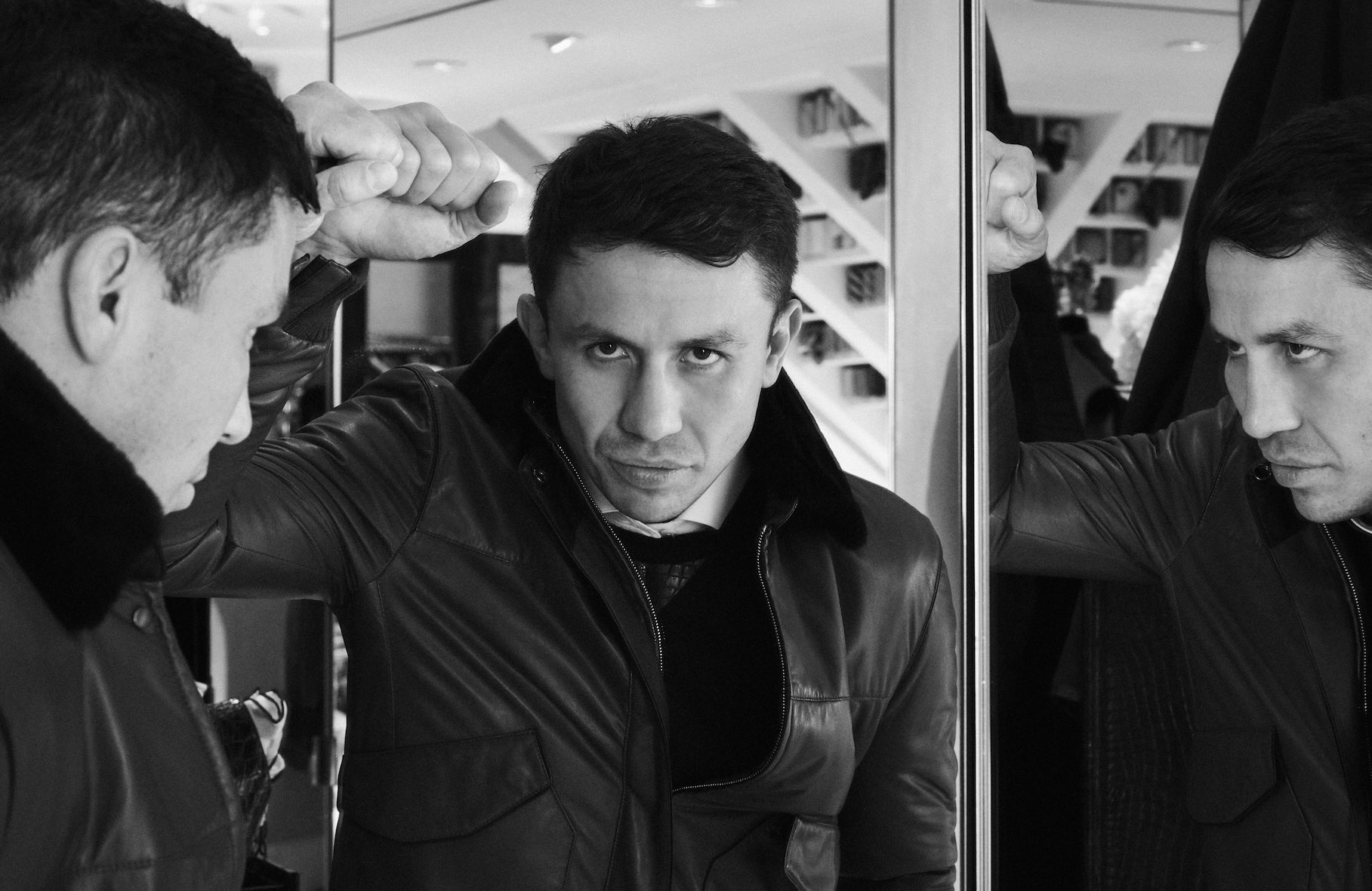 Photo Credit: Mark Squires
Subscribe to discover the best kept secrets in your city