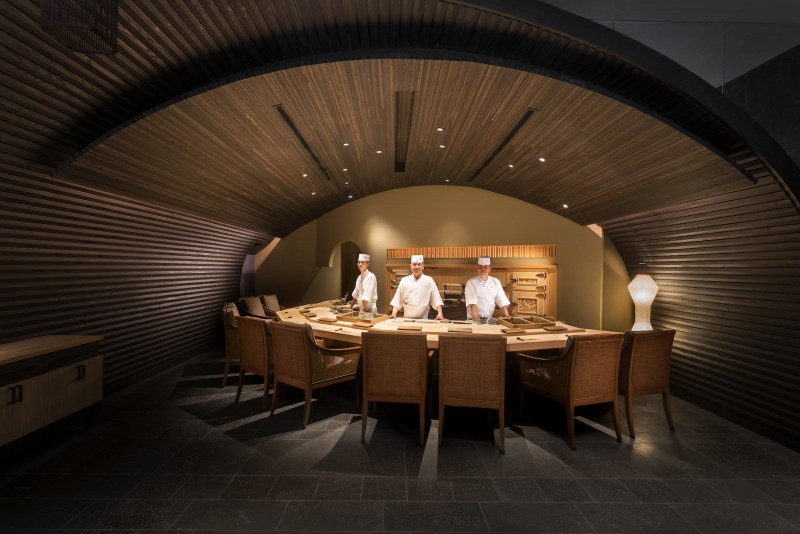 Photo Credit: Sushi Sho
In the midst of the bustling Waikiki Luxury Row rests one of the top omakase destinations of the world—Sushi Sho—inside the newly-completed Ritz-Carlton Residences, Waikiki Beach. The secret to the gorgeous, 10-seat omakase den? Its commanding chef/owner and sushi legend, Keiji Nakazawa, arguably one of the greatest sushi chefs in the world. Coined "Japan's top sushi maniac," in a Japanese documentary, Nakazawa hails from Tokyo, leaving his impeccable reputation in Japan to pursue his newest challenge—opening yet another Sushi Sho, but this time on the gorgeous shores of Oahu.
However, leaving his homeland did not hurt the chef in the slightest due to his massive cult following. Since its opening, Sushi Sho has immediately become one of the most coveted, hard-to-get reservations of all time. The average wait period? They suggest at least six months in advance. Unless by some miracle there's a last-minute cancellation, it's essential that you plan long in advance to experience the magic that is chef Keiji Nakazawa at Sushi Sho—but we promise it's worth it.
Photo Credit: Sushi Sho
Situated in a breathtaking 10-seat cypress omakase counter accented with carved wooden panels, clean lighting and lush greenery, Nakazawa, along with his talented sous chefs Sohei Matsukura, Yasushi Zenda and Takuya Sato command the sushi counter with unrivaled craft, finely slicing and chopping each piece of fish so subtly to bring out the flavor of each bite.
Known for his mastery of Edomae style sushi—pairing varying temperatures of rice seasoned with vinegar—Nakazawa incorporates his technique with a new range of fresh fish, different than what he incorporated into meals year after year in Japan—shying away from complacency and faced with a new and exciting challenge. His signature vinegar-soaked rice is the key to what makes his top-tier nigiri pieces stand out so explicitly from other world-renowned establishments where the rice pales in comparison.
Photo Credit: Sushi Sho
"Everything was easy for me in Japan," he shares. "Now that I'm in Hawai'i, nothing is easy and I have to think . . . . this is my chance. I want to elevate the deliciousness of seafood in America beyond the level in Japan. With Edomae, day by day, we can raise Hawaiian seafood to that level."
Showcasing his signature style, Nakazawa incorporates fish like Kona abalone, Moloka'i prawns, ahi (bigeye tuna), Washington state geoduck clams, Boston cherrystone clams and the rare white salmon from Vancouver into his 32-course omakase meal. Additionally, diners can expect to indulge in splurge-worthy pieces like melt-in-your-mouth otoro, Hokkaido or Santa Barbara Uni, Yellowtail belly, Botan-ebi, an authentic Chawanmushi custard dish, Hawaiian Grouper, fresh sashimi and so much more. Each dish stuns and builds up to the next with bursting flavor, unmatched precision and the perfect balance of flavors to create a one-of-a-kind experience. He experiments with different aging techniques in his Edomae style to complement each piece of fish perfectly. Incorporating ingredients like Maui onions and Macadamia nuts, Nakazawa is further able to enhance the flavor of each bite and give it a local flair, ensuring that guests remember each unique piece as they explore their way through the decadent and complex menu.
Photo Credit: Sushi Sho
Also special to Sushi Sho and Nakazawa, in particular, is his expertise in sake—as both a chef and a sake sommelier, he creates the ultimate culinary experience and pairs each course carefully to elevate the flavors of the 2.5-hour dinner.
So, if you're traveling off the mainland and looking to indulge in some of the best omakase in the world for an unforgettable experience, plan at least six months out for this life-changing culinary experience. Dinner starts at $300/person excluding drinks, tax and supplemental pieces (which we strongly urge trying), so estimate that the dinner will run up to $700-$1000 for two people—and it's worth every penny.
Reservations are taken daily from 2 p.m. to 10:30 p.m. by calling (808) 729-9717. A credit card must be provided to secure the reservation.
Photo Credit: Sushi Sho