One of the most enticing aspects of visiting Hawaii & the Hawaiian Islands is, well, the islands themselves. Made up of eight major islands and a few smaller insets along the Pacific Ocean, Hawaii is as exotic as it gets without needing a passport. It all starts, though, in Oahu. Made famous by shows like Fantasy Island, Gilligan's Island and Hawaii 5.0, Oahu has been the center of Hawaiian romance for decades. Bonus: you can get there in just one flight.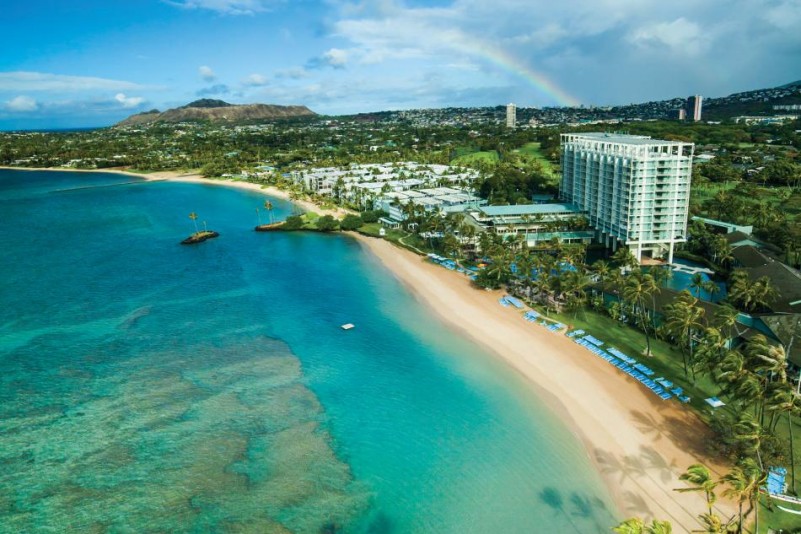 Photo Credit: Kahala Hotel
Once considered 'the gathering place' of the Hawaiian islands, it's been re-branded as the "Heart of Hawaii". This is where the island gets its rhythm, where the energy starts, this is where everything happens. While the lush tropics of islands like Maui and Kauai are breathtaking, if you want to 'feel' Hawaii and the romance it offers (aka do more than go to a luau), this is where you'll want to head.
Waikiki Beach
Photo Credit: Halekulani
Waikiki Beach is legendary for its scenic views and killer surfing. That being said, it can get pretty crowded so you must be in the know when it comes to finding romantic relaxation. The stunning lush tropical grounds at the Halekulani  is an immediate escape from the action on the beach. The hotel houses the famous La Mer restaurant, one of Hawaii's most romantic eateries. Rooms are outfitted with beach views, deep soak tubs, private balconies and walk-on boat access ideal for a romantic sunset catamaran tour.
The Kahala Hotel & Resort is one of Honolulu's legendary luxury hideaway. A favorite of VIPs – including several presidents, a handful of royals and more than their fair share of celebrities – the resort is set on a crescent-shaped private beach. It houses its own 26,000 square-foot dolphin-filled lagoon and a "kissing point" famous for sunset/sunrise views.
Photo Credit: The Royal Hawaiian
Another of Honolulu's most exclusive and romantic getaways is The Royal Hawaiian. Dubbed the 'Pink Palace', the building was built in 1927 and has been one of the landmarks of Oahu's success. The luaus are legendary here – even The Rock has attended one. Couples can dine on an enclosed beachfront cabana at the exclusive Azure Restaurant adorned with intimate candles, plush banquettes, pillows and pristine table settings. During the day, it's a must to spend time at the Abhasa Spa, famous for being the only spa on Oahu that offers luxurious spa treatments in a serene tropical garden setting. Another guest perk is that the hotel provides limo rides for travel within a one-mile radius of the hotel and freshwater swimming pools.
If you're looking for a spot that embraces everything you've ever imagined Hawaii to be, head to the Lili'uokalani Botanical Garden. Once owned by Queen Liliuokalani, the garden has hosted its fair share of proposals, and with good reason. Couples settle in for a garden picnic surrounded by native plants, the wondrous Waikahalulu Waterfall and the serenity of The Nuuanu Stream.
North Shore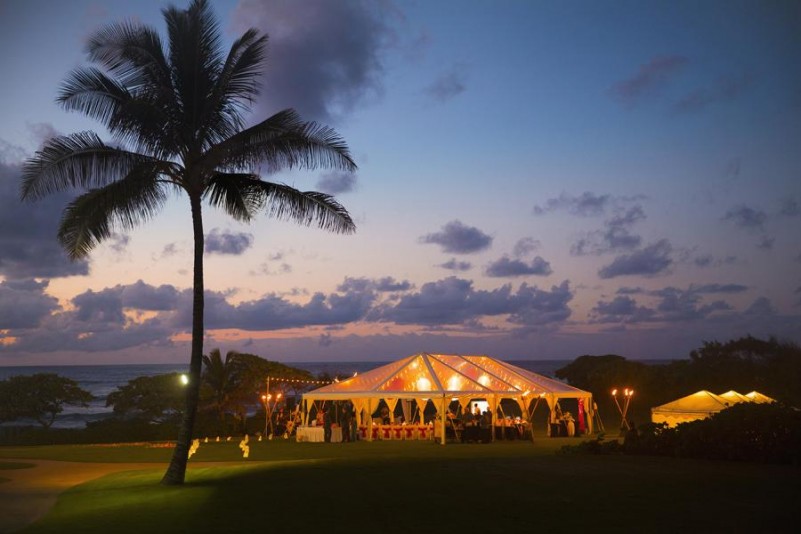 Photo Credit: Turtle Bay Resort
While the north shore is famous for high energy sports like surfing and foodie tours including rows of shrimp trucks, it can also be quite romantic. A stroll at sunset along Turtle Bay reveals some of the island's most stunning panoramas. Get a front row seat of the Pacific Ocean by staying at a beachfront cottage at the Turtle Bay Resort where you're woken by pink sunrises and swayed to sleep by the sounds of the ocean after an amber sunset. There are only 42 cottages set up in clusters of six, so this truly serves as an escape from the rest of the island.
Ko Olina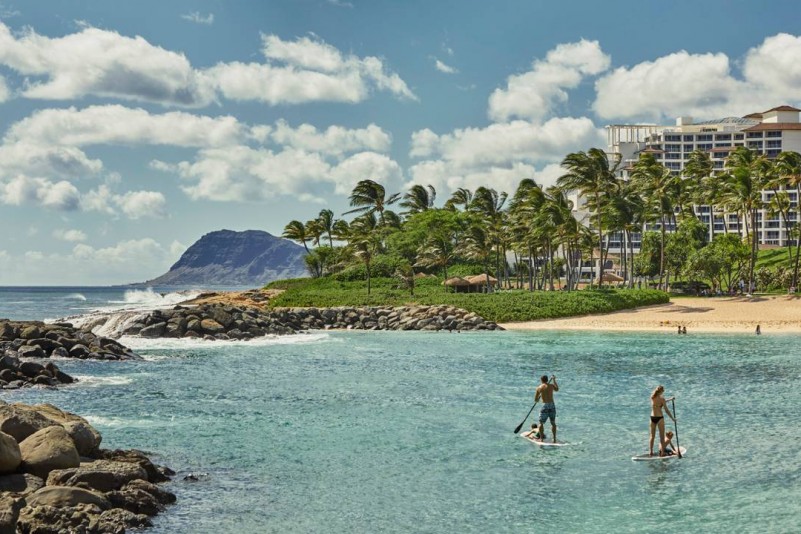 Photo Credit: Four Seasons Oahu
Ko Olina is Hawaii's "Place of Joy." The west side of the island is committed to to the land, the sea and a rich history of cultural traditions that embrace the  philosophy of "living pono," living in harmony with nature and preserving what we love. Some consider this side of the island a hidden gem.  A string of man made, jewel-like lagoons provide outlet to the ocean that are surrounded strictly by luxury. There are only four resorts there currently (When Atlantis opens later this year, things may change). The four include Aulani, a Disney Resort & Spa, Marriott's Ko Olina Beach Club, Beach Villas at Ko Olina and Four Seasons Resort Oahu at Ko Olina.
The last is where the good stuff happens. Rooms at the Four Seasons run the range from $400 to $16K per night for a penthouse and two-bedroom villa with private screening rooms and service kitchens (Tom Brady & Giselle Bündchen are fans of this one). It's all at your fingertips here, from private deluxe butler-serviced pool cabanas at an adults-only infinity pool to mega-yacht charters to rent from 2 to 20, and private helicopters available for island hopping or volcano flyovers.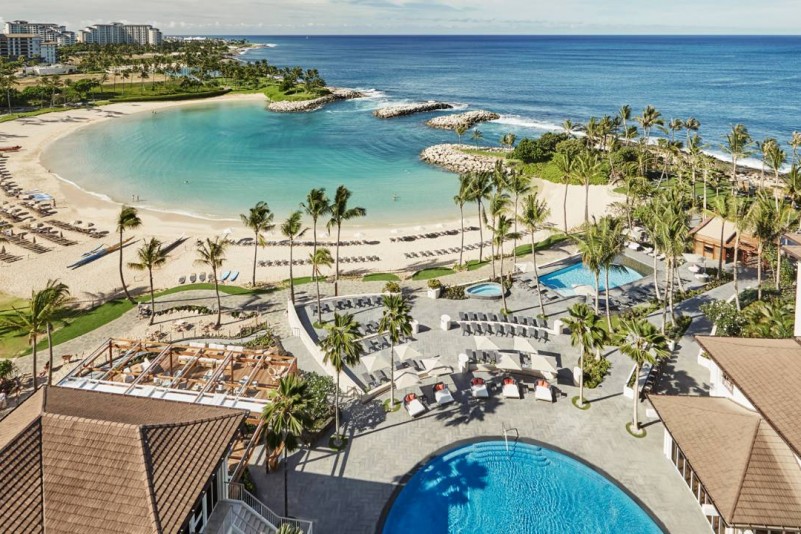 Photo Credit: Four Seasons Oahu
What sets the Four Seasons apart, aside from all of this is their attention to detail. Let them know you want a romantic dinner that you'll never forget and you may be handed a treasure map. Follow it and you'll be led to a private, secluded table-for-two, perhaps on the beach, or the resort's private ocean dock or maybe even along the lush, tropical walkway to the chapel.
Subscribe to discover the best kept secrets in your city