Every day is probably National Scotch Day in Scotland. In the United States we only have one official day, July 27, to celebrate with a wee dram (two if you drank to International Scotch Day in February, but we digress).
In honor of the national holiday, hot spots throughout Las Vegas are offering classic and creative Scotch cocktails for both neophytes and no-nonsense whisky drinkers. Incorporating rare and expensive bottles like 1985 Littlemill and "M" Decanter Macallan to best-sellers like Dewar's, Johnnie Walker and Chivas Regal, the 11 Scotch cocktails below make us wish every day were National Scotch Day in Las Vegas.
Buol Mule
Photo Credit: Photo Courtesy Palms Casino Resort
Ingredients:
1.5 oz Johnnie Walker Black
.5 oz Hibiscus honey syrup
.75 oz Lime juice
2 oz Ginger beer
The city's newest steakhouse Scotch 80 Prime at the renovated Palms Casino Resort is home to one of the country's largest Scotch collections as well as on-site Scotch Master Cody Fredrickson. The restaurant's name pays homage to the vintage and sought-after Scotch 80s neighborhood in Las Vegas, purchased in the early 1900s by the city's first mayor, Peter Buol (hence The Buol Mule) using funds from Scottish investors. Featuring a sweet and tropical note, balance by lime with a ginger kick, The Buol Mule is served in a black Moscow Mule mug and garnished with mint sprigs and dehydrated rosebuds.
---
Penicillin
Photo Credit: Photo Courtesy The Venetian and The Palazzo Las Vegas
A mixture of Monkey Shoulder, fresh lemon, fresh ginger, honey and an Islay float, the Penicillin is a modern-day classic created for The Dorsey inside the Venetian Las Vegas by barman Sam Ross, famous for his concoctions at New York City's Attaboy. A cure for whatever ails you, this innovative remedy was named Las Vegas Cocktail of the Week by Haute Living in 2017.
---
Tattle Tale
Photo Credit: Photo Courtesy The Venetian and The Palazzo Las Vegas
Nobody likes a tattle tale, but this case is an exception. The Tattle Tale is a secret Old-Fashioned cocktail at Rosina inside The Palazzo Las Vegas. Monkey Shoulder and Islay single malt Laphroaig 10-year are mixed with honey, Angostura bitters and lemon, plus a sweet and citric twist of orange. There's no telling what kind of tales you might tattle once this Scotch cocktail loosens your lips.
---
FYI
Photo Credit: Eric Hobbie
Ingredients:
2 oz. Dewars 12-year
1 oz. Fresh cantaloupe juice
1 oz. Orgeat syrup
.75 oz Lemon
Clique Hospitality Corporate Intoxicologist Eric Hobbie invented this subtle and smoky concoction for the new Camden Cocktail Lounge at Palms Las Vegas. To create the FYI, he combined the ingredients in a shaker with ice, then strained it into a traditional sour coupe without ice. The garnish? A small teapot steaming with an Islay smoky Scotch and liquid nitrogen that spills out on top of the cocktail. With all that fog, you might think you're drinking in the Scottish Highlands.
---
1985 Rob Roy
Photo Credit: Photo Courtesy MGM Resorts International
The High Limit Lounge at Aria Resort & Casino toasts to Scotland's Robin Hood with its 1985 Rob Roy, a $200 take on archetypical vintage Manhattans, made with rare 1985 Littlemill Scotch. Matured for around 28 years, this vintage Lowland single malt was bottled in 2013 by independent bottlers Gordon & Macphail, long after the closure of the storied Littlemill Distillery.
---
Smoke On The Water
Wynn Las Vegas is introducing a new Scotch cocktail at Lakeside just in time for National Scotch Day. A powerful mixture of whisky, sherry and rum, the Smoke On The Water contains Whistlepig 10-Year Rye whisky, Highland Park 12-Year whisky, Amaro Montenegro liquer, Lustau East India sherry and Angostura rum. Sip on this smoky Scotch while enjoying ocean-to-table seafood and views of Wynn's Lake of Dreams.
---
Blood and Sand
Photo Credit: Photo Courtesy Caesars Entertainment
Montecristo Cigar Bar at Caesars Palace has an extensive selection of both Highland and Lowland Scotch whisky. There are 31 varieties of Scotch on the state-of-the-art cigar bar's drink menu. Cigar aficionados may prefer their Scotch neat when paired with a smooth stogie, but National Scotch Day is a fun opportunity to try something with a twist; an orange twist in the case of the Blood & Sand. A signature cocktail at Montecristo, it's made with Glenlivet 12-Year Scotch, cherry liqueur, orange juice and Martelletti Sweet Vermouth.
---
Dynasty

Photo Credit: Courtesy Tuscany Suites & Casino
Ingredients:
2 oz. Macallan 12-Year
.25 oz. Domain de Canton ginger liqueur
.5 oz. honey syrup
3 dashes Angostura bitters
Piazza Lounge is a hidden gem of world-class mixologists and live entertainment, located in the semi-private hotel lobby of Tuscany Suites & Casino, just steps away from the Las Vegas Strip. The team is regularly churning out inventive, new handcrafted cocktails for a full house of energized patrons. On National Scotch Day, try the Dynasty, a tonic of ginger and honey with smooth Speyside single malt Macallan 12. You won't find this artisan cocktail on the menu, so be sure to mention you read about it here.
---
Smoking Jacket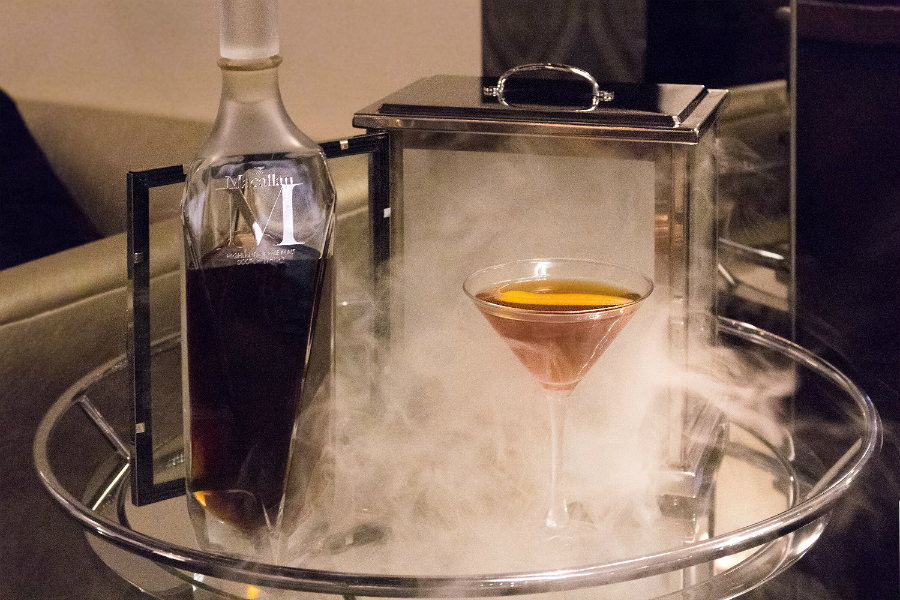 Photo Credit: Photo Courtesy The Cosmopolitan of Las Vegas
Ingredients:
1.5 oz. "M" Decanter Macallan
1.5 oz. Cinnamon Fig-infused Carpano Antica
.5 oz. Benedictine
Dash Angostura
The priciest cocktail on this list, at $1,200, the Smoking Jacket is a luxurious play on an iconic Scottish cocktail, The Bobby Burns. Served at Vesper Bar inside The Cosmopolitan of Las Vegas, it's made with "M" Decanter Macallan, the world's most expensive scotch. Bottled in Lalique Crystal, the Scotch broke a world record at Sotheby's auction in 2014, selling for $628,000. The cocktail is infused in an air-tight container with Mission figs and cinnamon sticks for 48 hours before going anywhere near your glass. The ingredients are assembled with ice and stirred, garnished with an orange swath, and placed inside a Crafthouse smoking box with wood chips. Invented by celebrity bartender Charles Joly, the box creates a smoky presentation when opened by its server.
---
Off To The Races
Photo Credit: Photo Courtesy Clique Hospitality
Ingredients:
2 Dashes Peychaud's bitters
2 oz. Chivas Regal 12-Year
1 oz. Ruby red grapefruit juice
.75 oz. fresh lemon juice
.75 oz. Agave syrup
Hearthstone Kitchen & Cellar at Red Rock Resort & Casino in Las Vegas suburb Summerlin has an original Scotch cocktail for National Scotch Day called, Off To The Races. Get ready for a spicy start to the race with Peychaud's bitters and blended Chivas Regal 12-Year. Victory is sweet at the finish line thanks to agave syrup and a hint of citrus. This cocktail is served on the rocks with a skewered lemon wheel garnish.
---
Pogo Stick Hedge Fund
Ingredients:
2 oz. Springbank 10-Year
.75 oz. Lustau Amontillado sherry
.25 oz. Lustau Pedro Ximenez sherry
2 Dashes orange bitters
1 Barspoon Absinthe
Lemon zest garnish
Created in honor of National Scotch Day, Pogo Stick Hedge Fund is a robust smokey cocktail hitting the market at CliQue Bar & Lounge in The Cosmopolitan of Las Vegas. From sweet start to black licorice finish, this lighter version of the classic Rob Roy features award-winning Springbank single malt Scotch from Campbeltown, which is home to the least amount of distilleries in the five Scotch regions. Springbank is one of the oldest independent family-owned distilleries in Scotland. Containing Scotch, sherry and a touch of Absinthe, this cocktail sounds like a wild ride and intoxicating short-term investment.
Subscribe to discover the best kept secrets in your city