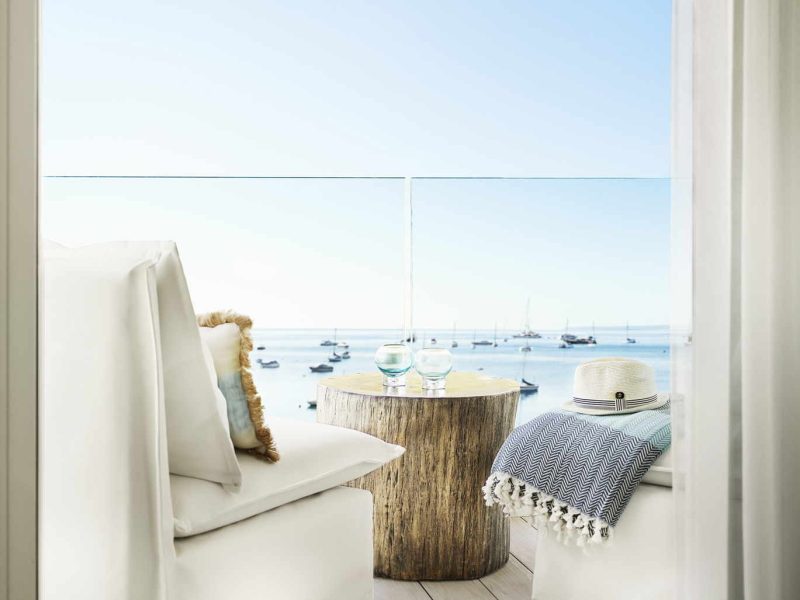 Photo Credit: Marbella Club
"LA DOLCE VITA" IS A STATE OF MIND. LIVE IT IN LUXURY AT THESE STUNNING EUROPEAN PROPERTIES.
MARBELLA CLUB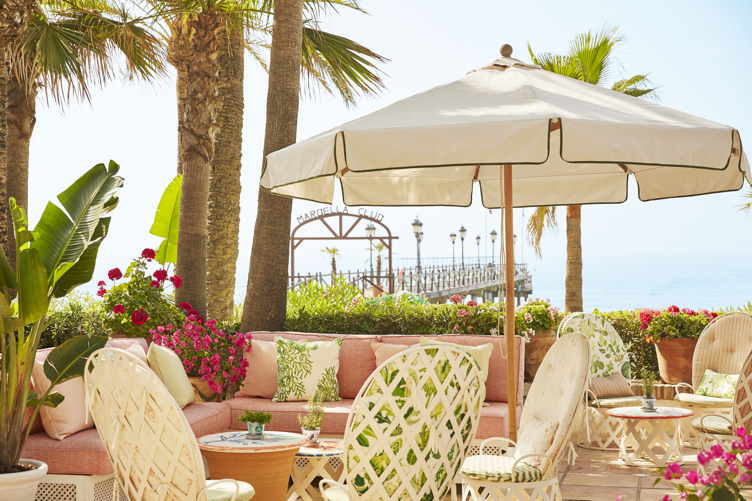 Photo Credit: Hospitality Builders
The Marbella Club is an icon — one that film stars, royals, and European nobility have happily and consistently flocked to since Prince Alfonso von Hohenlohe opened its doors in 1954. Situated in the heart of Andalusia's "Golden Mile," the Marbella Club is almost like a small village, with 115 rooms and suites, a plethora of restaurants and bars, bougainvillea-lined walkways, and sun-soaked patios decorated with hand-painted tiles. The aesthetic here is understated and beachy, with barefoot elegance and decorated with unique touches in neutral tones and a carefully curated selection of art and photography courtesy of artists such as Pablo Fernández-Pujol, Elizabeth Langford, Vicente Viudes, and Martín Zerolo — many of the images pay homage to a bygone era, with shots of stars like Brigitte Bardot, Cary Grant, and Grace Kelly. Since the hotel has been open for over 50 years, it still seeks to change things up; these days, that means utilizing a progressive approach to wellness. Well-being, spa, nutrition, and fitness are the four main focuses of Wellness at the Marbella Club, where guests are invited to highly personalized and goal-oriented programs while reconnecting with nature and loved ones. The spa at the Marbella Club is one of the very few Thalasso spas in Spain and offers an extensive sensory experience while harnessing the profound benefits of the Mediterranean Sea. The newly introduced Holistic Studio offers advanced integrative and holistic health practices to identify root causes regarding issues ranging from adrenal burnout, insomnia, weight loss, and fitness and provide long-lasting benefits. Daily wellness activities range from aerial yoga, Pilates, and kundalini energy healing to HIIT classes and nutritional well-being workshops. On the opposite end of the spectrum, dining and imbibing are important hallmarks of the resort and can be enjoyed at many destinations on the property, including El Patio restaurant; Rudi's (formerly the Champagne Room), now renovated to feature a tented ceiling, Moorish fabrics, and a timeless, playful aesthetic; and La Bodega, where guests have the chance to steal secrets from the resort's esteemed sommelier in the cherrywood library that features a private dining room perfect for exclusive soirées. The clubhouse concept also includes the legendary Grill restaurant and the Summer Bar.
Bulevar Príncipe Alfonso von Hohenlohe, s/n, 29602 Marbella, Málaga, Spain
NOBU HOTEL SEVILLA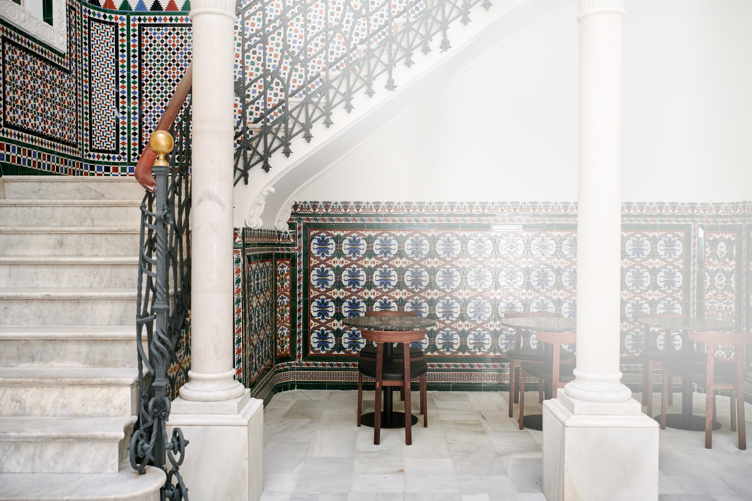 Photo Credit: Daniel Schäfer
Sevilla is the latest feather in Nobu Matsuhisa's proverbial cap. The chef, hotelier, and restaurateur's serene new property at Plaza de San Francisco, the Andalusian capital's historic center, occupies two early-20th-century residential buildings lovingly restored to enhance their traditional architecture. Though small, featuring only 25 stylish guest rooms and suites, the grand-feeling property has an expansive rooftop terrace with a swimming pool and dining area that boasts spectacular views of the Cathedral and Giralda. The heart of the project, needless to say, is Matsuhisa's signature Nobu restaurant, which is perfectly positioned with views of the Roman wall built by Julius Caesar and discovered during the renovation. That said, the hotel's design pays tribute to Nobu's distinctly Japanese roots, just as all the hotels under his umbrella do, yet still echoes the local Sevillian style. Elements of the historic buildings have been preserved, with the hotel being designed around them, from the central glass courtyard to the staircase adorned with authentic tiles from the early 20th century. All rooms come complete with rain showers, Eight & Bob amenities, smart TVs, and handcrafted wooden furniture. There is also a solarium on the terrace with its own pool.
Plaza de San Francisco, 11-12, 41004 Sevilla, Spain
THE MADRID EDITION
Photo Credit: The Madrid EDITION
Hospitality powerhouse Ian Schrager has built the spot to beat in Madrid in his Madrid Edition, a property that embodies and highlights the best of this Spanish capital city's architecture, refined culture, impressive art, culinary history, and insatiable love of the good life. This 200-room hotel on the Plaza de las Descalzas truly gets it right, echoing the vibrancy of the city itself and Schrager's bid to offer the best of the best. Here, that means culinary concepts by chef partners Enrique Olvera, whose Mexico City restaurant Pujol is one of the top ten World's 50 Best Restaurants, and Diego Muñoz, who led acclaimed restaurant Astrid & Gastón in Lima to victory in the top spot on Latin America's 50 Best Restaurants list. Jerónimo, from the former, offers global cuisine heavily influenced by Mexico's traditional culinary roots in a multilayered space distinguished by carved dark oak wall panels, bright yellow leather chairs and banquettes, and two alabaster and plaster pendant lights by designer Emmanuel Levet Stenne leading down to two lounge areas. The restaurant's terrace, opening later this year, sits within the sprawling tree- and plant-filled plaza that's actually a private park. Muñoz's Oroya is serving up a family-style tapas menu in what is billed as "a relaxed, convivial, greenhouse-like setting framed by a blackened steel cage clad with climbing plants and colored glass panels." Punch Room, a sexy lobby bar, a wellness facility that uses products from Spanish brand Natura Bissé, and a still-unnamed entertainment venue launching later this year round out the stellar space. Stay in the Madrid Penthouse, a sprawling private sanctuary perched above the city's rooftops with an unrivaled panoramic terrace and a private outdoor infinity pool surrounded by lush greenery.
Plaza de Celenque 2, 28013 Madrid, Spain
PUNTA TRAGARA

 
Photo Credit: PUNTA TRAGARA
Glitz and glamour, thy name is Capri. Known for its limoncello, luxury, and star-spotting, this small but mighty, sun-soaked island off the coast of Naples is a favored celebrity haunt for a reason. (Its epic beaches, such as Faraglioni, are a must for the rich and famous.) And here, the place to stay for those who want to get away from it all is Punta Tragara. This lovely resort offers a beautiful setting just a short distance from the historic town center, with white-washed décor, views of the sea and Faraglioni rock formations, and a wellness-inspired spa. It is also home to the Michelin-starred, Mediterranean-focused Caprese restaurant Le Monzù, an eatery with a significant pedigree and a setting to match: its view — a view of the Gulf of Naples and a glimpse of Capri's center square, best enjoyed during sunset — will make you sigh with happiness. And while in Capri, make sure to stop by Ristorante Mammà, one of Capri's not-so-hidden treasures. The interiors are styled down to the last detail to showcase the amazing views, and the wonders of the Mediterranean are just waiting to be rediscovered in the colors, aromas, and flavors on each plate. Also necessary for a visit: the iconic Capri Tiberio Palace, where F. Scott Fitzgerald wrote The Great Gatsby. Its restaurant, Terrazza Tiberio, offers some of the best views of Capri, as well as the healthiest and most genuine ingredients of Caprese cuisine, such as mozzarella, cherry tomatoes, garlic, olive oil, and aromatic herbs that blend with more unexpected fare such as ginger, tosatsu, and Norwegian salmon, creating contrasts with unique flavors.Its on-site bar, Jacky's, is a must too, serving up award-worthy cocktails made with gold, tinctures, and more. In my humble opinion, it's one of the world's best cocktail bars.
Via Tragara, 57-80073 Capri NA, Italy
PUENTE ROMANO BEACH RESORT
Photo Credit: PUENTE ROMANO BEACH
Ah, Marbella, the hidden gem of Europe! This Spanish destination may be lesser known than its robust brethren, Barcelona and Madrid, but it's seriously mighty thanks to a unique microclimate that offers perfect weather year-round. And while there are many gorgeous hotels, our recommendation is the Puente Romano Beach Resort, a property founded by a prince (Prince Alfonso von Hohenlohe, the founder of the iconic and still thriving Marbella Club). There are over 100 different activities available to guests, from master classes with expert sommeliers to horseback riding in El Tajo. As you may imagine about a resort with 20 restaurants, gastronomy is a focus here. These restaurants include Leña, Dani García's steak house, recently voted the most beautiful restaurant in the world; the effortless perfection of Nobu Marbella; the beachside Chiringuito Puente Romano; and the sensational SupperClub. As of this year, there are also two new world-class culinary experiences in Cipriani, the brand's first opening on the Spanish peninsula, and Coya, which is inspired by the oldest bars in Lima to provide a luxurious and flavorful experience. Puente Romano is also home to a Six Senses Spa, which goes above and beyond in the wellness department with a hydrotherapy pool, cold plunge pool, herbal steam room, sauna, and hammam. The resort has also partnered with Hogo to offer sleep coach services, a first for the Mediterranean. In addition, it has a new partnership with award-winning, organically grown CBD wellness brand Kloris to launch an exclusive CBD treatment.
Bulevar Príncipe Alfonso von Hohenlohe, s/n, 29602 Marbella, Málaga, Spain
THE WESTIN EXCELSIOR, ROME

 
Photo Credit: The Westin Excelsior, Rome
Who doesn't love a good Roman holiday? Live the true dolce vita in the Eternal City at the five-star Westin Excelsior, Rome, a beautiful hotel in a prime location just a few minutes away from the Spanish Steps and Borghese Gardens. Built in 1906 in Via Veneto, this classic property is still one of the most prestigious in the city, with opulent suites to match. Its crown jewel, at over 8,000 square feet, is Villa La Cupola, which is among the largest suites in Europe. Designed by American architect Michael Stelea in 1998, the two-story suite features large marble bathrooms; a frescoed cupola inspired by Rome's Renaissance, Baroque, and Neoclassical times; a private studio and a dining room with a private kitchen; a well-equipped fitness area; a sauna and steam bath along with a magnificent Pompeiian-style Jacuzzi pool with a mosaic background, vaulted ceiling, and frescoes that evoke the atmosphere of the ancient Roman baths; a panoramic rooftop terrace overlooking the Roman skyline; and furnishings courtesy of luxury Italian brands like Rubelli, Cassina, and Giorgetti, with additional amenities and furnishings from the likes of Hermès and Armani Casa and toiletries from Acqua di Parma. But there's more: there are workout and wellness centers, a sauna, and a Turkish bath, as well as elegant dining outlets. The highlight is Restaurant Doney, a leather- and marble-dotted Via Veneto institution from executive chef James Foglieni that merges Italian flavors with a delicious "aperitivo" formula. While in the city, check out the extravagant Hotel Eden and its luxurious spa, as well as Hotel Hassler's truly exceptional Michelin-starred offering, Imàgo, which offers breathtaking views of the Eternal City in addition to some truly exquisite cuisine.
Via Vittorio Veneto 125, Rome, Italy, 00187
ATLANTIS BAY & MAZZARÒ SEA PALACE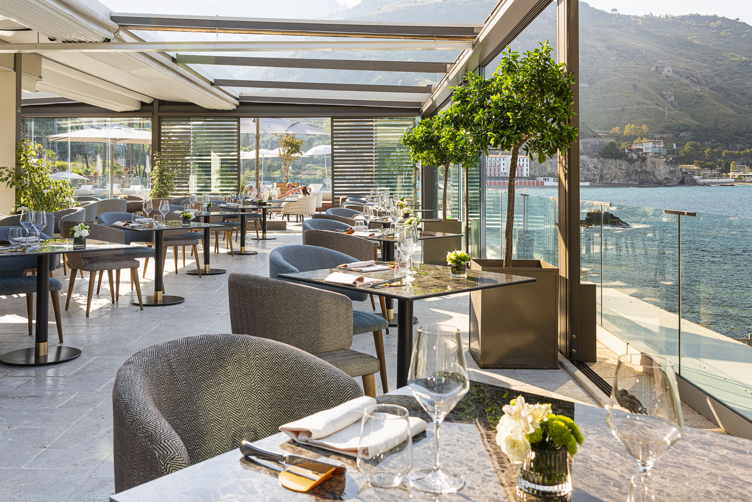 Photo Credit: Atlantis Bay
If there's an actual heaven on earth, it looks a lot like Taormina. This stunning hilltop town on the east coast of Sicily is known for its proximity to the active volcano Mount Etna; sandy beaches leading out to the crystal blue sea; winding cobblestone streets; and Teatro Antico di Taormina, an ancient Greco-Roman theater that still runs today. It's one of the most romantic places in the world, and, as such, requires a properly romantic place to stay. VRetreats has successfully captured the vibe of the island in its two five-star properties, both of which have an oceanic feel despite being located in two distinctly different locations. The 76-room Mazzarò Sea Palace is located on one of the most storied coastlines in the Mediterranean, with its own private beach exclusive to hotel guests, a state-of-the-art wellness center, an elevated Sicilian eatery in Blum, and luxe suites with heated plunge pools. Meanwhile, elegantly minimalist sister resort Atlantis Bay is situated on Baia delle Sirene, or "Mermaids Bay," among the romantic alleyways of Taormina. And getting back to the subject of romance (you truly can't escape it here), it's found in spades at Atlantis Bay, from candlelit dinners at Nui Restaurant to craft cocktails and bottles of Sicilian vino at the Kori Bar, which pays homage to Dionysus, the god of wine. The activities are pretty stellar at Atlantis as well, inclusive of The Godfather Tour, where guests ride around in a vintage Fiat 500 and relive scenes from Francis Ford Coppola's iconic 1972 film, which was shot locally; hiking excursions up Mount Etna; and explorations of the Isola Bella, Grotta Azzurra, Naxos Gardens, and Castle of Sant'Alessio aboard an elegant yacht.
Via Nazionale, 161-98030 Taormina ME, Italy & Via Nazionale, 147-98039 Taormina ME, Italy
THE IVENS, AUTOGRAPH COLLECTION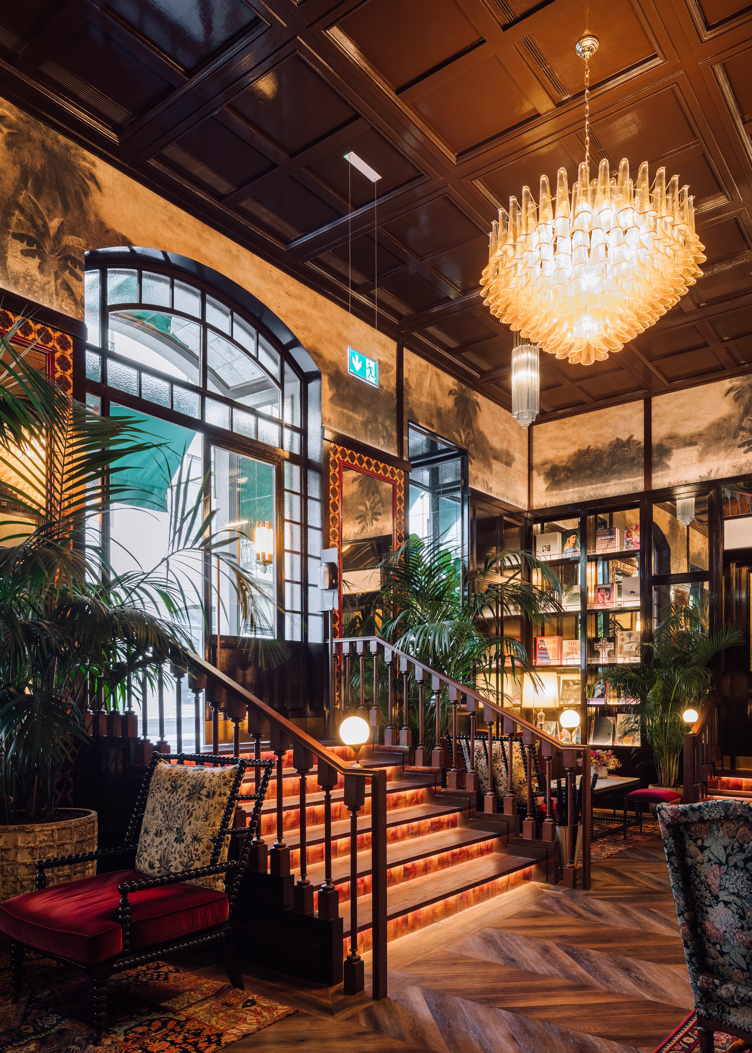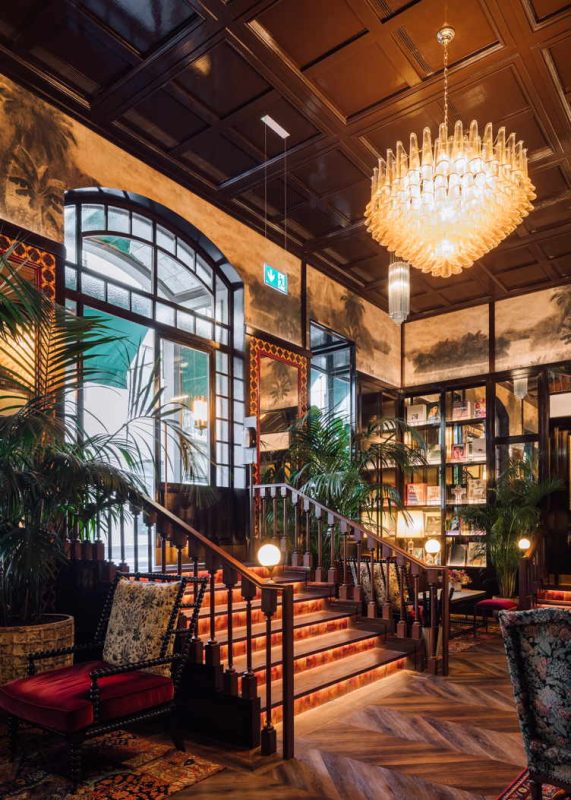 Photo Credit: Francisco Nogueira
Discover one of the most beautiful new hotels in the world in Lisbon at The Ivens, a sexy, sultry boutique hotel that caters to the globe-trotting adventurer. Its central location, with the Tagus in full view and the hubbub of Chiado just feet away, is just one of the reasons to love this magical property, which resides in a historic 19th-century building that once housed the former radio station Rádio Renascença. Travel and exploration are central themes here. Indeed, the hotel's entrance was mapped to represent the journey of Roberto Ivens and Hermengildo Capelo, two Portuguese explorers who contributed to unveiling Africa in the 19th century; design details like old-fashioned photographs and documents, as well as tables and bookshelves adorned with travel books, magazines, and histories of distant lands, follow suit. There's a sense of theater here — a refreshed take on the idea of the urban jungle, with dramatic black and white tiled flooring, marble accents, and velvet furnishings. And while a maximalist philosophy applies in the common areas and restaurants, the rooms, designed by Cristina Matos, are models of tranquility with soothing, subtle tones such as beiges, whites, and greens that allude to flora and fauna. The gastronomic concepts should be explored and discovered as much as the hotel itself: you'll find Rocco Ristorante, a traditional Italian osteria; Crudo Bar, a small, seafood-focused bar; and the opulent, art deco-inspired Gastro Bar. There's even a jazz club. The Ivens truly encapsulates the Italian dolce vita, but in Portugal.
Rua Capelo 5, Lisbon, Portugal, 1200-224
W ALGARVE
Photo Credit: W Algarve
For a little summertime R & R, head to the W Algarve, a gorgeous property perched atop southern Portugal's iconic cliffs with stellar views of the ocean. It's an ideal beach vacation for those who simply want to just be and enjoy. Guests can soak in the epic views from large, private balconies and duplex-style layouts that highlight the local culture through curated artwork, custom-made furnishings, and Portuguese-influenced designs, such as bedside lanterns, dramatic headboards, and authentic Algarve tiles. The crown jewel of the hotel is its 2,100-square-foot E WOW Suite (the W's name for its presidential suite). This sunny sanctuary offers two floors of breezy, oceanside living space with a vibrant, clever design reflective of the surrounding villages and scenic landscape. It has a Bang & Olufsen sound system, panoramic rooftop terrace, zero-edge lap pool, DJ mixing booth, and dining space — private for privately prepared gourmet dinners. Conversely, there are six tantalizing public dining options at your disposal. (It's OK: you can work out the aftermath of your hedonistic indulgences at Fit, an indoor-outdoor wellness space equipped with the latest TechnoGym equipment and an Olympic power rack.) There's also a spa with a couple's room, hair salon, mani-pedi bar, sauna, steam room, whirlpool, tented outdoor relaxation lounge, and the socially charged Beauty Bar, which offers customized jet-set treatments featuring Comfort Zone skin care.
Estrada da Gale Sesmarias, CX Postal 290, H, Albufeira, Portugal, 8200-385
YI HOTEL MYKONOS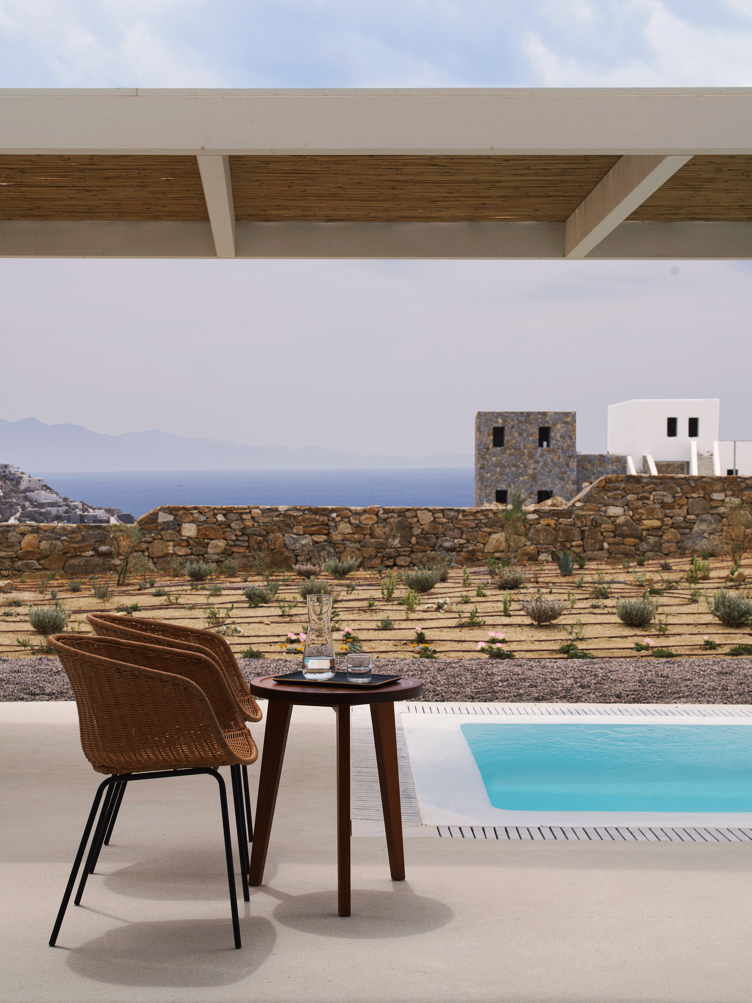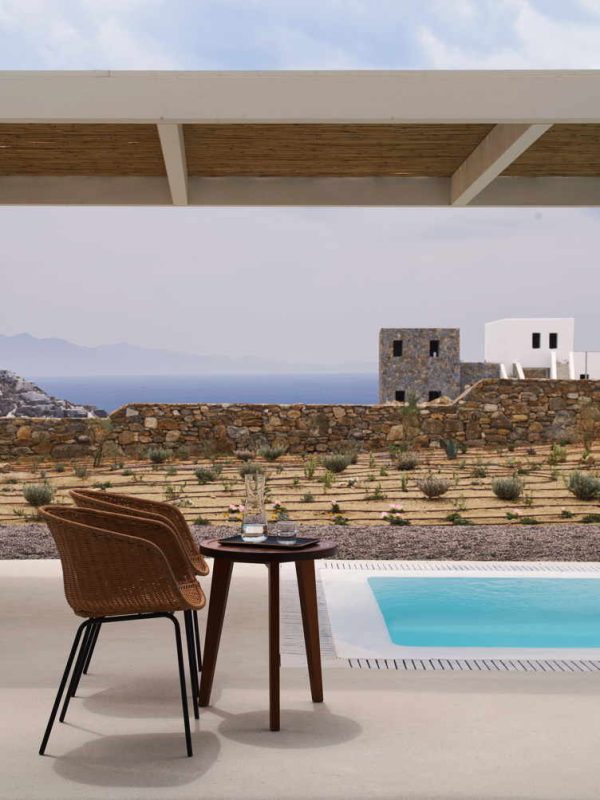 Photo Credit: Yi Mykonos
The newly opened Yi Hotel Mykonos is offering travelers calm from the storm that is Mykonos, one of the biggest party spots in Europe come summer. The 41-room boutique hotel, which is nestled on the hilltop of Elia Beach and overlooks the Aegean Sea, is inviting in that it offers a variety of experiences, all uniquely Mykonian. The name "Yi" — meaning "earth" and "land" in Greek and "one" in Japanese — reflects its minimalist, simple, and modern style, illustrating the interconnectivity between the elements of earth, wind, fire, and water. The property is dotted with curved walls, airy openings, and statement furniture in a neutral color palette, with materials inclusive of woods, straw, and terra cotta punctuated by accents of colors pulled from nature, such as glass tinted blue like the sea, pistachio-colored doors, and windows with a color similar to that of an olive tree. The hotel's on-site restaurant, Sibà (meaning "something good for you"), from chef George Stylianoudakis, who has worked alongside the likes of Alain Ducasse at Plaza Athénée, Le Manoir aux Quat'Saisons, Quique Dacosta Restaurant, and Noma Restaurant, is a symphony of modern gastronomy inspired by Mediterranean as well as traditional Cycladic cuisines. The property also features a resident DJ, spa, fitness center, and thoughtfully curated experiences such as olive oil tastings, swim tours of the island, boat excursions, horseback riding, and more. Also, once a month for an entire week, guests will get to live the absolute spiritual well-being experience package with Angelica Roseclove's "Eudaimonia: Feelings Are Born in Greece," which is inspired by the nine Muses of Greek mythology.
Livadakia – Elia, Mykonos, 84600, Greece
CHÂTEAU SAINT-MARTIN & SPA
Photo Credit: CHÂTEAU SAINT-MARTIN & SPA
Nestled in the hilltops of Vence, overlooking the French Riviera, is the charming Château Saint-Martin & Spa, an Oetker Collection Masterpiece Hotel steeped in Provençal elegance. The historic property sits midway between Cannes and Nice in a medieval village once frequented by the likes of Pablo Picasso, Henri Matisse, and Marc Chagall, all artists whose hearts and souls were attracted to the area for its astounding beauty and inspiring artisanal traditions. The château, set amid 34 acres of private Mediterranean gardens where the fragrances of thyme and lavender dance in the sultry air, presents a panorama of sensational views extending all the way to the sparkling sea. Stay not just for the view but also for the Michelin-starred stylings of chef Jean-Luc Lefrançois at Le Saint-Martin, which offers authentic Provençal cuisine crafted from seasonal ingredients. There's also L'Oliveraie, set amid century-old olive trees and fragrant Ronsard roses. Don't miss the chateau's outdoor infinity swimming pool; Spa Saint-Martin by La Prairie; or the state-of-the-art fitness center.
2490 Avenue des Templiers, 06140 Vence, France
MAGMA RESORT SANTORINI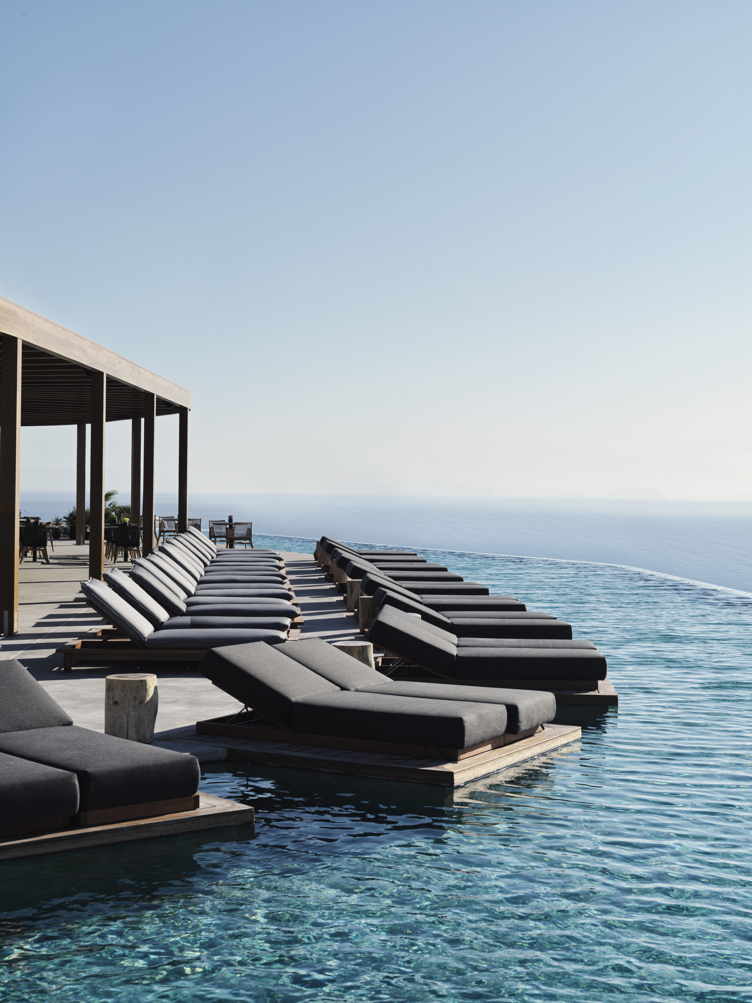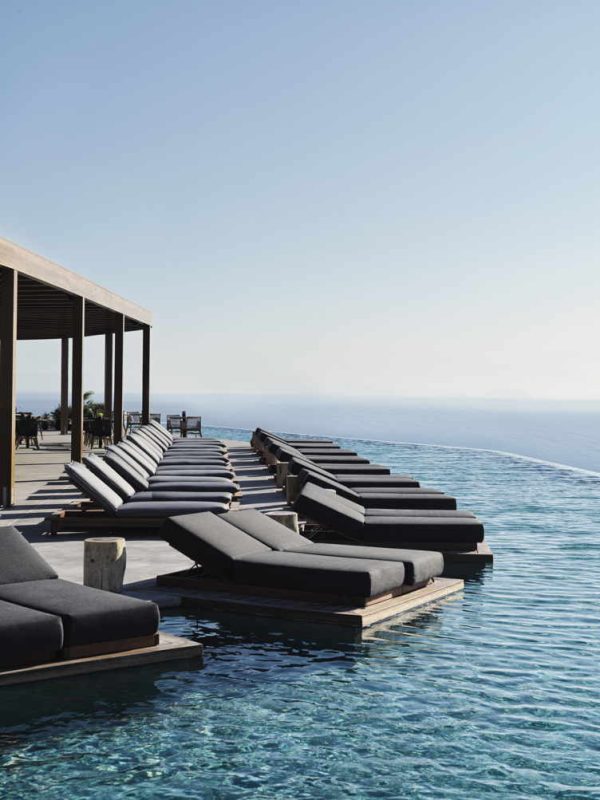 Photo Credit: Magma Resort
Santorini has long been known as a holiday retreat for lovers, and that's true here at the new Magma Resort Santorini, part of The Unbound Collection by Hyatt. But "love" could mean anything: a love of the Aegean, a love of discreet luxury, or, most importantly, a love of yourself. You'd be doing yourself a favor for sure by booking a holiday at this discreet retreat, with its endless views of the Aegean Sea, dramatic sunrises, holistic wellness center, and sophisticated gastronomic experiences. Here in the hills of Vourvoulos, set among traditional vineyards on the tranquil side of Santorini, guests will experience the best of Cycladic living, whether that be swimming up to where the sky and sea meet in a seemingly endless infinity pool; dining at Magma by Spondi, curated by a 2 Michelin starred chef; or choosing your own adventure, be it a magical caldera sunset cruise, volcano snorkeling and diving, horseback riding, or taking a private cooking class led by local Greek chefs.
Vourvoulos Santorini, 847 00, Greece
THE BELVEDERE HOTEL
Photo Credit: The Belvedere
Mykonos is definitely one of the party spots of summer, and there's no better reason to celebrate than the 20th anniversary of Nobu Matsuhisa's eponymous Matsuhisa — his first open-air restaurant, in fact — at the storied Belvedere Hotel. In honor of this milestone, the hotel will debut a new alfresco omakase bar on its terrace for a completely interactive dining experience and will have a rotating lineup of former and current visiting Matsuhisa chefs from across the globe, to boot. But Nobu is just one of the reasons to love this luxury boutique hotel in Chora. It's a truly stunning escape, thanks to breathtaking views of the Aegean Sea, a lush garden with abundant greenery and signature pink bougainvillea, and a distinguishable Cycladic design honoring the traditional architectural white-washed landscape of Mykonos. The amenities are stellar, too: the hotel features Six Senses Spa, which offers holistic-inspired wellness with offerings including a Tibetan singing-bowl ceremony; a fully equipped fitness studio; and Venyx, a fine jewelry boutique by designer Eugenie Niarchos. But, in the true spirit of Mykonos, this locale offers one heck of a party. Its beating heart is the Pool Club, a panoptic hub that houses the hotel's internationally acclaimed cellar as well as the historic Belvedere Bar, which hosts some of the most extravagant nights on the island. Stay in the Waterfront Villa, a celebrity favorite for its discretion — it's hidden behind a 4,000-square-foot property that merges with the sea with its own waterfront pool, private whirlpool surrounded by an enchanting veranda, and a wooden sundeck.
School of Fine Arts District, 84600, Mykonos, Greece
KAYA PALAZZO RESORT & RESIDENCES LE CHIC BODRUM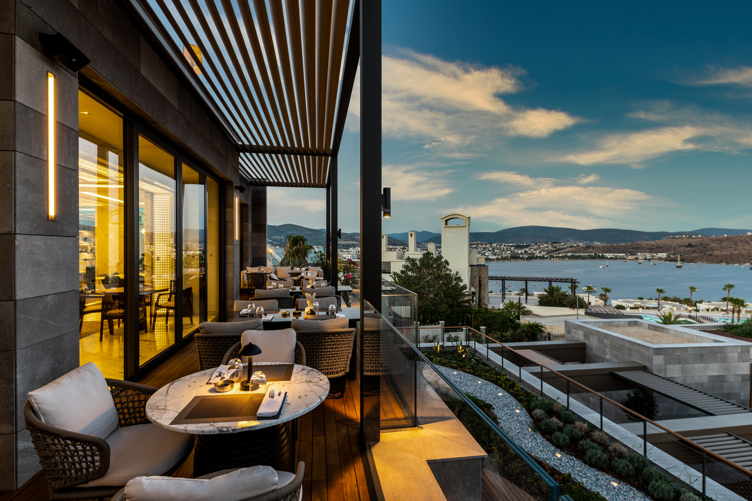 Photo Credit: Kaya Palazzo
The highlight of the Turkish Riviera is Bodrum, a city set so close to the Greek Islands that, indeed, said islands are as close as a mere 30 minute boat ride away. Our stay of choice in this picturesque party town is Kaya Palazzo Le Chic Bodrum, a beautiful property with its own 650-foot-long private beach that's a stone's throw away from attractions like Bodrum Castle, Bodrum Maritime Museum, and the Mausoleum of Halicarnassus. This small but mighty hotel has just 76 rooms (65 hotel rooms and 11 residence rooms), many of which are swim-up, leading directly to a heated pool, just steps away from golden sand. Breathtaking views of the Mediterranean can be found throughout, though they're arguably best from the property's private pier, which also boasts its own waterfront restaurant, Pier Bar, a stunning area to lounge and soak up the sun. [Other culinary concepts include the Palazzo Buffet, Palazzo Lounge, which features la carte dining from Develi (Turkish), Serafina (Italian), Yada Sushi, and Palazzo Steak House, as well as the Terrace Restaurant & Bar, Lounge 40 Bar, and Patisserie, among others.] There's also a steam room, Turkish bath, and sauna, as well as basketball and tennis courts for those who want to do more than simply have fun in the sun.
Asarlık Mevki, Yakamoz Sk., 48400 Bodrum/Muğla, Türkiye
Subscribe to discover the best kept secrets in your city