Photo Credit: Meghan Beierle Photography / Lexus
Food or fuel takes on a whole new meaning for Ludo Lefebvre i now that acclaimed chef, television personality and cookbook author has signed on to become the latest chef to join the Lexus Culinary Masters team. For those unfamiliar, Culinary Masters act as ambassadors to the brand, seeking to craft amazing experiences in the food and wine space. Other Masters include James Beard Award-winning chefs Michelle Bernstein, Stephanie Izard, and Jon Shook and Vinny Dotolo; Michelin star awarded chefs such as the legendary Daniel Boulud, Dominique Crenn, and Carlo Mirarchi; celebrated sommelier Carlton McCoy, and the "father of Southern Cuisine" Dean Fearing.
Guests at the Pebble Beach Food & Wine Festival were among the first to see Lefebvre don his new Lexus apron and show off his talents. He teamed up with Fearing at the NorthCal event to present Chef's Table Lunch-Bon Viviants D'Epicure, a collaboration that showcased the flavors of the French Quarter.
We spoke with Lefebvre, the man behind LA's LudoBites, Petit Trois and Trois Mec—whose accolades include a James Beard nomination, Emmy nomination, Chevalier de Arts des Lettres award from his home country of France and being named one of the "World's 50 Greatest Chefs" by Relais & Chateaux—about why he chose to join the team, his favorite places to eat in L.A. and his upcoming plans for global domination.
Photo Credit: Meghan Beierle Photography / Lexus
How did you come to join the Culinary Masters team?
I have always admired how deeply Lexus supports the culinary community on the highest level. Last year Lexus invited me to cook with one of favorite French chefs, Daniel Boulud and we just started talking about how great i thought there program was and voila, here we are today. I am just so honored to be a part of the program.
What are some of your responsibilities as a Culinary Master?
The Lexus Culinary Masters act as ambassadors for the brand and help Lexus create highly innovative programs, including owner benefits and marketing initiatives. As a chef in this program, it's a great opportunity to work with some of the best in the culinary field, such as my fellow Lexus culinary master dean fearing and Lexus Master Sommelier Carlton McCoy. Together we can help influence and shape some pretty exciting lifestyle programs.
Photo Credit: Meghan Beierle Photography / Lexus
How does your brand/aesthetic fit harmoniously with the Lexus brand?
Lexus to me is about quality and luxury, but in an understated way. It is exactly how I think of myself. I am classically trained by some of the best chefs in the world and learned the importance of excellence. As I have developed as a chef, i have taken my own path and emphasized the importance of "excellence" without the need for being so "obvious". I think this is why Lexus and I fit together so harmoniously.
Though you're a master chef, are you still constantly learning new techniques?
I hope I am learning every day. I might know just about everything there is to know about French food and technique, but there is a very vast world of cuisines. I love when I get the opportunity to meet new chefs, travel and experience new cuisines and when guest chefs come into my kitchen and share a little of their knowledge with me. I would love to take a yearlong sabbatical and just do stages in kitchens around the world.
Photo Credit: Meghan Beierle Photography / Lexus
Did you have any free time to sample other chef's wares during Pebble Beach Food & Wine? Whose did you/are you most excited to try if so (depending upon when you answer these) and what was the dish?
I didn't get to stay very long, it was in and out for me. I have a lot of obligations to my restaurants at home and needed to come back. But getting to work with Dean Fearing was really great. I loved learning about his take on Southern Texas cuisine. America has some many regional foods and I would love to travel more to experience them all.
Do you drive a Lexus? Which, if so, and what do you love about it?
I will soon be driving the LX SUV. I first rode in one with Daniel Boulud at Pebble Beach Food & Wine 2018. I fell in love with it that day. It can accommodate my family and our dog, while not feeling like a huge car. It is so beautiful in luxurious inside. We are looking forward to many comfortable road trips this summer and heading to Mammoth next winter for some great skiing.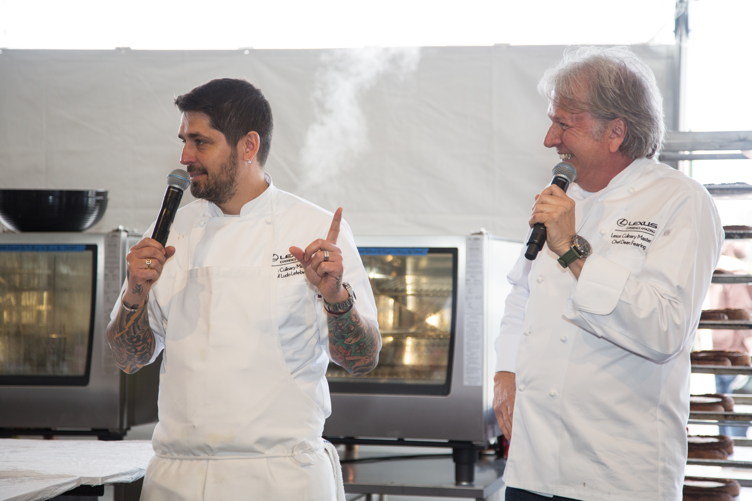 Photo Credit: Meghan Beierle Photography / Lexus
What are your business plans for the remainder of 2019? Do you have plans to open any new restaurants? What, if so? What would the concept be?
My first goal is complete the bakery/to-go shop next door to Petit Trois, Le Valley. Hopefully we can get it open by the end of 2019. I am working on a South of France concept as well, but still in development. Lots of surprises on the horizon, but too early to talk about them.
What is your favorite restaurant to eat at (that isn't your own) in LA right now, and what is the best thing to order?
My go-to favorite place in LA was Baroo. Although they recently closed, they are now doing a series of pop-ups. If you read about one, go!! You won't be sorry. I also recently just had an amazing meal Felix in Venice. Evan Funke is truly a pasta master. Get a table by the pasta lab windows and be prepared to be mesmerized by the skill and patience that goes into hand making each and every piece pasta that you will eat.