Photo Credit: Andrea Raffin : Shutterstock
As Hollywood's biggest night approaches, the stars are even more aggressively making themselves look red carpet ready. In addition to the prerequisite nips, tucks and Botox, here are the treatments A-listers swear by. 
Ole Henriksen's Red Carpet Facial & Power Peel Facial
Photo Credit: OleHenriksen Spa
Angela Basset, Madonna, Naomi Campbell, Halle Berry, Katy Perry, Jessica Alba, Matthew McConaughey, Hugh Jackman and Justin Timberlake have all sworn by Ole Henriksen's award-worthy treatments, including the big daddy—his Red Carpet Facial. This 80-minute anti-aging treatment, offered at his Sunset Plaza spa, is a pre-show must thanks to tools and therapies including exfoliation, hydration, LED lights (to boost collagen and kill surface bacteria), a MicroPhoto treatment, human stem cell serum and a Venus Freeze radio frequency treatment (that tightens and contours) and a proprietary oxygen system promise instant results. The spa's Power Peel Facial, who counts Charlize Theron among its many fans, is also a must. This customized eight-step complexion treatment incorporates a microdermabrasion procedure to gradually reduce dine facial scars, skin discolorations, and fine lines and wrinkles.
Tracie Martyn's Red Carpet Facial
View this post on Instagram
The biggest stars in Hollywood, such as Rihanna, Brie Larson, Emma Stone and Kate Winslet swear by facialist Tracie Martyn and skin nutritionist Marius Moraiu's Red Carpet Facial, a holistic, no-downtime alternative to cosmetic procedures like fillers and facelifts . Though the pair are based in New York, they take their show on the road come Oscar-time, heading to L.A. to fully indulge their A-list clients with this epic facial, which include diamond microdermabrasion ; Beyond Microcurrent Therapy utilizing the  proprietary Resculptor machine, exclusive to Tracie Martyn; amber LED therapy : Working synergistically with the Beyond Microcurrent® technology, amber LED light; an Oxygen Peptide Mist : An oxygen mist supercharged with rejuvenating peptides leaves skin refreshed and dewy, so stars can step off the treatment bed and onto the red carpet As Kate Winslet once said, "Tracie's Resculpting Facial tightens up your skin so much you look like you've been on a two-week retreat to Thailand."
Moon Juice Spirit Dust
Photo Credit: Moon Juice
Gwyneth Paltrow  swears by Moon Juice's Spirit Dust, a powder you can sprinkle into any of your favorite drinks to give an instant mood boost as well as stress relief (perfect for red carpet jitters!). It's an adaptogenic blend of uplifting superherbs and supermushrooms that help combat the effects of stress to expand peaceful awareness and align you with bliss. Spirit Dust contains ingredients shown to: enhance feelings of emotional well-being, help promote a positive mind and mood, promote a calming, relaxing state of mind, help increase resistance to stress, tension, and irritability. 
Sonya Dakar Beauty Bootcamp
View this post on Instagram
Whose says your body is the only thing that needs to get in shape for a night as big as the Oscars? Aesthetician Sonya Dakar understands that the face needs as much help as the body, which is why she created Beauty Bootcamp, a rigorous six-week program of weekly customized facial treatment, a diet and meal plan and a strict at-home skincare regimen. Dakar, who celerity fans include Gwyneth Paltrow,
Fergie, Drew Barrymore
and J
ennifer Lawrence
also offers her Sculpting Facial, which uses a high frequency laser coupled with her signature sculpting technique to physically manipulate and contour the face, neck and jawline. As a wonderful, non-invasive alternative to Kybella (which has been attributed to post-treatment complications and significant downtime required by patients) this facial melts fat, sculpts the face, chisels cheekbones, defines the jawline, and instantly tightens and lifts the troublesome "double chin" area that other traditional facials aren't able to address.
The Red Carpet Ready Experience at the Beverly Wilshire
Stars with deep pockets go gaga for this nearly $2000 treatment at the glorious Beverly Wilshire. Get red carpet ready in full with this experience, which includes everything from 111SKIN Cryotherapy, which first removes toxins from the skin, and activates collagen and elastin production which reduces swelling and creates a luminous glow. Celestial Black Diamond then works with Microcurrent, Light Therapy, and Oxygen Infusion technologies to harnesses the lifting and firming properties of the most intense clinical treatments while smoothing fine lines and eliminating dull, tired skin. Following the five-star facial, celebs get their do' done at world-renowned salon Lea Journo and work with celebrity hair and makeup artists to complete their red carpet look. Rodeo Drive shopping experiences are also available for those who didn't spend months searching for the right dress.
Portofino Beverly Hills' Contour Tan
View this post on Instagram
What if you never had abs, but wanted them? Although many of your favorite A-listers are toned up by the top trainers, Portofino Beverly Hills can create the illusion of an even better body with its contouring spray tans. Celebrities like Lady Gaga and Jennifer Lopez get glowing at this luxe locale, which offers everything from slimming/cellulite tans to anti-aging offerings. When paired with Endermology (also offered), which is great for losing water weight, lymphatic drainage, detoxification and contouring of the body, followed by an infrared treatment—which burns anywhere from 600 to 900 cal within one session—the results are flawless.
Photo Credit: Roil
Celebrity colorist Amanda George has the ultimate secret for her A-list clientele: shine on, you crazy diamonds. Her Roil Hair Masque is the secret to shiny hair on the red carpet, which makes for even better photo opps—selfies and otherwise! George, who has colored the hair of celebrities like Kate Hudson, Charlize Theron and Rebecca Romijn, has created a deeply intensifying, nourishing and conditioning masque combines the latest technology with ancient remedies to replenish and moisturize the hair.
LA Slim Wrap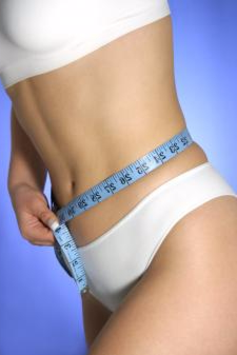 The Kardashians are among the fans of this sneaky red carpet hack, which makes you lose six to 20 inches right before hitting the red carpet. Owner Afsi Naim's Signature Contour Mineral Body Wrap detoxifies and contours your body by drawing out toxins and impurities, which not only nourishes your skin, leaving it smooth and tight, but which also reduces cellulite. It's the best weapon in any celebrity's arsenal.