It's hard to choose just where you'll be geotagging in a city that's so densely populated with thriving hotspots, especially when a new one seems to be opening nightly. Chicago's bar scene is, in a word, epic. We're blessed with creative mixologists that lean more artist than bartender, who grace us with unique techniques that make our taste buds sing. Let's hold our glasses high and cheers to the places we'd still be frequenting even if Instagram wasn't a thing—and yes, that's saying a lot.
---
The Aviary
Photo Credit: Jessica Lynn Capron
Calling this destination a mere bar does it an injustice—The Aviary is an adventure. Its sleek, ultra-modern design leaves purposeful room for the setting of innovation. Cocktails are treated more like carefully orchestrated science experiments that have been successfully carried out to live in liquid form. Expect a beyond gastronomic approach that leads to some of the most interesting cocktails you'll ever have. Take In the Rocks, for example. The drink isn't ready until you crack an ice egg with the help of a slingshot. After the ice melts, the alcohol flows freely into the glass. We'll drink to that.
955 W Fulton Market, Chicago, IL 60607
---
Bamboo Room
Photo Credit: Jeff Marini
Located inside of Three Dots and a Dash, this brand new 22-seat space offers up an upscale, tiki bar experience. The island vibes immediately set the tone upon entry, and when combined with a pineapple daiquiri aperitif, you've found your beach in the middle of a Chicago winter. The bar features a menu that harmoniously mixes classic tiki cocktails with a contemporary flair. Rum is the name of Bamboo Room's game, utilizing ultra high-end, rare spirits from the exotic isles of St. Lucia, Martinique, and Jamaica. A personal favorite—the rum-enhanced coffee for two. Imagine if every morning could start like that.
435 N Clark St, Chicago, IL 60654
---
The Ladies' Room
Photo Credit: Danielle A. Scruggs
Take a ride through the ultra-hip, ever-developing neighborhood of Logan Square. You'll surely be tempted to enter one of the many trendy bars and restaurants in the area, but trust when we say head to The Ladies' Room for a drink. Enter this posh speakeasy through a curtain inside of Fat Rice. Its aesthetic is inspired by Macau's red-light district with an emphasis on red light; the atmosphere glows dark and seductive with pinup posters lining the room. As for the cocktails, dare to be daring. Order the hot or cold boozy tea or go for one of the 'classics reimagined'. Above all, feel your senses awaken.
2957 W Diversey Ave, Chicago, IL 60647
---
Violet Hour
Photo Credit: Lenny Gilmore
When cell phones are strictly forbidden and proper attire is absolutely required, a chic scene is essentially guaranteed. So, immerse yourself in the lavish lounge dubbed Violet Hour for its sumptuous interior is a true retreat from the outside world—especially if you follow the house rules. Even its entrance is hidden, the door disguised as part of a wall of street art. Its latest menu includes a list that's sure to clear your mind: Downhill From Here, Happiness is a Warm Rum, Sins of the Father…Name a more perfect place to unplug.
1520 N Damen Ave, Chicago, IL 60622
---
Lost Lake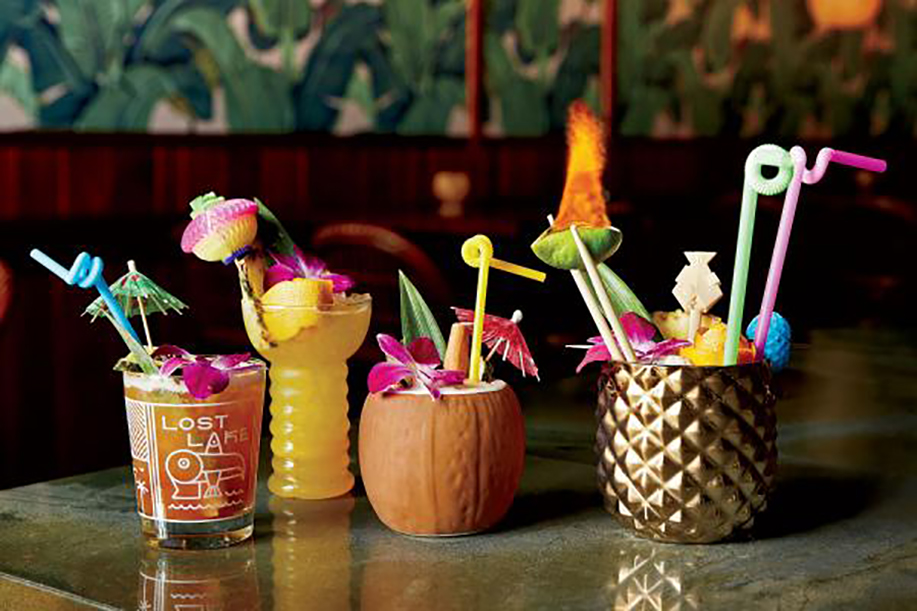 Photo Credit: Anna Knott
This stylish and tropical cocktail bar serves major Instagram inspiration. Between the banana-leaf wallpaper, pink neon signs, and colorful hanging lights we dare you not to post a picture. And yet, this place turns out to be well-versed in so much more than island hut aesthetics. Its impressive cocktail program displays detailed attention to tiki history. The extensive menu that focuses on original tropical recipes—and includes 275 varieties of rum—has been masterfully crafted to also incorporate modern creations. Consider this your oasis in the city of Chicago.
3154 W Diversey Ave, Chicago, IL 60647