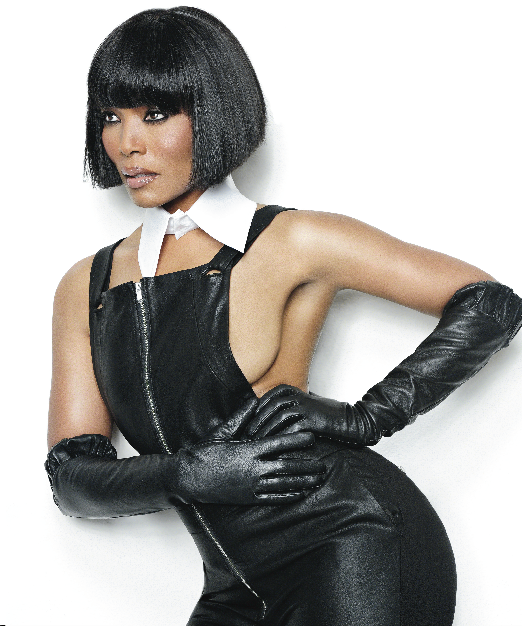 Angela Bassett has never withheld sex to get what she wants, but she would. Oh, she would. The Golden Globe winner is on a break from filming American Horror Story: Hotel, though it isn't the sexual series that has prompted this chat about the birds and the bees (which is putting things mildly considering what her character, 70s actress Ramona Royale, has gotten up to this season on Ryan Murphy's hit FX show—including a racy love scene with Lady Gaga's character, The Countess).
We're talking about sex (ba-by!) because of Bassett's recently released film, Chi-Raq. It's a modernized take on Aristophanes' Lysistrata, a classical Greek play in which women withhold sex from their husbands as punishment for fighting in a war. Director Spike Lee trades ancient Greece for modern day Chicago in this update, which touches on gang violence in some of the city's south side neighborhoods.
Bassett plays Miss Helen, a voice of reason for the young and volatile Lysistrata (played by Teyonah Parris). The role was a natural fit for Bassett, who, after almost 20 years of marriage to fellow thespian Courtney B. Vance, definitely knows what she's talking about.
"We had a screening [of the film] the other day, and people were asking, 'Using sex…is that viable? Isn't that a negative for these women?'" Bassett recalls very clearly. "Growing up, I learned that sex was one of three basic needs of human kind. It's not just a basic need for men—it's a basic need for women as well."
Although the Oscar nominee hasn't used sex to get her way (for which her husband could be eternally grateful), she's not against it, either. "I would be an ad- vocate; I would use it," Bassett says slowly, in a voice that drips like honey. "I'm a married woman, [and I know] that you can't get close until you talk things out, get some clarity. I never go to bed angry."
Warming to her theme, she continues, "Men are usually engaged through their eyes, while women are engaged through their minds and hearts. We need to come to some common ground before we can get passionate; men can get down no matter what," she adds with a throaty giggle. "They don't even have to like you."
That said, she doesn't believe that a woman's greatest power is withholding sex. "It's her ability to love, to influence, to bring insight to a situation," she maintains.
As a multi-award-winning actress (her most recent nomination being a best supporting actress NAACP Image Award nod for Chi-Raq), Bassett embodies all three qualities, and they're reflected in her vast array of roles. Her impressive resume includes real-life icons like Tina Turner in What's Love Got to Do with It, Coretta Scott King in Betty and Coretta, and Betty Shabazz in Malcolm X and Panther, as well as kick ass fictional characters like Six, the leader of an elite counter-terrorism unit in the video game version of Tom Clancy's Rainbow Six Siege.
However, Bassett singles out Marie Laveau, the fierce yet heartbroken Voodoo priestess she inhabited in American Horror Story: Coven, as the role she connects with the most, and hopes to reprise at some point.
"It would be wonderful to see a film or something that really highlighted her and the influence that this woman of color had in New Orleans had in the 1800s, in her community," says Bassett, who played Laveau in Horror Story's third season.
Although making a film about the Creole Voodoo practitioner isn't in the cards with Murphy, she hints that the two are in talks to bring another influential female to the big screen, though is keeping mum about the lady in question as they're only in the beginning, most exploratory stages. "[Ryan Murphy and I] have had some conversations, not about Marie Laveau, but of another character, another woman who influences," she admits. "We'll see what we come up with in this coming year."
Next year she'll also focus on promoting the crime thriller London Has Fallen with Gerard Butler and Morgan Freeman (slated for a March, 2016 release) as well as the U.K. miniseries Close to the Enemy; she also recently directed an hour-long segment for National Geographic Channel called "Breakthrough: Water Apocalypse" and continues to film and focus on the latest installment of American Horror Story which she refers to as a "love fest." "We so appreciate one another's womanhood and artistry," she says of co-stars Kathy Bates and Gaga. "It's easy. Everyone just comes, shows up excited about one another and the work and just tries to do their part."
It's not all work and no play on set, she notes, but it's close. "We get a little down time, but not much," she admits. "So much is packed into those scripts. We're on and popping."
When we joke that our vision of the ladies braiding one another's hair is shattered, Bassett bursts our laughing. "Please know that Lady Gaga is not in the makeup trailer with us—she's The Countess, you know! She's got all these hairdos and costumes; it's a major production."
CONFIDENCE, THY NAME IS WOMAN
We ask Angela Bassett to fill in the blank–what, in her opinion exactly, is the real secret to a woman's success? She does not hesitate in answering, "Being confident in who she is and what she brings." Not that she's always felt that way. It's only with
age that she's truly felt comfortable in her own skin. "Fake it until you believe it!" she laughs. "[Confidence] will come stronger year to year with the experience of just living. I try to impart to my daughter and my son [the knowledge that], we're mind, body and soul; we're spirit. The most important thing is, if it doesn't feel right, that we're able to utter 'No, stop, can't do it.' Especially women: we want to please, we don't want to be rude, we don't want people to think ill of us, but you have to trust your voice."
It is her very politeness that Bassett thinks may have caused a disparity in the public perception of her character. "I think other people see me as very serious," she muses, noting, that while she "can be," as a whole, she's much more light-hearted that she seems. We can vouch for her. She's a blast; confident, honest and unafraid to give her opinion on topics like sex that other, more insecure actors might stray from.
She notes that after getting recognition from her 1993 film What's Love Got to Do with It, strangers began to feel like they knew her; that was she approachable. "You have to bring it, but bring it easy. You can't just run up on somebody and grab [her]," she states, adding, "At that point, I've noticed that's when I pulled back. [I'd be like] 'What do you want? What are you asking for? Can you just release me? Come on! How would you feel if I just came up and grabbed you, and you don't have a clue who I am?'
"I think just the way I hold myself sometimes can come off as a little serious but that's just for protection, as anyone would do," she concludes.
There isn't anything quite so lovely as an unguarded Angela Bassett, as we've personally discovered. We wouldn't say that 'serious' is a word that defines her though. When she maintains that, in her eyes, her character can be described best by three words—"excited," "hopeful" and "passionate"—we have to agree that they sum her up perfectly.
"[I have] the expectation of something good…out of life, situations, others [and] the future," she says. The best news? She doesn't have to withhold anything to get exactly what she wants.
Subscribe to discover the best kept secrets in your city