You're not the only one. Soldiering through a hectic work day only to get home to a jumble of delivery slips or a stack of Amazon Prime packages wilting under the weather. Oh, and the dog walker forgot their keys, the cleaner needs to reschedule, and the cable person is still on the to-do list. Cloning yourself won't solve anything! And the old-fashioned lock-and-key system doesn't cut it for our increasingly busy, mobile lifestyles. That's why so many home and business owners are jumping at the Gate: one of the most successful 2016 crowdfunding campaigns with 300% goal reach. Gate is the app-enabled new generation device that keeps your home secure and simplifies your life.
Bridging the gap between a simple antiquated lock and a complex over-priced security system, Gate is designed to double as a smart lock and a real-time concierge. It distinguishes itself from competition by being the first all-in-one solution that packs smart lock, motion activated camera, two-way audio and keypad into a sleek, unobtrusive device that replaces your existing deadbolt! The wifi-enabled management assures users the luxury of accessibility anywhere in the world. You can instantly see who's at the door through the motion-activated camera, interact with visitors via video calling and two-way audio, create temporary or permanent pin codes for access and log all in and out activity digitally. From code to remote lock activation, everything is at your fingers. Plus, the relic keys for those that just want the extra assurance! All the options, none of the fuss. This is your Gate. The name speaks for itself.
San Francisco with its vibrant entrepreneurial culture is an ideal launchpad for a smart service like Gate. If you can make it here . . .  Bay Area is the make-it or break-it startup territory. Local consumers are attuned to latest tech knowhow and style must-haves. Gate certainly taps the digital post-globalized peer-to-peer economic zeitgeist where Airbnb and Uber are revolutionizing the way we travel through life. Gate is the way to come home.
We met with Ehsan Saeedi, CEO and co-founder of Gate Labs, to discuss how Gate fosters trust in communities and modernizes the way we protect our homes.
Haute Living: Is there conceptual or practical difference in using Gate at larger estates or small properties?
Ehsan Saeedi: The Gate system is completely agnostic when it comes to size of property and style of door. If you have a big house with multiple entranceways, you can put it on different doors and name them separately, so you can monitor what happens at those individual entrances. If you have a multiple unit property, you decide whose phone receives notifications when somebody is at the door. It might be someone specific like a renter or a security guard or everyone in the building. Our app is designed to have multiple admins at the same time. The device was created by a world-renowned company to emphasize the contemporary "form follows function" aesthetic. This is a sophisticated-looking piece of industrial art that compliments its surroundings without drawing attention to itself.
HL: The Bay Area has people enjoying living in both urban and rural settings. How does Gate fare those environments?
ES: At the moment, Gate is primarily used by customers who live and work in metropolitan and suburban areas. Whether you are dealing with a house full of kids or a dynamic business with lots of employees, Gate is the perfect solution. However, we engineered Gate for a well-suited, enduring existence outdoors in rural and wilderness environments as well. Think, remote cabins or equipment shacks. Gate's exterior parts are die cast, premium grade zinc with the finish of a very rich brushed nickel. It has passed extreme conditions testing for heat, moisture, dust, wind, shocks, and so on. It fares well everywhere. We are shipping beta units to our backers now and the consumer response is very enthusiastic and inspiring.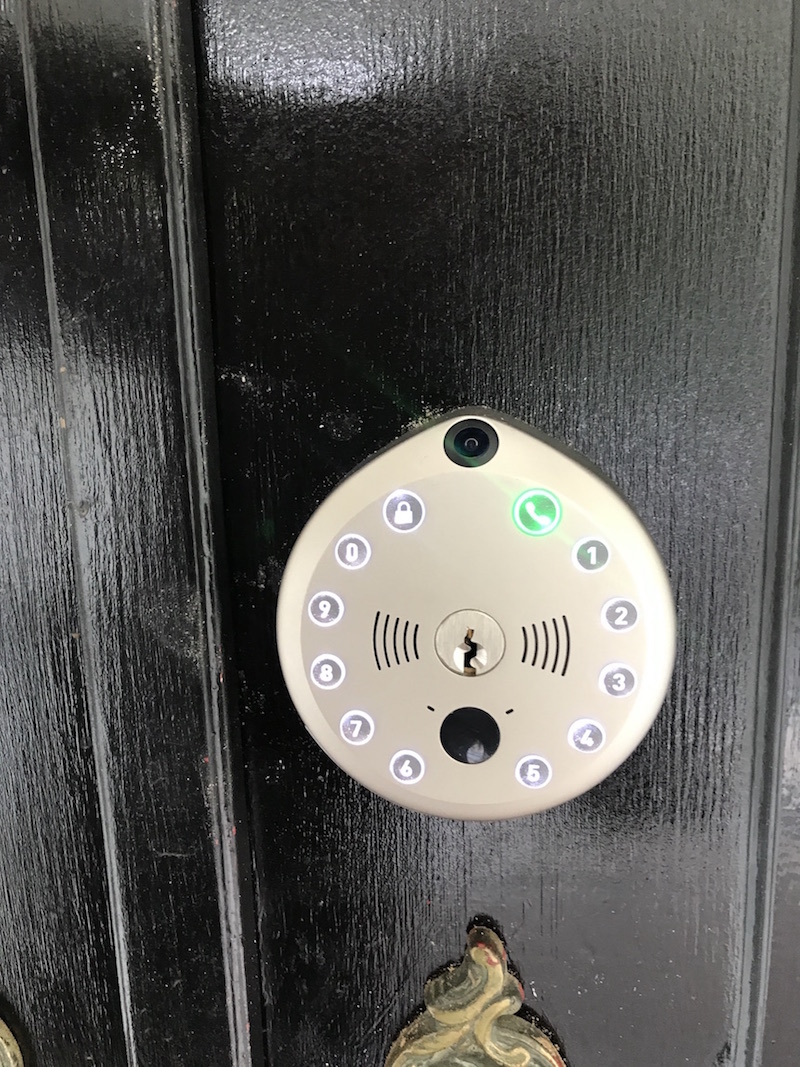 HL: Is Gate putting concierges and security guards out of work?
ES: [Laughs] We are actually making them happier by helping them coordinate deliveries and service providers together with residents! E-commerce is growing so fast, a common complaint from concierges and property managers now is overloaded storage rooms. Amazon Prime alone has over 50 million users in the US. Most business deliver nowadays. Custodian staff appreciates Gate possibilities greatly. Moreover, this is for people that can't afford or otherwise cannot or don't want to hire a doorman! Gate performs the most important functions of this job making this service more mainstream. Yet, we don't envision it as a security system. It's simply the intelligent way to manage "unattended access" to your home or place of work.
HL: How failsafe is Gate?
ES: We work with top security experts every step of the way: technology, hardware, service. We continuously proactively test for any potential flaws or setbacks. Short of an apocalypse, there are only two cases when Gate functionality can be temporarily limited. First, if your wifi network goes down and the connection is compromised. This won't disable the main key pad function since all previously issued and still active codes are cached into the device and remain operational. Second, if the lithium ion battery is dead. This is an easily preventable and extremely rare occurrence! Gate routinely notifies you when the battery is starting to show power reserve declines and gives you plenty of warning to recharge it. It only takes about two and a half hours. In the case of a dead battery, the keypad becomes inoperable. This is when you can still turn to the initial failsafe physical key option.
HL: How is Gate appealing for high net worth individuals?
ES: It must be noted that we also kept in mind potential people who have high standards of living and high demand on their time as we designed this product. Gate is a superbly engineered system with well thought out customer service and a physical device constructed using high-end materials exclusively by tier-one manufacturers. Even the keypad buttons are molded from medical-grade polycarbonate! The encrypted backend data is stored on Amazon cloud which guarantees data security for many multinational companies. This attention to fit, finish, detail and intelligence results in a premium experience for all users, especially those accustomed to tailored products and services.
For more information, visit Gate online.
Subscribe to discover the best kept secrets in your city