An NBA Championship and a threesome within a few hours of one another? Life truly couldn't get any better for Golden State Warriors owner Joe Lacob on that momentous June evening when his team finished its record-breaking season in grand style with its first league title in 40 years. Ah, but this ménage à trois was hardly what you're thinking.
"I had made a promise to myself [that] I would sleep with the trophy that night," reveals Lacob, which rhymes with Jacob. "Nicole [Curran, his longtime fiancée] and I did sleep with it."
On one hand, we want to ask more questions; on the other, we don't really want to know any more than he's already shared. (Not that this animated hoops nut is going to tell us anyway.)
"I'll leave it to the imagination," he says, grinning. "We had a lot of fun with it."
We bet they did. The youthful exuberance the former managing partner at Kleiner, Perkins, Caufield and Byers displays during breakfast—let's be honest here, at all times— makes him appear much younger than his 59 years. We're sitting at Café Bellagio inside the Bellagio Las Vegas, 27 days after the Warriors knocked off the Cleveland Cavaliers in Game 6 of the NBA Finals for the coveted title. Lacob managed to pull himself away from his gorgeous girl and his relaxing vacation home in Montana to come to sweltering Sin City, one of the sites of the NBA's summer league locations, for league meetings.
Stan Kroenke, the billionaire owner of the Denver Nuggets and other sports teams, and head honcho at Screaming Eagle Winery and Vineyards, walks over to our table, because he's heard that the Golden State boss is in the house.
"Congratulations," Kroenke says to Lacob. "I love to watch the way you play; that's good for the game."
Draining three-pointers in an entertaining offense earns the Warriors a whole lot more than praise; those long-distance shots serve a philanthropic purpose as well. You see, for each trey Golden State makes during the regular season, a $500 gift goes to underserved youth in the Bay Area through Hoops for Kids, just one of the successful programs started by the Warriors Community Foundation. (The Koret Foundation, Taube Family Foundation and Pacific Gas and Electric Company are partners on this initiative.) Let's do the math for the 2014-15 season: the Dubs' franchise-record 883 triples at $500 a pop resulted in $441,500 being distributed equally to eight organizations.
Altogether, the Warriors Community Foundation, the nonprofit fundraising and grantmaking extension of the team, donated more than $1.5 million to 40 Bay Area organizations to support local youth development efforts. That's pretty darn amazing, considering the charity was only established in 2012, in conjunction with the new ownership group, which celebrates its fifth anniversary this month. The NBA doesn't rank teams in terms of corporate philanthropy, but that doesn't stop the Warriors from boasting that they are among the tops in the league. That's not quite good enough for the owner, who is as competitive as he is charitable.
"I want that to be the largest foundation in the NBA," declares Lacob, growing more excited by the second. "That's goal No. 1. I want to be one of the largest private foundations in the Bay Area. We can do it. We did all this in a couple [of ] years. I'll tell you right now, you'll be shocked in the way it's going to grow. We've got real plans for it."
Lacob may sound like a politician at a rally, but last season proved that he is, indeed, a man of his word. Five years ago, when he and Hollywood mogul Peter Guber, chairman and CEO of Mandalay Entertainment, agreed to purchase the woeful Warriors from Chris Cohan for a then-record $450 million, Lacob stated that the duo planned to "build nothing short of a championship organization."
Remember, this struggling franchise had only been to the playoffs once in the previous 16 seasons, hadn't won the title since 1975, and no player had made the All-Star team since Latrell Sprewell in 1997. The team's charitable arm under the old regime was equally anemic; or as Lacob bluntly put it, "[it] was a disaster when we inherited it."
The goal-oriented chief brought in a new executive director, José Gordon, and made his fiancée, Curran, a former teacher, the president of the Warriors Community Foundation, because she's as passionate about education as he is. Now, the charity that makes philanthropic grants to improve educational outcomes for local, underserved youth, along with refurbishing public basketball courts and donating Warriors tickets to community groups that serve low-income children and families, is rocking and rolling just like its team.
Thanks to support from the team's players, fans, owners and partners, last season, the foundation donated more than 12,000 tickets to local schools and nonprofits, helping to share the joy and excitement of Warriors' home games with low-income children and families. Oakland Unified School District and San Francisco Unified School Districts were among 32 organizations to receive grants totaling more than $1 million. The foundation also dished out $175,000 to the Good Tidings Foundation to fix up basketball courts, including recent projects in Oakland, San Francisco and Richmond. And, Golden State hosted and participated in more than 230 community events.
Their hautest happening is the annual Charity Poker Tournament, where last year, supporters paid $10,000 to play in the no-limit hold 'em tournament, or $5,000 for a tutorial and mini-tournament. The affair at The St. Regis San Francisco was hosted by Lacob, Curran, Chamath Palihapitiya, an original member of the Facebook management team and member of the Warriors' executive board, and his wife Brigette Lau, who has her own education-focused venture capital fund, and 14-time World Series of Poker Champion Phil Hellmuth, who returns to co-host the Jan. 23, 2016 fundraiser that all of the players appear at as well.
The foundation also puts on the popular Splash Brothers Basketball Clinic, presented by Kaiser Permanente, with three-point masters NBA MVP Stephen Curry and Klay Thompson, the first Warriors duo to earn starting All-Star spots since 1967. The pair even got their fathers, both former NBA stars, to participate in the inaugural clinic three years ago; some of their teammates come out annually as well.
"We have a vehicle to raise money with the Warriors," Lacob notes. "We have our players, our team, our brand, our involvement in the community. We do events. We raise money for the foundation, and then within the year, we do all this analysis for who should get the money."
The latest gifts from the foundation ranged from $10,000 to $50,000, with the goal always to give a sufficient enough amount to each organization to make a difference. For example, a $50,000 grant went to Learn Fresh Education Co. to implement NBA Math Hoops in the Bay Area, a fast-paced board game that teaches middle school students fundamental math skills through the basketball statistics of their favorite NBA and WNBA players. Another $50,000 went to Vision to Learn to support free eye exams and glasses for elementary school students in low-income communities in Alameda and San Francisco counties.
Although the Warriors Community Foundation is booming, Lacob has no interest in establishing an endowment.
"I think they're great; they give for years and years, but I don't have time for that," says Lacob, who sits about as still as a two-year-old during our interview. If he's not gesticulating wildly, then he's fiddling with the jelly jars and butter dish on the table, leaning forward and opening his eyes wide to make a point, or putting one hand to each side of his head to show his amazement at something. We can see how he is about the now. "I want to give money away today. I want to make things happen today."
Clearly, the Warriors are doing just that—and being acknowledged for their efforts as well. Last month Lacob, Curran and the Warriors were fêted at Full Circle Fund's 15th Anniversary RISE Gala, honoring leaders and organizations advancing positive social impact in the Bay Area. Although homage was also paid to Netflix Founder and CEO Reed Hastings, Lyft Co-Founder and CEO Logan Green, San Francisco Symphony President Sako Fisher and Family Independence Initiative Founder Mauricio Lim Miller, Lacob was, hands down, the rock star in the room, where attendees asked to take selfies with him and lined up on the steps in the Rotunda at San Francisco City Hall to pose for photos next to the NBA trophy.
He's still growing accustomed to the attention the championship has brought him; the giving back is nothing new. Long before he bought the Warriors, Lacob's philanthropic interests focused on education, both in the community and with universities. Endowment may not be what he wants for his NBA team's foundation, but when he started making serious money at Kleiner Perkins, he endowed athletic and academic scholarships at Stanford. Deciding that the Warriors Community Foundation would make education its thrust was a natural progression.
"I'm not a guy who spreads it wide; I go deep whenever I do something," he asserts.
Last year, he donated $1 million to help fund a new sports management program at Olin Business School at Washington University in St. Louis. His son, Kent, was captain of that school's basketball team; now he works for his dad as Golden State's coordinator of basketball operations.
"I wanted to do something because of the great job they did with him," the Warriors managing partner says.
Lacob's eldest son, Kirk, a Stanford grad, is an assistant general manager for the team. The man in charge, a divorced father of four, also has two daughters— Kelly and Kayci.
It's a good thing Lacob doesn't hold grudges. He applied to both Washington University for medical school and Stanford for undergrad. Both rejected him.
FIRST TO GRADUATE
We had heard that Lacob applied to 47 different medical schools. Really? "I hate to tell you," he says sheepishly, "but it's true. It was over two years."
The best he could do was get waitlisted at Washington University.
He was the first in his family to attend college, which makes us admire him all the more for providing educational opportunities for kids of all ages. Although his parents—his father Sidney, who lives in Palo Alto, worked at a paper plant and his mother Marlene, who passed away two years ago, was a nightshift cashier at a supermarket when he was growing up—didn't have degrees, there was never a question that Lacob and his younger brother, David, would receive theirs.
Lacob didn't earn just one degree. He received a bachelor's in Biological Sciences from the University of California, Irvine, a master's in Public Health (Epidemiology) from UCLA and an M.B.A. from the Stanford Graduate School of Business.
In April 2014, he was honored by First Graduate, a San Francisco-based college access and success program, which annually gives the First in Family Award to a leader in the community who has achieved great success as the first generation college graduate from their family, and whose path towards greatness serves as a role model to the students the organization helps.
"That was a very meaningful award," Lacob says. "[Graduating from UCI] was a big deal; I'm always very proud of the fact, quite frankly, that I was not only the first to graduate from college, but that I paid my way. I earned every dollar and cent. My mom and dad did the best that they could, but they lived paycheck to paycheck."
Their economic circumstances didn't stop the eldest son from dreaming big as he grew up in New Bedford, Massachusetts, 60 miles south of Boston.
"Since I was a little kid, I wanted to own an NBA team," enthuses Lacob, who had been a minority owner in the Boston Celtics for five years and earned an NBA World Championship ring with the storied franchise before selling his minority stake so he could purchase the Bay Area team—which he has held season tickets to since 1998. In the 1990s, he was the primary investor and pioneer of the American Basketball League, a professional women's basketball league that eventually lost out to the WNBA.
"It sounds crazy, because I was very poor. I didn't have anything. I had no right to think that, but I always did."
His life shifted in more ways than one when his family moved west when he was 13. The paper plant where his father worked was sold and closed a year later; Sidney was the only employee retained and was relocated to Southern California, where the Lacobs settled in Garden Grove in northern Orange County. The kid who wasn't born with a silver spoon went to work as a dishwasher in a restaurant and when he turned 14, hawked Coca-Cola and peanuts at California Angels' games, a job he continued while he was in college.
He juggled a few jobs back then, including working at the school library and, in the summer, on the loading dock of Mead Paper Company, where his father worked. Yes, Lacob was a member of the AFL-CIO; he put as much effort into his jobs as his studies.
"Education is the answer to everything," he says. "You look at the Middle East, for example. That's the problem—education and opportunity."
Yet, there's no denying that some of tech's greatest superstars, including Steve Jobs, Bill Gates and Mark Zuckerberg, never finished college. Then there's PayPal co-founder Peter Thiel, whose foundation provides fellows $100,000 and mentorship if they skip or stop attending college for the two years of the program.
"I'm not in favor of that. That makes no sense to me," Lacob says. "It's true there are people in tech who make it without [a degree]. I'm not saying you can't. If you're going to be successful, you're going to be successful. In general, people should get educated. There are a lot of better opportunities that result from it in the long run, and the odds are, you're going to have a better life if you're educated."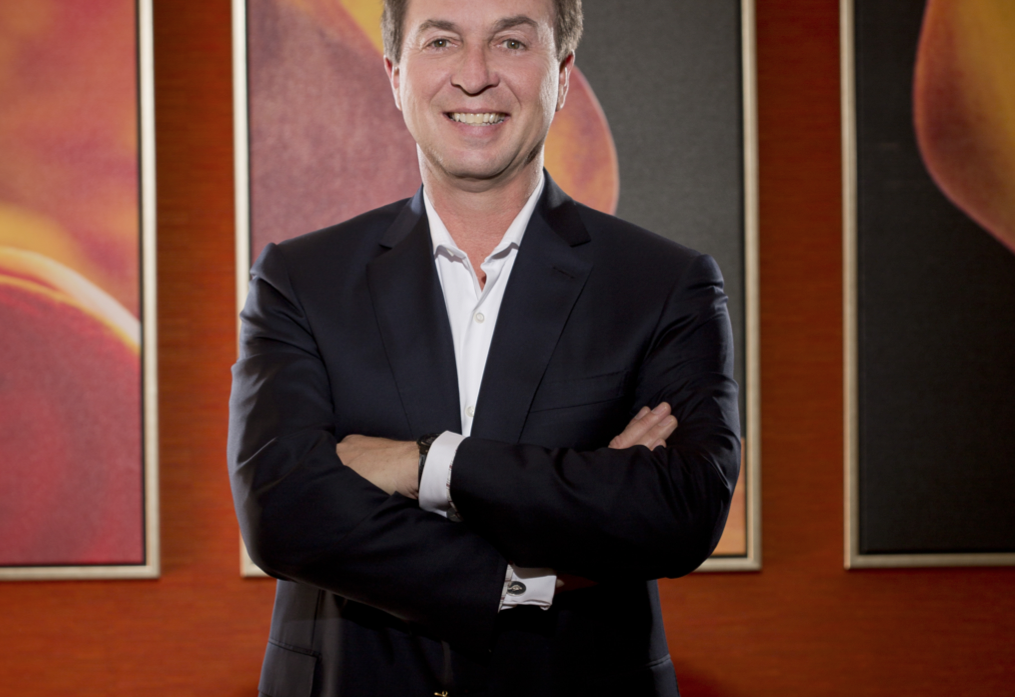 DETERMINED TO REACH THE TOP
"I don't know why or how, but I was very driven, very goal-oriented," Lacob expresses. "I didn't have a lot of fun like most kids in college. I never drank. I was very motivated. I probably had more fun in my 30s, 40s and 50s than I did growing up."
We believe it. If only that trophy could talk.
Winning an NBA title in his first five years was expected for the ambitious man who uses "goal" so frequently that even he notices and laughs at himself when he hears himself uttering said word again. But this is how the former venture capitalist excelled in Silicon Valley—he continues to reside in Atherton—and his subsequent career as co-executive chairman of the Warriors.
"I take that path, whether it's wanting to own a sports team when you're a kid, or starting a new company, or saying, 'I'm going to win the World Championship in the NBA,' once you own a team, in five years. You set very high goals and objectives, and then you go 24/7, 365, and do everything to make that happen," Lacob advises.
"I say this all the time to my kids, and I got criticized for this early on by people saying, 'Well, maybe he's arrogant, or maybe he's whatever to make these lofty pronouncements.' Part of that was just changing the image of the organization. Someone had to step out front for the Warriors and change what had been a culture that was not a winning culture for many, many years, whether we liked it or not."
His knowledge of start-ups—coupled with his experience as a minority proprietor of the Celtics, where he served on the basketball committee— was the perfect primer to become the majority owner of the Warriors. The longtime Golden State fan used to go to the games and complain—and for good reason—with the other supporters. When he took over, he knew major changes needed to be made. He cleaned house in the front office and on the court—only two upper management people were retained, and Curry is the only holdover player.
Lacob showed his mettle in 2012 when he traded star player Monta Ellis, which upset fans so much that a few days later, they unmercifully booed the visibly-shaken boss at a halftime ceremony to retire Hall of Famer Chris Mullin's jersey. The Golden State owner was up until the wee hours of the next morning, responding to the hundreds of emails—all supportive—that he received. It's his custom to reply to every email from fans, unless they use a four-letter word. He's developed a virtual rapport with some of his previously harshest critics. Winning has a way of doing that, doesn't it?
"I knew that if I were just to do the easy things, the complacent things, we might just be that same team," he says. "Being in business for a lot of years, starting companies and all of the things I did, have helped contribute to the ability to make tough decisions. To me, they're not necessarily tough; they're just the right decisions. I can't really worry about whether they're popular or unpopular, because in this business, no matter what you do, half of the people think you're right, and half of the people think you're wrong. You have to have a vision, and then you have to go execute it in the way you see best."
Through the venture capital industry, he learned to never make decisions in isolation, and to value other's opinions.
"At the end of the day, someone has got to make a call—hopefully not too late—and that's what I have to do… I've hired and fired a lot of people in my life. I've built companies. I've architected management teams."
In addition to selecting the perfect complementary ownership partner in Guber, a showbiz whiz who has turned Oracle Arena into one of the most entertaining NBA venues, Lacob has brought in all of the right people, from veteran executive Rick Welts as president and COO, to the legendary Jerry West as an advisor, to former sports agent Bob Myers as general manager. Coach Mark Jackson was his hire too—but when the Warriors didn't go as far as expected in the 2014 playoffs, Lacob didn't hesitate to make a switch. Enter Steve Kerr.
"Each of those guys has one thing in common—they hire great people beneath them," Lacob notes. "Our organization keeps getting better, and frankly I'm more proud of that than the championship."
That doesn't mean his work is done. Far from it. Not only is he counting on more titles—you know he didn't have a goal of just one NBA crown—but there is the not-so-small matter of bringing the Warriors back to San Francisco, where they called home for nine seasons beginning in 1962 after the franchise moved from Philadelphia.
Last month, the Warriors formally acquired from Salesforce a 12-acre site in Mission Bay, where they plan to build a $1 billion sports and entertainment complex with their own money. What they plan to do is unique in that it is the only completely privately financed arena or stadium in the U.S. over the past two decades.
"We don't have any public support, and I'm scared to death," confesses Lacob, who hopes to begin play in the new arena in 2018, "but I'm also excited about that and proud of it. I think we're going to pull it off, and we're going to have the greatest arena in the world for concerts and for basketball. We control our own destiny."
Naturally, with the Bay Area being the land of protestors that it is, there is a group of opponents trying to make sure the campus doesn't come to fruition. At this juncture, the opposition is losing the battle.
"I'm not worried about them," asserts Lacob, who describes himself as "feisty" and "a fighter." "I mean, look, there's always going to be somebody in San Francisco that is opposed to what you're doing. I don't care what it is. You can be handing out a million dollars a day to every person in the city, and someone will have a problem with that."
The true winner in all of this, however, is charity, for as Golden State triumphs so does the Warriors Community Foundation. By the time the new home of the Warriors is ready, Lacob and Curran may have to make room in their bed again for another championship trophy.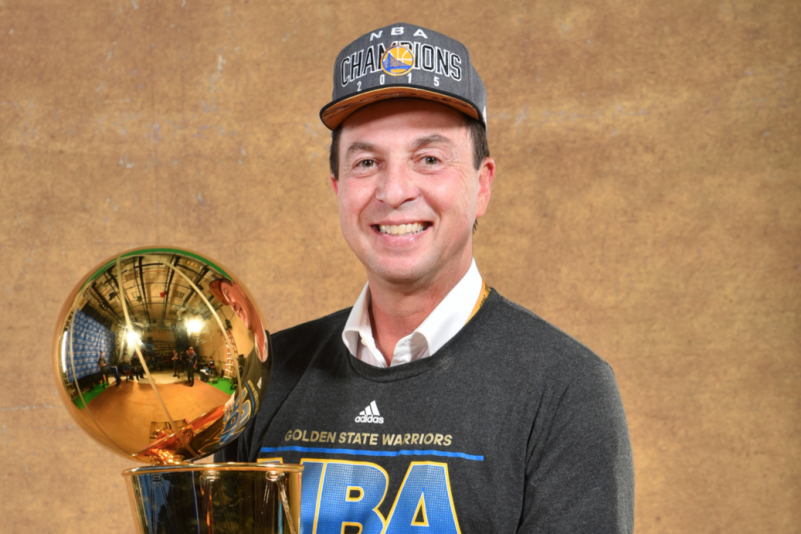 Subscribe to discover the best kept secrets in your city