Perrelet, the inventor of the automatic movement (yes, a long time ago) recently developed the concept of a double rotor—where the automatic movement rotor on the rear of the watch is connected to a second rotor on the dial of the watch. The result is an instant sense of wearer-controlled movement in the timepiece, where the rotor visible on the dial spins with the movement on your wrist. Technical benefits aside, this system begs to be used for fun. Perrelet recently crafted the Turbine watch for men, along with its lovely cousin, the Diamond Flower collection for ladies.
Near the top of the Diamond Flower watch collection comes the Prestige Limited Edition model with a glorious amount of emeralds and diamonds. Underneath the watch hands is a centrally mounted lotus floral display that acts as the second rotor for the Perrelet automatic P-181 movement inside the timepiece. Each tilt or wave of the wrist will send the emerald set flower smoothly spinning around the dial against the backdrop of 519 diamonds. This unique feature transforms this luxury jewelry item from a simple watch with precious stones into a playful wrist-worn novelty.
One of a small collection of Prestige Limited Edition Diamond Flower watches from Perrelet, this Emerald and diamond version on white gold (ref. A7006) is accompanied by a ruby and diamond version on white gold, an all white colored diamond version on white gold, and a diamond on rose gold version with a chocolate mother-of-pearl dial. In beautiful green, the emerald version best evokes the floral botanical nature of the watch (further emphasized by the leaf-like watch hands). The case is 38-mm wide in white gold with a green tinted crocodile strap to compliment the over 200 emeralds. Wearers can turn the watch over to see the movement through the sapphire crystal caseback window. There you will find a unique, Perrelet exclusive decoration on the movement aptly called a "Perrelet tapestry." Elected in Switzerland as the best ladies watch in 2008 via a public vote, the Diamond Flower collection has seen considerable accolades, and dresses up nicely in formal attire. Priced at $97,000. www.perrelet.com.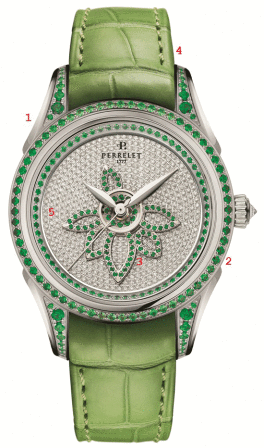 38-mm wide 18-karat white gold case
Double rings of Emerald stones, with more on case lugs
Spinning lotus flower rotor lined with emeralds and connected to mechanical automatic movement
Green colored crocodile strap
Entire dial lined with rings of diamonds
Ariel Adams is the Haute Living Watch Editor and also publishes the luxury watch review site aBlogtoRead.com.
Subscribe to discover the best kept secrets in your city