Photo Credit: v
JUST AFTER RECEIVING A COVETED STAR ON THE HOLLYWOOD WALK OF FAME, LATIN MUSIC ICON MARC ANTHONY REFLECTS ON HIS STAR-STUDDED CAREER.
BY LAURA SCHREFFLER

PHOTOGRAPHY JOE THOMAS
STYLING IRMA MARTINEZ 
HAIR MARCOS CARRASQUILLO
MAKEUP JAMIE HARPER
Photo Credit: Joe Thomas
WHEN YOUR LIFE FLASHES BEFORE YOUR EYES, it typically means, well, the end. But for Marc Anthony, it feels like the beginning.

The day: September 7, 2023. The location: Los Angeles. The milestone: Anthony, the top-selling tropical salsa artist of all time, was finally receiving his long-awaited star on the Hollywood Walk of Fame. Standing there on the celestial-strewn pavement, the 55-year-old-singer was visibly emotional, wiping away tears as he soaked in this life-and-career-affirming moment alongside wife Nadia Ferreira and eldest sons Cristian, 22, and Ryan Muñiz, 20, near the historic corner of Hollywood & Vine.

"My life did flash before my eyes," the four-time Grammy Award and eight-time Latin Grammy Award winner admits. "All I could think about was all those people that shaped me — the faceless, but not nameless; the people that don't get credit, people you come in contact with every day, people who were disrespectful to you when you first started, people who were great to you when you first started. I couldn't stop thinking about every encounter I'd had since I started: good, bad, different. I was standing up there just thinking about all those people that had everything to do with who I am, and I wanted to thank them regardless of what they did to me, whether it was good or bad."

But let's be real: who's going to want to talk about the bad after such a momentous occasion? Certainly not Anthony, and who could blame him? So, instead, we focus on the good: he shares the moments that rolled like a reel through his head as he stood on his star. "I've lived a lot of great moments, from the Grammys to inducting Billy Joel into the Songwriters Hall of Fame to inducting Paul Simon into the Rock and Roll Hall of Fame. I relived singing with Whitney Houston and Michael Jackson."

The Puerto Rican singer takes me back to that day, smiling as he shares that, while reliving his greatest hits, he was snapped back to reality by the appearance of longtime friend David Beckham, who surprised him as the ceremony's guest speaker. He remembers that he couldn't stop the tears from slipping out, despite his best attempts at wiping them away, especially when the former soccer star said, "When we met, we immediately had a special connection. I knew that I had a friend for life."

Anthony shakes his head now and recalls, "When David walked out, it was a total surprise. It was just like, Are you kidding me?" But it wasn't until he himself was asked to say a few words that the flashbacks began. 

"It was surreal," he confesses. "Those things, I guess, are designed to make you feel a certain way — give you a sense of accomplishment, a sense of having been there, of having survived the trenches over decades — and it was pretty effective. It's really tough to accept it in a weird way. It's extremely humbling. I was just going, There's no way. When did this happen? When did I get so lucky? You work so hard to make things look easy, and then before you know it, it's like, Where did the last 20 years go? I feel like a puppy, like I'm just starting."

Photo Credit: Joe Thomas
He may feel that way, but the rest of us know that musical icons don't just appear overnight. While most of us were busy making other plans, Anthony was just busy. After starting his career nearly four decades ago as a session vocalist for freestyle music and underground house music acts in New York, he scored his first big hit in the Latin music world by releasing the salsa version of the late Juan Gabriel's hit "Hasta Que Te Conocī." Following his first salsa album, Otra Nota (1993), his albums broke sales and chart records. His third album, Contra La Corriente, became the first salsa album to enter the Billboard 200 album chart. His 2013 album, Marc Anthony 3.0, received an American Music Award, a Grammy, five Premios Lo Nuestro, two Premios Juventud, and a special "6-time Diamond" certification from the RIAA, while his 2019 album, Opus, received the 2020 Grammy for Best Tropical Latin Album. Pa'llá Voy (2022), his thirteenth and most recent album (as well as his eleventh sung in Spanish), was released on his own Magnus / Sony Latin Music imprint. It received four Grammy nominations and won the Grammy for Best Salsa Album. 
Anthony has received multiple Billboard Latin Music Awards, including ten as a solo artist, three Billboard Awards, and special recognitions from the Univision and Telemundo networks. He's also had hit singles in collaborations with Maluma ("La Fórmula", 2023), Gente de Zona ("La Gozadera", 2014, and "Traidora", 2015), and most recently, "De Vuelta Pa'La Vuelta" with Daddy Yankee. Over the course of his career, he has received countless gold and platinum certifications from the Recording Industry Association of America (RIAA) and has been credited with 105 Billboard chart #1 hits. His tours "Vivir Mi Vida", "Cambio de Piel", "Full Circle", "Legacy", and "The OPUS Tour", have been included in the Global Top Grossing Concert Tours lists. He holds three Guinness World Records and the honor of being named the 2016 Latin Academy of Recording Arts and Sciences prestigious 'Person of the Year.'

He has acted in a slew of films, including In the Heights (2021), El Cantante (2006), Man on Fire (2004), In the Time of Butterflies (2001), Bringing Out the Dead (1999), and even had a starring role in Paul Simon's The Capeman (1998) on Broadway; launched a dual focus music and sports agency in Magnus Media, which has quickly become one of the leading Latin artist and athlete representation companies in the nation; has his own clothing and accessories line; is a minority owner of The Miami Dolphins; and launched the nonprofit Maestro Cares Foundation in 2012, which has built orphanages in various countries in Latin America and the Caribbean. He and ex-wife Jennifer Lopez are also responsible for creating Somos Una Voz, an alliance of artists and athletes that provide humanitarian relief to areas affected by natural disasters throughout the southern United States, Mexico, Puerto Rico, and the Caribbean.   

So, when he tells me that, post-ceremony, the first thought he had was, "All right, all right, well it's time to get back to work," my initial thought is: that sounds about right. And also, when do you sleep?

To that, he says simply, "My career is my life. It's my passion." Which means (and which he actually says): "I don't need much sleep." Duly noted. (But perhaps that's why he's wearing sunglasses at night during our interview, which, for the record, look totally cool when paired with his plain white T-shirt, Bulova watch, and plethora of tattoos).

Honestly, I'm not surprised that his idea of sleep is a power nap. Anthony's mind is constantly working, moving, leaping to the next big thing. It's how truly successful people operate, firing on all cylinders, assessing everything, leaving nothing to chance. He says as much now.

"When you've been in the game as long as I have, and have had 105 number ones, 83 major awards and 15 billion streams, when you're sitting in that seat, it's shocking. It's no wonder I'm so damn tired all the time. I'm like, I did all that."
And now, he's doing it his way. He officially released 2019's Opus under his own imprint, making sure he was steering the ship of his own career. And yes, it felt as good and made him feel as powerful and in control as you'd assume. When it comes to his future music, the sky is the limit — anything is possible — which is why great things can be expected from an upcoming unnamed album, due in 2024… and some surprises.

"I fulfilled my commitment to Sony, and I handed in my last contractual album with them, which was a sense of accomplishment. You know, not too many people sign for 20 years and make it to the last one, still being at the top of your game. So, I had fun with it, knowing that it would be the last one I had under this current contract. I had a lot more fun with it. I wouldn't say I experimented, but I did stuff I always wanted to do, different genres. It was more of a bucket list thing. And I think I enjoyed this one the most because I had the least amount of pressure. I was just like, let's just have fun."

The upcoming, nameless album that's slated to arrive in 2024 is more of the same — and perhaps the most fun of all, even more so than its recent predecessor, because of the freedom he had to do as he pleased without pressure. "I'm looser now. Less tense, if you will, in my interpretation. I'm just having fun with it and experimenting. We recorded [the new album] in a couple of days. No synthesizers, no nothing, just 17 live musicians in a room. I never knew what I was going to do. I'd write live with the band right there, without having a clue as to what the outcome would look like. It was a stream of consciousness kind of thing. I captured the moment, and I enjoyed it. I remember sitting around with the musicians and just joking, not feeling the pressure, knowing that the album was going to come out a year later. It was refreshing; a refreshing take on how my music has matured."

In general, this is how Anthony feels about his music, his sound: not that it has "evolved" per se, as much as it's "matured. I've been making music for over 30 years now, and I've always had my sound. I think that that's what set me apart. And the reason I think it's matured is because I know what works. When I produce and write, I write more for the stage, like what's going to work in a live concert, right? Because I know that at the end of the day, these songs are mine for the rest of my life. I have to live with them. I also have to live with singing them on a nightly basis in arenas and stadiums."

Photo Credit: Joe Thomas
Which means he has to care about the music he's making. And with this newfound professional freedom, he's able to indulge that passion like never before.

"There's not much left to do other than to enjoy it at this stage of my career. I think that my legacy is intact musically. My work is done in the way of having to prove anything. What shapes you is how much fight you have, right? When you're not as well known, you have to make a name for yourself and stand for something or represent something. I'm the first Puerto Rican, the first Latino, that some world leaders have ever met. And I've always felt like I had a responsibility because of that; I never phoned anything in. Every contact I had with anyone was important to me, regardless of what they did for a living. It's really gratifying to me that I took that route [that I was always authentic to myself and to my culture]. I never went into music because of money or fame or women — it was never that for me, and it's still not."

Which begs the question: what was his impetus for music if not fame, fortune, or women? His answer is a surprising one. "It was by necessity," he admits. "I don't know if you noticed, but I sort of tend to stutter. But [back in the day] it was much worse. When I was younger, I couldn't talk. I stuttered horribly. But when I sang, I didn't. And so, that was my safe place. I took it seriously, too, and it saved my ass from a lot of things. I could express myself; I could imagine. So yeah, I'm a lifer. I gave my life to [music]."

As such, he's going to continue to give it everything he's got, but his way, on his terms. "I have nothing left to prove, but I'm just going to continue to strive for excellence at every turn because every opportunity is a fucking blessing, man. I never phoned it in, and I think that that's the difference."

Well, sir, the world has noticed — and I believe star number 2,762 is proof enough.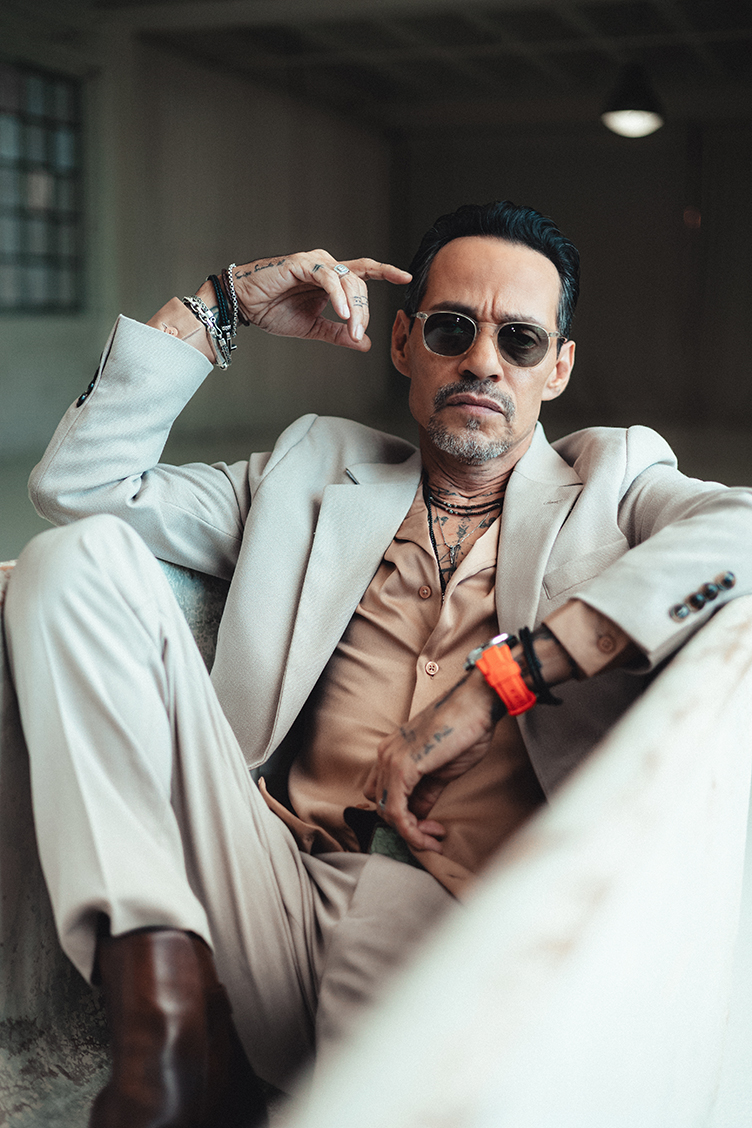 Photo Credit: Joe Thomas
MARCO ANTONIO Muñíz is a born and bred New Yorker, but these days, there's no place like home — and home is Miami.

"Once a New Yorker, always a New Yorker, right? And that's the god's own truth. I mean, I survived New York for 40 years, and it takes a certain kind of person, right?" he notes. There's a 'but.' "But the weather in New York was just too fucking much, man. And I got to spend a lot of time here in Miami because of work. It was a big Latin hub for what I do, right? Everybody passes through Miami. I lived in LA for about nine years, and it wasn't quite the same. There tends to be more reason to come to Miami for Latin artists. I mean, I could throw a rock and hit a musician here, right? It's the epicenter of Latin music from a producer's standpoint, from a business standpoint. It's closer to 90 percent of my work, and honestly, I've really adapted to Miami life. I never thought I would because I remember coming to Miami in the 80s, and Jesus, it was totally different. But I'm glad I did it. I consider myself a Miamian. I can't live anywhere else."

At this stage in his life, the hustle of The City That Never Sleeps isn't quite as appealing — especially given that he himself already has problems in the area. But there's a special brand of magic about Miami, something undeniable and almost palpable, something that he was no longer finding in his hometown. "I feel so welcome here," he admits. "Miami really accepted me with open arms. I don't know if it was because of my work, though I'm sure that had something to do with it. The city is so welcoming, though, that every time I come back after a long tour or trip, I feel like I'm home.  Everybody speaks my language; they understand my culture.  It's just a perfect place, and I wouldn't change it for anything in the world."

Miami is where his heart is, and equally as important for Anthony, at least, it's the home base of Magnus, the entertainment company he founded in 2015, which gave him the tools to craft his professional independence. After almost 20 years with Sony, he was able to create his own label.
The biggest news, as of today, is that Magnus' sister company, Magnus Talent Agency, has formed a partnership with Spain-based Industria Works, effectively creating the Industria Works Booking and Management division, thus expanding the company's live music offerings and providing a strategic presence in the European market. Industria Works books shows and tours in Europe and Latin America for artists such as Trueno, Love of Lesbian, Paula Cendejas, Villano Antillano, YSY A, Maikel Delacalle, Nicola Cruz, and YADAM, among others. These artists will now join Magnus' current roster, which includes Anthony himself, Bacilos, Fonseca, Gente de Zona, Il Volo, Mau y Ricky, and Micro TDH, among others.

He hints at what's to come, but Anthony is playing coy as to what he can actually divulge. From the sound of it, he's planning to make some big announcements, so watch this space. OK, maybe not this one, but you get my point. I do know this: he will be debuting new music at the Billboard Latin Music Awards on October 5 — and this new music is totally unexpected and a complete departure from anything he's done before.

"There are a couple of things that are going to be announced in the next couple of weeks that I'm writing; songs I've written [for his upcoming album], which, to be honest, I love doing. Writing is gratifying; it's satisfying. But I like using the other side of my brain, too, because when I create an album, what do I do other than sing it? The least artistic part of being an artist is being on stage. I'm not writing a song live in front of 30,000 people. I'm basically singing karaoke. So, what am I using my brain for?" he wonders.

That's why Magnus is such an important component of Anthony's life and — dare I say it — his most important focus. As he took control of his name, his music, and those of others, he's become more entrepreneurial than ever before. "I enjoy the challenge of running businesses, coming up with the next big idea, the next big approach based on what I know, based on my tool set," he confides, sharing, "You wouldn't believe what I do here in my house. I have a shop, and I'm constantly creating stuff, which you'll probably hear about at some point. But I do all the prototypes myself. I design everything myself. I do it all myself."

If only that comment weren't so vague, but alas, methinks it was intentionally so. Never mind. He's back to being all business — or at least talking about it. "[When I created Magnus], I thought to myself, I wish I could streamline that process for these artists that are coming up. I wish that I could give them advice. When I started, it was totally different. There was no social media; there was no nothing. We had to pound the pavement with our cassettes and our 45s and literally knock on the doors of radio stations, attaching our headshots. And now, shit, man. If I had the tools that these kids have now, man… But I'm glad I don't because that creates character. I'm like the Last of the Mohicans of those that had to do it that way and are still in the game, still kicking ass. I'm not here to play games: I'm here to kick your ass and be the best that I can be because that's what I owe you. That's what the business side of it is like to me. I really enjoy the challenge of that."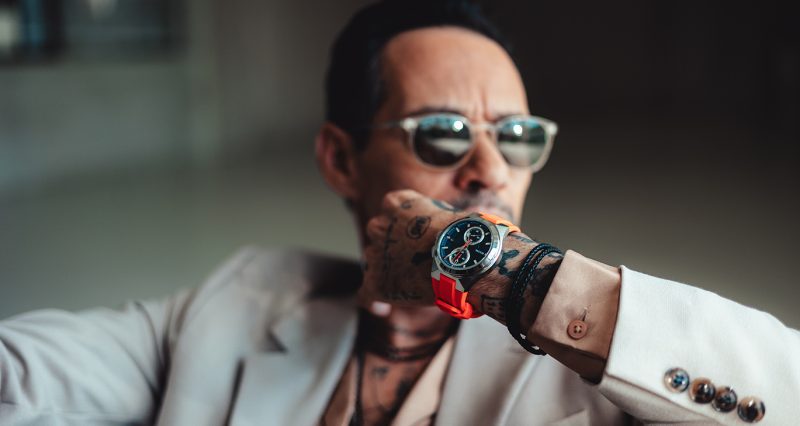 Photo Credit: Joe ThomasJoe Thomas
Everything is a challenge to Anthony, who has never shied away from hardship or from putting in the work. Which, as it happens, is the knowledge he most wants to impress upon his children. Anthony is the father of seven, including his previously mentioned sons Cristian and Ryan with ex-wife Dayanara Torres; daughter Arianna and son Chase from his previous relationship with Debbie Rosado; twins Max and Emme with ex-wife Jennifer Lopez; and his child with wife of nine months, former Miss Universe Paraguay Nadia Ferreira, a son, born in June. "The biggest lesson I want to teach my kids is that there's no shame in working hard. My kids look up to me, and we spend a lot of time doing Q&As. They ask, 'What was it like then?' And they know it was hard, man. When they hear the specific stories about my hard work, perseverance, all that good stuff, they're like, 'What?' I'm like, Yeah. That's how it was. It was like the wild, wild West in this industry when I started. And I didn't take shortcuts because they don't create character, man. You have to feel the sting of something — how something hurts — when you make a decision because that's what's going to etch in your brain. I don't ever want to feel this way again. I'll never do that again. That shit hurt too much. It burned too much earth. That's the only way you're going to learn."

He pauses, and I hate that I can't see his eyes behind his sunglasses because his voice has gone quiet. It's almost as if he's back on the Hollywood Walk of Fame again, as if he's having more flashbacks — and not the enjoyable kind. Whatever this is, the memory isn't singing with Whitney. But he returns quickly, revealing an obvious pride in his kids.

"They're not afraid of hard work," he says, sharing, "I was just with my oldest sons [Cristian and Ryan]. I was here working on a project. They jumped in to help, and we were up working until six in the morning until it was perfect. I was like, No, man, get some rest. [My oldest] goes, 'No, no, no man, if you're up, we're up, let's go.' [But they were also like] 'Dad, this is hard.' And I said, Yeah, it is, but it's fucking worth it, man. This is worth it. And once you break through, you're gonna be sitting there going, 'Now I'm reaping the rewards.' There's honor in busting ass; there's no shame in hard, honest work."

Obviously, this is something Marc Anthony knows a thing or two about. Take a look at his Grammys, his Latin Grammys, his Billboard Awards, and his Guinness World Records. But even he realizes that the greatest luxury in life is one that's fleeting, and one that's never guaranteed — even when it's seemingly so.

The singer says, "I think the hardest [thing] to achieve [is] peace of mind that you know you've done it right, when you don't have to look over your shoulder so much, and there is just peace. The time [it takes to realize that]? That's a fucking luxury, man."

Said like the true star he is (and has).    
Subscribe to discover the best kept secrets in your city