Photo Credit: The Windsor Court
New Orleans is a city revolving around hedonistic pleasures. Its motto, after all, is "laissez les bon temps roller." And this is entirely apparent at the Windsor Court, a luxury hotel that quietly whispers (as opposed to screams) how luxurious it truly is.
As per its name, the property, which is located in the heart of the Central Business District in downtown New Orleans and is within two blocks walking distance of the French Quarter, Mississippi River, and Warehouse/Arts District, pays particular attention through art and decor to the U.K.'s iconic Windsor Castle (wedding venue of Meghan and Harry), featuring more than 60 artists from the 17th through late 20th centuries (inclusive of an authentic, non-museum displayed John Singer Sargent), providing a British museum-quality experience.
But what makes it so luxe, and what would you experience during a stay? The answer to the latter, quite simply, is everything. It's the extras that make this so spectacular, like chauffeur services and EV charging stations are for added convenience, a house car that's available on a first-come, first-served basis, a club lounge with exquisite meal presentations, and a $10 million art collection.
THE ROOMS
Photo Credit: The Windsor Court
The over-sized, luxurious rooms meld current comforts into traditional design. While many things about the hotel may look antique, convenience has been kept in mind, inclusive of bedside tables with convenient, built-in charging stations, pullout sofas, and expansive bathrooms rich with Italian marble, amenities by Diptyque, and plush slippers.
The property's real pièce de résistance though is the recently renovated Presidential Suite, which, at a $2 million renovation price tag, is hard to beat. At 2,800 square feet, it's massive, almost palatial, a place one can get lost in. New Orleans-based interior design firm Vesta Fort Interiors kept the look classic, though wanted to offer modern amenities to the two-bedroom, two-bath, and two-half-baths space.
Upon entering, the foyer welcomes guests with a beautiful, detailed traditional wall covering created by Schumacher called Xanadu Landscape, inspired by the hand-painted Chinese wallpaper that graced the walls of Queen Victoria's bedroom in Brighton's Royal Pavilion. A beautiful entry table inspired by chinoiserie (a delicate foil to the herringbone wood flooring) leads guests ahead to the grand living room to one of the bedroom suites.
Photo Credit: The Windsor Court
The grand living area opens into a light-filled oasis with stunning views of the New Orleans skyline. Anchored by a baby grand piano and a gas fireplace, the main living area embraces repurposed accent pieces that reflect today's indulgences while mirroring the historic nature of British luxury. A custom-designed dining room table from Dop Antiques of New Orleans sits in an atrium-like dining alcove on the far side of the living room, opening up to an English style garden throughout the tiered patio and balcony.  A tortoise coffee table by Kathy Slater sits in the center of the living room, while four exotic, Turkish leopard print pillows by Billy Baldwin Studio flank the table for additional seating. Remote-controlled black-out curtains using the Lutron communication system and sound system allow for an airy ambiance, while also offering significant views of the Crescent City.
Meanwhile, the living space powder room features Calcutta marble as well as a  free-standing bar in the living room area adorned with black quartz countertops, beautiful glassware, and top-shelf liquor. A Miele-brand espresso machine is available, as is wine refrigerator.
Photo Credit: The Windsor Court
The library is detailed with wainscoting panels and offers a gorgeous game table, comfortable seating, and desk area, along with a powder room dressed in the classic Schumacher Faubourg Brown. A built-in bookcase offers a curation of titles and some by local New Orleans authors and assortment of games.
A discreet gym opens into the library, allowing for large light from the window views to fill the space, while offering a Techno Gym bike and treadmill, a weight system, resistance bands, and mats. The fitness space includes the Techno Gym Interactive Workout and Television.
CLUB LEVEL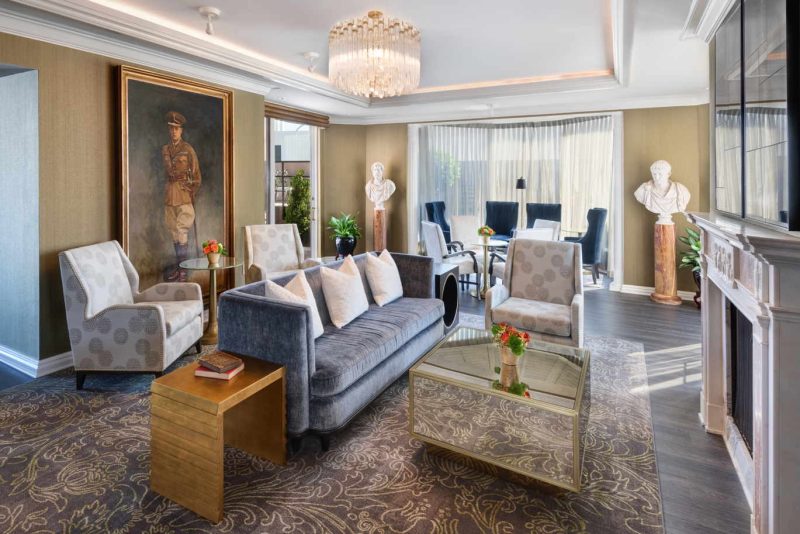 Photo Credit: The Windsor Court
The Club Level here is next level. It offers meal presentations throughout the day, free-flowing cocktails, a beautiful view of the Big Easy, and knowledgeable staff members who can provide everything from history lessons to travel recommendations, and who always remember your name. There's even daily afternoon tea and evening cocktails, as well as a shopper at Saks available for booking.
The caveat: you must book a club level suite. There are deluxe and premium offerings; the latter of which offer 800 square feet and are reserved to the hotel's top four floors and which feature elegant seating areas complete with wet bars, dining tables, and desks.
DINING & DRINKING
Photo Credit: The Windsor Court
You're kind of spoiled for options here, and like I said, you may not technically need to leave (but it's NOLA, so you have to). First up is The Grill Room, which is widely regarded as one of New Orleans' ultimate fine dining destinations, in an elegant, old-fashioned space and one of the most extensive wine cellars in the city.  Overlooking the courtyard through floor-to-ceiling windows, The Grill Room recently went through a re-launch, now offering up modern American cuisine. For drinks, head to the Polo Club, which has an old-school members-only club feel, polo décor, fine art, live jazz, and a wide selection of cognacs. The Pool Bar is just what it seems, an oasis in the summertime especially, tucked alongside a 65-foot saltwater pool and garden terrace, with specialty daiquiri machines and an upscale cocktail program on offer. Last but not least is Le Salon, which offers a traditional British afternoon tea experience in an elegant setting.
THE SPA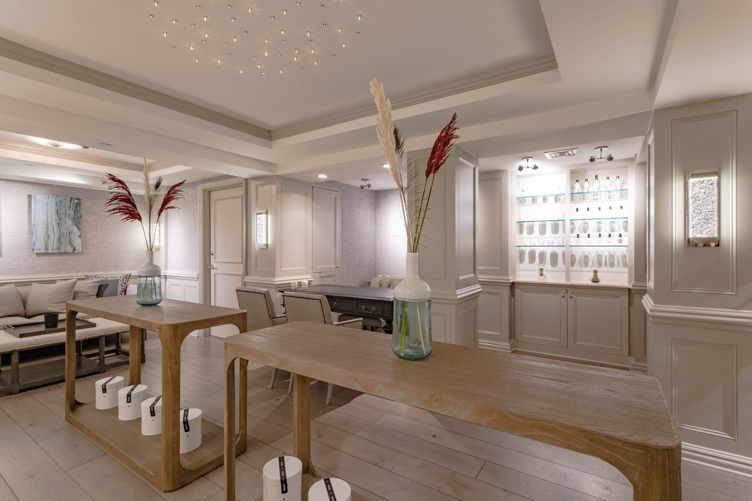 Photo Credit: The Windsor Court
The Windsor Court Spa is hands-down one of the best in the city, and if the brands used don't tell that story, I'm not sure what will. Luxury  skincare lines Augustinus Bader and 111SKIN, as well as CBD line Lord Jones, are just a few of the brands featured — a first for the Crescent City. The spa itself features nine treatment rooms including two wet rooms, one couple's treatment room, and facilities for salon services such as nails and waxing. There are also infrared saunas, an outdoor pool, a fitness center with Peloton Bikes, Techno Gym equipment, and weight machines.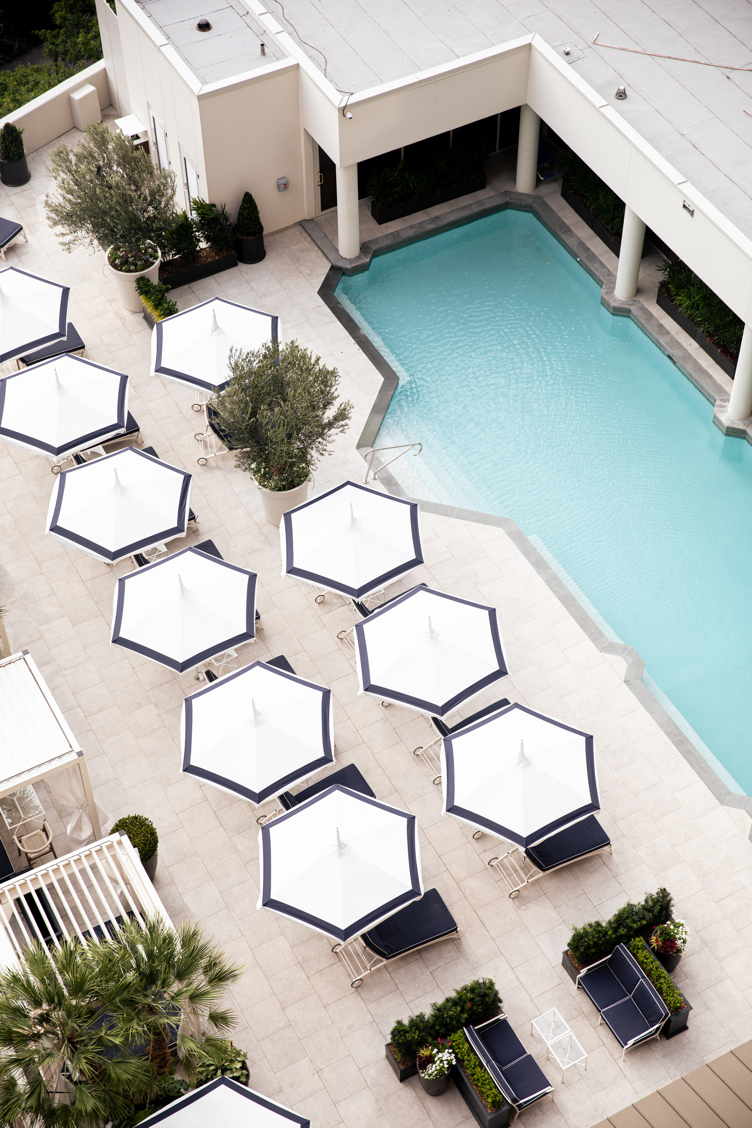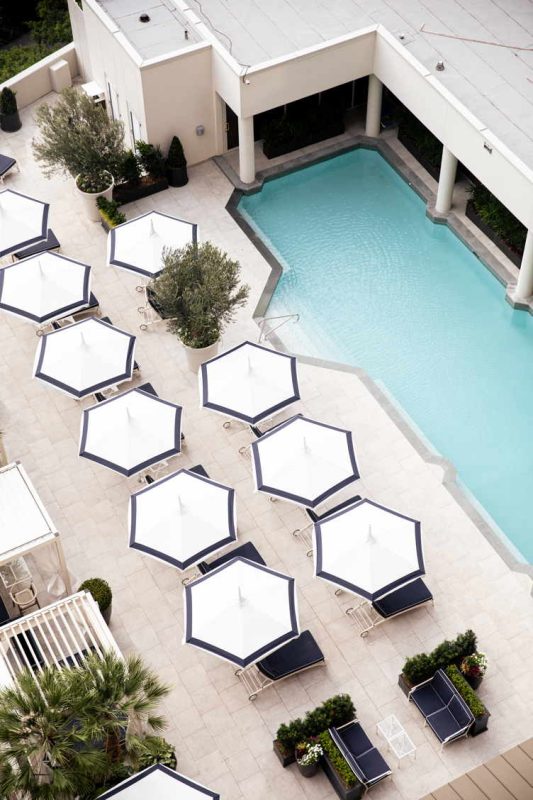 Photo Credit: The Windsor Court
Adjacent is the newly renovated rooftop pool, which includes a sun station offering towels and sunscreen, and a custom pool snack cart offering guests frozen treats. The deck consists of Tucci umbrellas and living room style cabanas equipped with TVs, roof louvers, and lighting controlled by remote. The pool recently resurfaced in Diamond Brite exposed quartz aggregate plaster and the waterline tile and coping is bluestone. A pool bench the length of the pool has been added for comfortable water seating.
The Windsor Court Hotel is located at 300 Gravier Street, New Orleans, LA 70130
The Windsor Court
Presidential Suite balcony
Photo Credit: The Windsor Court
The Windsor Court
Presidential suite living room
Photo Credit: The Windsor Court
The Windsor Court
Presidential Suite Balcony Access
Photo Credit: The Windsor Court
The Windsor Court
Presidential Suite bathtub
Photo Credit: The Windsor Court
The Windsor Court
The lobby
Photo Credit: The Windsor Court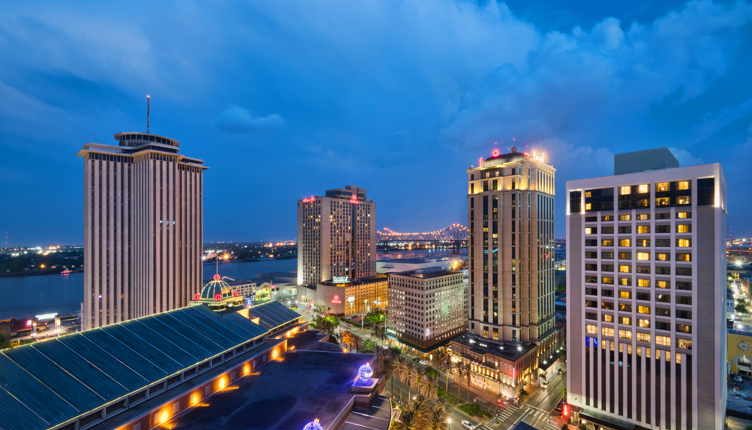 The Windsor Court
An outdoor evening view
Photo Credit: The Windsor Court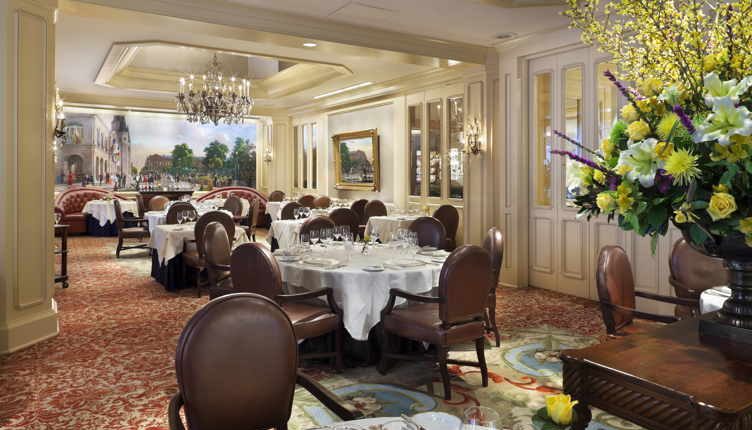 The Windsor Court
Grill Room
Photo Credit: The Windsor Court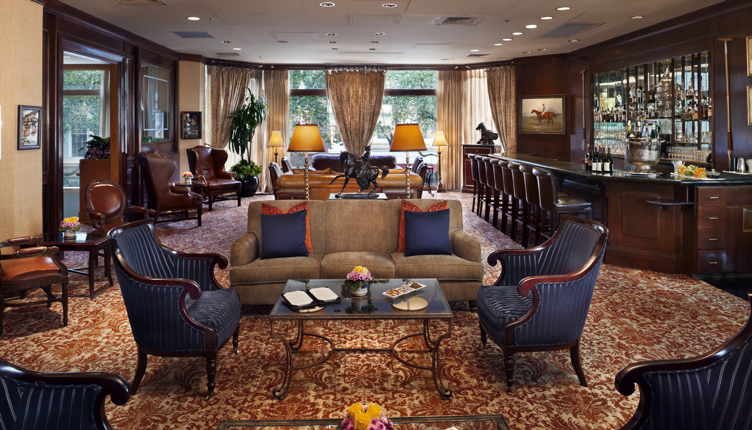 The Windsor Court
The Polo Club
Photo Credit: The Windsor Court
Subscribe to discover the best kept secrets in your city