Photo Credit: Erik Scherb You'll likely recognize Tammin Sursok as Jenna Marshall in Freeform's Pretty Little Liars, but at 39, the South African actress is much more than her high school alter ego. Sursok is an Emmy-nominated, Logie Award-winning actress, producer, director, writer, entrepreneur and platinum selling recording star, who, in addition to a slew of new roles, is also producing original content for her own channel with AwesomenessTV which brings a built-in audience of 1.2 billion views, 3.6million subscribers, including her original celebrity interview series, In Bed With Tammin. But we're here to talk to Tammin about her latest project, the dark comedy Blood, Sweat and Cheer, revolving around a mother seeking to relive her glory days who poses as her teen daughter to join a dance team. 
Photo Credit: Erik Scherb
What drew you to your latest role, "Blood, Sweat, and Cheer"?
I was interested in playing with the idea of the invisible woman. My character Renee is a mother, but she was never seen in her life. She never achieved what she wanted to achieve, and she feels invisible. She lives vicariously through her daughter and is desperate to relive, her life over again. I wanted to explore those themes and the idea – what would you do to be validated and seen
High school is a literal bloodbath anyway, which is kind of the tongue-in-cheek point of this movie, no? What was your own high school experience like?
I didn't have a typical high school experience. I was a child actor at 15 so I actually finished my last three years on a TV set. Prior to that I was 200 pounds and bullied through most of my middle school to beginning of my high school years. It wasn't the most pleasant experience. I also have to shout out Kayli from hifinch spa here in Nashville who is the reason I could look like I could maybe be mistaken for college 😂
In three words or a phrase, what sums up this film?
A woman desperate to relive her high school experience that she'll do whatever it takes to achieve it.
Photo Credit: Erik Scherb
You've done it all, from acting to producing, to writing, and singing. How have you navigated venturing into so many diverse roles? How do you balance your passions?
One quote that really speaks to me is "You can have it all. You just can't have it all at the same time." I used to put so much pressure on myself to succeed at everything all at once and it just isn't possible. I'm also a mom and have a family so it's important to me to be a present mother and there for my children's milestones. I try to be present in whatever role I'm in whether it's at home or on set, but I love to dive into roles that feel like it's an opportunity to uncover parts of myself.
Are you still close to anyone from your "Pretty Little Liars" cast? Who, if so?
If I saw them on the street, we would definitely say hello and have a nice catch-up but I'm not close to anyone mainly because I don't live in Los Angeles so it's not an easy thing to maintain a friendship.
How did "PLL" change your life?
I was in a show called "Home and Away" in Australia and I remember vividly the moment I knew my life was going to change I was 15 years old and it was a very well-known TV show. When I came to America, I worked on many different TV shows and films, but it was that same feeling when Pretty Little Liars first came on air. I knew it was something special. I knew that we had lightning in a bottle which is so rare these days. It completely changed my life in the US as I became known for being a character that people call iconic, and I'm so grateful every day that I got to be on such a successful show.
Photo Credit: Erik Scherb
Your daughters Phoenix and Lennon are still quite young, but have you thought about how you might introduce them to your work as they get older? What do you hope they take away from it?
Oh, they've seen almost all of my films and TV shows except for pretty little liars. I worked on Hannah Montana, filmed Flicka, Aquamarine, and Spectacular! There are so many shows that are age-appropriate for my kiddos. Sometimes they think it's brilliant, that mom is on TV, and other times, they just don't care. Haha! Depends on what mood I get them in.
You've done a lot of work in both Australia and the United States. How do you see the entertainment industry in these two countries differing, and what have been some of the challenges and rewards of working in each?
I love working in my hometown Australia. It feels like a family when I go back. Everyone knows each other in the industry and it's obviously much smaller. We only have 30 million people compared to 300 million in the USA. It's just a different experience. The USA obviously has more opportunities and what they pay you is completely different but I also love being able to film in Australia where it feels like I'm making movies with friends.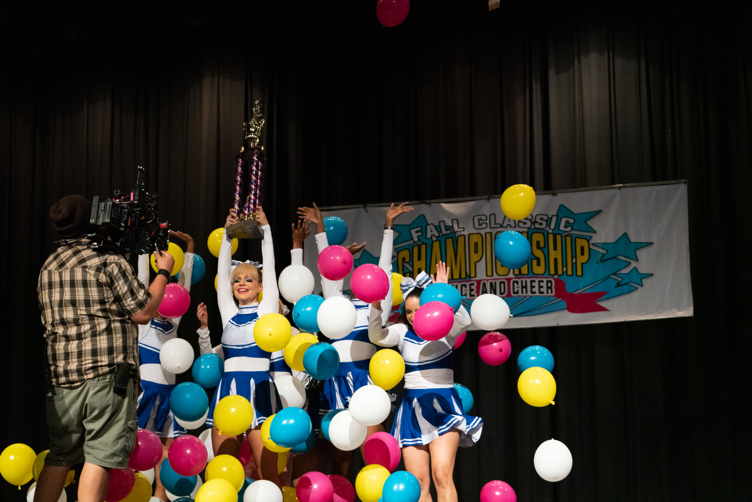 Photo Credit: Erik Scherb
What do you have coming up next?
My podcast Women On Top is in its fourth season- we just hit 4 million downloads! We just had Alicia Silverstone on, we are recording with Rachel Bilson, and were in talks with Naomi Watts to come on the show. It has been such an incredible experience. In the beginning, I wanted to have an open conversation with women from all different walks of life. Experts, mothers, celebrities, and just talk about all the things we think but sometimes don't say. It's raw, honest, open, and really funny. I also create content on my social media platforms of which I have around 3.5 million combined. It has been such a blessing to be able to create in the middle of the downtime from acting on a TV show or a movie. I love creating and it's just been such a fun experience to be able to make people laugh or feel less alone on these platforms. I have two movies I'm shooting in New Zealand in June and July which I can talk about at some point and I have a movie called Stolen Memories coming out soon.
Your podcast will soon release a new season. Tell us about what that's going to look like.
This season is our best one yet. We just had Ali Manno from the bachelorette, Meghan King, from real housewives, Jana Kramer, and Kat Stickler, who has 10 million on so on TikTok, I feel like these conversations are the most honest so far. No topic is off-limits and we are really growing our guest list and are excited for what this next season brings!
What sums up best where you're at personally and professionally right now?
Growing, learning, loving, changing, and having fun!
Subscribe to discover the best kept secrets in your city