Photo Credit: Pierre Björk
Frida Gustavsson is a warrior… or, at least, she plays one on TV. The Swedish actress stars in the second season of Vikings: Valhalla, playing the lead female role of Freydis Eriksdotter, alongside Sam Corlett and Leo Suter. The series begins in the early 11th century and chronicles the dventures of some of the most famous Vikings who ever lived – Leif Eriksson, Freydis Eriksdotter, Harald Hardrada, and the Norman King William the Conqueror. We chatted with the former model — who spent years walking the runways for the world's top fashion houses including Chanel, Valentino, Alexander McQueen, and Christian Dior  — about transitioning from the catwalk to the small screen.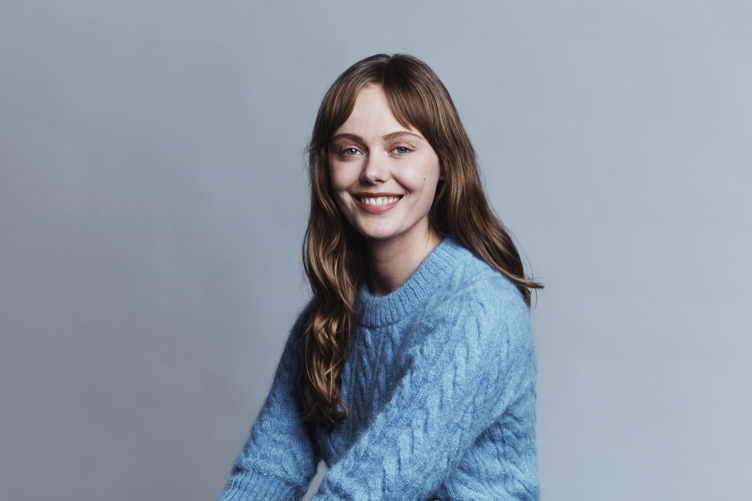 Photo Credit: Pierre Björk
Tell us a little bit about VIKINGS: VALHALLA and what getting this role meant to you.
When I first learned that Netflix and MGM were in the works of producing a spin off to Vikings I got so excited. I was a huge fan of the original show, especially the rawness of the first few seasons and the thought of throwing myself into that universe was incredibly thrilling. Upon reading the pilot I immediately knew that Freydis is a role of a life time and decided that what ever happened – she was going to inhibit me fully and madly and that she was mine. Thankfully Jeb Stuart (our magical showrunner) and our producers thought the same and I was brought to Ireland to do a chemistry read with Sam Corlett and Leo Suter. We immediately felt that there was a spark there and the work on developing these characters and their relationships began. That work has been the most rewarding of my career.
Coming off the heels of such a successful season one, what are you hoping season two provides for the fans?
I cannot tell you how immensely moved I am by the response from the first season, its just beyond words. It is such a gift to portray a character you love and then have people watch it and react to it – it is more than I could have hoped for. Coming into season 2 I hope that fans of the first season are willing to come with our characters on a journey beyond the viking world that they have seen and know. To go on an adventure that will push us further than we perhaps thought possible and that they will perhaps open their hearts to new characters and places.

Photo Credit: Pierre Björk


Can you tell us what it was like returning for a second season?

Being a part of a show that spans over multiple seasons is a great gift as an actor, knowing that there will be time to grow, to change and to really, really invest in the physicality of the role. Returning for a second season meant coming back to one of the most beautiful places I have ever been to, the Wicklow mountains of Ireland, and seeing all of my Valhalla family. We have all become so close that it really feels like you are away from family during the hiatus. Coming back also meant that we got to share the first season of our hard work with the world and they joy of seeing how viewers responded to it really contributed to a wonderful vibe on set.
We see Freydis evolve in season two. Can you talk about your process of creating your character arc with Jeb and the producers?
From a character stand point coming back proved an interesting challenge in regards to Freydis' journey this season. It is never an easy day when playing Freydis and the stakes are even higher this time around as she is no longer fighting just for her self and her own revenge or survival – she is now a mother and the Last. I worked closely with Jeb to break down her odyssey this season and how all of the obstacles being thrown at her would affect her. Working with Jeb has been more than I could have ever asked for and an experience I will always treasure. I am not a mother myself and as I wanted to portray Freydis' journey through something unknown to me I spend a lot of time doing research in books and films, I also interviewed every mother I know on their respective experiences. I spent a lot of time with Susan O'Connor Cave, our costume designer, to create the different prosthetics of the belly which really informed me on the great shifts in balance and movement. That then illuminated me on the changes I needed to make in my style of fighting and even walking.
How did you prepare for such a physical role like this?
Thankfully I was still in good shape from the "Viking Bootcamp" that was season one and I had our excellent stunt team to train with so coming into season two we more or less just dived into it. What I love about Vikings: Valhalla is that the action is always character driven and so filled with emotion. We rehearse like mad but never loose the intention of the roles we play and that makes it so rewarding to shoot.

Photo Credit: Pierre Björk


Do you do your own stunts and if so, do you enjoy that part of this project?

I am thankful to Richard Ryan and our incredibly talented stunt performers and choreographers for believing in me and letting me do all my own stunts. They work so hard to create epic fights and stunts and it is a privilege to work with them and have their trust. I have the most magical double and sparring partner, Karin Floengård Jönsson, who is also Swedish. Together we make up team Freydis and have so much fun while kicking ass.
Your moments on screen with Leo and Sam are so powerful. Since you've had more than one season, can you please talk about getting to work with them and the camaraderie you've built with each other?
Sam and Leo are two deeply talented, wonderful human beings and we have become so close. Given the nature of our relationships on the show we really gave each other time and space to grow into each other and I am so glad we did. We also spent the first season living in the same house which really helped create that family vibe and going into season two me and Leo were neighbors again. When spending months on end filming in another country, especially during a pandemic, these relationships are massively important and I am so grateful that Jeb and this show brought us together. Even more thrilling to see that the love we have for each other is visible on screen and something viewers
of the show responds to.
Subscribe to discover the best kept secrets in your city