Summer in New York City is the perfect time to try the latest additions as well as classic favorites with revamped summer menus. Whether you're looking to entertain your tastebuds with the freshest seafood or simply want to share a good meal with friends, we've got you covered with our guide to summer dining in the city.
The Fulton by Jean-Georges 
Jean-Georges new restaurant The Fulton, which just opened in the newly-revitalized Seaport District is the best place to satisfy your summer shellfish cravings. Inspired by memories of visiting the bustling fish market as a young chef in 1986, Jean-Georges Vongerichten pays homage to the former market with a menu of seafood-forward fare in a one-of-a-kind waterfront setting. Designed by Yabu Pushelberg with architect Cass Calder Smith, the bi-level restaurant features indoor and outdoor seating with stunning views of the Brooklyn Bridge, East River, Manhattan skyline and serene harbor. A series of hand-painted, whimsical murals by artists Chandler Noah and Diego Castaño of En Viu decorate the walls, illustrating an undersea journey, while nautical light fixtures resembling buoys hang from above the sleek quartz countertops. Upstairs, an oyster bar, a private dining room and a series of banquettes, tables and lounge seating offer window-side views of the East River and beyond. The Fulton is open for dinner to start, followed by lunch and weekend brunch.
Make a reservation via Resy. 
CAFÉ BOULUD 
We wouldn't have a dining guide without at least one of Chef Daniel Boulud's famed restaurants, and for summer, we choose Café Boulud. Sitting on the Upper East Side just steps from Central Park, this Michelin-starred institution serves traditional French cuisine and even has an al fresco dining option. Although seats are limited, the terrace lined with tables clothed in crisp white linen will remind you of Parisian dining on quiet cobblestone streets. Enjoy a three-course prix fixe lunch starting at $45/person with items such as salmon tartare, pork schnitzel and melon délice, paired with a selection of wines. Their weekend brunch menu is also great if you're looking for a refined meal with smoked salmon eggs benedict and other brunch classics starting at $52/person for a three-course menu.
Make a reservation at Café Boulud. 
WAYLA
Finding a restaurant with an outdoor space in the city can be difficult, but this secret garden at Wayla is your answer to al fresco dining without sidewalk interruptions. Wayla, which translates to "time" in Thai encourages diners to take time out of the day to enjoy a good meal and drinks with friends. This is easy in the restaurant's garden, which is fitted with a large patio surrounded by greenery, twinkling lights, dinner tables and lounge areas for boozing and snacking. Expect to see fresh homestyle Thai dishes with a greenmarket approach inspired by markets in Bangkok where Chef Tom Naumsuwan grew up. Dishes include a nam prik platter, maa's daily curry, and kua kling kung, the spiciest dish on the menu.
Make a reservation via Resy.
GITANO GARDEN OF LOVE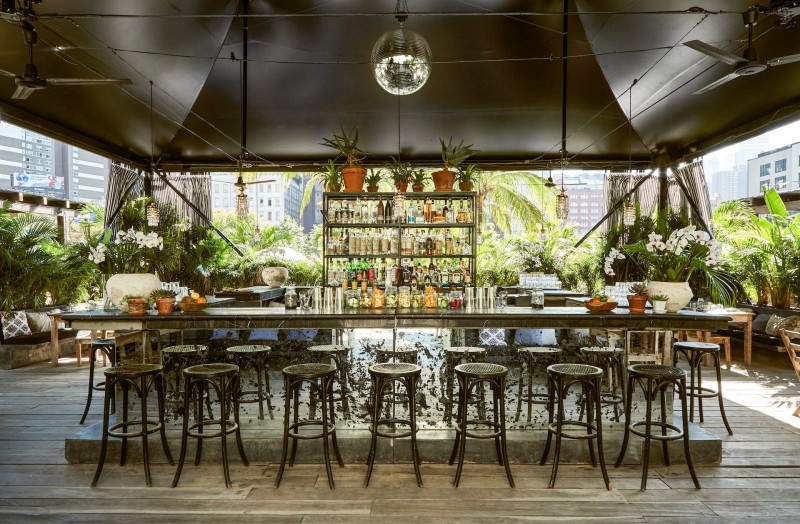 Gitano Garden of Love brings the Tulum jungle to the concrete jungle. This dramatic restaurant and mezcal bar is set in a 24,000 square foot tropical garden in the heart of SoHo. The restaurant and lounge offer outdoor seating, lounge seats, a reflecting pond and a meditation labyrinth for guests to use, making it a great summer dining destination pick. The menu is full of great options from pork belly tacos to banana-roasted brook trout and a side of guacamole for in between. Don't forget to try a seasonal cocktail to top off your perfect summer evening dining in the Garden of Love.
Make a reservation via Gitano. 
SUMMERLY 
Take in the summer breeze and watch the sunset on the horizon at Summerly, a rooftop bar, and restaurant at The Hoxton. Summerly is a place to gather with friends over a seafood-forward, shareable menu featuring favorites including lobster rolls, wood-fired clam pizza, surf 'n turf burger and more. Bringing coastal vibes to Williamsburg, Summerly offers an experience reminiscent of sunny days spent at the beach, which is perfect for forgetting about the concrete jungle that is New York. Compliment the view with a large format cocktail, ideal for sharing or toast with a glass of rosé. Don't forget to sink into the sweet selections like the grapefruit campari cupcakes or strawberry and champagne float.
CECCONI'S DUMBO
If you're looking for waterfront views of the Manhattan skyline, head to Cecconi's Dumbo, a modern day classic Italian restaurant open for lunch, dinner and weekend brunch. Located at 55 Water St., Cecconi's is a great alfresco dining option, with an awning-covered outdoor patio, as well as velvet mini-sofas and multiple rooms, each furnished to suit the atmosphere. Diners will indulge in hand-made pasta, seafood and dishes from Italy such as agnolotti del plin with black truffle and hamachi crudo. Treat yourself to a Sunday brunch with classics like eggs benedict or opt-in for eggs florentine to shake things up.
Make a reservation via OpenTable. 
CASA BOCADO
Chef Ivy Stark and James Choung are offering a summer fiesta at Casa Bocado, a food cantina featuring Mexican-inspired cuisine with authentic and modern takes on taqueria and ceviche—including Baja-inspired Mexican sushi. Here, you will find a selection of dips, starters, Ensalada, tacos and more, including large plates. Apart from immersing yourself in Mexican cuisine, transport yourself to a tropical paradise, surrounded by palms and light flooding from floor to ceiling windows. It's located in the city's oldest operating hotel property Sohotel on the corner of Bowery and Broome Street. Casa Bocado also boasts an impressive Agave Tequilas bar, offering more than 80 different types of plata, reposado, añejo, and mezcal, perfect for a summer margarita fix.
Make a reservation via OpenTable.