This summer, treat yourself to some of the world's greatest travel experiences and indulge yourself along the way with opulent, over-the-top suites and customized experiences to make it a truly unforgettable trip. Here, we highlight some of the most unique and over-the-top hotel experiences from all around the world—from the opulent Atlantis in Dubai, a safari in Tanzania, to right at home here in Washington, D.C. Find all the details below:
Laucala Island, Fiji
Photo Credit: Instagram: @aboutluxuryhotels
Laucala Island—an ultra-exclusive, private island in Fiji—has become famous over the years for attracting its elite clientele including celebrities like Oprah. Starting around $4,800 per night for a one-bedroom villa, it's certainly equipped to offer any amenity or activity ready for guests upon request, ensuring that every need is met and guests can experience the most luxurious getaway possible. One of the prestigious resort's most talked-about amenities is its unique submarine offering, allowing adventurers to do a deep-sea dive into the gorgeous Fiji waters in a $2 million, state-of-the-art DeepFlight Super Falcon submarine. Talk about living the haute life!
Hotel Metropole-Monte Carlo – Monaco
At Hotel Metropole Monte-Carlo, guests who book a stay in the sumptuous Suite Carré d'Or penthouse can enjoy exceptional and exclusive private experiences, including a private dinner catered by the hotel's Michelin-starred culinary team on the penthouse terrace (accompanied by music from a live orchestra), helicopter transport to and from the Nice airport, in-room spa services from the Spa Metropole by the Givenchy team, personalized bathrobes and more. Bask in one of the summer's hottest destinations in the ultimate haute style as you enjoy all that the five-star hotel has to offer.
Conrad Maldives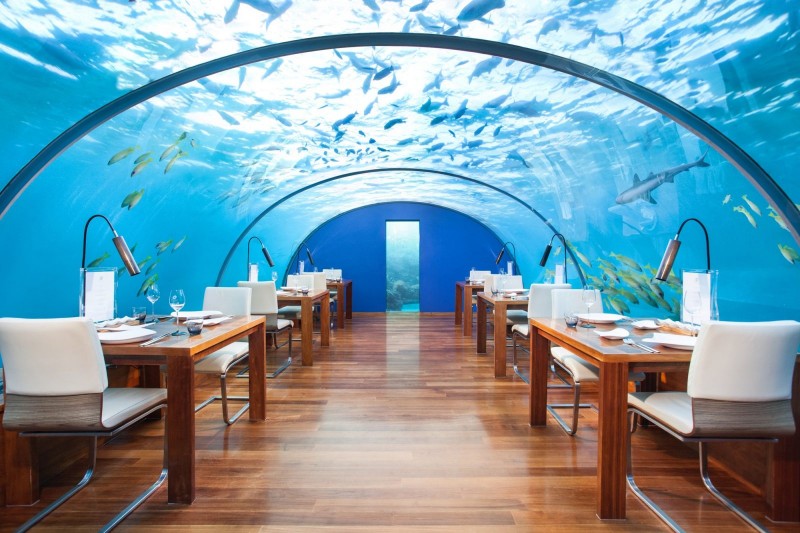 Photo Credit: Conrad Maldives website
Dine 16 feet underwater at the Conrad Maldives' Ithaa Undersea Restaurant, where diners can indulge in decadent, contemporary European cuisine in a glass, undersea restaurant. This extraordinarily unique experience can be enhanced even further by booking out the restaurant for your own private enjoyment, available for breakfast, weddings or other special occasions. Take in the stunning, 180-degree panoramic views of the world's first and only all-glass underwater restaurant as you dine like royalty.
Atlantis, The Palm in Dubai – Dubai, UAE
Photo Credit: Atlantis the Palm
Dubai is undoubtedly one of the most opulent, over-the-top destinations in the world, and certainly on many travelers' bucket lists. Enjoy it at its best at one of its prime destinations, Atlantis, The Palm and book one of its greatest offerings: The Royal Bridge Suite. The Royal Bridge Suite at Atlantis, The Palm Dubai boasts ultra-luxe offerings, including bath soap made with 24K gold flakes, sweeping views of the largest man-made island in the world, a private guarded entrance and elevator, dedicated 24-hour chefs and butlers, a private library and a media and game room.
Four Seasons Safari Lodge Serengeti, Tanzania
Photo Credit: Instagram: @fsserengeti
Located at one of the world's most famed and regarded Game territories lies the ultra-luxurious Four Seasons Serengeti. From five-star dining, spa and hotel services to African wildlife adventures, the hotel has something for everyone. One of the most iconic experiences of the properties is its Safari offerings. We suggest the Serengeti Balloon Safari for a truly breathtaking experience, where you can view the gorgeous Serengeti landscape from up above in a hot air balloon. The package starts in the early morning and includes a breakfast waiting upon arrival, an hour-long sunrise hot-air balloon flight over the Savannah, followed by a Champagne breakfast.
Taj Lake Palace, Udaipur – India 
Photo Credit: www.tajhotels.com/en-in/taj/taj-lake-palace-udaipur/
The historic Taj Lake Palace is a spectacularly special location, located on Lake Pichola. From the moment of arrival, guests are treated to a special travel experience as they're escorted on-site via boat at the Badi Pal Jetty, where they are welcomed like royalty. The iconic hotel—which played host to the James Bond film 'Octopussy,' serving as the secluded lair of the film's Bond Girl—offers an array of unique, customizable experiences that will make the trip extra memorable. Opt for a serene spa treatment on the Jiva boat as you bask in relaxation along Lake Pichola, or an extra-romantic dinner in a fairytale setting with unique, handcrafted menus curated to your liking.
Anatara Golden Triangle Elephant Camp & Resort 
Photo Credit: Instagram: @anantara_goldentriangle
This one-of-a-kind, five-star resort rests in the Golden Triangle, between the countries of Thailand, Myanmar and Laos, offering some of the world's most incredible experiences as guests are immersed in luxury as well as the beauty of the elephants in the special region. Want to have a gourmet breakfast with adorable, baby elephants? Check that off your list. Or even opt for the VIP Elephant Arrival, where you'll be greeted by the gentle giants as you arrive by private car to the beautiful Chiang Saen property. Rooms begin at approximately $900/per night, ranging to suites at $1700/per night, complete with world-class service, amenities and unforgettable experiences.
The Peninsula Beverly Hills – Los Angeles, CA 
At the famed Peninsula Beverly Hills Hotel, luxurious adventures await via the hotels' unique Pen Academy programming. From a coastal Rolls-Royce Cullinan drive up to San Luis Obismo for a sand-dune adventure at Pismo Beach followed by a private vineyard tour at Tolosa Winery, to a Malibu Getaway, the options are endless. Experience the "California Dreaming" lifestyle of movie stars at the former beach estate of Olivia Newton-John, as you're escorted up Pacific Coast Highway via a Rolls-Royce. Sip champagne and enjoy kayaking, swimming, surfing and paddle boarding. For the fashionistas, enjoy an intimate shopping experience with celebrity stylist Cher Coulter and discover the tips and tricks behind Hollywood Glamour. For more details on all the offerings, head to the hotel's website.
The Jefferson – Washington, D.C. 
Photo Credit: The Jefferson
While some may not first think of Washington, D.C. when searching for a five-star getaway, the city harbors a hidden gem with very regal offerings that make for a special vacation. The historic Jefferson Hotel checks our boxes with its swanky Thomas Jefferson Suite. With this booking, guests can host a private Michelin dinner in their suite with a personal chef and service. They can also place a Peloton bike upon request within the Thomas Jefferson Suite so they can cycle away in solitude with views of the Washington Monument beyond their Juliet balconies.