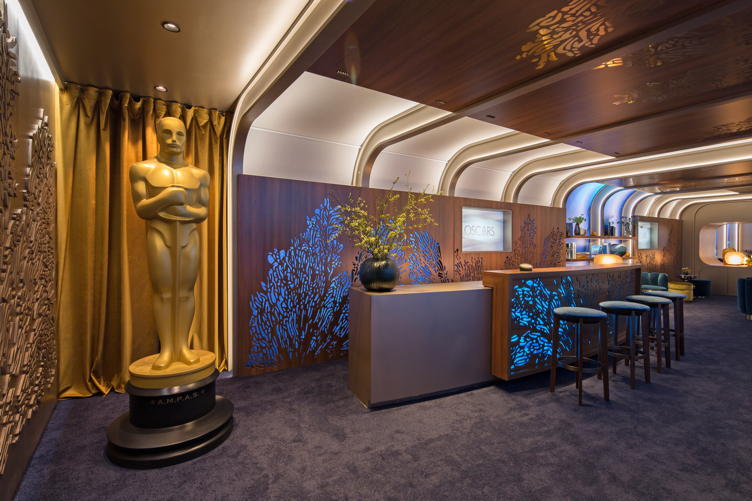 Photo Credit: Rolex/Bart Michiels
On Oscar evening in Los Angeles, presenters of the Academy Awards traditionally gather in the Greenroom at the Dolby Theatre before appearing on stage in a live broadcast to millions of people. Meaning: It's a room that a very elite few get to see.
But now, everyone can take a peek behind the scenes to check out the aquatic depths of this year's Greenroom… or, this year, what should be referred to as the "blue room." Guests are invited on a journey to the bottom of the sea as presenting sponsor Rolex links the design to its Perpetual Planet campaign.
Photo Credit: Rolex/Bart Michiels
Rolex—which has sponsored the Greenroom since 2016— is also the exclusive watch of the Academy of Motion Picture Arts and Sciences and Founding Supporter of the Academy Museum of Motion Pictures, which aims to preserve film history.  
Photo Credit: Rolex/Bart Michiels
Rolex's connection to the oceans started with the creation in 1926 of the world's first waterproof watch, the Oyster. The brand's technical mastery of waterproofness continued, particularly with the advent of scuba diving at the end of the 1940s.
Rolex set to work creating "tool" watches that could go ever deeper and could track immersion time, vital for diving safety.  In 2012, an experimental watch, the Rolex Deepsea Challenge, went to the deepest point in the oceans with filmmaker and explorer James Cameron, strapped to the outside of his submersible on a robotic manipulator arm. It was the first solo dive to the Mariana Trench in the Pacific Ocean. Waterproof to 12,000 meters (39,370 feet), it resisted more than 12 tonnes of pressure on its crystal, kept perfect time and emerged from the water unscathed.
Photo Credit: Rolex/Bart Michiels
And now, the likes of nominees such as Bradley Cooper, Lady Gaga, Regina King, Christian Bale and Emma Stone will venture to the depths of the sea as they set foot backstage, when they open a bronzed door, shaped like a hatch. Inside, they will find themselves in a vessel looking out through portholes to a world governed by the denizens of the deep, who appear in dramatic photos, made intensely real by backlighting. Echoes of the sea are everywhere, from the color palette of vivid oceanic blues, to furniture that evokes the soft shapes of waves and starfish. Coral-shaped laser cut-outs on the walls and ceiling, backlit in blue, offer a version of the sea as we imagine it: a mysterious world apart.
Rolex also pays homage to the pure theater of filmmaking through a mise-en-scène in an aquarium that is framed like a cinema screen from the days of old Hollywood. The actual Rolex Deepsea Challenge watch that accompanied James Cameron to the deepest point of the oceans is displayed among the stylized fish that are depicted among seaweed and shells, all exquisitely sculptured by hand and covered in leather.
Photo Credit: Rolex/Bart Michiels
Subscribe to discover the best kept secrets in your city