Photo Credit: KLG PR
Conor McGregor is best known for his title as Mixed Martial Arts World Champion (his fights are among the biggest pay-per-view draws in MMA history, having headlined four out of the six highest ever selling Mixed Martial Arts, UFC pay-per-view events). What you may not realize though is the father of two, philanthropist and entrepreneur recently launched Proper No. Twelve Irish Whiskey owned by his company Eire Born Spirits.
After creating nearly 100 blends, McGregor developed the brand under the project name "Notorious" through which came the foundation of what was to eventually become Proper No. Twelve. The result?  A complex and sophisticated yet smooth and approachable whiskey with hints of vanilla, honey and toasted wood – the perfect reason to raise a glass this St. Patrick's Day.
Just as important to McGregor as winning is being able to give back in a meaningful way. For him, first responders, who he calls "unsung heroes who act with courage and answer the call of duty every day," exemplify his core values and those of Proper No. Twelve – commitment, loyalty and community – a "ONE FOR ALL" mentality. As a result, the company has committed to donate $5 for every case sold to local first responder organizations/charities, up to $1 million annually. (Over the fall as the Boston Red Sox headed to the World Series, McGregor surprised 10 Boston firefighters with tickets to the first championship game).
We caught up recently with one of the highest paid athletes in the world to discuss his whiskey, how fatherhood has changed him and the best fight he has ever had.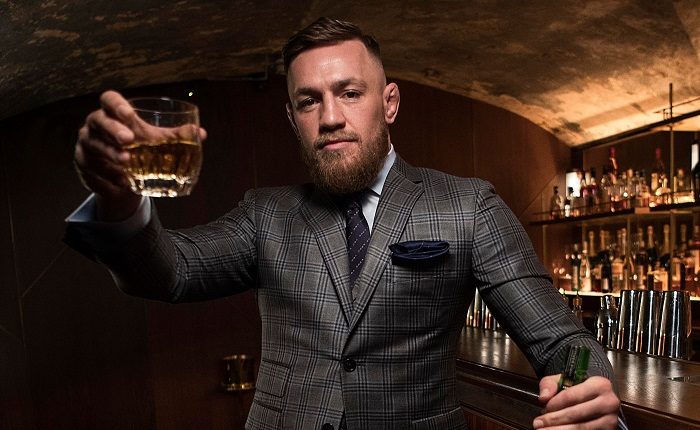 Photo Credit: KLG PR
As one of the most successful men in mixed martial arts history, what made you decide to get involved in the whiskey market?
The decision to make my own Irish whiskey was a long time coming. I've always loved Irish whiskey – I'm an Irishman after all. My late grandfather played a huge role in my taste for Irish whiskey. I inherited his passion for it.
Over the years, I've been approached by many Irish whiskey brands asking me to endorse their product. I guess they thought I was the perfect fit.  Something about simply endorsing an Irish whiskey didn't feel right to me – I wanted to create my own. I wanted to do it my way and I wanted to do it right – from start to finish. I wanted to make an Irish whiskey that would make my people proud.
Did you think Proper No. Twelve would have the in-demand success that it initially had prematurely selling out when it first hit the US market?
The reaction to Proper Twelve has been amazing and humbling at the same time. We have reached unprecedented new heights with this liquid gold. Hundreds of thousands of people from all over the world have been reaching out asking where they can purchase a bottle.
At launch, I told everyone I was going to give this my all and take the whiskey market by storm, and we did just that with more to come. I expected Proper No. Twelve to be well received and I told everyone that the response would be outrageous and now the world believes me. I am proud of the product we have. It is delicious and made for all!
We will make millions of bottles just in our first year and that energizes me to push harder.  We will be in multiple countries in our first year which is something others said could not be done. Up the Proper Twelve!
What is the best fight you ever had?
The fight against myself every day to work harder and provide for my family.
Congratulations on having just had your second child. How has fatherhood changed your outlook on fighting?
Thank you! It's such a blessing to have two healthy babies. Fatherhood has changed my outlook on life period. Beyond fighting. They are my legacy. Everything I do, I do for them.