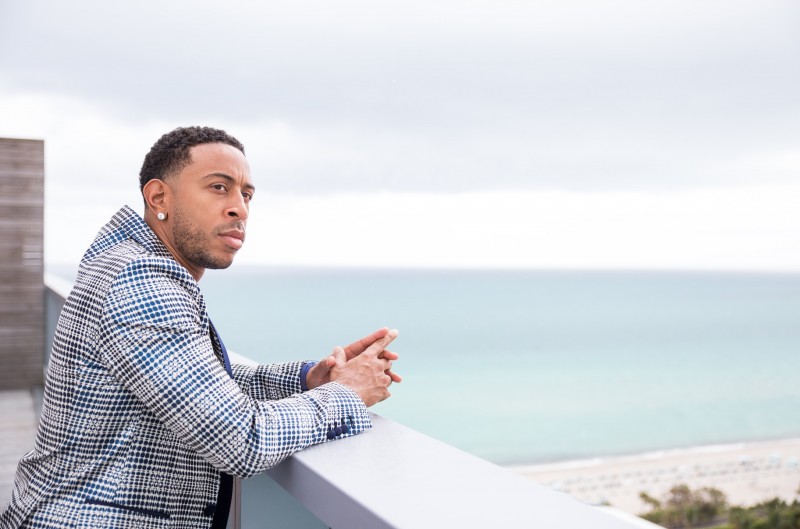 Photo Credit: TAMZ
Suit: Dsquared2, Shirt: Valentino, Watch: Hublot, Jewelry: Monisha Melwani, Shoes: Giuseppe ZanottiPhotography: TAMZ
Styling: Lina Palacios
Shot on location at Miami Beach EDITION 
Chris Bridges, better known to the public as Ludacris, has been in the entertainment business almost 20 years. He has nine studio albums, the 10th due out next year, and has been an integral part of the Fast & Furious franchise, with the latest sequel slated to be released April 2020. When Bridges is not filming or performing, the focus is on his philanthropic endeavors and his family.
Always choosing his family above all else and keeping his passions close to the chest, the father of three still has big dreams and encourages us to dream bigger than we can see. He claims that his secret to success is being able to seize every opportunity, which has afforded him to live his wildest dreams and continue to do so.
Here, the multifaceted performer sits down with Haute Living and gives us an inside look into the values and discipline that has gotten him where he is today.
Photo Credit: TAMZ
Suit: Dsquared2,  Shirt: Valentino,  Watch: Hublot, Jewelry: Monisha Melwani, Shoes: Giuseppe Zanotti
It looks like 2020 will be a monster year for you. Tell us more about that.

Yes, this will be a big year for me. It's the 20-year anniversary of my music career, and I will be releasing my 10th studio album. We start filming Fast & Furious 9 in May this year, and that film is scheduled to be released May 2020.
Anything you can share about the storyline?

I wish I could! They give us the script two weeks before we start shooting, and we make changes while we are shooting. I wish I could share more.
Are you working on any other film projects?

I did two independent movies last year. One was called Ride directed by Alex Ranarivelo, and that is circulating in the film festival circuit right now. And the other movie I did―that was also independent and was screened at Sundance―was John Henry, in which I starred with Terry Crews and will be coming out next year.
Photo Credit: TAMZ
(Black & white Bomber) Jacket: Neil Barrett,  Shirt: Valentino, Jeans: Acne Studios,  Shoes: Prada
Most people don't realize how hard you work and how many shows you book. How do you balance work with family?
I guess humbly speaking, having a private plane helps tremendously. If I have a show in Chicago, I leave Atlanta at 6 p.m., and I can be back in Atlanta at 2 in the morning―sometimes even quicker than that. It's just like a regular job. When I have to travel really far, that's a little different. I guess it's more of a choice. I'm blessed that I have the kind of job that I can control my own schedule and do the things that I want to do. If it requires me being away from my family too long, then I consider not doing that or figure out a way to bring it home or closer to the family. And luckily, most of the things that are shot now are in Atlanta, as it has become the Hollywood of the South, so I don't have to go too far anymore. Movies are shot here [plus] television shows, so everything I pretty much need to do is here. And if I am gone for more than two or three days—that may be an L.A. trip, or if I have to go out of the country—but for the most part it's a balance of choice, which is me saying I don't want to be away too long―and I can't be away too long.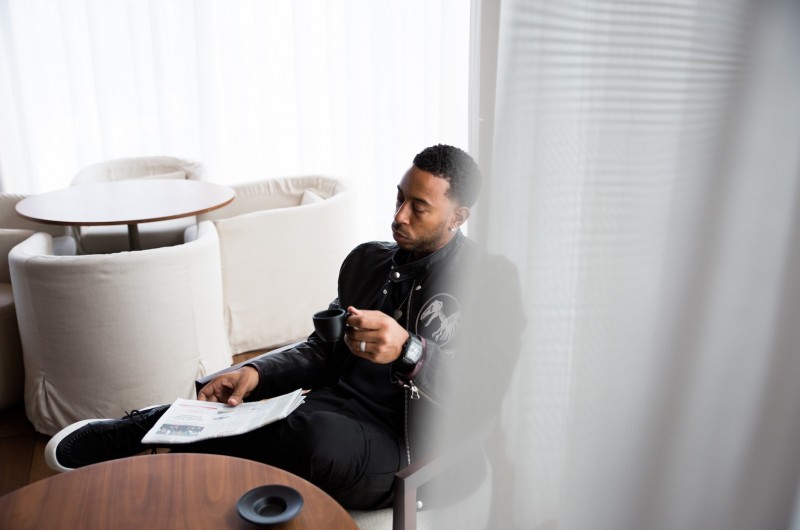 Photo Credit: TAMZ
Leather Jacket: Lanvin, Pant: Dsquared2
How has being a father to three girls impacted you as a man and as an artist?
I think having [daughters] has made me to be more aware of the world, its current state and how things are shaping up. It's made me more of a protector. I've always been a provider, but I want to be more in their lives, teaching them game for the time that boys do come into their lives, because I know every trick in the book, so I have to pass on the knowledge. The good thing is I am working on something that I can't really talk about; but it will show everyone the tremendous influence that my daughters have had on my life that will be out in 2020―long story short―without giving away too much information. It's impacted me so much to have daughters that I have created businesses centered by and around them.
What are you most passionate about?

Right now, the two things that I can't talk about are influenced by my daughters. At this point, it's giving back and trying to teach the youth the secrets to my success and the lessons that have come from my successes and failures. Giving the wisdom and the game to anyone who wants to listen and then being competitive―I always want to reinvent myself. I'm passionate about the music that I'm releasing next year, the movies―I was in an Oscar-winning movie. The love for entertainment and being able to live out my dreams in its many forms. I think so many people dream of being a Hollywood movie star or a rock star, and in some sense, I've been able to still be living out both of those dreams and to be able to continue pursuing them.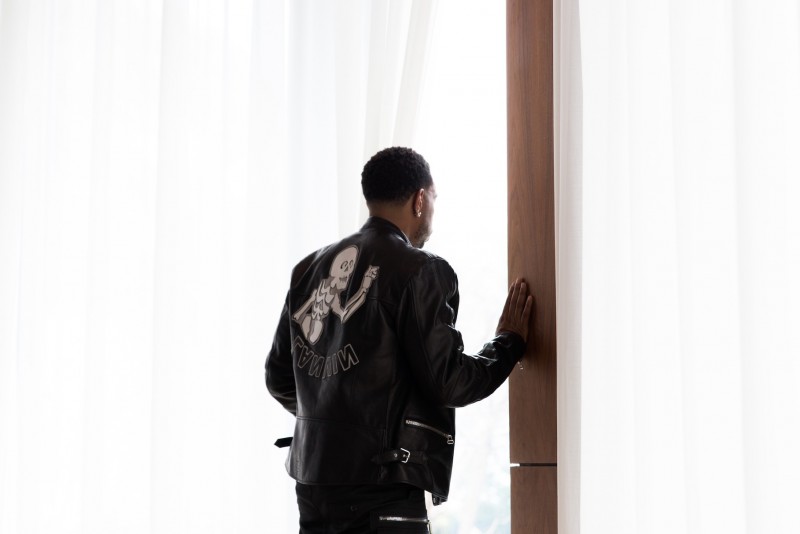 Photo Credit: TAMZ
What's the one thing you can't live without?

Cheat meals! I've gotten to the point where I am working out a lot and really loving the whole gym rat and healthy life. I eat really healthy. I even cook for myself these days, which is crazy because I used to never do that. So basically, the one thing that I can't live without because I eat so clean and I'm so disciplined is when I can cheat―on Sundays I have these meals, and that can entail anything from eating pizza, pasta or chicken parmigiana, and of course you have to have your chocolate cake and your cheesecake. I mean I go all the way in.
What is your idea of luxury?

The simple things in life, believe it or not, because people may automatically think riches, equating luxury to monetary value. To me, it is having the basic necessities and feeling comfortable. Like luxury is having on a clean pair of underwear every day; some people can't afford that. Or having clean water, or having food to eat and having many choices of that food. And having a loving family―that is luxury to me.
What's left on your bucket list?

Winning an Oscar. That is definitely at the top of the list. I have to figure that out [laughs]. The good news is, following in the footsteps of Morgan Freeman and Samuel [L.] Jackson, I have about a good 40 years to figure that out.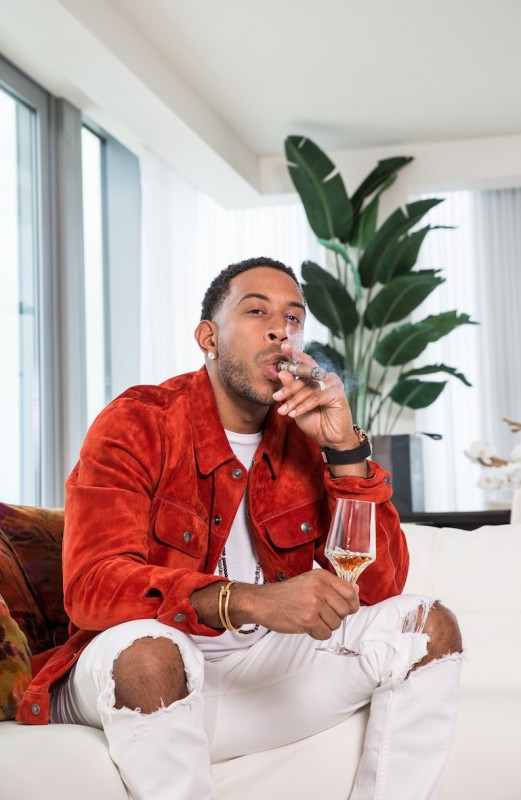 Photo Credit: TAMZ
Jacket: Tom Ford, Shirt: Valentino, Jeans: Acne Studios
You've been entertaining for almost 20 years. When you look at your body of work, what do you want your legacy to be?
I want my legacy to be multifaceted. Whether it was 10 albums, being in Oscar-winning movies, winning People's Choice Awards, Grammys, hosting the Billboard Awards multiple times, producing Fear Factor on MTV… just being a multifaceted individual taking advantage of all things entertainment that I'm passionate about.
If you could give 20-year-old Chris Bridges any advice, what would it be?
I would say keep dreaming and dream bigger. I think when we are told to dream bigger, you may say, "I want to become a billionaire," but what's keeping you from saying, "I want to become a trillionaire." You can only imagine as far as you can see or a little further. Why not look way past your wildest dreams and reach for that?