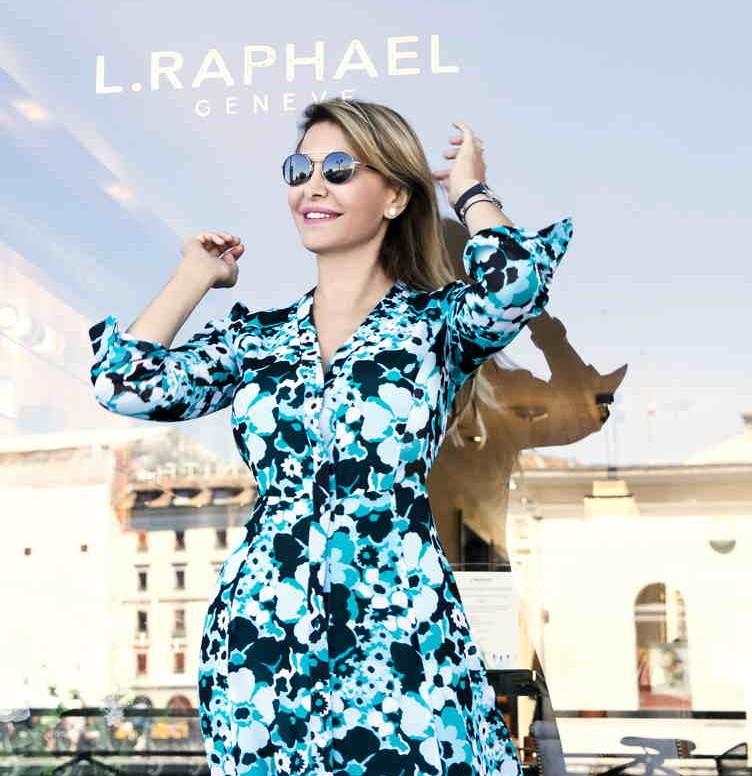 Photo Credit: Bennytachephotographe
Ronit Raphael might own one of the most luxurious, most expensive beauty brands in the world, but you'd never know it. The founder of L.RAPHAEL Genève is humble, down-to-earth and ready to share the expertise she's spent a lifetime learning.
While Raphael is now beautiful on the inside and outside, it was a facial burn sustained at the age of 18 that fueled her interest in skincare, and her desire to make the world a more beautiful place (physically) for others. In collaboration with Dr. Gumener and an expert research team led by Professor Shinitzky, Raphael, who launched her line in 1986 (winning the Ernst & Young Entrepreneur of the Year award in 2003 to boot), has developed a comprehensive menu of ultra-luxe, high-performance face and body treatments, all of which are uniquely formulated to reach beyond the surface of skin where they can be most effective in stimulating collagen production and dramatically reversing the visible signs of aging.
And while she makes the place a physically more beautiful place, she's also seeking to do so by giving back. Raphael is passionate about social injustice in general, but specifically about child sexual abuse. As a result, she established the Global Army Against Child Abuse, and dedicates one day every week to promoting this global campaign. As part of her work with the GAACA, she created Tom's Secret, a short, educational animated film that guides parents on how to identify child abuse while simultaneously encouraging children to share their knowledge. The Tom's Secret campaign seeks to raise awareness and pressure governments to implement stricter laws to reduce the rate of child abuse. Her effort will ultimately work toward providing a more supportive environment for victims, changing current child abuse laws and preventing the violation of children's right.
Photo Credit: Jose Crespo
When Raphael isn't hopping around the world—frequent destinations include her native Israel (she just opened at the new Jaffa Hotel in Tel Aviv), in Cannes, where she preps the creme de la creme of Hollywood stars for the annual film festival, as well as New York and Los Angeles, where her spas are in residence at the Four Seasons and Montage Beverly Hills, respectively, she's at home in Geneva, spending time at her seven-story luxury beauty residence on the prestigious Rue de Rhone, the Temple of Beauty. The TOB not only offers the most comprehensive non-invasive beauty services under one roof, but also makes guests feel like they're at a home away from home (only better).
This is a one-stop shop for pampering. The flagship L. Raphael location is a retail outlet, nutrition center, salon (for both hair and manicures/pedicures) and facility for non-invasive and invasive treatments alike. While Botox and fillers are available to beauty club members, Raphael stresses her seven foundations of beauty: a holistic, multi-dimensional and personalized approach to Beauty that incorporates medical, nutrition, physical activity, aesthetics, age management, stress management and leisure.
After touring this elegant and supremely luxe residence, we can only draw one conclusion: like Raphael keeps stressing, beauty is an investment, and by loving yourself, you invest in yourself. Here, we speak to this beauty guru about the cost versus the reward of inner and outer beauty (and we'll give you a little tour of her Temple in the process).
Photo Credit: F.Ducout
What inspired you to create the Temple of Beauty?
At the age of 18, I suffered from acne, and tried a chemical peel that seriously damaged my skin and left me with second-degree burns. I spent years meeting with dermatologists all over the world to learn everything I could about skin care… I met with Dr Meir Shinitzky and Dr Raphael Gumener and we really wanted to help people be more confident and take care of their well-being. So, we opened the Temple of Beauty end of 2004.
Photo Credit: F.Ducout
What sets the Temple of Beauty (and L.RAPHAEL in general) apart?
At L.RAPHAEL, we pride ourselves on catering to the nuanced needs of our discerning clientele, who does not have the luxury of time to pamper itself and take care of its skin. L.RAPHAEL is a pioneer in oxygen and ultra-sounds treatments, and has truly revolutionized the skincare science with its exclusive LEC 40, a lipid complex associating lecithin, omega-proteins and vitamins to allow the active ingredients from the L.RAPHAEL products to penetrate the skin more deeply.
However, the combination of high technological treatments and our Swiss-made products is behind everything! L.RAPHAEL products have been developed to work in synergy with our treatments and optimize their effects. I do not believe only in products or only in treatments, it is all about the combination.
With our 7 foundations of beauty (medical, nutrition, physical activity, aesthetics, age management, stress management and leisure), we take care of people from 12 to more than 80 years old. At L.RAPHAEL, you will find the right treatment for the right person with all the advices of our professional team. At each location L.RAPHAEL all around the world (Geneva, Cannes, New York, Beverly Hills, Almaty, Jaffa) and our private spas in India, Oman, Saudi Arabia, Qatar, you will find a complete program L.RAPHAEL.
The building of the Temple of Beauty Geneva has been undergoing a major renovation to instill a more glamorous and vibrant style to the flagship brand. The DNA of the house has been preserved but the classic style has been turned into a more sexy and modern one.
Completely dedicated to appearance and to well-being, L.RAPHAEL offers 10 treatment rooms, two consultations rooms, a room to practice yoga and Pilates and a beautiful hair salon on the first floor. Everything is coordinated to create a unique experience at every level. The customers are accompanied at all times during their customized journey, knowing that they can count on the expertise of the L.RAPHAEL team.
Photo Credit: F.Ducout
Tell us about your beauty club. What is it? How do you become a member?
Special guests can take a subscription. It is generally long-time clients who really want to invest in themselves. They will have consultations, personal program and an unlimited access to L.RAPHAEL treatments and facilities. Like this, they can come whenever they have time to pamper themselves and follow our seven foundations.
How have you tried to make the Temple of Beauty a home away from home?
As 30 % of our clientele is international and not only Swiss, we wanted to make them feel like at home. We did it in changing the decoration to feel more if you are in your living room. Also, people are personally welcomed and can do treatments, massages, hair, nutrition program, yoga, EMS, osteopathy… all in the same roof. It is an holistic approach of beauty.
Photo Credit: F.Ducout
What is a secret item that isn't on the menu at the Temple of Beauty?
The secret is on the personalization of the program for each client. With more than 30 years of experience, we welcome them with a consultation with the Doctor. In partnership with the nutritionist, the therapists, the sport coach, they will establish a global program for each person. We really want to apply the right program to the right person with adapted treatments, products, nutrition program, sports….And also, at L.RAPHAEL you will find love and compassion.
What sets the brand apart from others, in your personal opinion?
L.RAPHAEL is haute couture beauty for international women and men from each age. Most of them travel and work a lot and they do not have so much time to take care of themselves. They enjoy to find the same five-stars services, treatments, products and L.RAPHAEL quality while they are in Geneva, Cannes, Almaty, New York, Los Angeles or Jaffa.
We are leaders on the market of aesthetics and medical beauty treatments.

Photo Credit: F.Ducout

What is your personal beauty routine?

My beauty regime is tied in with my lifestyle. In the morning, it is extremely important for me to have a small breakfast, do some exercises before I start my day, then I put on some makeup and begin my work. In the evening, I never go to sleep before cleansing and moisturizing my skin with 3 steps. I start with cleanser, then lotion and then gel to wash my face. And finally I apply my night cream. And I regularly do my L.RAPHAEL technological treatments.
Is beauty just on the surface? How do you personally make sure that you feel beautiful inside as well as out?
At L.RAPHAEL, we apply the 7 foundations of Beauty we personally created : to incorporate in your lifestyle : medical, nutrition, physical activity, aesthetics, age management, stress management and leisure. An holistic approach where body and mind are in perfect harmony to look and feel healthy and visibly younger. Facial, massage and body treatments were specifically developed to invigorate the senses, restore peace of mind, and deliver scientifically advanced and long-lasting results.
What is L. Raphael's hero product? Can you tell us about it?
L.RAPHAEL's flagship technology Oxy-Peel introduces pure oxygen combined with physiological water and a unique anti-aging compound, Pure lecithin, Vitamin C and the exclusive LEC-40 complex, to rejuvenate the skin and dramatically reverse the visible signs of aging. The patented LEC-40 formulae combines omega 3 and vitamins A, C, and E with pure lecithin to enable active ingredients to penetrate deep into the skin. Also, people are fond of our Proactive Vitamine C Serum : an innovative anti-aging formula to give your skin a brighter and more luminous look. The skin gains a noticeably more lifted look, a brilliant clarity and a newly refined smoothness. And to finish our Perfection line : Serum, eye cream, cream and intensive treatment (12 ampoule for a 12 days cure). Endowed with an exclusive cutting-edge anti-aging technology and empowered with a wealth of highly effective botanical ingredients, the Perfection line is targeted to address all the specific needs of skin showing visible signs of age.
Photo Credit: F.Ducout
What is your personal beauty philosophy?
At the beginning of October 2018, I was invited as a key-note speaker to the Global Wellness Summit at Technogym Village in Cesena, Italy among leaders of spa and wellness industry. I met the Professor Nancy Etcoff (Psychologist at Harvard University). She published a study in 2016 that concludes that looking good people feel more confident, going out more, have better productivity, and succeed more at work.
That's what everybody should do: Take care of yourself, your skin, and practice some sports, yoga, meditation. Apply the seven foundations of beauty L.RAPHAEL.
I have a positive philosophy : « Live your life as it is your last day on earth ». The key for beauty is to be happy and self confident on a daily basis. The body and mind should be in harmony.
Photo Credit: DR
Subscribe to discover the best kept secrets in your city