Photo Credit: Tourism Israel
It's easy to mistake Israel as a whole as a religious epicenter with a focus on the past, instead of the present or future. But we dare you to spend two days in Tel Aviv, the country's second most populous city, without changing your mind. Tel Aviv—otherwise known as "The White City"—is sexy, sensational and thriving, a hot bed of tourism thanks to the constant demand for new hotels, new restaurants, and evolving culture. As opposed to say, Jerusalem, the vibe here is young and hungry. Tech is on the rise, fashion is a focus and the nightlife and culinary options would make even the pickiest of New Yorkers happy. Take a look at these hot new spots in Tel Aviv and book your trip immediately. It's our new happy place—and it might be yours, too.
HOTELS 
THE JAFFA
Photo Credit: Amit Geron
The Jaffa, which officially opened its doors in August, is a passion project for RFR Holding's Aby Rosen (of New York's Gramercy Park Hotel and Seagram Building) that took over a decade to complete. This former hospital and monastery is a perfect blend of old and new: There's a Crusader bastion in the lobby as well as a $1 million Damien Hirst artwork, and its new night club is, rather unconventionally, called The Chapel, and resides in the space of a former church. There's a DJ booth in the pulpit and larger-than-life photos of Frank Sinatra as a priest in "The Miracle of the Bells," so prepare yourself for an anti-religious experience here. Additionally, there's always a New York-style deli in Golda's and an outdoor pool that has its own shawarma bar.
Louis Pasteur St 2, Tel Aviv-Yafo
THE SETAI
Photo Credit: Assaf Pinchuk
The recently-opened Setai also blends the old and new successfully. It's housed within a historic Ottoman building, that was once used as both a Crusader fortress and a jailhouse, but it certainly doesn't feel like you'll be doing ten to life here. In fact, you might not want to leave. Situated along the Mediterranean Sea, Tel Aviv coastline and Jaffa Port, this luxury hotel is at the crossroads of modern and ancient Tel Aviv-Jaffa, a short walk away from the coastline and steps away from the city's bustling boulevards and urban hub. We love the rooftop pool at sunset, its breakfast buffet (which, with its halvah bricks, smoked salmon and pastries, is not for the diet-friendly) and the spa, which has its own hammam. It's glorious, and so, so chic.
David Razi'el St 22, Tel Aviv-Yafo
THE DRISCO
Photo Credit: Assaf Pinchuk
When you walk into The Drisco, you'll smile. You won't be able to help yourself. This boutique property has topped every 'Best of Tel Aviv' list since it opened last year. This charming hotel is actually located on the site of the former Hardegg Jerusalem Hotel, Jaffa's first luxury hotel, which was established in 1866 by the Drisco brothers. The second building is the original Norton House, named after Mr. P.A. Norton, one of the first American settlers in Tel Aviv. The rooms and suites are exquisitely designed, equipped with all the modern comforts and amenities with a whimsical, Art Deco touch. We love The Drisco suite for its private terrace with stunning views of Tel-Aviv and Jaffa as well as view of the Mediterranean, the hotel's internal Piazza and the private garden and its luxurious marble bathroom with a walk-in shower and bath tub. It's a perfect spot to have a quiet, relaxing evening after days of hitting Tel Aviv's numerous nightlife locations for some true "me time."

Auerbach St 6, Tel Aviv-Yafo
THE NORMAN
Photo Credit: Sivan Askayo
The Norman reflects the luxury and style of the grand hotels of the early 20th century against a backdrop of contemporary Israeli art. A stunning rooftop features a spectacular infinity swimming pool and sundeck with a sensational view of the city while the hotel's pretty citrus garden. Art is a focus here as well. In addition to its overall Art Deco feel, there's a pretty amazing art collection (curated by Tamar Dresdner) that highlights the best of contemporary Israel. Paintings, sculptures, prints, photography and textiles share space harmoniously, making a modernist statement about current Israeli culture… and they're available to buy, as well. The hotel also uniquely offers an art concierge service, which helps to exposure guests to the Tel Aviv art scene through lectures by the featured artists and personalized art tours to galleries and artist's studios within the hotel's vicinity.
Nahmani St 23-25, Tel Aviv-Yafo, 6579441
RESTAURANTS + NIGHTLIFE
Photo Credit: North Abraxas
Tel Aviv has some of the best culinary offerings we've had anywhere in the world. Literally, every meal in this delicious city was an exquisite symphony of flavors, from the highest-end restaurant offerings to the local delicacies at the Jaffa Market. A few recommendations below:
Abraxas North: Local celebrity chef Eyal Shani's low-key eatery is always packed, and with good reason. The food—brought to you on pieces of cardboard or in paper bags—is perfection. Fight for bar space and see how Shani and his team do it right, with a menu that changes daily in order to present the freshest options possible. The roasted whole cauliflower is the eatery's signature, and it's a mouth-watering standout.
Aria: Aria—a contemporary bistro offering a fresh and innovative menu created by Chef Guy Gamzu, one of the promising young chefs of Tel Aviv—is a restaurant many go to for celebrations. It's quietly chic, with a diverse seasonal menu, meticulously conjured from prime raw materials. Housed in a two-story historic building, the experiences here ranges rom a high-quality, meticulously-prepared dinner, to a late-night scene that carries into the wee hours.
Mashya: Inside the Mendeli Street Hotel, the kitchen of Mashya is filled with the spicy aroma of mace, the local spice that the restaurant is named for and which inspired chef Yossi Shitrit's reinvented traditional cuisine. Mashya is a restaurant with a focus on design, whose bright, clean look is trimmed with the rough and rugged textures of locally-sourced natural materials, helping it blend with the spirit of the nearby outdoor market. The emphasis here is on freshness, combining sophisticated cooking techniques with explosions of flavor. With soft lighting, specially designed ceramic and metal tableware, and lush vines that drape the restaurant's walls, it's also a great date spot for visiting and local couples alike.
Imperial Craft Cocktail Bar: This tiny, award­-winning bar, hidden in the boutique Imperial Hotel is listed on the World's Best 50 Best Bar list, which is impressive under any circumstances. We can vouch: It deserves every accolade. Our pick: the cheeky Scottish Girl from Ipanema, made with Glengoyne 10 single malt, HM coconut cream, passion fruit, almonds, lime and Angostura bitters.
SHOPPING
Photo Credit: Amit Gosher 
There are many options that are completely and uniquely "Tel Aviv." Explore Jaffa Market for antiques and knick-knacks, but make sure to branch out—there's a wealth of treasures here.
Maskit: After a stint working in London at Alexander McQueen and Lanvin, designer Sharon Tal moved back home to Tel Aviv to resuscitate Maskit, one of Israel's first and most famous fashion houses. Where else you can drink champagne, and peruse high-end items like exquisitely-made car coats and wedding dresses and meet the designer? It's a rarity.
Zielinski & Rozen: Head to Jaffa Market for this tiny, wondrous boutique, with its old-world apothecary feel. The experience itself is rendered a magical one, especially when the sexy and brooding owner, Erez Rozen, can help you to create your own unique scent.
Beit Kandinof: This is the sort of creative space you'd find in Brooklyn or East Los Angeles, and one that's a welcome addition the Tel Avivian culture. It's part art gallery, part bar, part, restaurant and part tattoo parlor. The sum of its parts is a whole lot of fun—especially when the bar part starts hopping late night.
DAY TRIPPING FROM TEL AVIV
Photo Credit: Assaf Pinchuk
Given that there's so much culture, as well as a world wonder in the form of the Dead Sea—its famously hypersaline water makes swimming impossible and floating easy, while its mineral-rich black mud is used for therapeutic and cosmetic treatments—a day trip or two is a great idea. Head to Jerusalem to learn about the Holy Land (with a stay at the totally modern Waldorf Astoria Jerusalem) and pop into designer Avi Luvaton's exquisite shop at the David Citadel Hotel for Judaica purchases valued in the high thousands while you're at it. On your way out of town, stop in to the Yvel museum and boutique, which houses some of the rarest pearls and diamonds in the world and also offers philanthropic contributions to society—owners Orna and Isaac Levy furthered their commitment to the immigrant population, in particular to Israel's especially vulnerable Ethiopian community in 2010 by founding the Megemeria School of Jewelry & Art to provide professional training and employment opportunities to Ethiopian immigrants to facilitate their integration into Israeli society as proud and contributing citizens.
Last but not least, head to Acre where you'll find one of the best hotels in the world in the Efendi, which overlooks the historic city walls and the magnificent Mediterranean Sea beyond. The unique structure of this hotel combines two ancient houses that have hundreds of years of history stored within their walls. These houses were meticulously reconstructed and merged into one building before being converted into a boutique hotel.The Efendi is the fulfillment of a dream long held by Uri Jeremias, chef and proprietor of the famed Uri Buri restaurant, which has been named the best seafood restaurant in the Middle East for many, many years (and it is exquisite, each course is an unexpected symphony of flavor that tops itself). Complex preservation and restoration work over a period of eight years gave birth to a gorgeous, breathtaking pearl that was truly a labor of love. This lovingly preserved hotel also features an original 400-year-old Turkish bath as well as an intimate wine bar has been built in the restored and renovated wine cellar, which dates from the Crusader era.
Tel Aviv 1
The Jaffa courtyard
Photo Credit: Amit Geron
Tel Aviv 2
The crusaders bastion in The Jaffa lobby
Photo Credit: Amit Geron
Tel Aviv 3
The Chapel at The Jaffa
Photo Credit: Amit Geron
Tel Aviv 4
A Damian Hirst hangs in the lobby of The Jaffa
Photo Credit: Amit Geron
Tel Aviv 5
The Setai rooftop
Photo Credit: Assaf Pinchuk
Photo Credit: Assaf Pinchuk
Tel Aviv 7
A stunning room at The Setai
Tel Aviv 8
Inside a room at The Drisco
Photo Credit: Assaf Pinchuk
Photo Credit: Assaf Pinchuk
Tel Aviv 10
Pink Room at The Norman
Photo Credit: Sivan Askayo
Photo Credit: Assaf Pinchuk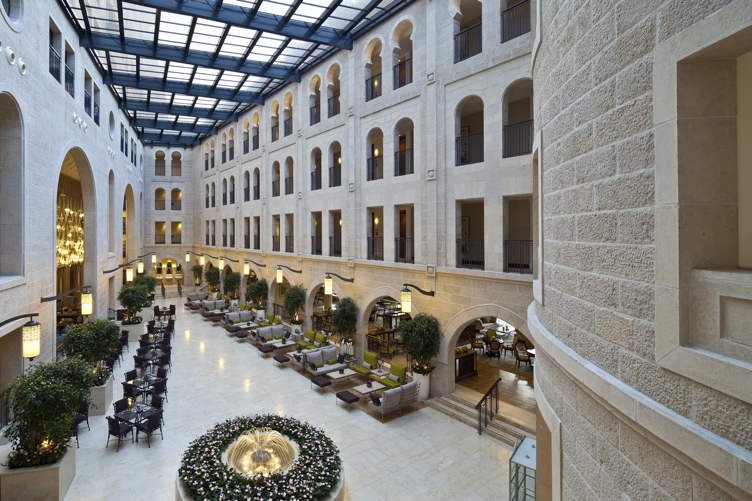 Tel Aviv 12
The Atrium Promenade at the Waldorf Astoria Jerusalem
Photo Credit: Waldorf Astoria
Tel Aviv 13
Photo Credit: Tourism Israel
Tel Aviv 14
Photo Credit: Tourism Israel