Come for the Cannes Film Festival, but make sure not to miss out on these Côte d'Azur luxury destinations. 
This May, upward of 30,000 people will descend upon the picture-perfect, impossibly glamorous city of Cannes. And while there's an allure to rubbing shoulders with the beautiful people (aka celebrities such as this year's jury president, Oscar winner Cate Blanchett), there is so, so much more to the Côte d'Azur. Please, come for Cannes, but make sure not to miss out on these other, equally lovely French Riviera locales.
Cap d'Antibes Beach Hotel 
Photo Credit: Cap d'Antibes Beach Hotel
Right off the water's edge of Cap d'Antibes, nestled in a little cove between Port Gallice and Port des Croûton, rests one of the French Riviera's most exclusive hotels, the Cap d'Antibes Beach Hotel. Check into one of eight newly added rooms overlooking the Lérins Islands, Estérel mountains and Mediterranean Sea before unwinding on the resort's private beach or indulging in a gastronomic experience at its Michelin-starred Les Pêcheurs restaurant.
10 Boulevard Maréchal Juin, 06160 Cap d'Antibes 
Château Eza
Photo Credit: hâteau Eza
Conveniently situated between Nice and Monaco in a peaceful, tiny, medieval village 1,400 feet above the Mediterranean Sea is Château Eza, a 400-year-old property once owned by a Swedish prince that now exists as a modern-day, five-star property while still retaining its original 16th century ambiance. A highlight of the hotel is the Restaurant Château Eza, a glass-edged room with 180-degree panoramic views of the sun-kissed and sparkling Riviera.
Rue de la Pise, F-06360  
Grand-Hôtel du Cap-Ferrat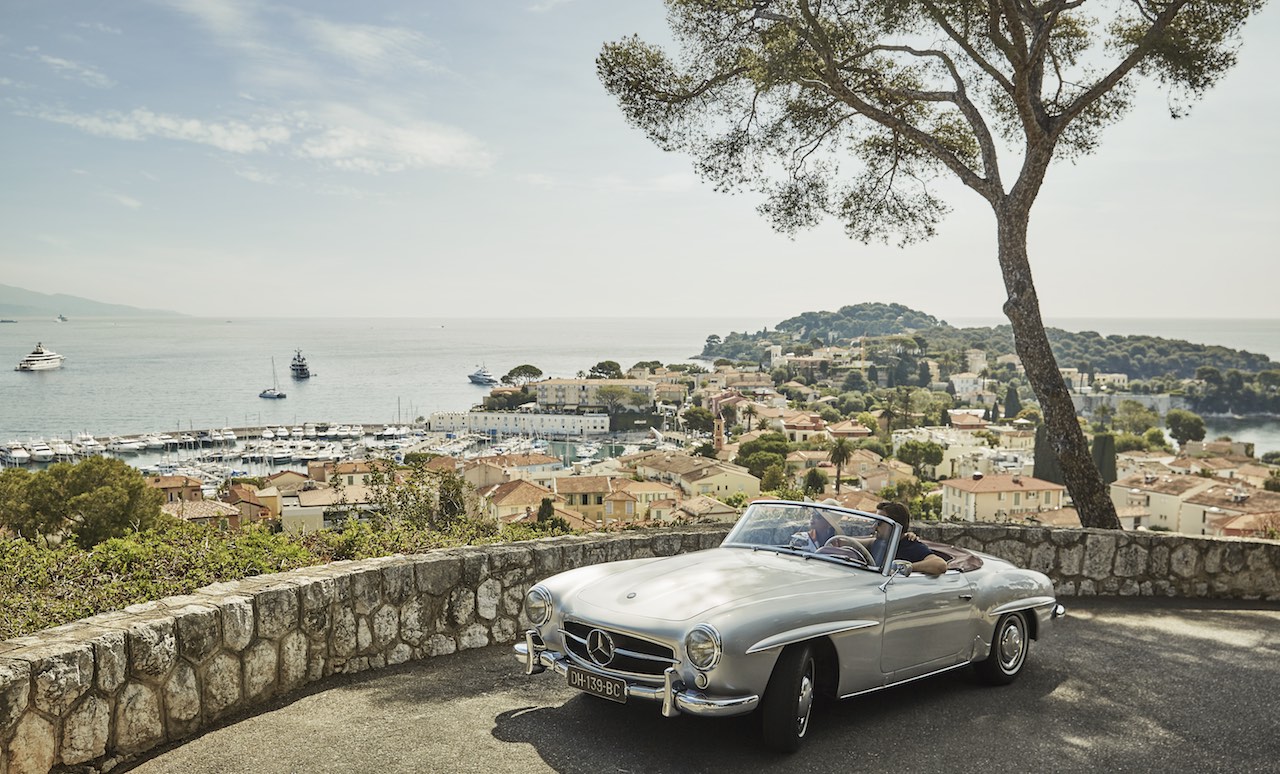 Photo Credit: Grand Hotel Du Cap Ferrat
At the tip of Saint-Jean-Cap-Ferrat is the Grand-Hôtel du Cap-Ferrat, a Four Seasons property that feels like it's literally at the edge of the world. Luxury is everywhere here, from the Mediterranean and Provençal cuisine courtesy of Michelin-starred chef Yoric Tièche to elegant design features like Lalique tables, Tisserant Baroque chandeliers and interiors courtesy of famed French designer Pierre-Yves Rochon. Tailor-made experiences like "Dine in a Work of Art"—dinner in a secret villa where the French artist Jean Cocteau used to retire—make the experience especially sublime. It's no wonder the hotel has been frequented by the likes of Marlene Dietrich, Pablo Picasso and Coco Chanel.
71 Boulevard du Général de Gaulle, 06230 Saint-Jean-Cap-Ferrat 
Hôtel Barrière Le Majestic Cannes
Photo Credit: Hôtel Barrière Le Majestic
Whether you attend the festival or not, you must stop in Cannes. A stone's throw from the Palais des Festivals, you'll find a film-festivalgoer's paradise in Hôtel Barrière Le Majestic Cannes, which offers use of its private projection room in addition to its "Barrière Ciné-Club" on weekends. Other haute offerings include brasserie Fouquet's, with a menu created by master chef Pierre Gagnaire; a pool heated to 80 degrees year-round; a private beach; and a team of Clefs d'Or concierges who will cater to your every—and we mean every—whim.
10 Boulevard de la Croisette, 06400, Cannes
Hôtel de Paris Monte-Carlo
Photo Credit: Hôtel de Paris Monte-Carlo
After recently revealing its new Rotunda and Le Grill restaurant, Hôtel de Paris Monte-Carlo, located in the très, très chic principality of Monaco, has unveiled its $50,000 per-night Princess Grace Suite in honor of its former first lady, Hollywood icon Grace Kelly. The 3,000-square-foot suite, which rests over two floors and offers a 180-degree view of the Mediterranean, features all of the Princess' favorite things, from the terrace enhanced with apricot-colored Grace roses to her favorite literary and poetic works. The suite also offers a range of luxurious, tailor-made services from a fleet of private Clefs d'Or concierges.
Place du Casino, 98000 Monaco
Hotel du Cap-Eden-Roc 
Photo Credit: Hotel Cap Du Eden Roc
At Hotel du Cap-Eden-Roc, a legendary luxury hotel beloved by the rich and famous, and at the center of a scenic private park, old-world glamour meets modern luxury at the tip of the Cap d'Antibes. During your visit, enjoy fine dining at the Eden-Roc Restaurant, or a lighter meal at the Eden-Roc Grill, overlooking the seawater pool blasted out of the rocks below Cap d'Antibes. New to the iconic hotel is its Spa Eden-Roc by La Prairie, which features a mineral salt wall, sauna, steam room, experience shower, gym and outdoor patio. Guests can also book outdoor treatments under two gazebos amidst wisteria trees or on the beach. Exclusively for Spa Eden-Roc, La Prairie developed a 60-minute "Legendary Cape Beauty with Caviar Water" treatment to diminish signs of aging.
Boulevard J.F. Kennedy, 06601 Antibes 
Hotel Metropole
Photo Credit: Hotel Metropole Monte-Carlo
Hotel Metropole Monte-Carlo is ideally situated in the Carré d'Or, within walking distance of the Casino, overlooking the Mediterranean Sea. The sumptuous Belle Epoque property is as chic as a hotel could possibly get: There are four restaurants, one of which is helmed by the world's most-awarded Michelin-starred chef, Joël Robuchon (and happens to be his only Japanese restaurant in the world); "Odyssey," the pool-area oasis with décor designed by Karl Lagerfeld depicting the journey of Ulysses; and, as of 2017, the impossibly elegant Spa Metropole by Givenchy, created in conjunction with the fashion house and utilizing its cutting-edge beauty products.
4 Avenue de la Madone, 98000 Monaco
Hyatt Regency Nice
Photo Credit: Wilfried Hamel-Raison
Hyatt Regency Nice Palais de la Méditerranée is located in the heart of Nice on the famous Promenade des Anglais. Just minutes from the old town, it is the ideal base for exploring the picturesque streets with an Italian feel. It's the only hotel in Nice to obtain its International Green Globe certification for a commitment to the environment and is built in the form of a U facing the Mediterranean. Most of the hotel's Art Deco-style rooms have balconies or terraces offering a view of the sea or the city of Nice with—as a backdrop—Mont Alban. Book the whimsical penthouse suite, where you'll find a mirror effect that gives way to open, transparent spaces, surprising alcoves and a furnished terrace where you can enjoy the sunshine in style.
13 Prom. des Anglais, 06000 Nice 
Terre Blanche
Photo Credit: Terre Blanche
Terre Blanche's location enables guests to experience the ambiance of the Côte d'Azur along with the character of Provence. The 750-acre luxury resort is the only property of its kind in the region. It consists of 115 independent suites and villas; four restaurants including the Michelin-starred Le Faventia; an infinity pool overlooking the estate; a two-story luxury spa with an indoor pool and an outdoor vitality pool; tennis courts; and two 18-hole championship golf courses, designed by Dave Thomas.
Route de Bagnols-en-Forêt, 83440 Tourrettes 
Subscribe to discover the best kept secrets in your city