Photo Credit: Joali Maldives
Located in one of the world's most desirable locations, the newly open Joali Maldives has created a luxurious tropical oasis surrounded by tranquil lagoons, pristine white-sand beaches and a lush landscape of coconut palm trees. Sitting on its own private island in the picturesque Raa Atoll, Joali Maldives offers unconventional luxury through the lens of the resort's "Joie de Vivre" philosophy, which welcomes guests to celebrate the joy in every passing moment.
Photo Credit: Courtesy of Joali Maldives
"In pursuing our team's collective passion for nature conservation and Maldivian culture, we are thrilled to announce such a special opening and have the utmost confidence that Joali will set a new bar when it comes to a meaningful and immersive luxury hospitality experience," said Steven Phillips, General Manager at Joali Maldives. "We have an accomplished team of dedicated hospitality professionals who are devoted to offering truly bespoke experiences and intuitive service at every turn and delivering our 'Joie de Vivre' promise."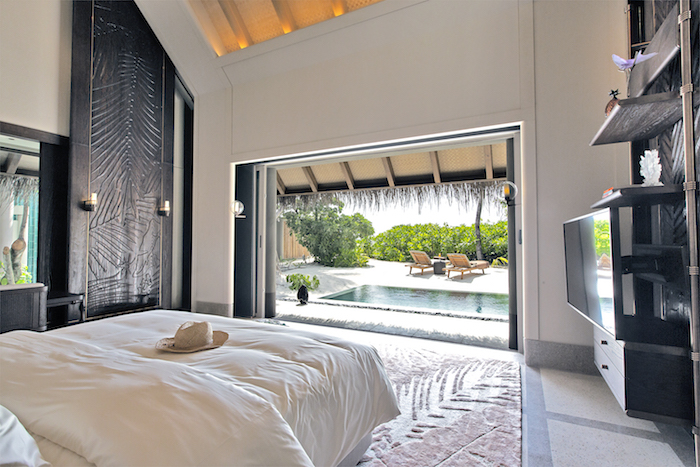 Photo Credit: Courtesy of Joali Maldives
The Joali experience begins shortly after arrival at the Male airport where guests are escorted to relax in a private lounge before taking a 45-minute seaplane to the resort. Guests are welcomed to the property from an extravagant yet inviting Maldivian entrance featuring artisan wood to encompass the feminine spirit of the property through natural, subtle colors and smooth transitions.
Photo Credit: Courtesy of Joali Maldives
The resort's sustainability story begins with its master plan and layout, which preserved over 1,000 trees during the construction process. When it came to design internationally-renowned design studio, Autoban, architecture and design studio, Atolye4n, and Tokyo-based Studio Glitt were called upon to lead the overall vision and architectural ingenuity to create a gorgeous and expansive resort.
Photo Credit: Joali Maldives
But what makes this resort stand out against others in the area? Phillips told Haute Living, "The team. There are some fantastic people working here. They go the extra mile when it comes to service. In one instance, a staff member overheard a couple discussing they were out of sun tan lotion and when they got back to the room there was lotion waiting for them. Guests don't want to be bothered but they do appreciate the little nuances. Those little things make a huge difference."
Photo Credit: Joali Maldives
Phillips continues, "The design of the villas are extremely important. Guests who have been to the Maldives before, ask 'why come here'? Our designs are very unique, so within the brand the notion within ours is something new to people. We are built for joy, meaning the journey of you. The real indulgence these days is having time to yourself and not worrying about being seen doing this or that – it's time to yourself and that is what we offer here."
Photo Credit: Courtesy of Joali Maldives
It's clear to see how the accommodations are truly one of a kind, with 73 private beach, water villas and residences, ranging from one to four bedrooms. Each getaway is influenced by individual stories that are designed to take guests on a sensory journey through smell, touch, taste, sound, and of course, sight. Each villa features a private infinity pool, a swing or hammock, butler service, an outdoor shower, artisanal amenities, curated in-villa libraries, thoughtful design, and handpicked art. "The addition of subtle art within the rooms will show why we stand out," said Phillips.
Photo Credit: Courtesy of Joali Maldives
As the first immersive art resorts in the Maldives, Joali is surrounded by interactive and experiential artistic pieces that incorporate surrounding nature and celebrate young creatives, including Misha Khan, Nacho Carbonell, Porky Hefer, London-based Studio Glithero, Zemer Peled, Chris Wolston, Doug Johnston, Ardmore and more.
Photo Credit: Joali Maldives
With the direction by designers Ala Onur and Zeynep Ercan of No LaB, they worked with the team at Joali to create the concept of the immersive art hotel, providing the art curation and design development of the entire property. With this concept they wanted to create an experience where guests felt encouraged to explore the resort's extensive art collection as opposed to simply placing art in the hotel.
Photo Credit: Joali Maldives
29 year old artist Misha Khan took his art from land to sea by creating an underwater exhibit where guests can scuba dive through an artistic environment that. The goal was to bring awareness to the coral bleaching issue the area is currently facing. Khan wanted to make sure people could be informed about this in a fun but also affective way. The sculptures are designed and placed in a way where while swimming in between them the guest will realize how they start dying off and slowly fade away.
Photo Credit: @mishakahn Instagram
"Coral is a delicate symbiotic system, just like art is with color and form. I drew inspiration from the waters around us and favorite artist from the past like Gaudí and Nicki di Saint Phalle," he explains.
Visitors to the property are provided with an art map that highlights areas of interest including those works created in collaboration with local artisans to support the Maldivian community. To do so they made sure every selected art piece was specially made or edited for Joali and the island conditions.
"We wanted guests to get to know each piece and their creators thus we have created an Art Map in which they can treasure hunt down each piece and learn information about their artist. We have extended our pieces and design selections in to each room making sure the experience also continued in-room as well," said Onur and Ercan.
Photo Credit: Courtesy of Joali Maldives
Whimsical work is featured at the Art Studio & Gallery on the property, which invites international guest artists to exhibit throughout the year. Eye-catching art and true relaxation is also delivered in the resort's Living Room, where guests can unwind in comfort while reading one of the over 1,000 books available.
Photo Credit: Courtesy of Joali Maldives
Unique places are also at the center of the Joali experience, such as the Flower Garden that features a majestic showcase of local plants and flowers with workshops and events to develop guests' own botanical knowledge. Guests will experience a new kind of sustainable glamour and a dedication to immersive art that has never before been seen in the Maldives.
Photo Credit: Courtesy of Joali Maldives
But the art doesn't just stop there. It transcends into its four on-site dining destinations that use only the finest and freshest ingredients. The culinary offerings at Joali are designed to make guests' stay exciting and adventurous while creating lasting memories through distinct options and a unique dining experience. For example, the Manta Ray Treehouse, designed by Porky Hefer who drew inspiration from the island's mantra ray population, offers an exclusive experience for guests to dine in an elevated and tranquil setting.
Photo Credit: Courtesy of Joali Maldives
Providing inventive fusion cuisine from several corners of the globe, dining options include Saoke, the first restaurant in the Maldives to be designed by renowned Japanese restaurant architect Noriyoshi Muramatsu; Vandhoo, featuring authentic Asian and Levant inspired dishes; Bellinis, featuring handmade pastas and authentic Tuscan, and Her Kitchen, offering a selection of cooking classes. With this opening, Joali Maldives brings a new type of luxury to the Maldives with immersive art at the center of its core.
Photo Credit: Courtesy of Joali Maldives
Subscribe to discover the best kept secrets in your city