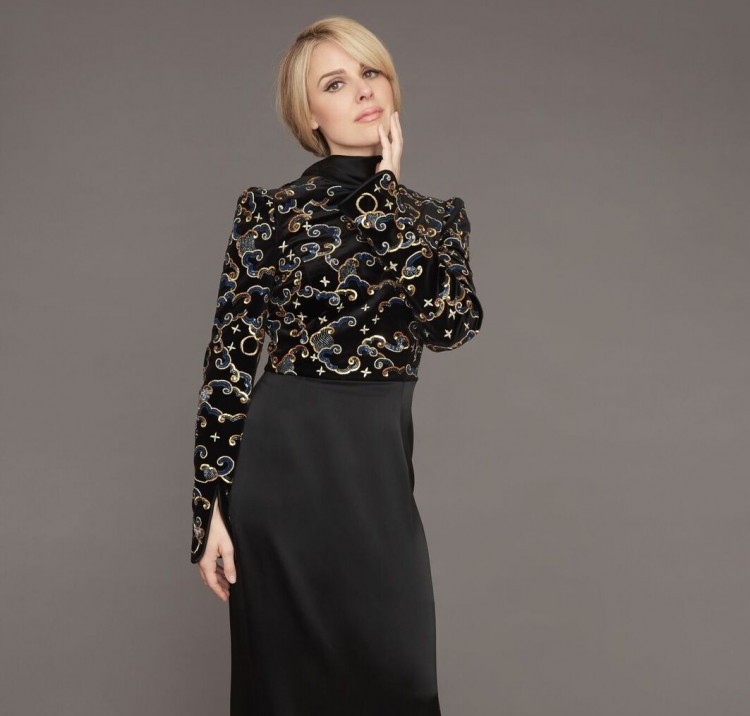 Photo Credit: Martina Tolot
On the second season of Netflix's monster hit, "Stranger Things," Cara Buono's Karen Wheeler—mother of Mike (Finn Woflhard), Nancy (Natalia Dyer) and Holly (Tinsley Price)—hinted at a sexual awakening inspired by teen stud Billy (Dacre Montgomery). But when season three launches in 2019, will she have her Mrs. Robinson moment? Until then, fans can catch Buono in the film "Monsters and Men," which tells the story of the aftermath of a police killing of a black man, told through the eyes of the bystander who filmed the act, an African-American police officer (John David Washington) and a high-school baseball phenom inspired to take a stand. The film, which is out in theaters now, won a Sundance Film Festival Special Jury Prize for Outstanding First Feature.
She is also starring in Lifetime's remake of "The Bad Seed" with Rob Lowe and "The Romanoffs", "Mad Men" creator Matthew Weiner's new anthology series for Amazon. Additionally, Buono, husband Peter Thum, an entrepreneur and founder of Ethos Water, launched Liberty United with the vision of stopping gun violence in the United States. Liberty United transforms illegal guns and ammunition provided by police into handcrafted jewelry. Every product purchased funds non-profit programs to protect and save the lives of at risk children. We chatted with Buono about
Photo Credit: Martina Tolot
You spent a month shadowing Brooklyn police offers to prepare for "Monsters and Men." What did you learn during this time?
John David and I experienced some pretty intense stuff on the ride-alongs. It helped to be immersed in these real-life situations as I explored playing Stacey. But it was more like a reminder for me because I was born and grew up in the Bronx in the 70s. We lived in a pretty tough neighborhood, so I witnessed some very difficult things back then.
John David Washington plays your partner in the film. Did you have that police partner camaraderie by the end of filming?
I had one of the most indelible experiences working with JD and with Rei [Reinaldo Marcus Green] as our fearless director. I would say yes, I felt like we were partners and both had a very unique and creative experience making this movie and being part of such an important story. I think he's enormously talented and a beautiful person.
Photo Credit: Curtis Baker/Netflix
This film seems like a perfect fit for your jewelry line, Liberty United. What can you tell us about the line, how it's changed from its inception and why, in your opinion, it's so completely currently relevant?
Gun violence affects us all. More than 100,000 people get shot every year and nearly 40,000 people die from their wounds. Our film presents one aspect of this violence in a story that many Americans may feel is familiar. But the tapestry of gun violence has many stories. Children are victims, women are victims, men are victims. Criminals kill, spouses kill, accidents kill and many people turn guns on themselves. Over 17,000 kids get shot every year and they are the most vulnerable people in our society.
Liberty United is a social good venture. Our mission is to protect and educate children who are at-risk of gun violence. We do this by transforming illegal guns from law enforcement into beautiful products and art that funds programs for at-risk children. Most of our products are jewelry. We also make cool pens and other accessories. When we started we partnered with well-known designers like Philip Crangi and Pamela Love and then we started making out own pieces.
My husband Peter founded Ethos Water in 2001, which he sold to Starbucks in 2005. So, he was a pioneer in social entrepreneurship. When we were first dating in 2008, we traveled to Africa to work on Ethos Water projects and met little kids armed with assault rifles and Peter decided to start a company to get AK47s and make them into products. He's been doing that since then and destroyed over 70,000 assault rifles there. In 2012, we started working on doing this with Liberty United in the USA when I was pregnant with our daughter and we wanted to work on helping kids in our own country too. So, we approached cities and asked them if we could partner to turn their destroyed illegal guns from evidence into products to fund programs for at risk children who live in their cities. Up until recently we have donated between 20% and 25% of our profits to fund programs that protect and educate at-risk kids through not for profits in the cities with whom we partner. We will continue to make donations for every piece purchased by our customers. In addition, we now will give one of our bracelets to a teenager who commits to stopping gun violence for every bracelet purchased by our customers. So if you buy a bracelet or a necklace or a ring from us a teenager will get one too.
Photo Credit: Courtesy of Netflix
Let's talk about Karen Wheeler. What will her arc be on the 3rd season of "Stranger Things?" Will she have her Mrs. Robinson moment with Billy?
We're still shooting season 3 so there's a lot more I still don't know!
Specifically, what craziness can fans expect from the show's third season? How can it possibly go down the rabbit hole any further?
I'm excited for this season and I think the audience will be blown away but what happens. We all get excited when the scripts come in and we read them for the first time. Even though I have an idea of what might happen, the writers still surprise me.
The idea for "The Romanoffs" is incredible. What can you tell us about your episode/character? How is she connected to the Romanovs? 
Really I don't mean to be a broken record here, but I seem to get cast in these super-secret shows ("The Sopranos," "Mad Men," "Stranger Things") where I can't give anything away! I filmed my episode in Los Angeles.
Photo Credit: Courtesy of Netflix
What was your reaction when Matthew Weiner asked you to take part in another of his series?
I'd worked with Matthew back when I was on "The Sopranos" and we got to know each other there. And then being cast as and creating Dr. Faye Miller on "Mad Men" with Matt was such a dream. He had written the part for me and I said yes before reading the script because that's how much I love his writing. And it's comedic role which I'd love to do more of.
You've been acting since age 12 in a mind-boggling number of projects. Which stuck out to you as an exceptional experience, and why?
Oh this is a hard one! Making "Monsters and Men" was really a one of a kind experience. Rei kind of just let us go when the cameras were rolling. There was a sense of realism that was happening while we were filming that I hadn't experienced before. I had read about how Stanley Kubrick had always brought the scene to the actors, made it so that the it humanizes those that we may judge in a specific light by providing us a different lens through which to see them. I think and hope it encourages a conversation about this important topic. It shows how every voice matters and can make a difference, even if you think yours is insignificant. I'm really so proud and honored to be part of this movie.
Photo Credit: Martina Tolot