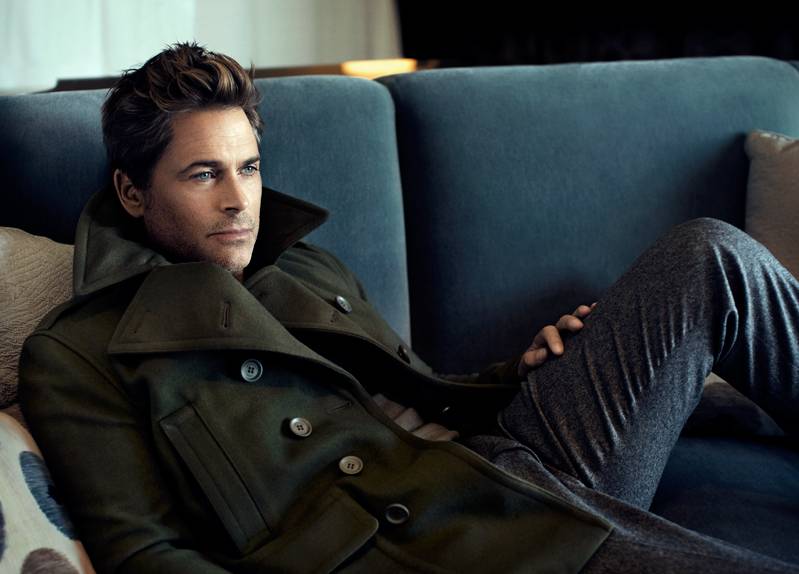 ONCE UPON A TIME (AT THE AGE OF SIX), ROB LOWE climbed to the highest diving platform at his community pool in Dayton, Ohio and took a leap of faith. By his own estimation, he's been a self-proclaimed "adrenaline junkie" ever since. 46 years later, not much has changed.
"For my 50th birthday, I had a party, and everybody got up and made really interesting toasts. My brother, Chad, said that his earliest memory of me was at our local public pool in Ohio. It had one of those diving platforms: not a high dive—it was way higher than that. I would go up at the ages of six, seven and eight, climb up, and jump off. People were like, 'That kid is crazy!' I've not learned any better since," Lowe proudly admits.
As he's aged, he's continued his daredevil dramatics, from whitewater rafting on the Bay of Fundy, the world's highest tidal range, to intense heli-skiing and deep-sea diving. He can also frequently be found riding giants in Malibu, with and without his college-age kids. Though the three are equally adept at dropping into a wave, his sons take great pleasure in giving their dad grief: "They love telling me I'm old. They love to beat me up in any way that they possibly can," he laughs.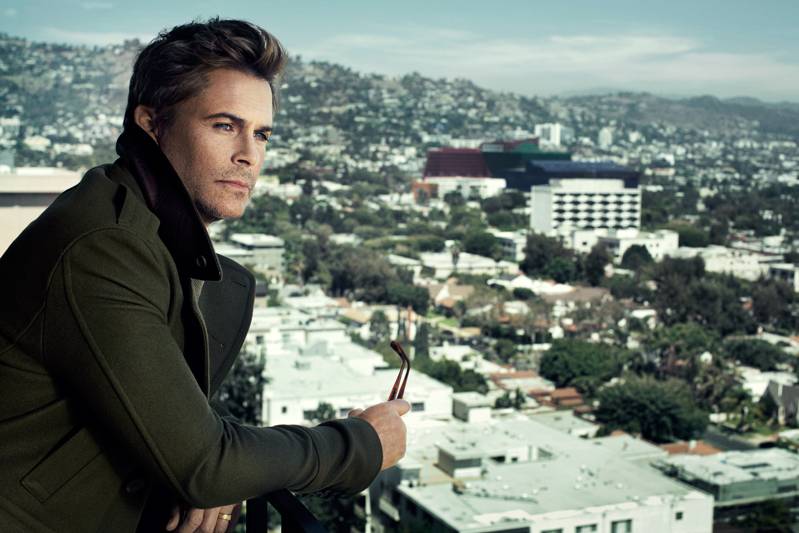 "Old" is not an adjective that comes to mind when looking at Rob Lowe: "dreamy," "charismatic," and "handsome" are far more accurate. At age 50, he's impossibly fit, perfectly coiffed, and, in our opinion, even better looking than he was when he surged to fame at the age of 19 in the 1983 silver screen adaptation of S.E. Hinton's novel, "The Outsiders."
Lowe is matter-of-fact about getting older, and takes his sons' gentle ribbing with good humor. "We have a very good relationship—we talk about everything—and have no problem giving each other grief. Also, the numbers don't lie, so what can I say? It's an indefensible position. I know when I was their age, I was like, '50? Grandpa, get your walker out!'"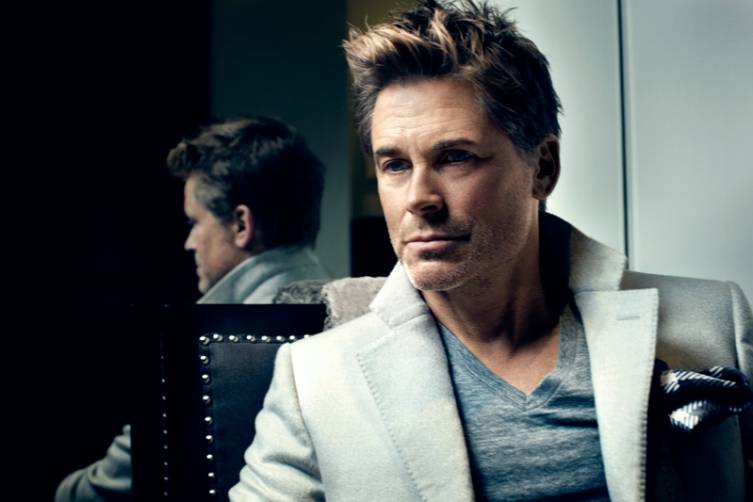 It's definitely good news that he is comfortable talking about everything and anything with his kids, especially as one day in the imminent future he's going to have to bring up a topic that isn't always the easiest to broach: long-term care planning.
Lowe has partnered with Genworth Financial, Inc. to promote the #LetsTalk tour, an initiative focused on raising awareness of long-term planning for aging family members. He's already had the chat with his father and mother-in-law. "They're the ones who are really entering the phase where 70 percent of us are going to need long-term care," he says, adding, "The conversation [with them] went really well. The information that we get is that the truly aging members of our population are looking to have this conversation with their families, but don't know how to bring it up."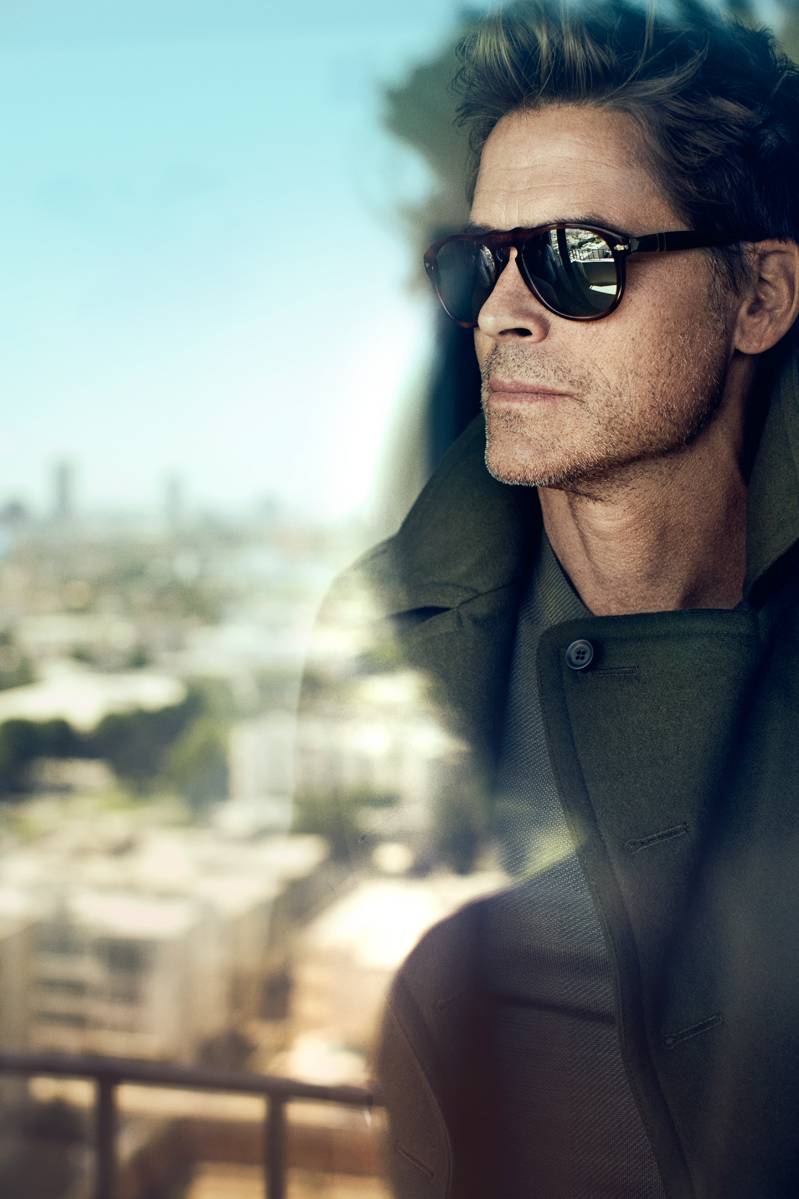 When the time comes, he's confident that he won't shy away from having the "sometimes awkward" chat with his own kids, though it certainly won't be easy. "I can probably have [this conversation] with my 20-year-old [Matthew] and probably will, but getting [my kids] to focus is a little tough," he admits. "I feel like my kids need a little more life under their belts. They're at the point now where they think nothing bad ever happens to anybody, and that we all remain as we are."
Through his own personal experiences—the bad and the good—Lowe has found the opposite to be true. He wears age beautifully, like a badge of honor, though confesses he does have a few secret weapons in his arsenal for looking and—more importantly—feeling young.
"I don't drink, I don't do drugs and I'm active. I'm interested in life; I'm curious, and I want to learn more than what I know," he declares. "I really believe that age is what you make it, and that designing your life is important. I wrote a book about it—"Love Life"—and intrinsic in it is the question 'What makes life worth living?' For me, that's staying active, engaged, and optimistic. Everything else will take care of itself."
Optimism is a quality that Lowe has in spades. He chooses to live his life with a "glass-half-full" mentality. "I think your worldview is critically important," he says. "People are born with a predisposition to worldviews, and I was probably born with an optimistic outlook. I really do believe that when something I don't necessarily like happens, something that I'm going to like a lot is going to happen as well—which can make life easier. That's not to say that I don't have days of anxiety either—I definitely have it—but if your mind is right, it solves so much."
It's taken him the better part of a quarter century to get to a perfectly happy place, but Lowe is there now—and fully believes that there's no time like the present.
"If I could live in the now all the time, I would be thrilled," he swears, adding, "We all intellectually know that now is all we have; we can't go back in the past, and we can't move forward to tomorrow, yet, very few of us are able to do it."
The positive performer counts himself among a rare, elite number that are able to live without regrets, and who can safely put his former transgressions where they belong: in the past.
"I really don't have any regrets, because everything has led me to where I am today," he says, admitting, "I always learn the most from my mistakes I've made or when something didn't go the way I wanted it to."
The greatest lesson he's learned from past errors created a snowball effect that led him to make many significant changes for the better, adjustments that have made him into a man he's proud to be today.
"I had met my now wife, Sheryl, and was attempting my first try at monogamy—which was not really in my nature at the time—and I wasn't able to do it," he recalls. "It made me examine how I was living my life. That led me to getting sober, which led me to changing my life—giving me everything I now have."
He adds, "You have to want to change. I wanted it; I was ready."
"I've been developing a product line, which I'll roll out in February," he reveals. "It's all the stuff that I've learned since I was 15 and forced to sit in a chair and have the best and brightest make me look my best; it's all the behind-the-scenes stuff that actors get done to them all of the time. et's face it: there isn't much Rob Lowe hasn't done. He's won a Golden Globe and two Screen Actors Guild awards; founded a non-profit in the Santa Barbara's Homeowner's Defense Fund; campaigned for Arnold Schwarzenegger; played president John F. Kennedy, and managed to transition seamlessly from '80s heartthrob to modern-day comedian (for those who haven't seen his delightfully tongue-in-cheek Shark Week promo, you're really missing out). He hasn't yet fulfilled his dream of skiing the Alps, but he will get to cross one item off his bucket list next year by launching his own skincare line.
"Like most guys," he continues, "I would never do it on my own, but over the years, I've picked up a couple of things. Some of the products that were out there I thought were a little femmy—things that were meant more for my wife than me—so I sat down with some great chemists about six years ago, and I've been developing this line ever since. It's an anti-aging, non-toxic performance skincare line. It's pretty cool stuff."
But why stop there? If the line, Profile, is a success—as it most certainly will be, given that any man would kill to look like Rob Lowe—there are certainly other possibilities for the brand's expansion down the line.
"I always think it's good to start small, with your initial passion," he says. "I feel like I'm like a lot of guys, in that I love when somebody tells me what to do. I want someone to say, 'Put this on' and, 'That looks great' and, 'That doesn't go with this.' I wanted to share what other men have been sharing with me since I was 15, which are some of the reasons why I look the way I look now."
Another secret bucket list he can cross off his list is running for political office: he's over it. "The tenor in this country is so—I can't think of any word other than gross—that [running for office] would be hard to do it. The great consensus builders have all been drummed out. Neither party can really nominate a moderate or a consensus builder because they can't get through the primaries without catering to the fringes of their parties. Everybody sees this amazing paralysis in Washington; whether you're on the right or the left, the one thing everyone agrees on is the paralysis. We happen to be going through a really rough patch right now; well figure it out, we always do—but for the first time in my life, I don't idealize or romanticize running for office and that's really sad, because I always have.
"I always deny it when asked, but now that I can be totally truthful, I don't want to do it anymore," he continues. "Maybe that will change, and if it does, I would love it. I love public service and I like communicating with people and I know—through doing things with Genworth and traveling the country and meeting people outside of my own sphere—that we all agree on so many things. If we could ever get to a place where we could table the things that we disagree on and work on the things we do agree on, we would get so much done. Right now we're living in a world of division: division for ratings, division to raise money, and unfortunately, division in leadership. It's not a good time."
It might not be the right time for Lowe to embark on a political career, but professionally, he's continuing to kick butt. After leaving NBC's Parks and Recreation in a blaze of glory after four seasons (the reason being, he jokes, "because of Chris Pratt; I can't have anybody with better abs than me—I'm done, forget it!"), he's now completed ten episodes of the animated series Moonbeam City for Comedy Central alongside Elizabeth Banks, Will Forte, and Kate Mara. He'll play "Dazzle Novak, a hot idiot cop who causes more crimes than he solves" in a show that he calls, "a hallucinatory, politically incorrect Miami Vice-style cartoon that's really fun and so wrong."
Lowe is also returning to the big screen for his first ever would-be franchise: Paramount's Monster Trucks. "It's really exciting. I've never been part of a franchise before; I've never done the big $175 million dollar budget thing until now." The project, which also stars Amy Ryan, Danny Glover and Barry Pepper, has been shrouded in secrecy, and though Lowe can't divulge too much—"I could tell you, but then Paramount would have to shoot me," he jokes—he does say that, "The title is pretty self-explanatory. It's the kind of movie that every kid in America—particularly every boy—is going to be like, 'I'm so there.' It's monster trucks that, for reasons that I can't disclose, come to life.
"I get to play the bad guy," he adds. "I'm the nasty Texas oilman. I've modeled my character after three very particular people. It will be interesting to see if people pick up on it."
In case you're expecting the obvious, Lowe says, "I did not do George [W. Bush]; I thought people would think that was too easy. Let's just say that I stole every article of clothing that Rick Perry has ever worn. It's like an Amblin Entertainment movie that Spielberg would have made in the '80s."
Though you'll be seeing a lot of Lowe, you won't be seeing him in The Pro anytime soon—NBC initially ordered the comedic pilot about a former tennis pro who reunites with his ex-partner, but then cancelled it. "We are not doing The Pro," the actor clarifies. "NBC—in its infinite wisdom—did not go forward with The Pro, but I am redeveloping it because I love working with Rob Riggle; we're tweaking it."
If you're really lucky—and if Aaron Sorkin finds the time and the inclination—you will be seeing a West Wing movie one day. "Let's do the West Wing movie!" Lowe declares. "I've got to hope that one day Aaron Sorkin will want to write it. He's got such a deep well of ideas though that I don't know if he'll ever go back to it, but [if he did] that would be amazing."
Then he's not working, crossing items off his bucket list, touring the country with Genworth or indulging his adrenaline junkie tendencies, you'll be likely to find Lowe on his fishing boat—The Bigger Jigger (pre-named, you see; it's bad luck to rename a boat) with his 21-year-old son Matthew; watching the NFL Network or making music with 18-year-old Johnowen at home in Montecito; or, most frequently, hanging ten in Malibu.
One thing he's not doing: stressing about getting older. "Just look around," he says. "Your average 40-year-old today is much different than what 40 looked like when I was a kid, and so on. The evidence that age is different is everywhere you look." We're looking at Lowe, and from our point of view, that's evidence enough.
But just in case his sons need more proof that "old" is not a term they should be applying to their beloved dad, Lowe has one big round of ammunition in his arsenal: the action that speaks louder than all words.  So what does he do? Says Lowe, "I drop in on a 14-foot wave in Malibu, ride it to the beach, look at them and say, 'In your face!'"
AUTHOR: LAURA SCHREFFLER
PHOTOGRAPHY: RANDALL SLAVIN
STYLING: COURTNEY MAYS
GROOMING: JASON SCHNEIDMAN for SoloArtists.com/Dove Men + Care
SHOT ON LOCATION AT THE FOUR SEASONS LOS ANGELES AT BEVERLY HILLS
Subscribe to discover the best kept secrets in your city