We're officially two weeks away from New York Fashion Week, which means one thing and one thing only: it's about time we plan our meals. Between the shows, meetings and the constant Ubers across the city, NYFW fuel is more than necessary. We've rounded up a few of our favorites below, so make your reservations before the chaos comes to town.
Bar Moga
Photo Credit: Kuo-Heng Huang
Looking for a quick bite and cocktail amidst the hustle and bustle of fashion week? Then look no further than to the gorgeous Bar Moga. Located in NYC's Greenwich Village, Bar Moga is a chic cocktail bar inspired by the figure of the moga (modern girl) that emerged in early 20th century Japan. Many of the cocktails incorporate traditional Japanese spirits into recipes inspired by those of the American prohibition era. The wine list features predominantly female winemakers, and many of the spirits come from female distillers, or companies in which women play a key role. There is also a small bar food menu, featuring Japanese yoshoku style of cuisine – East meets West comfort food – that became popular during the same time period.
Grand Banks
Photo Credit: Grand Banks
Hop aboard celebrated oyster bar Grand Banks for a breathe of fresh air during Fashion Week. Located aboard a historic wooden schooner from brothers and lifelong sailors Miles and Alex Pincus, this bar and restaurant is inspired by the floating oyster barges that lined Manhattan's waterfront in the 18th and 19th centuries, Grand Banks features wild-caught and sustainably harvested East and West Coast oysters alongside a concise menu of seasonal plates by chef Kerry Heffernan, such as fried soft shell crab and scallop ceviche, which guests can enjoy with a selection of refreshing cocktails.
Dante
Photo Credit: Dante
For chic cocktails during NYFW, look no further than Dante, the century old Italian caffe in Greenwich Village. Walking distance from Spring Studios, stop in for one of their specialty cocktails before, in-between, or after shows.
DEZ
Photo Credit: DEZ
New to the Nolita area, DEZ is a stylish new restaurant by celebrity chef Eden Grinshpan and Creative Director Samantha Wasser (Co-founder of by CHLOE). Serving chef-curated, contemporary Middle Eastern dishes in a fast-casual setting, DEZ has become a neighborhood darling since opening in May, attracting everyone, including celebrities like Nicky Hilton. Plus, its prime location in Nolita makes it the perfect central location nearby shows in the neighborhood and in SoHo.
Air's Champagne Parlor
Photo Credit: Air's Champagne Parlor
Air's Champagne Parlor is the coolest wine bar you didn't know existed; unassuming, fun, and delicious is owner and sommelier, Ariel Arce's, goal for the Air's experience. Curating a selection of great champagnes and sparkling wines, paired with a menu of delicious snacks, Air's is the place to go during NYFW. Indulge and maybe learn a thing or two about wine from Arce herself – in the most unassuming, chic environment.
Boqueria
Photo Credit: Boqueria
With multiple locations throughout New York City (Soho, Flatiron, Garment district, Upper East Side, and Fort Greene), lively Spanish tapas restaurant Boqueria is a vibrant dining option, no matter where your NYFW ventures take you. With menus meant for sharing with friends, Boqueria serves up Spanish classics and market-driven seasonal specials that you can wash down with Barcelona-inspired cocktails and sangria in a chic, warm space. Ideal for pre or post show bites, Boqueria's environment allows for a quick bite before the first walk or a leisurely meal killing a few hours before a show.
ACME
Photo Credit: ACME
New American bistro ACME, located on Great Jones Street in Manhattan's NoHo neighborhood, is the perfect stop during NYFW. The seasonal menu showcases a variety of European flavors and techniques, but is quintessentially New York. Candlelit recesses, faded mirrors, inviting banquets and café chairs lend old world charm, and an impressive contemporary art collection makes the venue ideal for those who seek a chic but cozy ambiance in which to celebrate. Below the restaurant, a storied and time-worn rock 'n' roll club has been renovated into a cocktail bar.
Bocce Union Square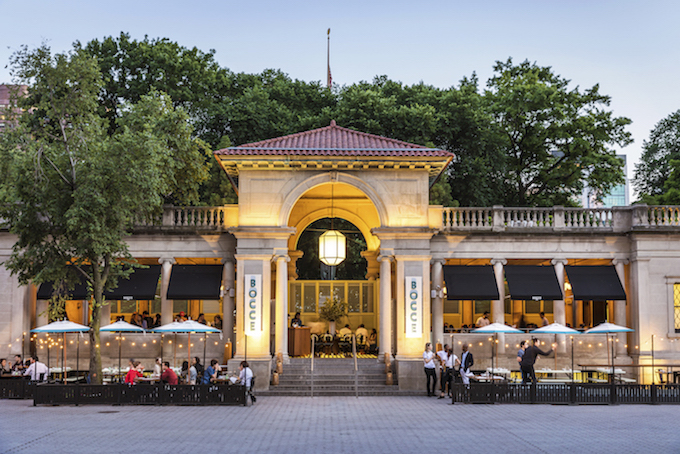 Photo Credit: Gachot Studio
The all-day Italian eatery, Bocce USQ, is the NYC backyard we never had but always wanted. Located in the historic Union Square Pavilion, it's a vibrant neighborhood gathering place to escape, be outside, enjoy delicious Italian food, refreshing drinks, a little sun, a little shade, and some friendly competition on the bocce court. Bocce USQ serves up seasonally-inspired pizzas and shareable plates utilizing the Union Square community's freshest produce picked from local vendors at the Greenmarket mere steps away from the restaurant. Capturing the laid back spirit of Italian summers, the restaurant is the perfect spot to leisurely sip a variety of spritzes while in between shows during Fashion Week.
Fifty
Photo Credit: Fifty
During Fashion Week, enjoy an Ecuadorian fine dining experience at Fifty, conveniently within walking distance of Spring Studios. Tucked away on scenic Commerce Street in the heart of the West Village, Fifty is helmed by Ecuadorian native and executive chef Luis Jaramillo (formerly of The Four Seasons). With a menu centered around seafood and veggies, chef Jaramillo's dishes provide healthy and often naturally gluten-free options.
The Loyal
Photo Credit: The Loyal
This Fashion Week, head to chef and restaurateur John Fraser's The Loyal. This sophisticated neighborhood restaurant in Manhattan's West Village was inspired by Fraser's love of the American tavern, serving a menu of simple dishes, built for comfort and grounded in Fraser's trademark technique. The bar features a concise cocktail list by Salvatore Tafuri and a selection of wine curated by beverage director Amy Racine. The Loyal is the new West Village gem, evoking a feeling of casual indulgence with the warmth of a favorite local.
Claudette
Photo Credit: Claudette
Founded by Carlos A Suarez, Claudette joins her sister restaurants Rosemary's, Bobo, and Rosemary's Pizza in offering a warm and inviting atmosphere to guests. Located in the heart of Greenwich Village just blocks north of the Washington Square Park, Claudette serves a menu of French-Mediterranean dishes with influences from North Africa in a bright, elegant setting that evokes Southern France.
Philippe Chow
Photo Credit: Philippe Chow
If you're looking to spot the likes of Cardi B, Rihanna, Yo Gotti and more, head to Philippe Chow on the Upper East Side. An elegant Beijing style eatery it's an ideal spot to satisfy any craving after the runway. Head to the restaurant's wine cellar room and chat about this season's latest trends over the famous Chicken Satay with creamy peanut sauce, Peking Duck carved tableside, the Green Prawns and more.
Añejo
Photo Credit: Añejo
Anejo Tribeca is conveniently located just steps away from Spring Studios, where you can sip on margaritas and munch on veggies and guac between shows. For an elevated experience, stop in for dinner Thursday through Saturday to check out their tequila sommelier, who can provide expert advice and recommendations when selecting agave spirits. Her specialties include flavor profiling, education on distilling and brand awareness, and pairings with executive chef Ricardo Camacho's Mexican fare.