Photo Credit: Ian Bohen
BECAUSE SHE'S A DEAD RINGER FOR A YOUNG REESE WITHERSPOON AND STARS IN A MASSIVE BOX office franchise, you might expect that Pitch Perfect star Brittany Snow leads a charmed life. We're not going to beat around the bush here—you'd be right. But things haven't always been harmonious for the actress, which is why, today, she's using her voice to 'love louder'… and she demands to be heard.
In September 2010, Snow, then 24, was moved to create her foundation, Love is Louder, after seeing the outpouring of support for those who had committed suicide as a result of bullying. The collaboration with The Jed Foundation and MTV strives to create a connected community of people.
"I saw this outpouring of emotion online for these kids who didn't know who to ask for help or support from all of these different groups—people were really banding together," she says, noting that, while amazing, the support was a little segregated. "Each group had a particular idea that they were representing: [there were support groups] for the LGBT community, or different ethnicities, but there wasn't one inclusive place where you could find support. I wanted our similarities to be stronger than the things that divided us."
Photo Credit: Olivia Hunter 
Seeing so many kids simply give up struck a chord for Snow, who herself had also been a victim of bullying when she was younger—so she took action. She brought her idea to pal Courtney Knowles, the executive director of The Jed Foundation, a non-profit that seeks to offer support to teens and young adults, who then presented the 'Love is Louder' and #LouderTogether concepts to the MTV network, which jumped on board immediately.
Today, the movement continues to connect teens across all ethnicities, religions and social groups. Anyone can join in the Love is Louder conversation on Facebook or Twitter by uploading a brief video—30 seconds or less—on MTV's website and telling the world what they believe love is louder than. There are also helpful links and support for those who are struggling, but wish to remain anonymous.
While Snow has effectively accomplished what she set out to do in the present and is happy to look to the movement's future, it's understandable that she might be cagey when speaking about the past—she hasn't had the best experiences sharing the personal events that led her here.
At the age of 21, she opened up to the media, sharing that she had wrestled with eating disorders, depression and self-cutting—with disastrous results. "I try not to speak about my personal struggles very often because I feel like people magnify [my experiences] instead of what everyone is going through collectively," she notes in her sweet, soft-spoken way. "I went through my difficulties in middle school and high school, and became open about them [in my 20s]. I tried to use my voice in a positive way, and people took what I said out of context and used it against me because they thought I wanted to gain attention."
But this couldn't be further from the truth. Even then, Snow was both hoping to be a voice for those who felt alienated and to stop feeling so isolated herself. "That's why I wanted to start this as well," she says, "because when I was growing up and going through difficult times, there was nowhere to go. There was no social media community that showed me that I wasn't going crazy and that I wasn't alone."
And she'll admit it: as much as the Love is Louder cause is for fellow sufferers, it's for her, too. "Selfishly, it helps me just as much as I hope it helps others. Every time I read or hear a story, I connect with something I've gone through. I get quiet and grateful about how far I've come."Photo Credit: Olivia Hunter 
PRIMARILY, UNLIKE THE GIRL OF HER YOUTH, THE NOW-31-YEAR-OLD HAS SUPPORT IN SPADES     from her fictional family, the Barden Bellas, who have transformed into a close-knit group of real-life besties. "These girls are my family, and they are exactly the people that I go to when I'm having a bad day," Snow confides. "They listen to my stories and my ramblings, and pick me up when I'm feeling down."
The sister-like cast first met while filming the 2012 musical comedy loosely adapted from Mickey Rapkin's Pitch Perfect: The Quest for Collegiate A Capella Glory. It follows Barden University's all-girl, underdog a cappella group as they compete against other, more established groups in a bid to win Nationals.
Raking in $116,044,347 million globally, the original film produced its first sequel in 2015. Now, the infamous ragtag bunch of aca-nerds—including Snow's slightly spacy leader Chloe Beale—will return to the big screen on December 22 with the franchise's third installment, which will revolve around the group's post-collegiate exploits.
After winning the a cappella world championships, the Bellas discover that trying to make music in the real world is more difficult than they thought, and that 'adulting' just isn't for them. There will be music, of course, plus travel (as the ladies get the chance to reunite for an overseas USO tour).
Most of the girls—aside from Hailee Steinfeld, who was introduced in the second film, and Ruby Rose who joins the cast in the third—have been working together since the very beginning, six years ago. "We've grown into more mature women [and] our relationships have changed so much," Snow says of her buddies.
Don't ask her to pick a favorite though (we didn't, but others have)—it won't happen. This is a group of girls that really unites as one, and even have their own constantly-going group chat, "The Bellas", to prove it. Instead, she shares what she loves about her cast mates, being sure to note that they aren't listed in order of importance.
"Kelley Jakle [Jessica] was my roommate for three years, and became one of my best friends instantly. She is my sister. She inspires me to be more kind and is an amazing listener. She doesn't have a mean bone in her body. Chrissie Fit [Flo] is one of my best friends and is hilarious; she's also the most giving person I've ever met. She'll do anything for anyone—she'll drive hours and hours to help you with anything that you need. [Anna] Kendrick [Beca] has become one of my best friends, as well. Our relationship has changed in particular because, in the beginning, I think she found me annoying… but I grew on her like a disease or something. We have the best relationship now. She's a true friend; she's incredibly strong and gifted and is really an example of how to be a woman in this world and use your strength and intelligence for good."
Photo Credit: Ian Bohen
But her friendship with co-star Anna Camp [Aubrey] takes things to the next level: Snow was even in her wedding (to another Pitch Perfect star, Skylar Astin). "We have the same exact sense of humor, and can talk in a way where no one knows what the hell we're talking about," she says with a laugh. "They're not even complete sentences—they're words, phrases, sounds—but we get it. We have an unspoken language and unspoken bond, really, that I don't have with anyone else."
She rattles off positive things about her other female cast members Rebel Wilson, Ester Dean, Alexis Knapp, Hana Mae Lee and Shelley Regner, as well as relative newbie Hailee Steinfeld (whom she calls "effervescent" and "such a star") before coming to the newest member of their tribe, Orange is the New Black actress Ruby Rose [Calamity]. "I was really surprised about Ruby," she admits. "I thought I was going to be so scared of her—she's unbelievably gorgeous and has the kind of presence you can even feel just by looking at a magazine cover. But she was absolutely the sweetest, and really became part of our group and fit right in to our jokes, and it was a seamless transition. She's the nicest woman and of course, up close, the most beautiful human being I've ever seen. I don't think she even knows that, which is part of her charm."
If she sounds like an advocate for girl power, you're getting a good sense of Brittany Snow. In that way, she is just like her aca-alter ego. "I would like to think that the good qualities I have and the good qualities I see in Chloe are similar. I love how passionate she is about her friends and about what she loves, which is music. She's a little dramatic sometimes, but it all comes from a place that she really, really loves the people she's surrounded with, and I think that's part of me, too, so I instilled it in the character I've created." She continues, "[In the film,] we all represent different things, and Chloe represents the heart of the group. I love it when people correlate that with her and with me."
Photo Credit: Quantrell Dr. Colbert/Universal 
We certainly do: in our opinion, Snow is all heart. Heck, by interview's end, we want to be part of her squad—and in the Bellas-only group chat, of which she says, "Right now, Rebel [Wilson] is actually shooting a movie with [yet another Pitch Perfect star] Adam Devine. We all love Adam, but she was like, 'There's nothing like our set and the women that we have.' We were all like, 'Yeah!' and typed lots of emojis and shit like that. We are constantly reminding each other that we really do have it good and are incredibly supportive of each other. There is no competition, no undermining, because we know that none of this works without each other."
And although she's got cool new projects coming up—like Hangman with Al Pacino and Karl Urban—and is even embarking on her directorial debut with an upcoming short film, the experience with her Barden Bellas can never be replicated, or likely as good. That 3 might be the final chapter is not lost on her. "We knew this might be the last, or one of the last [films]. We hope it's not, but it very well could be—it's not up to us. [While filming,] we looked around at each other a lot and realized how far we've come together, and how much we had used our friendships to create who we are. That's really cheesy, but it's true. It all made sense. None of this would have happened if not for Pitch Perfect. It really struck a chord when we had to say goodbye." 
The kind of female camaraderie that Snow describes among her own cast members seems akin to the Big Little Lies or Bridesmaids co-stars—the current trend is an all-for-one, one-for-all sentiment among women in Hollywood, and hopefully it lasts.
Snow agrees. "Women have to stand together!" she declares. "We are not the enemy. We try our best and want the best for each other. What I love is that women especially are being truthful about what's happened to them and not being afraid to hide anymore. I think it's great that people are uniting and realizing there's no reason to bring each other down."
She cites Zoe Kazan's recent article in The New York Times about overcoming her eating disorder and Amber Tamblyn's essay, also for The Times, entitled "I'm Done With Not Being Believed." Says Snow, "I love that women are standing up for themselves and taking that chance [and] not being afraid what they're saying is taboo, or that they can't speak their truth because of what others will think. It's OK to share what's going on with you, and it shouldn't be discredited. This is how we all collectively get better."
She adds, "Bringing it back to Love is Louder, I think this is what people are realizing in general—that there's no point in not being united."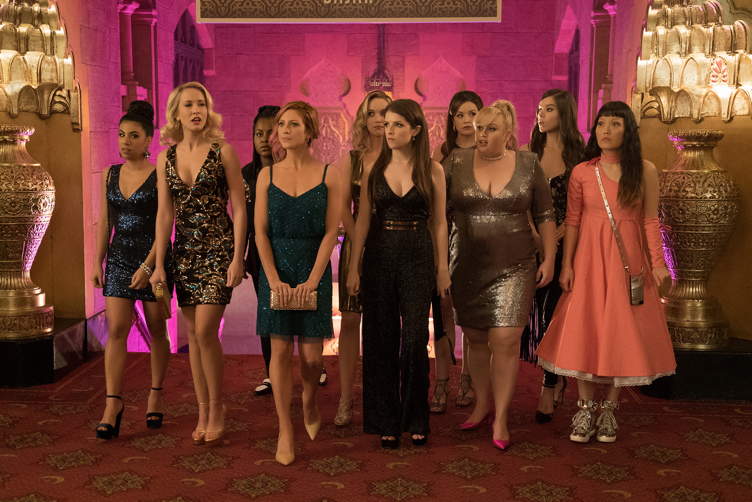 Photo Credit:Quantrell Dr. Colbert/Universal 
Subscribe to discover the best kept secrets in your city