This season, shake up some merriment with holiday tipples from eight of our favorite drinking establishments. Or, better yet, belly up to the bar and request one of these festive sips by name. Tell them Santa sent you.
Noel Noir At PB Catch

Mixologist Cutter Lavoie wanted to make a holiday spirit that reflected the festive hues of Christmas, so he used pomegranate for its radiant color. "It's a great and simple cocktail with just enough sweetness and balance to enjoy on a night of holiday celebrations," he says.
3 oz. Grey Goose Cherry Noir
1/2 oz. St-Germain
1/4 oz. lemon juice
1/4 oz. pomegranate syrup
Splash of prosecco
Cherry for garnish
Mix all ingredients, except prosecco, in a shaker with ice. Shake and strain into a martini glass. Top with prosecco and garnish with a cherry.
---
Woodford Frost At 50 Ocean
Photo Credit: George Papp
"This cocktail is in the tradition of classic cream drinks like the Brandy Alexander," says restaurant manager Mark DeAtley. "It's rich and satisfying, and provides better protection against the cold than wearing a sweater."
1-1/2 oz. Woodford Reserve Bourbon
1 oz. peppermint schnapps
1 oz. Godiva White Chocolate Liqueur
1/4 oz. creamer
Shaved dark chocolate and a pirouette cookie for garnish
Mix ingredients in a shaker and shake well. Strain into a martini glass and garnish with shaved dark chocolate and a pirouette cookie.
---
Son Of A Nutcracker At 123 Datura Bar & Kitchen
Photo Credit: Reed Ferguson
Bar manager Reed Ferguson named this tipple after the holiday comedy, Elf. "The part where he gets hit in the face with a snowball," he says. A befitting title considering the drink packs a wallop. It's also a riff on another classic, the Old Fashioned, which he's a fan. "I love spirit-forward cocktails and I like to taste the main spirit or rye in this case."
2 oz. Bulleit Rye Whiskey
1/4 oz. housemade holiday spirit (see recipe)
2 dashes cranberry bitters
3 dashes cardamom bitters
Lemon peel for garnish
Stir ingredients in a mixing glass and strain over one large ice cube into a double rocks glass. Express drink with a lemon peel then clip to glass with a mini wood clothespin.
Housemade Holiday Spirit:
2 cups water
1 cup white sugar
1 cinnamon stick
4 cardamom pods
1 star anise
In a saucepan, bring ingredients to a boil. Stir constantly to dissolve sugar. Bring to a boil then remove from heat, cover and cool. Strain out cinnamon, cardamom, and star anise then pour remainder into a bottle. The mixture will keep for up to two weeks.
---
Hot Winter Nights At The Regional
Inspired by traditional hot buttered rum, mixologist David Bouchard wanted something that wasn't eggnog but still warm and savory. "This is a nice wintry option our guests can enjoy as an after dinner drink with dessert or just as a festive cocktail," he says. The batter uses vanilla ice cream pastry chef Sarah Sipe whips up in-house.
2 oz. Afrohead Rum
1 tbsp. vanilla ice cream and spice batter (see recipe)
Water, boiling hot
Nutmeg and cinnamon zest for garnish
In a mug, combine rum and batter. Fill remainder with boiling water and stir gently. Garnish with zest of nutmeg and cinnamon.
Vanilla Ice Cream and Spice Batter:
1 lb. butter
1 lb. brown sugar
1 lb. sugar
1 tbsp. ground cinnamon
1 tsp. ground clove
1 tsp. ground nutmeg
1 qt. vanilla ice cream
Add all ingredients, except for ice cream, into a bowl and stir. Stir in ice cream and transfer to a container with a lid. Store in freezer.
---
Vin Chaud At Pistache French Bistro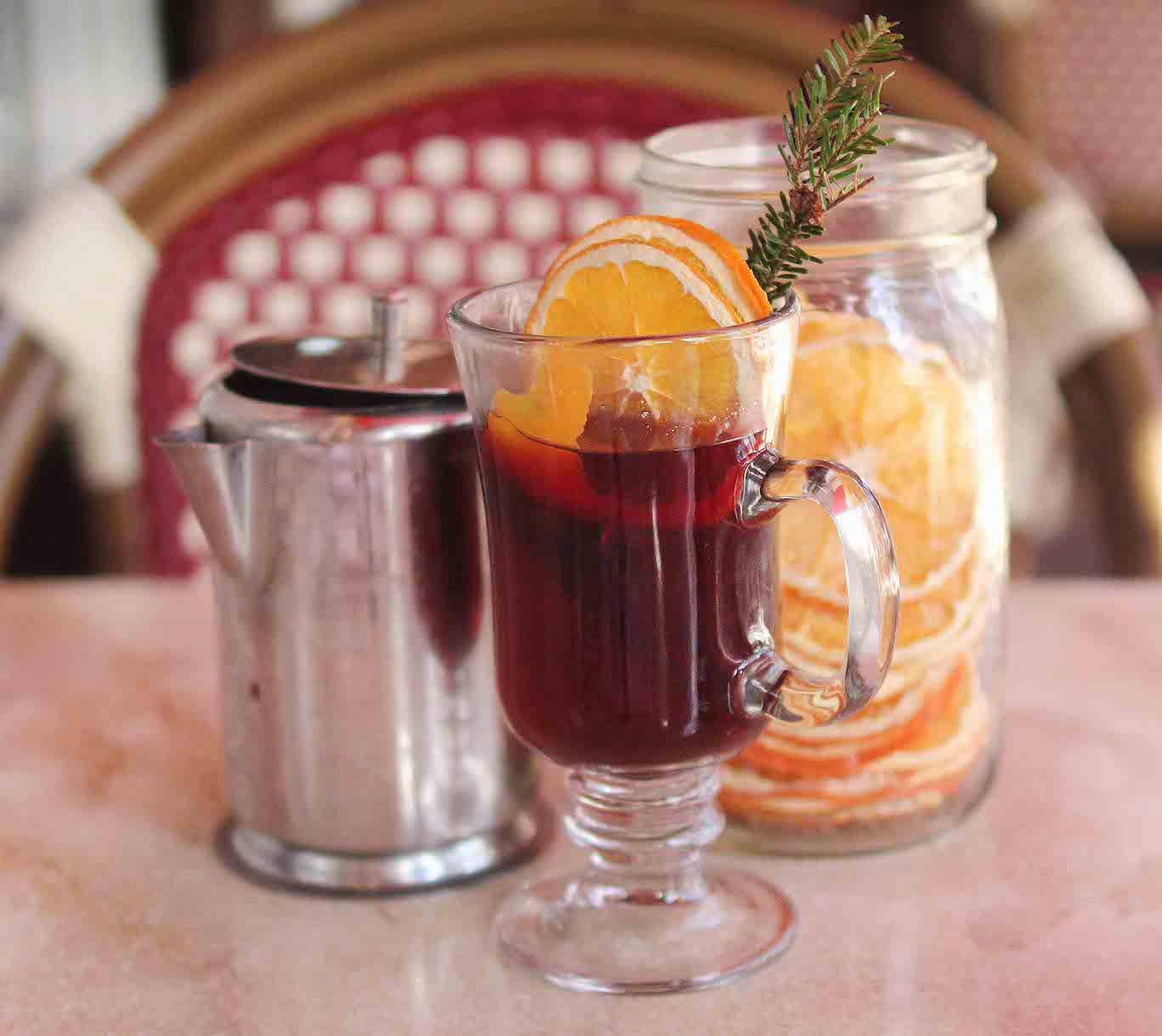 "During Christmas, it's customary that Vin Chaud is served in Paris," says mixologist Vincent Toscano. A traditional holiday drink popular at ski resorts, the recipe calls for cassis creme or Calvados. "I decided that cognac would be a nice addition and more familiar to our guests," he says.
3 oz. Pinot Noir
1 oz. cognac
1 ea. star anise, clove, and cinnamon stick
1 tsp. brown cane sugar
Orange zest and peel
Dried orange for garnish
In a kettle, mix all ingredients and heat to a simmer. Do not boil. Remove and pour into a mug with wine, orange peel, and herbs. Garnish with dried orange.
---
Miracle's Christmapolitan At Death or Glory
Photo Credit: Melissa Hom

 
Miracle, the Christmas pop-up bar that launched in 2014, uses cranberry and rosemary syrup to transform the classic Cosmo into a merry mixed drink. Death or Glory is one of 50 bars across the country mixing up this very special libation.
2 oz. vodka
1 oz. spiced cranberry-rosemary sauce
1/2 oz. St. Germain Liqueur
1/2 oz. lime juice
1/4 oz. dry vermouth
Pernod Absinthe for misting
Rosemary sprig for garnish
In a shaker, add first five ingredients and shake for five seconds. Fine-strain contents into a coupe glass misted with absinthe. Garnish with a sprig of rosemary.
---
Christmas Sangria At Chez l'Épicier
Owners Laurent Godbout and Véronica Deneault would warm themselves with warm mulled wine infused with cinnamon and spices while watching their kids play in the Canadian snow. "This is the tropical and festive version of that drink," says Deneault.
4 oz. Malbec
1 oz. orange juice
1/2 oz. Grand Marnier
Pinch of cinnamon
Thyme branch and a blood orange wheel for garnish
Mix ingredients in a shaker with ice. Pour over ice into a wine goblet. Garnish with thyme branch and a blood orange wheel.
---
Christmas At Grandma's At Brick & Barrel

Inspired by the Northeast's bone-chilling winters, mixologist Deanna Thibeau honors her native Maine roots with this delicious, spiced hot toddy.
3 oz. mulled cider (see recipe)
2 oz. cinnamon-infused bourbon (see recipe)
1/2 oz. cranberry puree (see recipe)
2 cherries and an orange curl for garnish
Mix all ingredients and pour into a rocks glass. Garnish with a skewer of cherries and an orange curl.
Mulled Cider (makes one gallon):
2 cinnamon sticks
2 star anise pods
1 tbsp. allspice berries
1 tsp. cloves
Orange zest
Combine ingredients. Simmer until cider is reduced by one-third.
Cinnamon-infused Bourbon:
Fill a 750 ml bottle with bourbon and add two cinnamon sticks. Remove cinnamon sticks after 48 hours.
Cranberry Puree:
12 oz. water
8 oz. fresh cranberries
3/4 cup brown sugar
Boil water and cranberries until cranberries burst. Stir in sugar and lower heat. Remove from heat and puree mixture in an immersion or standing blender. Pass through a strainer while still warm.
Subscribe to discover the best kept secrets in your city