When most San Franciscans hear the words Ghirardelli Square, they cringe. Its close proximity to Fisherman's Wharf and Disneyland-like chocolate shop make many locals think the square is a tourist trap. However, with Jonathan Waxman's namesake restaurant, Waxman's, a beer garden from Lagunitas, and Jean-Charles Boisset's takeover of the Wattle Creek Winery, Ghirardelli is experiencing a resurgence. What most people don't know is that the square is also home to some incredibly haute residences. Allow us to introduce you to SF's best kept real estate secret: the Fairmont Heritage Place. This private residence club from the Fairmont Hotel brand has 53 one, two, and three bedroom homes with varying floor plans in five different buildings, including the iconic Ghirardelli Square clock tower.  The timeshare-like ownership programs grants members a fractional 1/10 ownership and a minimum of 35 nights use annually.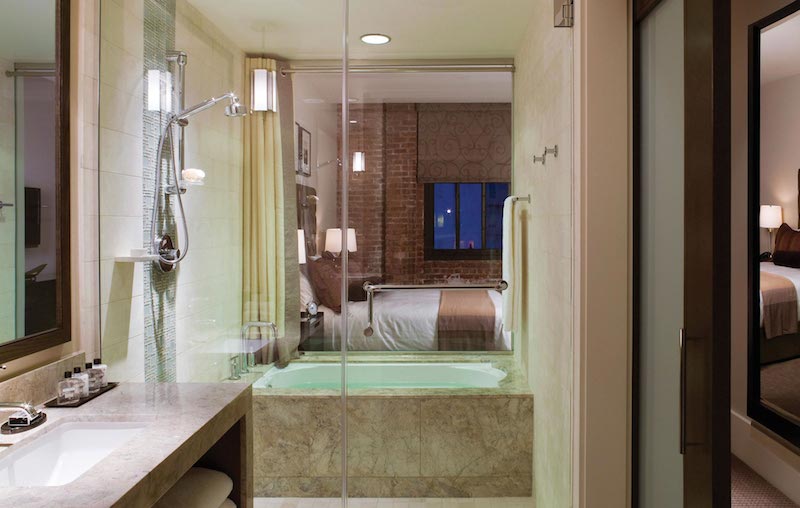 The Fairmont Heritage Place has all of the amenities of a Fairmont hotel including a full concierge and butler service that will stock the fridge with your preferred brand of almond milk and favorite Cowgirl Creamery cheese, chauffeured house car that will take you anywhere in the city within two miles of the square, daily breakfast in the morning and wine and cheese in the evening, bikes, golf clubs, two private parking spaces with valet services, fitness center, lounge, and meeting room. Heritage Place also has dedicated year-round storage, so you can leave personal items in the home. The Fairmont staff will remove them when you leave and bring them out when you return. The cool thing about ownership is access to the ultra-exclusive Fairmont VIP president's club, which allows owners to trade their nights and stay at other Fairmont Heritage Places, hotels, and affiliates.
An inviting lobby with warm olive green decor, black marble tables, and gorgeous peony, parrot tulip, and English rose arrangements greets owners upon arrival. The residences are beautiful—see more images in the gallery below—with the majority having views of the bay. There's exposed brick walls which reminds you that the building's exterior dates back to the early 1900s; the property is considered a National Historic Landmark. Each home is fully equipped with washer and dryer, multiple bathrooms, open kitchen with plenty of space for entertaining, fire place, and surround sound. You can stay in a different residence per visit, so if your sister and her children are coming for the 4th of July, you can book a three bedroom instead of the one bedroom that you normally get. With the Fairmont Heritage Place, you have a second home, but don't have to deal with the maintenance, repairs, and updates. Always under promising and over delivering, the concierge takes care of everything. Home ownership gone haute? That's something we can get behind.