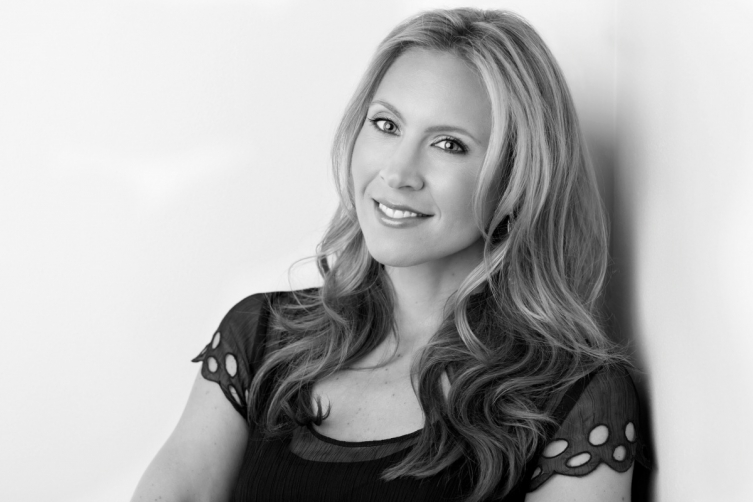 The hardest part of the holidays, in our opinion, is finding the perfect ensemble to wear to any number of holiday parties. Thankfully, Lauren Bruksch, co-founder and President of Palter DeLiso, has done the hard work for us. The luxury footwear brand, beloved among celebs like Kerry Washington, Miranda Lambert, and Abigail Spencer, has recently opened its doors in Beverly Hills just in time for the holiday season, which is making Bruksch, in turn, even more festive!
10 HOLIDAY PARTY OUTFIT IDEAS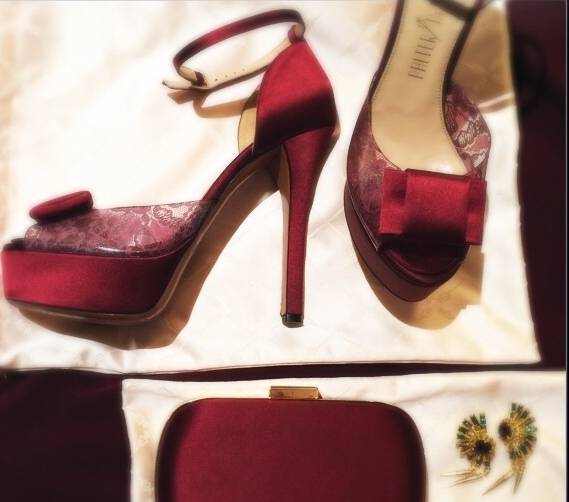 1. Deck Your Heels! Admittedly, I style my outfits from the shoe up every day of the calendar year, but during the holidays it's all about adding a pop of color and print, a little sparkle or glitter, and making a style statement with heels. Whether a holiday party or for New Year's Eve, there really is an occasion to wear anything! My absolute favorite for the holidays is our "Vixen" stiletto in emerald or the "Ritz" heel in wine or black – both so festive!
2. Red Lips Now that your summer glow has faded and your beautiful winter skin is shining through, embrace a paler complexion and paint on a red lip. My go-to is MAC's Russian Red – always the perfect red but especially for a festive holiday party.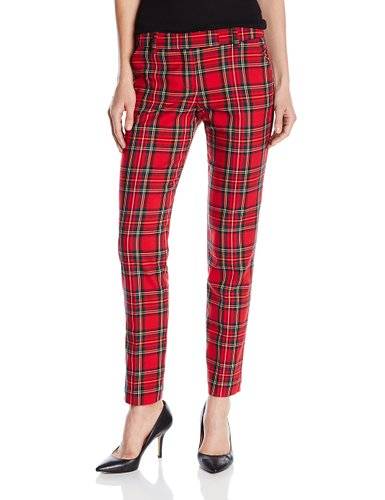 3. Mad for Plaid The past few holiday seasons I've been quite obsessed with Tartan plaid – the more red-and-green the better – and I finally found the most perfect pair of skinny trousers from Trina Turk. I love taking a preppy element like plaid and popping it up with something edgy and modern like a patent stiletto or a black leather-trimmed top.
4.Have a Snow (White) Day Marshmallow white is one of the yummiest winter neutrals. It's such a nice complement to any pattern and really softens a look when you add a dash of "snow." It can be as much as a coat or as slight as a shoe – but don't be afraid to lighten up your look some days.
5. Stretttttch I went from Halloween candy to Thanksgiving weekend to a business trip to Italy (e.g. pasta for lunch) to the full-steam holiday party circuit … so Lycra is my friend this season. Lately, my go-to look is a leather legging with a beautiful top, blazer and stilettos. I recently discovered the Current/Elliott leather legging and its fit and style is absolute perfection.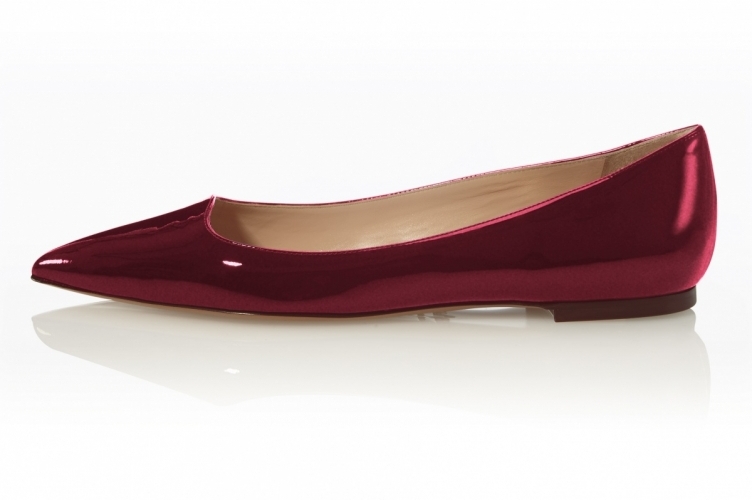 6. Holiday Shopping Shoe-down Holiday shopping invariably calls for lots of walking – and as much as I believe sneakers and (nicely-maintained, dark- colored) Uggs have a place somewhere in a woman's shoe closet, they really don't belong on feet for holiday shopping. Dress up for the occasion, make your feet festive and run around town in something comfortable yet stylish. I pretty much don't leave home without Palter DeLiso "Vivienne" flats in Bordeaux patent leather packed either in my car or bag. I find myself changing into them to either run a quick errand or for extended shopping. All Palter DeLiso shoes are lined in the softest deerskin and have a nice memory foam insole, so they really are the perfect flat and shopping shoe!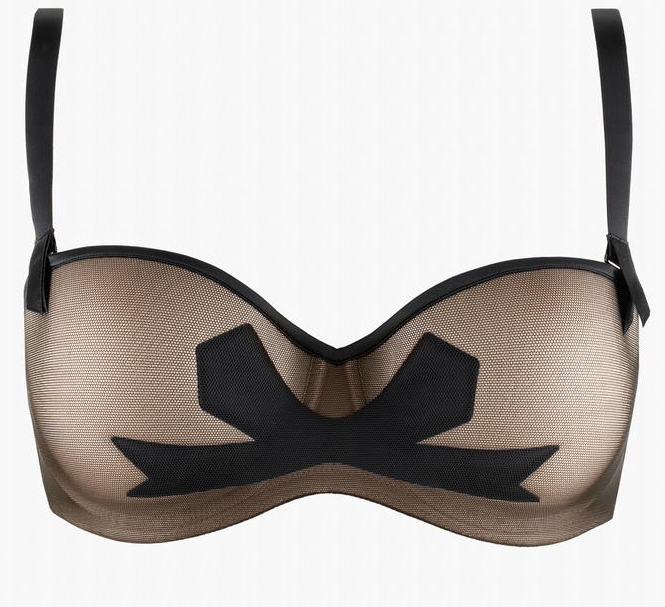 7. Wrap Yourself Like A Present I realize the holidays are a time for cozy-ing up and being comfortable, but that doesn't mean it's time to just let go. Keep it fabulous from head-to-toe, both for your outerwear and "innerwear". The most beautiful lingerie will keep you feeling like the perfect holiday present. I love Chantal Thomass from Paris and just discovered that Neiman Marcus carries her line. It's a really luxe gift to your best girlfriend or even oneself and a good investment piece.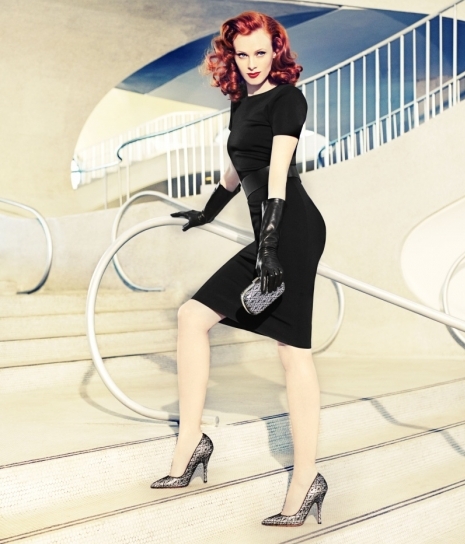 8. Sparkle Shimmer Shine Before I started Palter DeLiso (and when I worked at Barbie) we said, "When in doubt, glitter it out!" I suppose the same goes for the holiday season – a little glitter or glitz can really amp up any look for the season – with just a shoe or handbag. Our "Kiss" heel and matching "Royale" minaudiere are really great for sparkle-worthy holiday styling, but then very wearable later in the year whether worn with skinny jeans and a tee or a little black dress. Now is the time to wear some extra sparkle!
9. Style is 24/7 Day to night, 24/7 style means style at home too – including Sundays on the couch, and at home in bed. It is quite easy to want to cuddle into your flannels or favorite sweats, but resist the urge and invest in some soft yet chic black jersey pajamas that still have some sex and style appeal. Natori has some really great ones like the Feathers or Lhasa styles in black.
10. Jeweled Tones Rich, saturated jewel tones are the perfect pop of color for holiday styling, whether worn as a manicure, shoes, jewelry or clothes. Think about even the more unexpected colors – like rich mustard yellow or deep purple amethyst. The holidays call for a color party and it's a great way to add a personal style statement to an otherwise everyday look.
About Palter DeLiso: Steeped in a rich fashion history that cemented the brand as a bona fide classic 87 years ago, recently relaunched Palter DeLiso today celebrates its original DNA of daring design and luxe details throughout every aspect of the brand. Originally established in New York in 1927 by Daniel Palter and Vincent DeLiso, the footwear and accessories brand was a pioneer in the American luxury market innovating new shapes and styles for many decades. Among its various innovations in footwear design, in 1937 Palter DeLiso invented the very first peep-toe slingback pump – a style that dominated fashion for the next 10 years and still reigns as a construction for modern-day footwear designers. Additionally, the original company counts the innovation of colored leather in footwear, the first floral print and the first leopard shoe as part of its prolific past.