When creating pieces for his eponymous furniture label, Christopher Guy Harrison always asks himself whether or not he'd be willing to display the item in question in his own home. "If the answer is no, then I go back to the drawing board!" he exclaims.
The British creator—who describes his design aesthetic as "timeless," "elegant," and "contemporary"—has always admired beauty in all forms. Having spent much of his youth living or traveling around continental Europe, Harrison grew up with an immense appreciation for the finer things in life, particularly luxury design, and at age 16, he jumped at the chance to build a home from the ground up alongside his stepfather in France, foregoing the far more banal option of furthering his education in England. "I needed to find my own direction, rather than have one laid out for me in the form of a formal profession," he explains.
The experience, he says, ultimately ignited his passion for design… and business.
Now a world-renowned designer, the founder of Christopher Guy—who splits his time living between three different continents—boasts a slew of high-profile clients based all over the world. Remarkably, each of his gilded products is meticulously handcrafted in his workshops in Central Java, Indonesia, where two thousand craftsmen bring his vision to life using luxe materials such as plantation mahogany, marble, and limestone. "Design DNA is like music—it should be immediately clear who the composer is, and to which genre it belongs," he says.
Harrison's elegant furnishings have graced the homes of a number of Hollywood A-listers, including pop singer Christina Aguilera, CSI: Miami's Sofia Milos, and TV reality star Kim Kardashian. They can also be admired in several high-end hotels around the world, including The Savoy, Claridges, and The Dorchester in London; the Bellagio, Wynn Encore, and The Venetian in Las Vegas; the Atlantis Hotel in Dubai; and the Beverly Hills Hotel in Los Angeles (to name a few)—not to mention on the set of several of movies and television shows.
We chatted with the creative jet-setter about his chief sources of inspiration, signature motif, and "Mademoiselle," his thoughtful and urbane new line, inspired by the fabled Coco Chanel.
What are your key sources of inspiration? Given your incredible international background, is there a particular culture you like to submerse yourself in or city you like to frequent to stimulate your creativity?
I was born in Britain, raised there and in Spain and France, and now reside between England, Singapore, and the United States. I draw a lot of my inspiration from my travels and the various cultures I've come across. My works are also inspired by the female form and the elegance, sophistication, and grace that comes with a certain type of femininity. The early James Bond movies had a huge influence on my creative thinking, as they allowed me to dream for two hours. The beautiful opening titles by Maurice Binder, layered with music composed by John Barry, were the start of that fantasy world that went on to be filled with exotic locations, Riva speedboats, Aston Martins, and of course, beautiful women. To be able to live and pay for that dream, however, I had to spend many years in many of the world's less desirable locations, from West Africa to a dusty little village in Java, where I built my business.
Are there any particular styles or motifs you use that you feel wholly reflect the "elegance, sophistication, and grace" your brand aims to achieve? How do you successfully convey those three notions through design?
Like many of my designs, the Chris-X motif [pronounced "criss-cross"] was inspired by the feminine form: the corseted waist of the graceful Scarlett O'Hara in Gone with the Wind, and the crossed legs of a ballerina. Redefining the posterior of a dining chair, I tapered the form without compromising the comfort, structural strength or stability of the chair.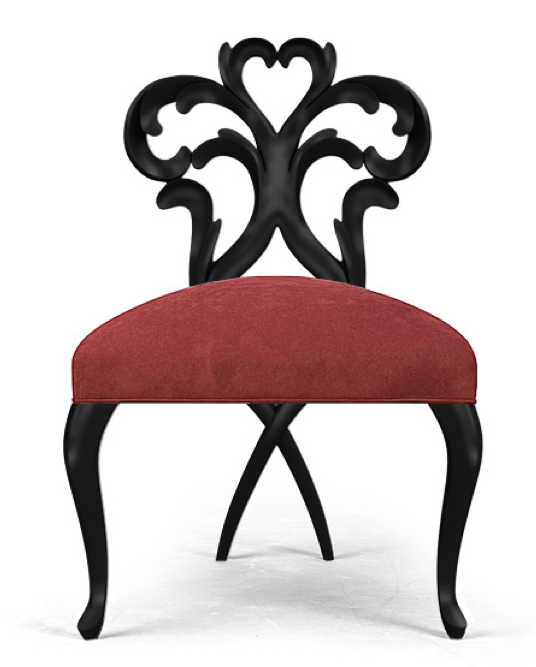 The idea was to create a chair that was simple, sophisticated, and flexible enough to work with a variety of style categories. The only way to emulate this sensuous yet elegant look was to reconfigure the rear legs, and so the Chris-X chair was born. There are many other subtle signature design details, including the silk-cut that can be found on certain pieces.
Your pieces can be seen in a number of celeb homes… but a few of your furnishings are also Hollywood stars themselves! 
I have been very fortunate to have had furniture pieces be a part of some of Hollywood's blockbuster movies such as Ocean's Twelve and Ocean's Thirteen, The Devil Wears Prada, Casino Royale, The Hangover, 1408 [which showcases "The Tate," a plush confidante], and Sleuth, [which features] my fabulous myriad of 72 square-pane mirror, "Carrée."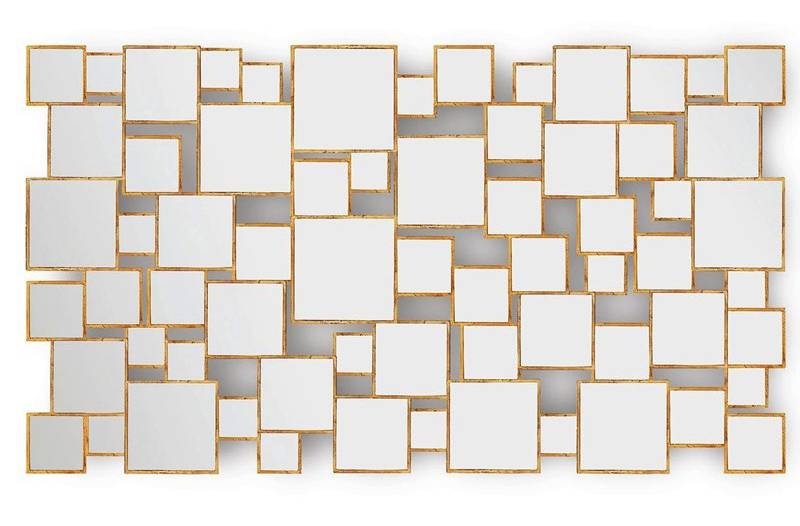 Explain how the Mademoiselle Collection reflects the timeless elegance of Coco Chanel. How is it similar (and different) in comparison to your past collections? Are there any particular pieces in the line that you would like to highlight?
The Collection reflects my personal interpretation of how Coco Chanel's home may have looked in today's modern world. I was privileged to have visited her private apartment in Paris, which shared many of my own design philosophies and experiences with its mix of Asian and European craftsmanship. "Mademoiselle" draws on Chanel's unrivaled chic, elegance, and timeless sense of style.
When I was creating a theme for the new collection, I realized that my style was inspired by 20th Century modernist France, probably as a result of my early years in the South of France, and from a design era that Coco Chanel herself helped influence. There are very few straight lines in the Mademoiselle Collection, but rather a variety of curves that follow the curvaceous figures of the beautiful women that [adored her aesthetic].
What's next?
The century-old Georgian Restaurant in Harrods—London's flagship eatery on the roof of the world's most famous store—[was recently] refurbished entirely with CG furnishings, and will [be re-opening later this month following its phenomenal facelift].
This was a dream project for me personally, and in a way it completes the dream I had as a teenager: to be featured in Harrods and in James Bond movies, and to experience exotic cars!
My biggest project, however, which I started three years ago, will be revealed in late 2015. It's a project that goes beyond CG—one that I am creating to unify the global interior design industry. So sorry, but I can't reveal more than that for now… though I can say it will be largely Internet-based, and that I believe it will revolutionize the way our industry operates!