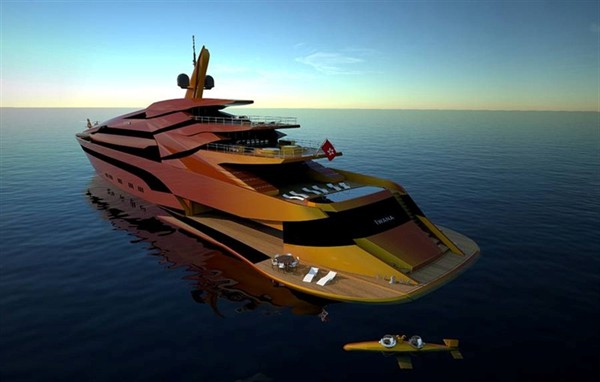 Images: mcdiarmid-design.com
British designer Alex McDiarmid has created a superyacht inspired by the graceful lines of the water dragon. The 87-meter Iwana yacht is an inspirational vessel encased in what has been described as "magic glass."
To reflect sunrays and conjure visions of marine reptile scales, "magic glass" encases McDiarmid's new Iwana yacht. The design was first introduced at the 2011 Monaco Yacht Show and new details regarding construction and technology are expected to be released soon.
McDiarmid was born in London and incorporated a unique balance of creativity, engineering, design and curiosity with everything he did. In 2000, McDiarmid received his BSc Industrial Product Design degree and in 2003 he obtained his Masters in Automotive Design.
Currently based in the South of France, McDiarmid is a multi-disciplinary designer leading a small but highly talented team and staying true to his desire to center his design process around the people that will use the yachts, vehicles and products he creates.
Source: Luxury Insider
Subscribe to discover the best kept secrets in your city