Photo Credit: Joe Chung
On Tuesday, Haute Living and Louis XIII greeted 6-time Grammy Award Winners, Black Eyed Peas, at Katsuya Hollywood in celebration of their Haute Living cover. On a night full of joy, guests experienced a delectable four-course meal and were witness to the love and togetherness of the famous group.
Photo Credit: Joe Chung
To begin the night, guests mingled and sipped throughout the cocktail hour. The Black Eyed Peas members grew up with Telmont investor Leonardo Di Caprio and enthusiastically cheered the company before Telmont could raise their formal toast to the group. Champagne Telmont was quick to toast them back with a beautiful speech by Romain Pianet that highlighted the group's many accomplishments.
Photo Credit: Joe Chung
Photo Credit: Joe Chung
The first course was served with a selection ranging from edamame to crispy rice with spicy fresh tuna. Guests were then offered a Jidori chicken breast or New York strip and finished the courses with a chef's selection of rolls and nigiri. To add to the sweetness that filled the aroma of the room, the chef provided a selection of diverse desserts.
Photo Credit: Joe Chung
Led by will.i.am, Taboo, and APL.DE.AP, the members of Black Eyed Peas, each artist gave an impassioned speech that highlighted the importance of friendship and love. Alongside them, the newest member of the group, J Rey Soul, celebrated the same ambitions and joy that the group so evidently radiates.
Photo Credit: Joe Chung
At the end of their speeches, the group thanked Haute Media Group for also leading in love. They were then gifted with a painting that formed a diamond in the shape of the members by renowned South African artist and entrepreneur Johnathan Schultz.
Photo Credit: Joe Chung
To wrap up the expressions of gratitude, Louis XIII ambassador Wayne Chang toasted the legendary greatness of the group and their accomplishments and Polo Molina, the group's manager and childhood classmate, also spoke. Following the impassioned speeches, the entire party began changing "The Peas! The Peas!" in support of the talented group.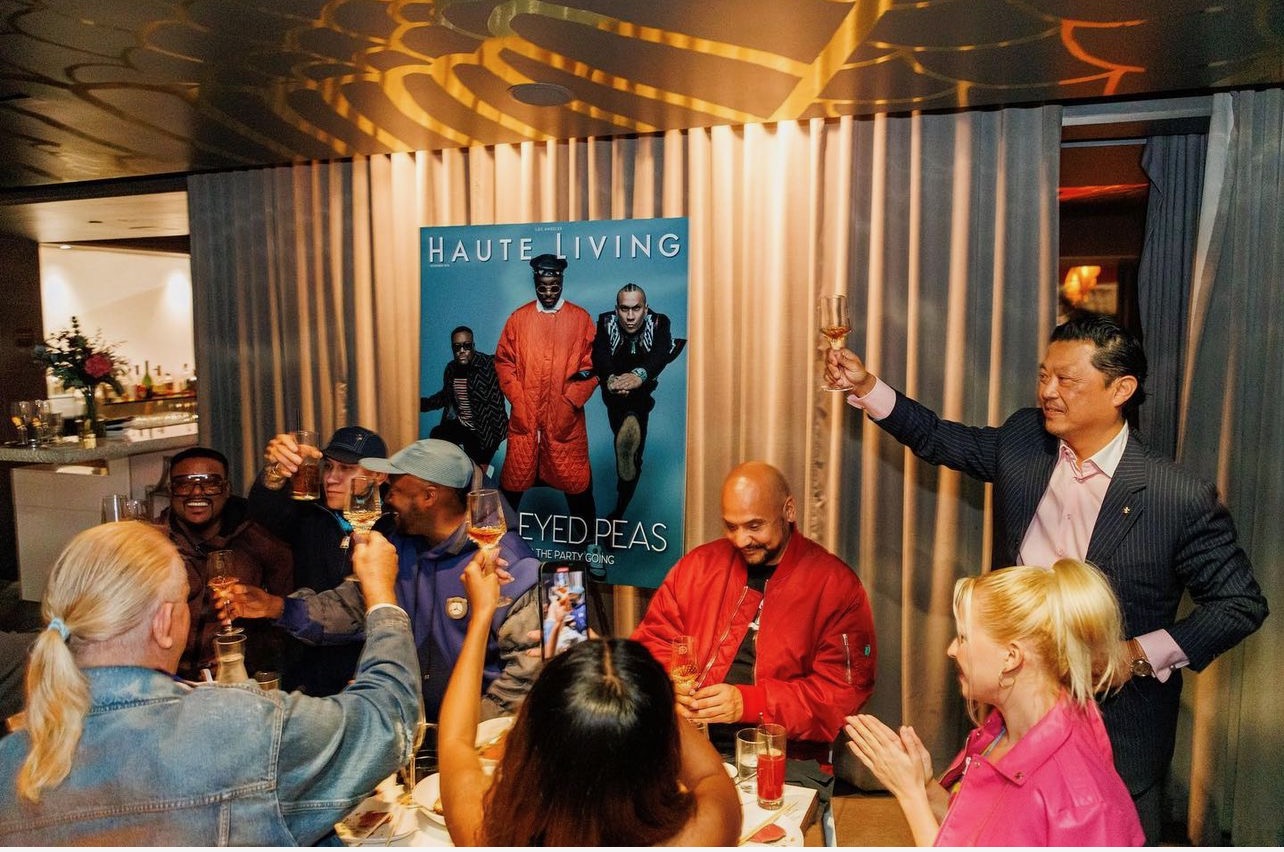 Photo Credit: Joe Chung
Photo Credit: Joe Chung
As the night came to an end, smiles, laughs, and stories were shared, food was devoured, and bellies were full. Siphonysta also gifted the Black Eyed Peas with their beautiful luxury coffee makers.
Photo Credit: Joe Chung
Photo Credit: Joe Chung
Notable guests included Melissa Victor, Ezekiel Lewish, Margeaux Watson, Sam Friedman, and Julie Pilat with Black Eyed Peas; Sean Lee, Courtney Poulos, Sampriti Bhattacharyya, Haute Living Senior Vice President April Donelson, Haute Living Editor-in-Chief Laura Schreffler, Keith Berglund, Dr. Sarmela Sunder, Gabrielle Davis, Danna Hannah, Jimmy Chen, Glenda Borden, Sam Tam, Dori Lu, David Lee, Robyn Rapaport, John Utendahl, Radmilla Lolly, and Rudy Cline-Thomas; Romain Pianet; and Luci Dynes of Telmont, amongst others.
Photo Credit: Courtesy of Joe Chung
Photo Credit: Joe Chung
Subscribe to discover the best kept secrets in your city