Dovetail Distillery has partnered with Crooked Wine Company to bring you more of what you love. This, and many more exciting changes are coming to the company soon.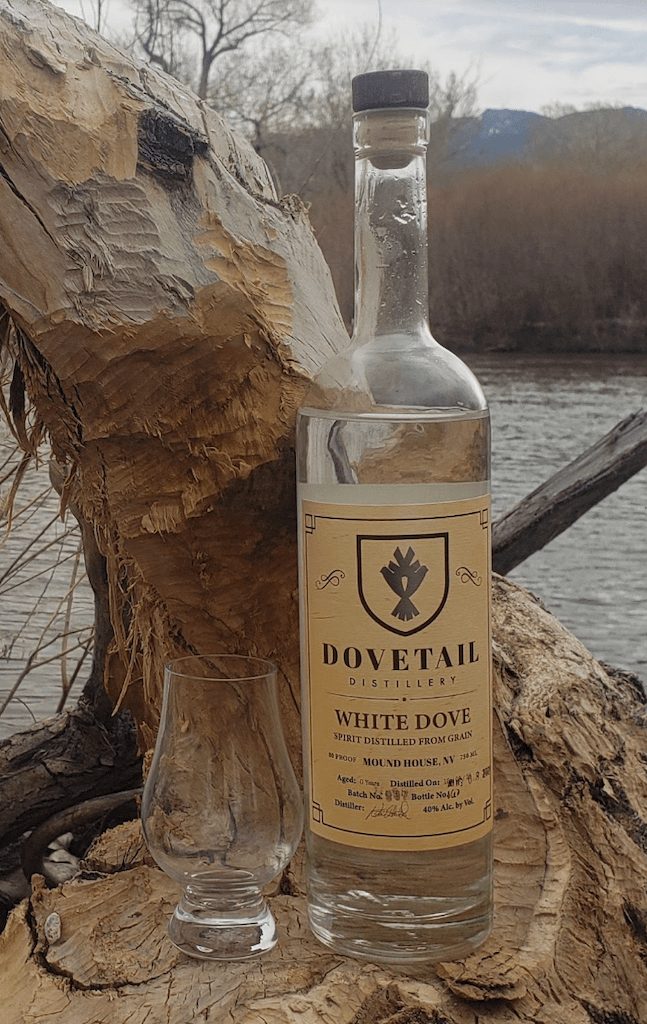 Once home to a simple water stop between Carson and Dayton in Nevada, the city of Mound House has since come a long way. Today the state's most promising whiskey distillery has sunk in its roots, producing an addictive, spicy liquor amid scenic rolling mountains and plain desert fields.
Founded in 2021, Nicholas Cataldo's Dovetail Distillery has experienced an unsurprising level of growth. Mixing modern flavor and cultural roots, the company's signature oat whiskey is a unique product that every company wants to sell on their shelves.
"Several people in the distribution industry have all said the same thing, which is 'wow, I've been in the business for 20 years and I've never tasted anything like this. It's super unique," Cataldo tells us. Most excitingly, he's partnered with Crooked Wine Company, a well respected liquor distribution company based in Reno, which means Nevada natives will be getting a lot more of what they love very, very soon.
"Everybody knows Crooked Wine Company," Cataldo adds. "They have a great selection of spirits and wines. I mean, I was so impressed when I went to their warehouse. The owner knew everything they had, even if it was in the darkest corner of the warehouse. He made me feel comfortable that he is going to understand Dovetail whiskey, and he and his staff are going to retain the knowledge behind the product," he continues.
For Cataldo, this partnership is more than just business, it's like a marriage, he explains. "I think it's going to get Dovetail to where I want it to be, which is in cocktail bars and speakeasies and other underground places because it's such a niche product. Obviously whiskey is not a niche product, but the type of whiskey I'm making is, so it needs to go somewhere where people are going to appreciate it for its flavor profile and for its historical precedent," he adds.
The partnership between Dovetail Distillery and Crooked Wine Company is an important milestone for Nevada's quickly growing liquor industry. It proves that with a certain amount of passion, the love-of-the-game craftsman can make the right partnership and go statewide.
"My goal is to get to the point where I have hydroelectric power on my own land, I grow my own grain, my own orchards, and my own oak trees. It's going to take time, but no matter how long it takes, I will get there," he inspires.
Visioned by the California native, Dovetail Distillery is keeping the spirit of the wild west alive. With over 20 years of experience working in New York's most prominent kitchens, Cataldo's recipe mixes locally sourced grain with a strong sense of bravado, creating a whiskey that is not one to be reckoned with, unless of course, you are looking for a great time. It has sharp grassy tones and a soft caramel finish that enthusiasts and experts across the state have come to admire.
In terms of what's next, Cataldo shares that he will be producing a Navy Strength gin that will use native flavors to refresh and stimulate your palate.
"People tend to think of Nevada as sparse but it's actually covered with forests, mostly in the northern areas. There are tons of herbs, berries, and wildflowers. So that's going to be the premise of the gin, sticking with the historical significance of what's available here," he shares.
As he explains it, Navy Strength gin is great for making cocktails because of its versatility. Especially in the spring and summertime when you're looking for a refreshing, cold drink, it's perfect because the strong gin doesn't get watered down. "It can make an outstanding cocktail in the hands of someone who really knows what they're doing," he says.
So if you're looking to treat your tastebuds to a tasty gin or respected whiskey sometime soon, be sure to check out Dovetail Distillery's website to see what's available, or follow them on Instagram for regular updates.
Written in partnership with Mindful Agency 
Subscribe to discover the best kept secrets in your city