Photo Credit: Courtesy of The Mark
The Upper East Side. A kaleidoscope of ultra luxurious outposts and a chic wonderland of glamorous flower shops, haute couture havens and exclusive private schools. And in the middle of the lush oak trees nestled between Central Park and Madison Avenue is the opulent Mark Hotel, a flight of gastronomic creativity and iconic bubbles of contemporary design. But what makes this famed property more than just a classic New York hotel—known to meet the likes of celebrities, A-listers, and billionaire tycoons—is its immaculate food and beverage program coined by Michelin-starred Chef Jean-Georges Vongerichten.
A culinary nirvana of savory delights and sustainable treats, The Mark Hotel is an Upper East Side stomping ground for delicate fare whether at home in their pristine dining room or taken on-the-go. And this summer, Vongerichten is presenting refined diners with a taste straight out of a time capsule with his new super stylish lunchboxes available at The Mark Bar daily from 9 a.m. to 3 p.m., adorned with their signature black and white stripes and an illustration by French artist Jean-Philippe Delhomme.
Haute Living sat down with Vongerichten to hear more about his coveted partnership with The Mark Hotel, what guests can look forward to splurging on this summer, and his decadent Truffle Pizza now available on the Caviar food app.
HL: Chef Jean-Georges, tell us about partnering with The Mark Hotel to present guests with a health-conscious lunchbox. 
JEAN-GEORGES VONGERICHTEN: The collaboration began during last September's Fashion Week. We wanted to offer The Mark's guests a healthy yet filling snack option to enjoy while they commute downtown to the shows. These were a great hit, so we decided to introduce the boxes as a permanent offering.
HL: What can guests look forward to enjoying? 
JGV: There are two menu options—one for breakfast, which is sold from 7:00 a.m. to 11:00 a.m. and one for lunch, which is sold from 12:00 p.m. to 3:00 p.m. The breakfast box includes a croissant, a yogurt parfait, a boiled egg, and sparkling water. The lunchbox includes a smoked salmon wrap with dill cream cheese, grapes and sparkling water. We wanted both selections to be delicious but also easy to eat on-the-go.
HL: Why did you decide to choose the traditional lunchbox as its vessel? 
JGV: Our partnerships with The Mark have always been luxury takes on classics, like the Hotdog Stand by Jean-Georges, for example. We thought that this traditional lunchbox would be chic, unexpected and add an element of nostalgia.
HL: You've often mentioned that your mission is to offer diners sustainable and organic options. Tell us the ingredients you'll be using.
JGV: Even though these lunchboxes serve meals to be enjoyed on-the-go, the menu items adhere to our commitment to sustainability across all our Jean-George restaurants.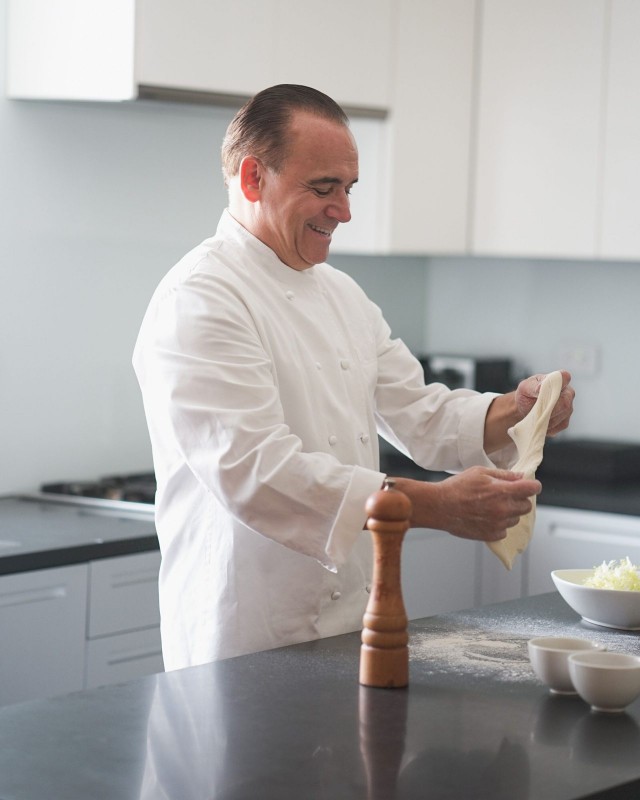 Photo Credit: Courtesy of The Mark
Can we expect to see additional healthy options in the near future at The Mark Hotel? 
JGV: Most definitely!
You will also be preparing a Truffle Pizza available daily from 11 a.m. to 11 p.m. on the Caviar food app. Tell us about this new feature. 
JGV: The Mark Restaurant by Jean-Georges is a hotspot for both New Yorkers and hotel guests. The Truffle Pizza is our most requested menu item and we wanted to make this available for locals for when they are unable to make it into the restaurant. So far, this has been a great hit. A lot of people order it for lunch to their office.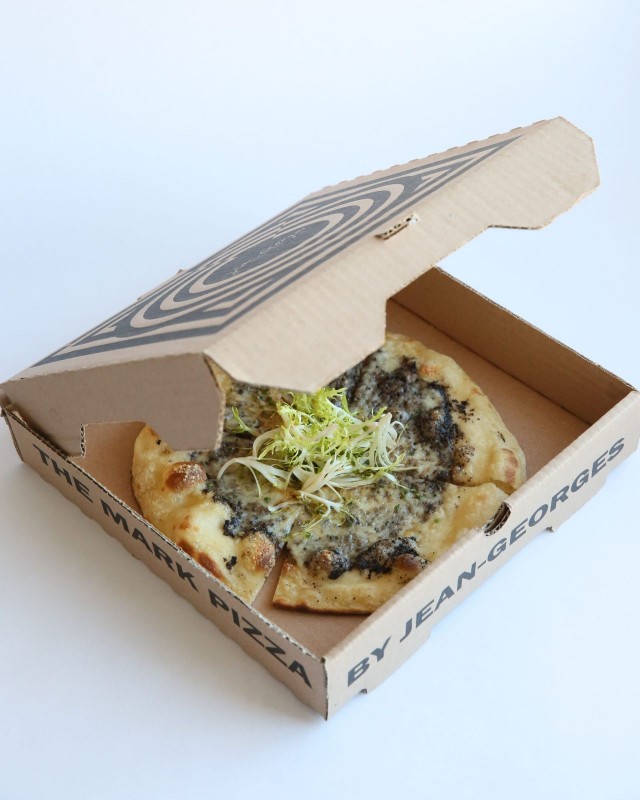 HL: A synthesis of luxury and home delivery, do you feel you're marking a new era of dining in the comfort of your own home with a splash of opulence?
JGV: Absolutely. We are living in an age where people demand accessibility, and gourmet food is no exception.
HL: What dish can New Yorkers look forward to seeing in the future delivered at their front doorstep?
JGV: You shall see!