Photo Credit: Hublot
Luxury Swiss watchmaker Hublot launched its third limited-edition timepiece, the Classic Fusion Chronograph Veuve Clicquot Polo Classic, in honor of the upcoming 12th Annual Veuve Clicquot Polo Classic. Hublot will serve as the official timekeeper and scoreboard sponsor of the highly-anticipated event.
Photo Credit: Hublot
The watch brand celebrated the grand occasion in the presence of famed Argentinian polo player Ignacio "Nacho" Figueras at the Hublot 5th Avenue location, where the stunning boutique was decked out in gorgeous orange Hublot & Veuve Clicquot branding.
Photo Credit: Hublot
The watch was unveiled by Hublot President of North America, Jean-François Sberro, in classic Hublot fashion, as the timepiece was beautifully presented amongst a large-scale floral arrangement in a vibrant yellow, evoking Veuve Clicquot's signature colors.
Photo Credit: Hublot
Guests mixed and mingled throughout the boutique, enjoying glasses of bubbly from Veuve Clicquot, as well as signature Champagne-based cocktails, as they enjoyed the vibrant and picturesque boutique activation.
Photo Credit: Hublot
After the boutique unveiling, guests departed for an exquisite, one-of-a-kind dinner in the presence of world-renowned chef Nobu Matsuhisa. The chef and his talented team prepared an extraordinary and decadent meal, featuring signature recipes from Matsuhisa's newly-released World of Nobu cookbook. The 450+ page cookbook features four-five signature recipes from each of his executive chefs throughout the globe.
Photo Credit: Hublot
Guests indulged in unique menu items including Caviar Tacos – a Matsuhisa original; Scallops with Beet sauce – Taku Sato, Executive chef of Nobu Fifty Seven; Toro Daikon – Ryo Hasegawa – Executive sushi chef of Nobu Downtown; melt-in-your-mouth Wagyu Steak – Ricky Estrellado, Executive Chef Nobu New York; and of course, a special Nobu selection of nigiri, presented omakase-style.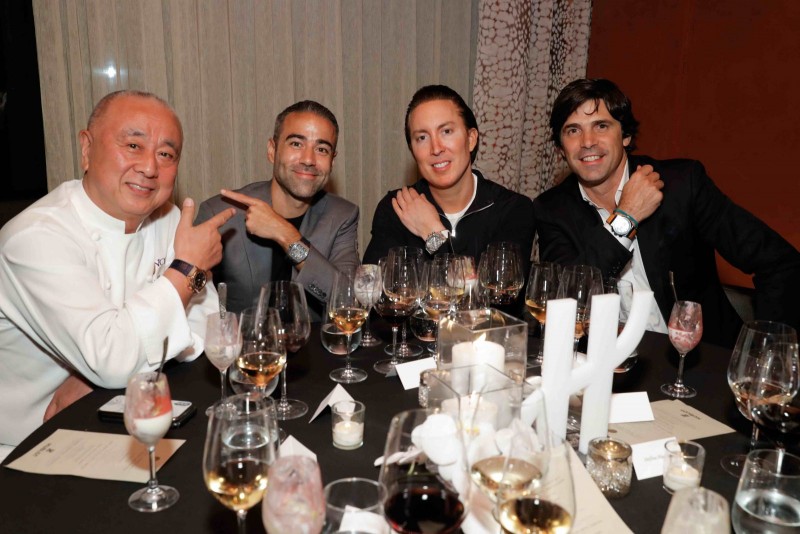 Photo Credit: Hublot
Sberro commemorated the evening by raising his glass to the group of friends and collectors, thanking them all for joining Hublot for this monumental occasion. "Hublot embodies the Art of Fusion. And tonight I think we have the perfect representation of that because we are combining the world of watchmaking, the world of Champagne with Veuve Clicquot, the world of polo with Nacho Figueras and the world of Japanese cuisine with chef Nobu Matsuhisa."
Photo Credit: Hublot
Guests departed the evening with a special gift bag featuring a signed copy of the World of Nobu cookbook from chef Nobu, as well as some special items from Hublot.