London-based Designer Ming Ray believes every sophisticated woman carries within the touch of lighthearted innocence. Thus, her self-titled couture handbag collections feature timeless box-bags with shooting star top-handles and ladylike mini-trunk with embellishments reminiscent of Jeff Koons' Hanging Heart sculpture. Ray's new collection encompasses the essence of "Haute Cute," offering fashion enthusiasts a sophisticated yet fun and flirty handbag collection that taps into the refinement and elegance of luxury. Haute Living caught up with the distinguished designer who discussed where she draws inspiration from, how she began her journey in fashion and the fashion designer she'd absolutely love to collaborate with.
Photo Credit: Ming Ray
HL: Tell me how you got started in the industry
MR: When I was 8 years old I saw John Galliano's first collection for Dior on TV and that was it for me, I decided to become a designer on that day. I studied and worked in fashion before my passion shifted to accessories.
HL: What is the inspiration behind your designs and stunning collection?
MR: I look at everything through the lens of that little girl in me. That's how I add that twist of fun and whim in all of my designs.
HL: How would you describe your collection?
MR: My brand philosophy is "Haute Cute," it offers you all of the refinement and elegance of luxury made by master artisans in Italy but then that touch of light-hearted innocence that every sophisticated woman still carries in her.
Photo Credit: Ming Ray
HL: What designers do you draw inspiration from?
MR: John Galliano, Alexander McQueen, Eiko Ishioka (costume designer) and jewelry designer Joel Arthur Rosenthal. 
John Galliano was the first person who made me want to become a designer when I was 8 years old. I saw his first collection for Dior on TV and that was it for me, this was the job I wanted. His maverick attitude and flamboyance definitely influenced me to this day. 
There was a period of time during which my interest suddenly shifted from fashion to consumer design, I became obsessed with Eiko Ishioka's works. Her style was very surreal, almost like a mind game, yet her designs would fit each era she designed for perfectly. She definitely taught me to fearlessly ignore all traditions and just show the world how I interpret beauty, they can take it or leave it.
Alexander McQueen's philosophy and technique played a huge part in helping me forge my own creative direction. My time at McQueen helped me perfect my understanding of jewelry design. And that's when I became fascinated with Joel Arthur Rosenthal. You can definitely see my own designs heavily influenced by the art of jewelry.
HL: What can people expect from

Ming

Ray

this year?
MR: Look out for super fun raffia summer bags, leather day bags with a wider range of colors and textures as well as more exotic skin options.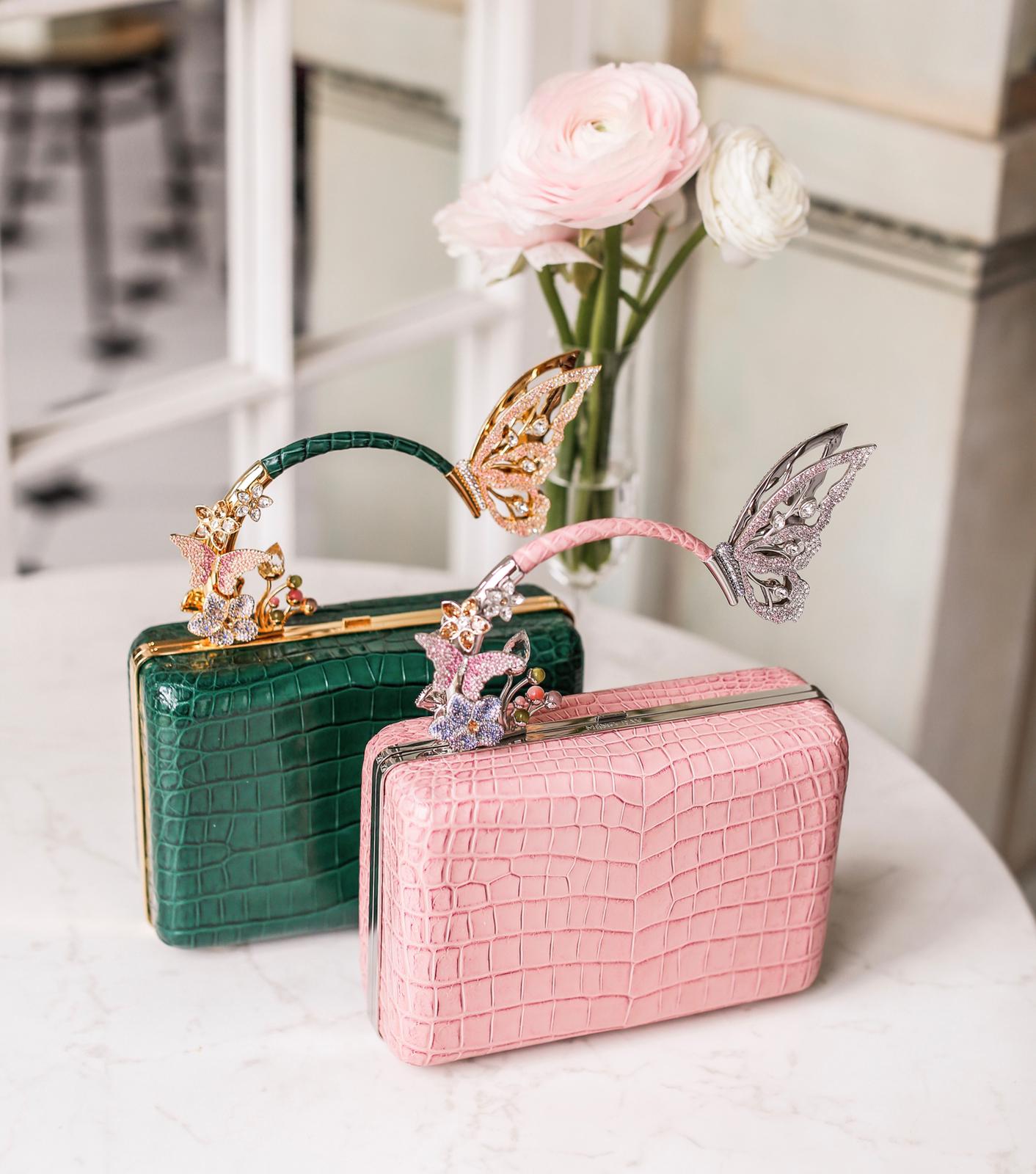 Photo Credit: Ming Ray
HL: Who is your ultimate celebrity or designer that you'd love to collaborate with?   
MR: Marchesa Luisa Casati. She was so ahead of her time, a true legend. It must have been so liberating to design for her. She was fearless with her style.
HL: What are your plans this year for your brand and collection?
MR: I have expanded my handbag categories and material options as compared to just evening bags in mostly exotic skins when I started. We continue to grow our strength which is exotic skin handbags, but we will have a much fuller range of summer bags in wicker and raffia, as well as more color and material options for everyday leather bags.