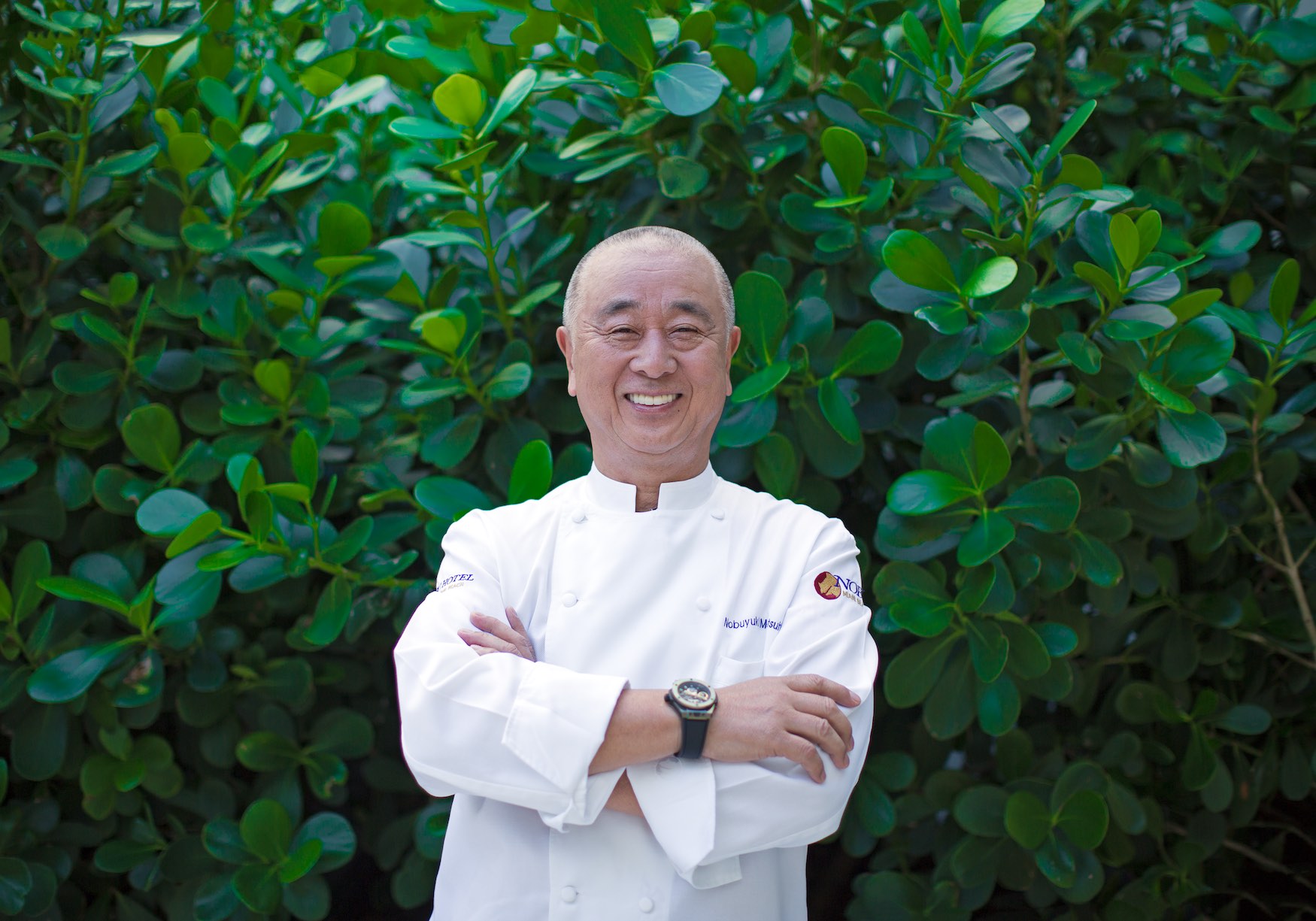 Photo Credit: TAMZ
Photography/Creative Director: TAMZ 
Styling: Angel Gabriel
Shot on location at the Nobu Hotel Miami Beach
As chef Nobu Matsuhisa makes his way into one of the pristine suites of his Nobu Hotel Miami Beach to prep for his Haute Living cover shoot, he kindly greets every person with a warm and genuine smile, as if he has known each of them for years. His ubiquitous energy is contagious. "Let's do this!" he exclaims and laughs as he sits down to let the team get to work.
Chef Nobu has undoubtedly created one of the most distinguished and recognized culinary and hospitality enterprises in the world. Whether in the U.S., Asia, Europe, Africa or Australia, you can find one of his iconic Nobu restaurants stationed in each city's most frequented hot spot. But as expected, massive success didn't come overnight for the humble chef. Rather, it was assembled little by little, piece by piece, into a global, coveted institution.
Prior to Miami, he traveled the globe, visiting 10 countries of varying climates including Russia, Dubai, England and Hawaii. However, this doesn't seem to slow him down. He laughs as he playfully chats with the team, making jokes and enjoying the Miami sunshine in between preparing for the peak event of his World of Nobu series, taking place at the hotel that evening—Taste of Nobu.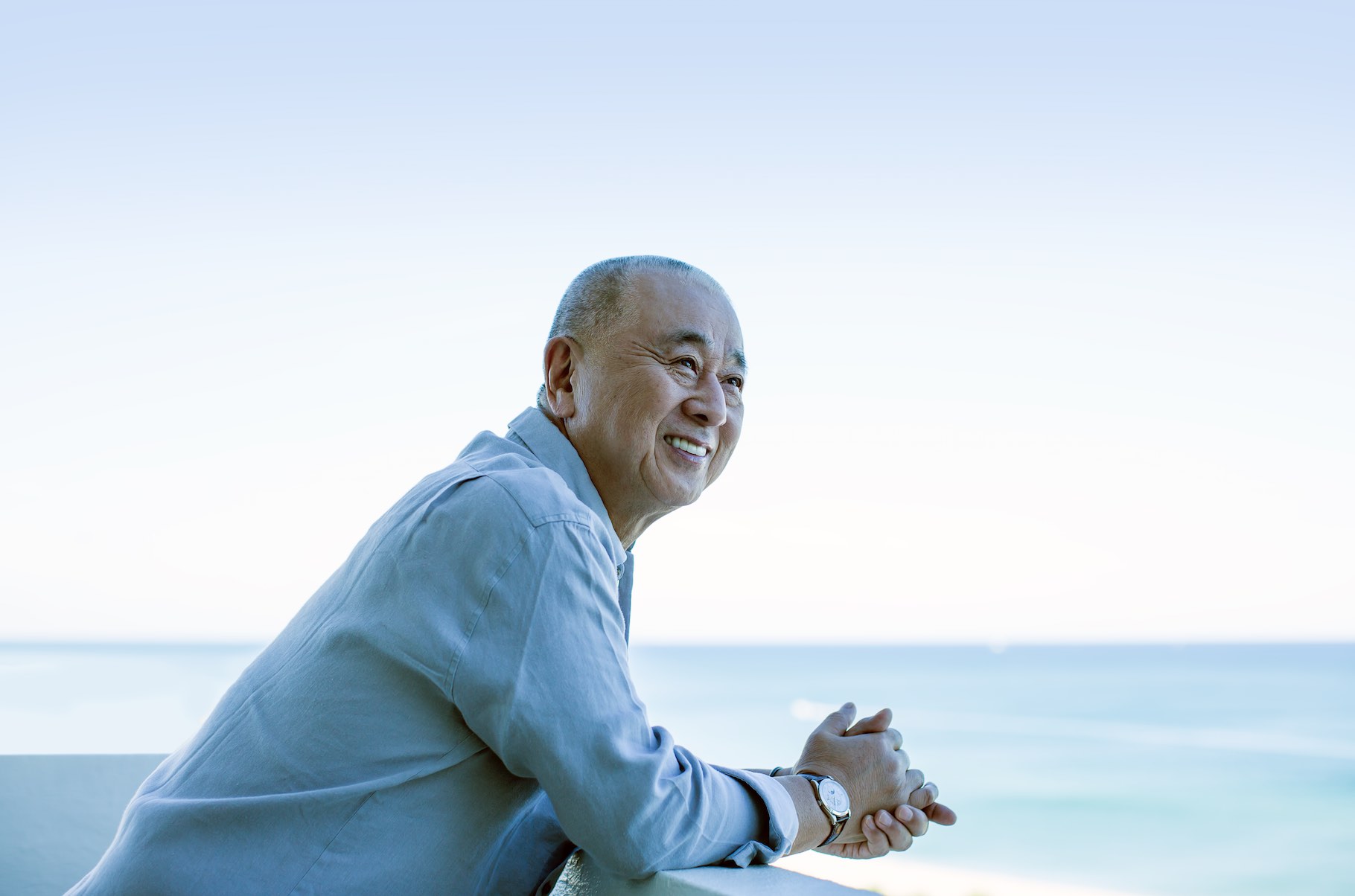 Photo Credit: TAMZ
The global-event series landed in Miami as its last stop after Dubai, Melbourne and London. The highly anticipated festival brings in 38 different chefs from each Nobu restaurant worldwide; it is a legendary culinary affair. In each city, guests enjoy World of Nobu's two to three days of signature events curated by the chef himself, along with his master lineup of executive chefs. The itinerary incorporates unique, themed dinners and master classes, where guests can learn to create some of Nobu's famed dishes. In Miami, the festival also includes the final Taste of Nobu event, which takes place poolside at the Nobu Hotel Miami Beach. This evening's celebration features unique bites from each global location as well as a silent auction that benefits the St. Jude Children's Research Hospital.
Chef notes that this is a crucial aspect to the festival. "Each of my events serves a purpose of benefitting a different philanthropic foundation. When I was very young, my father passed away… I traveled all over the world and saw a lot of hungry and poor children. So now that Nobu is continuing to grow, I try to keep giving back to the kids because they are the future, and that is why I am with my team here in Miami."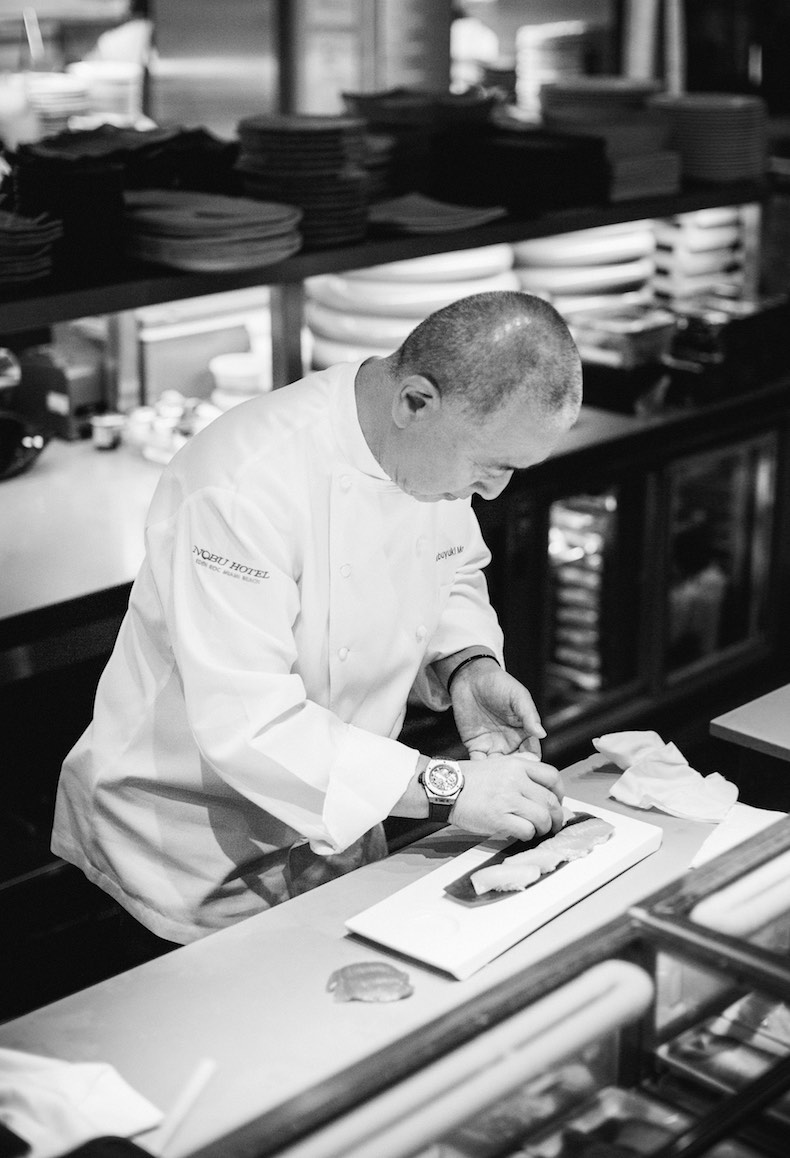 Photo Credit: TAMZ
In conjunction with his new project, the Nobu Cookbook, which was conceptualized last year, his team continues to give back to different charities throughout the world. The cookbook features restaurant chefs, sushi chefs and pastry chefs who each reveal three signature dish recipes.
"I feel that with my success I am taking all the credit, but in reality, there are a lot of talented chefs working with me, so that is why I am using this cookbook to show appreciation to my team and introduce to the world the next generation of young chefs," he explains. "I talked to my directors yesterday and we're already at 432 pages, which is incredible. I don't know how much it will sell for, but every penny will go to charity."
The chef has created a methodical plan for donating the funds to charities from book sales; he plans to research and choose a special cause every six months, from a wide range of areas in need.
Photo Credit: TAMZ
"Each time we choose something different, so we are spreading the donations out to various areas. It really depends on what is going on at the time. This year with all the natural disasters, we have given back to the victims of Hurricanes Harvey, Irma, Maria and also the victims of the wildfires in Napa and California."
The compilation of the impressive cookbook and the chefs training under him are just some examples of how chef Nobu is cementing his legendary legacy. Another is the expansion of Nobu restaurants and Nobu hotels around the world.
"My first Nobu opened in 1994, so in less than 23 years we have 38 global Nobu restaurants and now also hotels. At the same time, the Nobu teams are all growing together. Most of my team has been working with me for a very long time. The Nobu company is like family," he explains.
As specific as he is with his food preparation, chef Nobu ensures that the same amount of attention to detail is given to each aspect of his restaurants and hotels, from design to décor, lighting and more. In short, the Nobu brand maintains simple luxury—minimalist design with extraordinary quality.
"Since our brand is now recognized around the world, our guests know what Nobu means and translates into," he says. "That's why it is so important to have precise details. Just as people come to Nobu to eat good food in a high-end, sophisticated atmosphere, people come to hotels to experience that at an even higher level. This means a greater concentration of detail. That includes everything, from the bed, to the big screen TVs, trash cans, bathroom sinks and showers—but it is still important to me to keep things simple."
Photo Credit: TAMZ
When developing the design behind the newly revamped Eden Roc Hotel, one of Miami's most historic locations, Nobu and his design team kept its unique location at the forefront of their vision. "Because it is such an iconic site, we had to pay careful attention to details—we had to redesign it with the signature Nobu touch while still preserving its history," the chef shares. "When we told our team to come to Miami, we knew that this project would have to incorporate the beach and the sand into the colors, which is a very prominent theme within the hotel."
And the final masterpiece that is now the Nobu Hotel Miami Beach is nothing short of spectacular. With delicate touches of Japanese architecture, drawing from the location's oceanfront and natural elements, the hotel is a perfect fusion of history and modern-day sophistication. With sweeping ocean views, contemporary, tranquil décor, plush beds, dim lighting, state-of-the-art appliances, hand-finished wood furnishings and Natura Bissé bath amenities, every detail of each suite creates the perfect oasis, where guests can escape and recharge on vacation, while the signature Nobu brand remains intact.
But as we've focused so much on the Japanese chef's many successes, it is important to note where he came from, which he mentions with much modest acknowledgment. The battles of adversity were uphill and omnipresent for some time as chef Nobu lost his father at only 7 years old after he died in a tragic car accident. Later, he moved to Peru as a struggling, yet rising chef, where he helped open the restaurant Matsuei. This is where his signature Japanese-Peruvian fusion cuisine first came alive as he was challenged with a new land and new ingredients. Following his success in Peru, he optimistically moved to Alaska to open his first solo restaurant. But with luck against him, the restaurant was almost immediately destroyed by a fire shortly after its opening.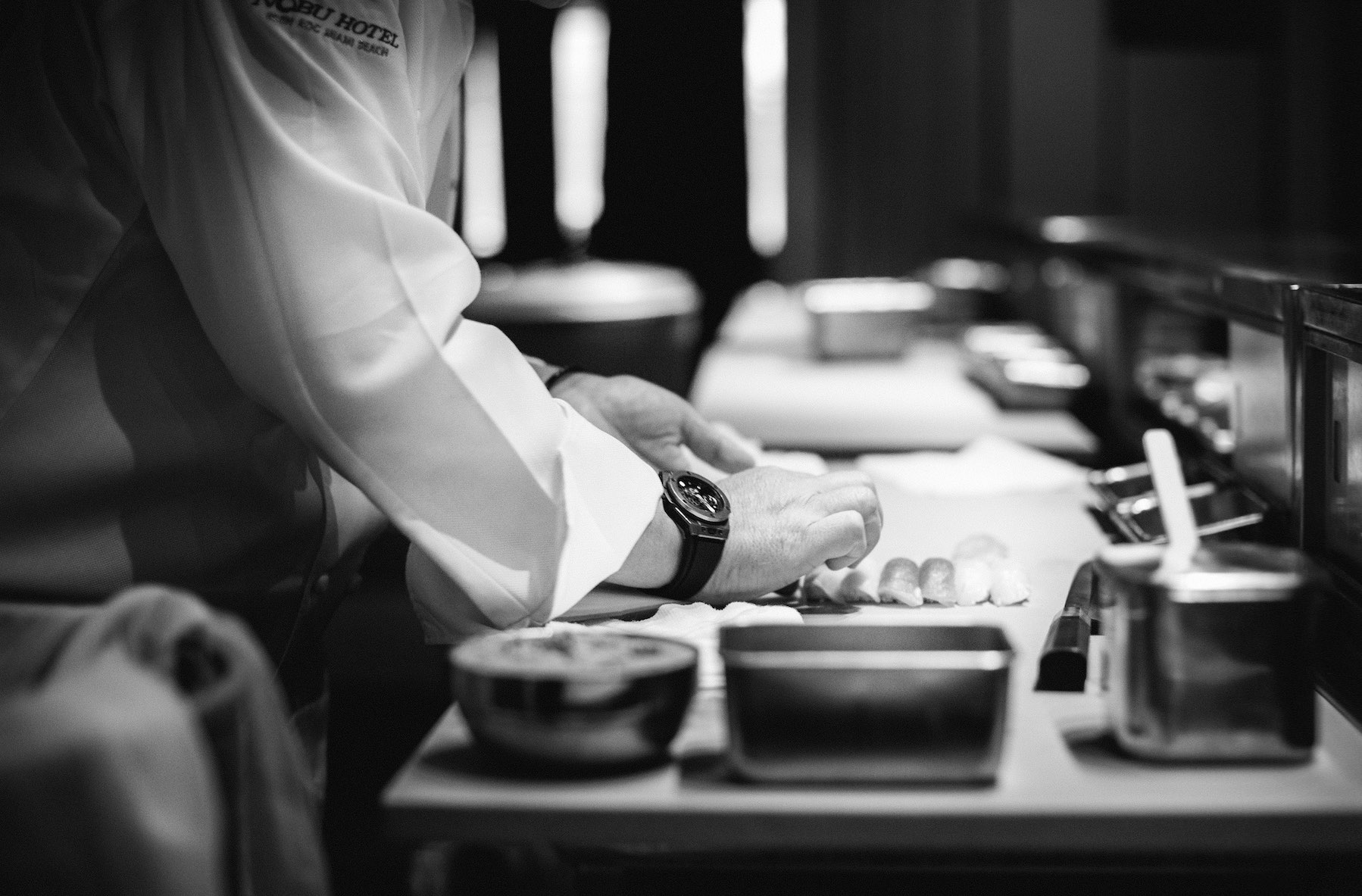 Photo Credit: TAMZ
Rather than let these setbacks stall his momentum, the chef continued on to the United States, where his whole life would then change. He worked in Japanese restaurants Mitsuwa and Osho in Los Angeles, and eventually his own restaurant Matsuhisa, which inevitably put the famed chef on the map. Matsuhisa soon became one of the hottest, celebrity-favorite restaurants of the town, catching the attention of legendary actor Robert De Niro. And from there, a fruitful and enduring partnership began as De Niro invited Nobu to open his first restaurant in Tribeca, New York City, and the Nobu enterprise continued to grow around the globe. Most recently, the two have added the hotel division into the growing empire, which has spread the reach and depth of Nobu's name even further.
As one watches chef Nobu in his true element, it is easy to see how his mesmerizing craft drew De Niro to his side through the years. The moment we enter the next location for our shoot into the restaurant's kitchen, the chef's entire demeanor is transformed. The playful, free-spirited man cracking jokes and chatting up the room is now gone. In his place, a serious, transfixed master of the kitchen stands before us, delicately preparing his area. He carefully wipes down his knives, rolls up his sleeves and begins to pick up the warm rice in front of him, expertly forming it into an oval and swiftly slicing a thin piece of otoro sushi, as he begins to prepare a plate of omakase. Everyone in the room is silent as they watch his disciplined technique, never missing a beat. The scene is a vision: A man giving his whole heart and all his passion into his craft. Everything else in the world stops around him and nothing else matters outside of him and his food. It is a truly beautiful sight to see.
So, what's next for chef Nobu? With famed chef, restaurateur, hotelier, philanthropist and now author under his belt, we question what else this culinary icon has coming for us. Unfortunately, that must be left to the imagination at the moment. "I never try to plan my next project, because all of my projects are only just behind me, and I try to just keep moving forward and do my best," he unassumingly shares.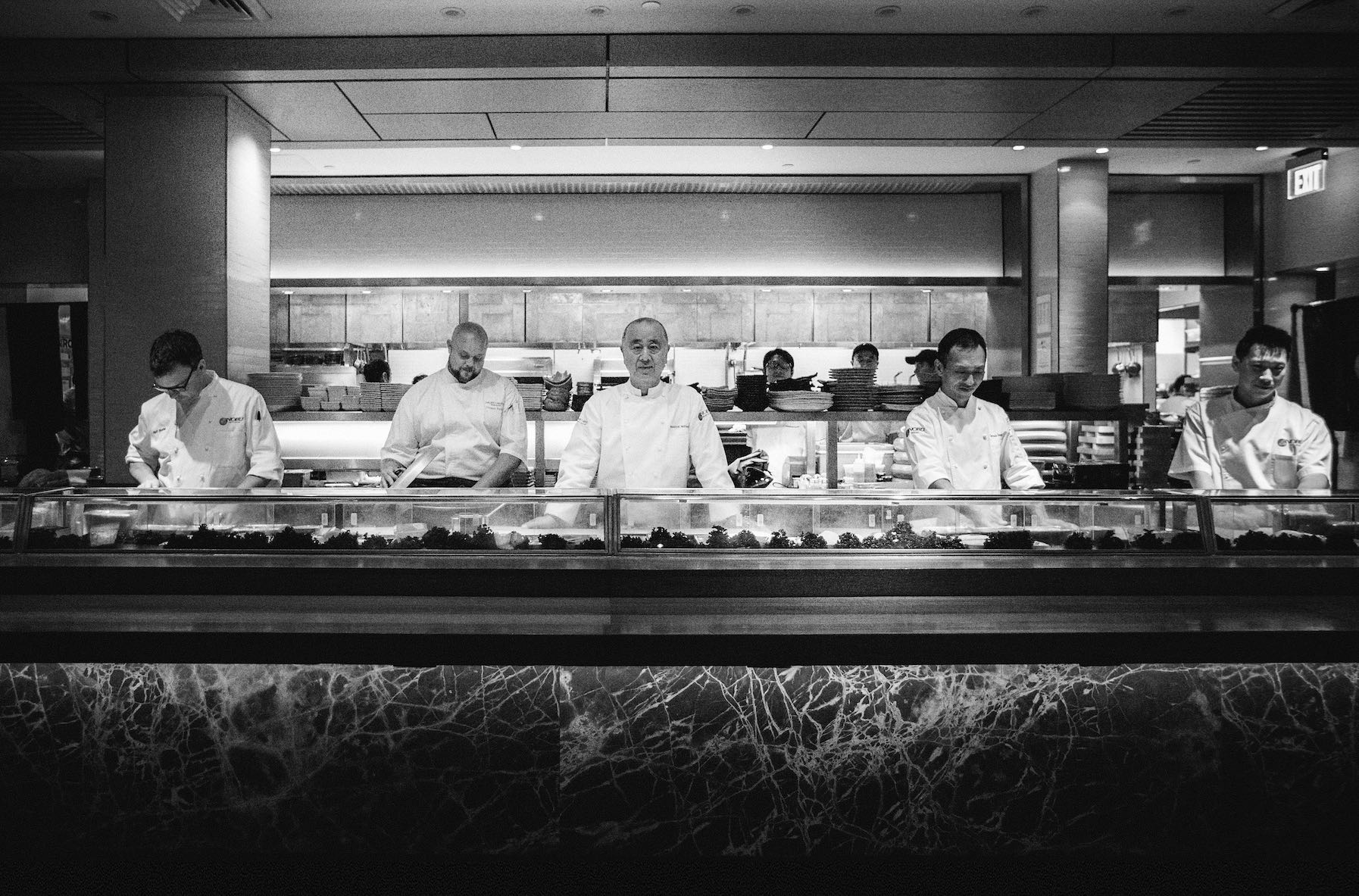 Photo Credit: TAMZ
However, he does have some advice to offer as he continues to stun the world with his impeccable finesse, dedicated work ethic and charitable endeavors. In short—be gracious, be thankful, be eager to learn and keep moving forward. "Before I came here, I was a kitchen chef. Because kitchen chefs say hello to everyone working, I always made sure to say, 'Thank you for your hard work,' and also, 'Welcome to the Nobu Family,'" he shares. "Don't fret about the challenges presented before you, just do your job. Don't worry about the mistakes. Always work to your very best and learn from your mistakes. And most importantly, instill strong teamwork and cook with passion."
Subscribe to discover the best kept secrets in your city