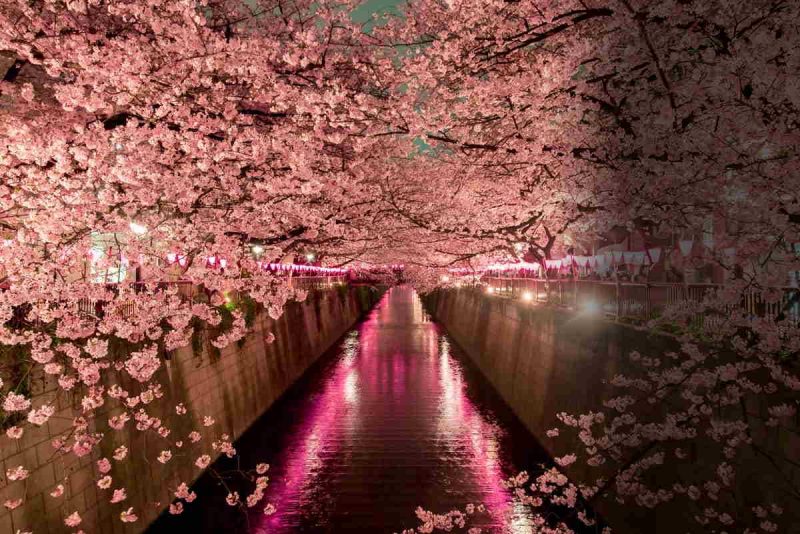 Photo Credit: Segawa7/Shutterstock.com
Each year, from March until May, something incredible happens in Japan—something that dominates the news, inspires specialty foods, spa treatments and cocktails, has its own festivals and even its own word, "hanami"—and that is cherry blossom season. Tracking these beautiful blooms—known by the Japanese as "sakura"—can be time-consuming, but with over 1,000 locations to choose from, chances are that you'll be spoiled with choices on checking out the flowering cherry for your own "hanami" ("flower-viewing") spots perfect for picnicking.
TOKYO
Photo Credit: apiguide/Shutterstock.com
There are several prime places to spot sakura in Tokyo, but for the best views head to Shinjuku Gyoen National Garden, which has 1,000 trees and 65 species of blooms; Ueno Park, which has over 800 trees; the Nakameguro neighborhood, where 800 trees line the Meguro River; Rikugien Garden, to see a magnificent, weeping cherry tree that stands at almost 50 feet tall―and illuminated at night; and Chidorigafuchi around the Imperial Palace for a royal view of the trees with the walls of Edo Castle as a backdrop.
WHERE TO STAY IN TOKYO
THE PENINSULA TOKYO
Photo Credit: Peninsula Tokyo
The Peninsula Tokyo, located just opposite the Imperial Palace and Hibiya Park in the Marunouchi district, is going big for sakura season. Through April 6, dozens of 10-foot cherry trees will transform its lobby into a cherry blossom cornucopia or "ohanami" (an indoor cherry blossom viewing destination). After enjoying the Japanese minimalism of the tech-savvy rooms (and relaxing post-flight in your room's rain shower or separate deep-soak bath), dine in the five-star property's signature grill eatery, Peter, which is offering up a sakura bento box for lunchtime hanami, while its bar area has concocted three original cocktails for the festivities. And there's more: The award-winning Peninsula Spa has a 110-minute Cherry Blossom Ceremony treatment on the menu, which includes everything from pre-beautifying pink treats to an exfoliating scrub and cleansing facial. Given that the hotel is a short jaunt away from the shopping capital, Ginza, guests may want to mix pleasure with pleasure by combining the Sakura Viewing Tour in one of the luxury cars from the hotel's custom fleet (its MINI Cooper S Clubman will be the most on-trend as it is wrapped in customized pink sakura livery in homage to the season, though we do adore our favored Rolls-Royce Phantom) and an afternoon of retail therapy.
1丁目-8-1 YURAKUCHO, CHIYODA, TOKYO 100-0006
SHANGRI-LA HOTEL, TOKYO
Photo Credit: Shangri-La Hotel Tokyo
The sweeping vista below your window at the Shangri-La Hotel, Tokyo, a hotel based on the legendary land featured in James Hilton's 1933 novel, Lost Horizon, is simply awe-inspiring. This luxury hotel, which occupies the top 11 floors of the Marunouchi Trust Tower in Tokyo's business hub, is celebrating a decade of existence this year in a variety of different ways—including its homage to all things sakura. Nadaman, the hotel's signature eatery, is offering a sumptuous kaiseki course with dishes like lobster and cherry bass to celebrate the season, while L'Aperitivo Bar has created two pretty-in-pink cocktails, including the absolutely decadent Sakura no Mai—rosé champagne, sakura liqueur, cranberry juice and lemon juice, topped with frothy pink cotton candy. On that sweet note, why not celebrate Japan's most-fêted time of year with champagne? The hotel has partnered with Krug, one of the world's most exclusive champagne houses, for a private Krug Suite experience that includes a stay in the two-storied Presidential Suite and a six-course dinner served among luxurious, Krug-inspired décor (think leather-bound books and candelabras) served with Krug, of course, in custom-designed "Joseph" flutes, named after the house's founder. And last but not least, make sure to check out the specially commissioned artwork by Gregory Burns titled "Sha," or "gratitude." You'll be bowing like a native at its brilliance.
MARUNOUCHI TRUST TOWER MAIN, 1-8-3 MARUNOUCHI CHIYODA-KU, TOKYO 100-8283
PALACE HOTEL TOKYO
Photo Credit: Palace Hotel Tokyo The Palace Hotel has a pretty prime location. In fact, one might say that it's fit for a king (or queen). It is, after all, located just opposite the Imperial Palace gardens, and in fact shares a moat with the Royal Palace. We adore the Palace Suite for its palatial marble-clad bathroom with a window-side soaking tub, complete with built-in jets, for taking in the best of Tokyo's skyline while relaxing post-flight like whoa. At the Palace Hotel Tokyo, the only wholly Japanese-owned and managed hotel in Tokyo, celebrating the cherry blossom and "omotenashi" ("Japanese hospitality") is an art form and as such, there is a package—Blossoming Tokyo—dedicated to it. Guests receive their very own flowering sakura bonsai for the duration of their stay and the additional indulgence of a limited-edition version of the hotel's signature sake cake, infused with the aroma of blooming sakura, as well as a two-hour privately chauffeured tour within Tokyo's 23 wards. For some stellar dining right at the hotel, make sure to pre-book a table at GO, a 14-seat theatrical teppanyaki restaurant serving up everything from Wagyu to Kobe, as well as its Michelin-starred eatery, Sushi Kanesaka.
1 CHOME-1-1-1 MARUNOUCHI, CHIYODA-KU, TOKYO 100-0005
THE MANDARIN ORIENTAL, TOKYO
The Mandarin Oriental, Tokyo, which towers sky high above Japan from the Nihonbashi neighborhood, a stone's throw from the Tokyo Stock Exchange, has some exciting offerings available for sakura season. One of its three Michelin-star restaurants, Cantonese eatery Sense (the others are French fine-dining establishment Signature and Tapas Molecular Bar), is presenting an eight-course, "full bloom"-themed dim sum lunch featuring dishes dubbed with sakura titles. At its Oriental Lounge, guests will find—for the first time ever—a course of seasonal libations using Mancino Sakura Vermouth, a libation created specifically for the hotel that has begun to retail throughout Japan. At its Gourmet Shop, sweet treats made with that very same customized vermouth, courtesy of pastry chef Stéphene Tranchet, are on the table, including a Sakura Verrine comprised of cherry blossom petals and gold leaf on a base of rosé champagne jelly and panna cotta. Last but not least, its MO Spa is offering the ultimate luxury in an adaptation of its "Totally Toyko" treatment. "Totally Tokyo Sakura" is 90 minutes of shiatsu-style techniques and stretching featuring sakura essence and salts. It's cherry blossom bliss personified. And although you wouldn't expect it, a visit to The Pizza Bar on 38th, an intimate, eight-person pizza eatery located within the K'shiki eatery, is one of the best culinary experiences we've had in life, full stop.
2-1-1 NIHONBASHI MUROMACHI, CHUO-KU, TOKYO 103-8328
WHAT TO SEE AND DO IN TOKYO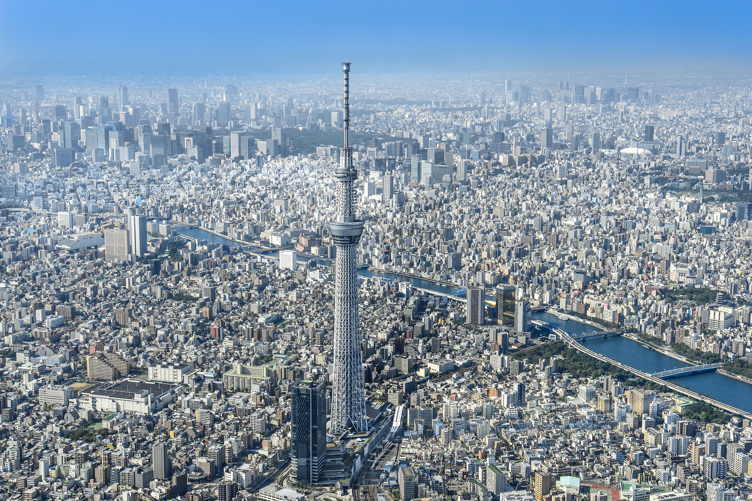 Photo Credit: ©TOKYO-SKYTREETokyo is unlike anywhere else in the world. It's a thriving metropolis that's in equal parts zany, luxurious and 100-percent unique. Our advice: Try to embrace the spirit of Tokyo and the things that make it so singular. While falling down the rabbit hole into an Alice in Wonderland café or driving a Mario Kart through the supremely clean streets isn't for everyone, here are our musts. For the best view of the city, head to Tokyo Skytree, which, at 2,080 feet, is the tallest freestanding broadcasting tower in the world. Wait until the sun sets and head into Sky Restaurant 634 (Musashi) a French-meets-Japanese eatery with unparalleled dinnertime views of the city.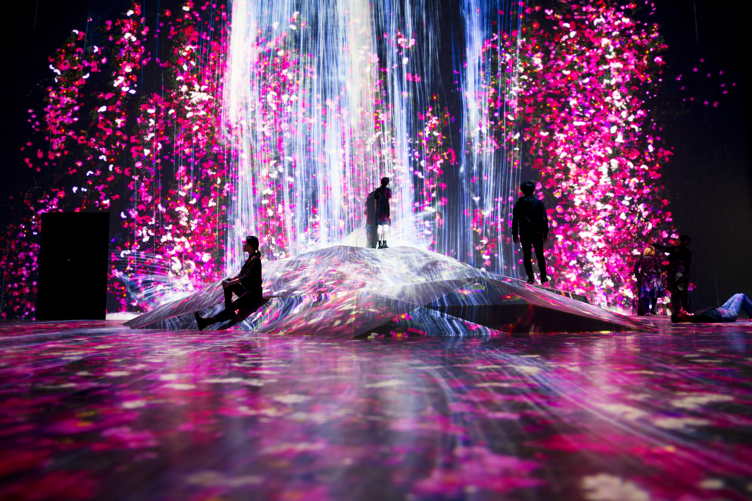 Photo Credit: MORI Building DIGITAL ART MUSEUM: teamLab Borderless, Odaiba, Tokyo
Embrace a new kind of art at Mori Building DIGITAL ART Museum: EPSON teamLab Borderless. Billed as the world's first digital art museum, Borderless, which is located in the Odaiba district, is a completely interactive experience that stretches out over six miles. Its name is a mouthful, but it absolutely lives up to its hype as one of the coolest new museums in the world. After having a taste of the future, enjoy the past by partaking in a distinctly old-fashioned kind of entertainment—Japanese kabuki—a classical dance-drama utilizing fabulous masks and costumes that tells the ancient stories of the country— at the Kabukiza Theatre, and learn about the purpose and pomp behind Japan's greatest warriors, the samurai, during a private training course at Samurai Kembu. Last but not least, no trip to the capital could be complete without taking a look at some of its most iconic and historical locations, such as the Imperial Palace, the Meiji Shrine and Sensoji Temple. If you feel like taking a walk on the wild side, Akihabara, Tokyo's Anime center, and Harajuku—beloved by Gwen Stefani for a reason—are absolute musts.
KYOTO
Photo Credit: Guitar photographer/Shutterstock.com Cherry blossom season in Kyoto is a distinctly different affair than that of Tokyo. There's virtually no photograph you can take that doesn't have a historic monument, a river or a geisha in the background—which makes for some epic shots. For the best spots to spot sakura, head to Maruyama-koen Park, the most popular location in Kyoto for hanami thanks to its surplus of sakura; The Path of Philosophy, which is liberally lined with cherry blossoms; the Kamogawa River, which is liberally lined with blossoms on either side; and Shimbashi, the most picture-perfect street in the Gion district.
WHERE TO STAY IN KYOTO 
FOUR SEASONS HOTEL KYOTO
Photo Credit: Four Seasons Kyoto
The newest luxury hotel in the heart of Kyoto's temple district, Higashiyama (it's been in existence for only 2.5 years), the Four Seasons Kyoto is the perfect place to take in the natural beauty of Kyoto during cherry blossom season, as the hotel itself has 22 sakura trees in its 800-year-old pond garden, where koi fish swim lazily and sunlight peeks through slender stems of bamboo. Here on the serene grounds is where the Four Seasons' goal of culturizing its guests peaks, by partaking in a private "chanoyu" (tea ceremony) during an exclusive private session that is only available to guests in the hotel's own Shakusui-Tei Tea House; other activities include crafting your own kitchen knife; and learning the art of "furoshiki"—the Japanese practice of wrapping and folding fabrics into clothing styles. A dinner at the 200-year-old sushi counter of its Michelin-starred sushi eatery Sushi Wakon is a must—fish are flown in every day from Tokyo's iconic Tsukiji Market—while Maiko (trainee geisha) are brought in every weekend to entertain guests with a dance in the sakura-filled lobby. The hotel is also celebrating sakura season with delectable cocktails courtesy of head bartender Raul Navarro: You'll definitely feel "in the pink" after sampling the Hanami Martini, a mixture of sakura flowers, Japanese whisky and mandarin bitters. 
445-3 MYOHOIN MAEKAWACHO, HIGASHIYAMA WARD, KYOTO PREFECTURE 605-0932
SUIRAN, A LUXURY COLLECTION HOTEL
Photo Credit: Suiran, A Luxury Collection Hotel
Set along the serene Hozugawa River, which turns a beautiful jade shade in the moonlight and surrounded by bamboo and sakura with amazing views of the Arashiyama Hills, Suiran, a Luxury Collection Hotel, is where you'll find a true Japanese ryokan experience without sacrificing luxury. This indigenous retreat—previously owned by the founder of Kawasaki—is inspired by traditional Japanese touches and culture, from the yukata pajamas and slippers in room to the private "onsens" (therapeutic, natural hot spring baths) located in the rooms. Plus, its location is absolutely prime: You can get to the Arashiyama Bamboo Grove with its acres and acres of tall grass and the Tenryuji Temple, a 14th-century UNESCO World Heritage Site, in mere minutes. While the hotel is not offering anything particularly specific for sakura season, its next-door neighbor is a museum of Japanese poetry with a rare sakura tree that will no doubt be beautifully in bloom come springtime. Its signature restaurant, Kyo-Suiran, an eatery set amid a majestic garden serving up washoku cuisine with a French flair in a carefully restored private residence that dates back to the Meiji era―will also no doubt add traditional touches to the springtime kaiseki menu, making Suiran the perfect historical place to master "kutsurogi," the Japanese art of relaxation.
12 SUSUKINOBABA-CHO, SAGATENRYUJI TSUKURIMICHICHO, UKYŌ-KU, KYOTO PREFECTURE 616-8385
WHAT TO SEE AND DO IN KYOTO
Photo Credit: ean Pavone/Shutterstock.com
Kyoto has a very different vibe to Tokyo, which is unusual considering that it was the capital city of Japan for over a thousand years up until 1868. With 2,000 temples and shrines, it's no wonder that it's such a serene city. Kyoto also has the distinction of being the existing home to the majority of the geisha in Japan—referred to as "geiko" in Kyoto—as well as the "ochayas" (or teahouses) where they entertain. A geisha entertaining is an art form, and special guests might be lucky enough to see one in action. To feel even more like a VIP, book an experience with the Kyoto Concierge Salon, the best, most private way to see the major sites of Kyoto, including the 10,000 orange torii gates of the world-famous Fushimi Inari Shrine, Nijō-jo Castle, and the Zen temple Koshindo. Last but not least, no visit to Kyoto is complete without a visit to (and a photo session at) the Arashiyama Bamboo Grove, which is just aching to be your new profile photo.
DAY TRIPS: ON THE HUNT FOR CHERRY BLOSSOMS
Photo Credit: Hoshino Resorts If you have some free time, these day trips are worth the journey on your quest for blossoming sakura. Head to Nikko, a small city in the mountains north of Tokyo, on the Tobu Railway (in your own private car, of course), to see the famous Shinto shrine, a memorial to the founding ruler of the Edo period, as well as lovely Lake Chuzenji and the Kanmangafuchi Abyss. Another epic trek would take you to Mt. Fuji, an active volcano as well as the country's tallest peak—about an hour southwest of Tokyo. While in the area, have a real ryokan experience (akin to one that Nobu Matsuhisa, Robert De Niro and Meir Teper made culturally relevant in America) at KAI Hakone. This Hoshino Resorts' ryokan offers its guests private access to the area's natural therapeutic hot springs, an immersion in local culture through the ancient teahouse art form of parquetry, and a traditional, multi-course kaiseki dinner, cross-legged on the floor and all.
FINE DINING
Photo Credit: Mandarin Oriental Tokyo Tokyo has just surpassed Paris to become the world's No. 1 dining destination, according to the 2019 Michelin Guide. The guide, which was released late last year, doled out a whopping 230 stars to restaurants in Japan's capital city. New additions include the sushi eatery Kobikicho Tomoki with two stars and Soba House Konjiki Hototogisu, the third ramen restaurant in the world to make the cut, with one star. There are 13 three-Michelin-starred restaurants in Tokyo alone, including new entrant L'Osier, which joins fellow French restaurants Quintessence and Joël Robuchon, as well as Japanese restaurant Kanda and famed sushi establishment Sukiyabashi Jiro Honten. There are also seven three-Michelin-star holders in Kyoto, including the kaiseki eateries Hyotei, Kichisen, Iida and Nakamura, plus the Japanese restaurants Kikunoi Honten, Kitcho Arashiyama and Mizai. With one Michelin star, Mizuki, the fantastic kaiseki restaurant at the Ritz-Carlton, Kyoto, showcases why hotel fine dining is on the rise. Based on the Japanese tradition of Go-mi, Go-syoku, Go-ho (five flavors, five colors, five cooking methods) these elegantly prepared small dishes presented on tableware designed by contemporary artists are a must for any gourmand. And while it does not have a Michelin star, pay a visit to the innovative Inua, a Tokyo gem helmed by former Noma chef Thomas Frebel, who has just taken home the World Restaurant Awards' Arrival of the Year.
Photo Credit: ©TOKYO-SKYTREE
Subscribe to discover the best kept secrets in your city