She's captivated us on screen, dominated the front row of New York Fashion Week and even sat at the center of an amazing campaign for Beto O'Rourke. So, when we heard Sophia Bush was at the forefront of a major museum exhibit celebrating women and all they can do, we weren't surprised at all. In fact, we were excited. See, she brings a fire to everything she does and this exhibit opening was no different.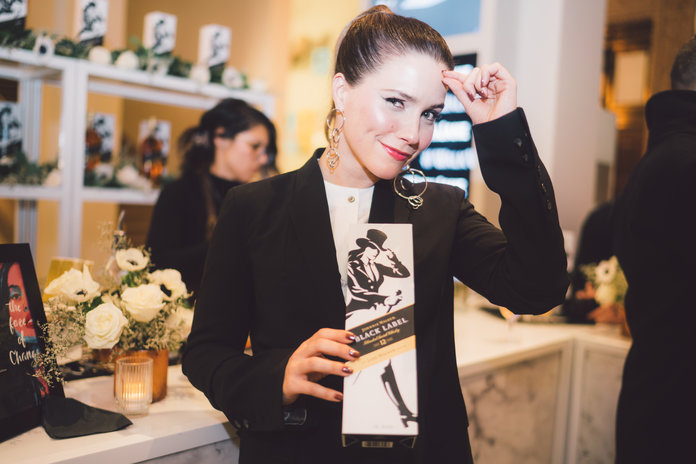 Photo Credit: Jose Silva
"I love the Jane Walker by Johnnie Walker Signs of Progress exhibit!" she says. "When I first walked into the rotunda to see it in person, I just stood there, staring up at the artwork, the messages, the brushstrokes and marker lines, and I got teary-eyed thinking about each and every woman and ally who made those signs. The emotional memory of the first march, and all of the subsequent days that we've taken to the streets to defend one another and this country that we live in? "
Sophia has long been an advocate for women's rights. Last year she took to the creators of Chicago P.D.to task—a hit show that she was starring in—for creating a culture of abuse towards women on set. It affected her so much, she walked away from the hit show and has remained a permanent fixture in the fights for women's causes. In just a few years she has helped to build schools with Pencils of Promise, worked with Michelle Obama on expanding education, raised money for those affected by the Deepwater Horizon oil spill and has been a huge supporter and advocate for F*** Cancer. Her partnership with Jane Walker is no different—she is hoping to raise awareness and money for some amazing causes and it all started with the transformation of the iconic Johnnie Walker symbol. Then, they found some organizations to work with that champion women's rights causes, including Monumental Women, in recognition of women in history who fought for progress, and She Should Run, to celebrate the future of women who lead the way. The collaboration culminated in an amazing visual celebration of Women's History Month — the Signs of Progress exhibit at the New York Historical Society that Sophia helped unveil. The pop-up exhibit, which runs through the duration of March, will feature a collection of preserved signs from women's marches across the country. The curated body of work commemorates the spirit of collective progress moving our country forward.
On opening day she took some time out to talk with us about her involvement in Signs of Progress, her passion for women's rights and what's next for her.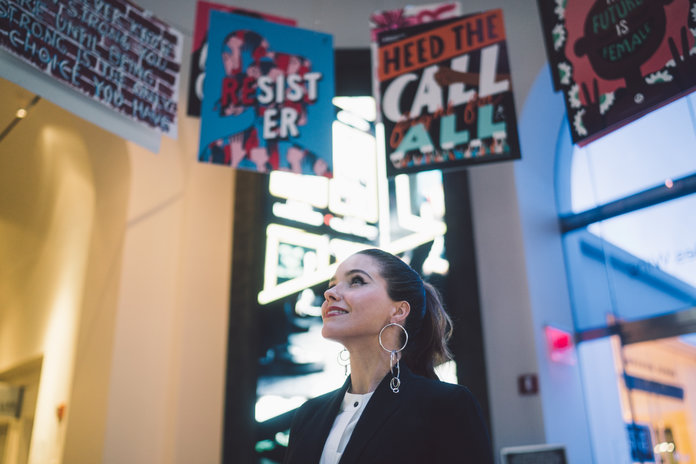 Photo Credit: Jose Silva
What inspired you to work with an iconic brand like Johnnie Walker on their Jane Walker project?
When Diageo launched Jane Walker by Johnnie Walker last year, to celebrate International Women's Day, and raise money for organizations that are advancing women in business and government, like She Should Run, I was thrilled. To continue our partnership this year, and support those same organizations and launch the Signs of Progress exhibit at the New York Historical Society? Talk about a dream come true! For me, these are the greatest possible brand partnerships to do. To raise money for good causes, support organizations who might not have access to the platforms that brands and entertainers do, and to do so with brands I actually have an affinity for—it's the best!
The spirits industry has long been considered a man's territory but, thankfully, that is changing now. Why are you such a Johnnie Walker fan?
I've never understood that! I think all people love a good craft cocktail! And perhaps now, thanks to the connectivity of social media, brands can see how many women love their products, too. Who knows! What I do know, and love, about Johnnie Walker, is that half of their blending team is female. There are incredible women filing roles at all levels of the company, too. So I'm excited that all of us ladies who are whiskey fans now have our own icon in Jane.
What do you love most about the exhibit?
That it is truly emblematic of the power of the people. That's who we should all strive to be. It was a profound reminder, for me, to never give up. Never stop fighting. Never stop showing up! In addition to launching the exhibit, we celebrated this IWD with an incredible panel packed with trailblazing ladies which Jane Walker by Johnnie Walker was generous enough to sponsor. It was a fantastic hour full of laughter and inspiration, stories of grit and tenacity and spirit. I went to bed that night feeling so full of inspiration.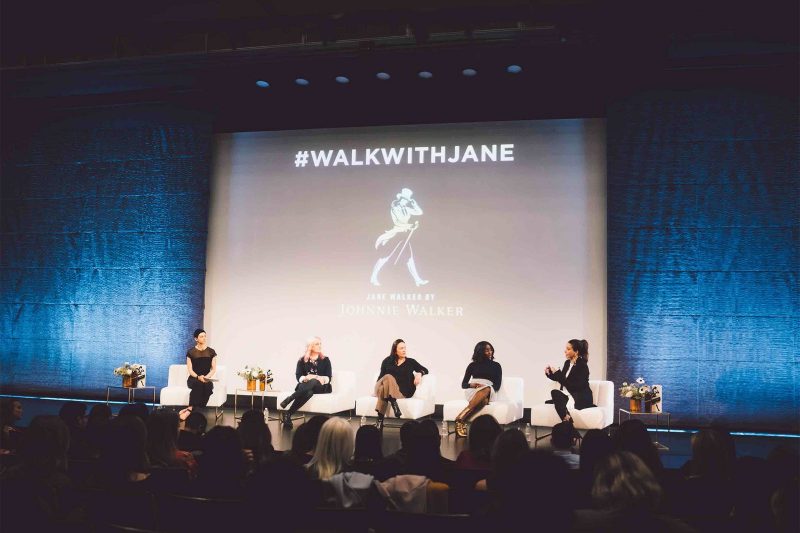 Photo Credit: Jose Silva
What advice do you have for women starting out in the industries you're already a pro in?
My advice to women, regardless of industry, is to know you're worth. To not make yourself small, or back down when you know you deserve better. You have to be your own champion. And you have to find others, other women, other allies in the workplace, who will help champion you as well. Then you've got to make sure to be there for those people. By creating real community and collaboration in the workplace, we can transform those spaces and make them into better and better environments for all of the people there.
What new projects do you have coming up?
I just produced my first pilot. It's a political drama called Surveillance. It was such a fantastic ride, to work on developing the project with the writer David C. White, and to be involved in everything that came afterward from patterning with my inimitable director and EP Patricia Riggen, to selling it, to staffing it, to casting it, and then experiencing the set as a producer and an actor too. It was a whole new learning curve, and certainly the most fulfilling thing I've done to date.