Did you know that Drake, Sandra Bullock and even Channing Tatum own their own bars and restaurants? Take a look at the celebrities who can also add 'restauranteur' to their resumes.
DRAKE: PICK 6IX 
Photo Credit: Pick 6iX/Facebook
Rapper Drake (along with pal OVO Chubbs) opened the trendy Pick 6ix, a slick stylized restaurant with a private entrance and VIP dining room befitting his own star status, in his native Toronto. The kitchen is helmed by Chef Antonio Park and heavily features salads, duck, beef, chicken, and a few Korean dishes, including short-ribs.
Pick 6ix
33 Yonge St, Toronto, ON M5E 0A9, Canada
---
SANDRA BULLOCK: WALTON'S FANCY & STAPLE 
Photo Credit: Walton's Fancy + Staple
Sandra Bullock is the owner of Walton's Fancy & Staple, a bakery, takeout deli, coffee shop, florist and catering hub in Austin, Texas. that specializes in Southern comfort food and desserts. Try the Honey Bee Cake—honey-almond cake layered with caramel buttercream and topped with ganache—and the Tippy Bar, a caramel and chocolate blondie with coconut and pecans.
Walton's Fancy & Staple
609 W 6th St, Austin, TX 78701
---
ROBERT DE NIRO: NOBU 
Photo Credit: Nobu
The OG Robert De Niro is the co-owner of the high-end sushi chain Nobu, along with producer Meier Teper and, of course, namesake Nobu Matsuhisa. Worldwide restaurants are opening at a staggering rate, though the crown jewel in the brand's portfolio is its best-selling Malibu eatery. Try fan favorites like the hamachi with jalapeno, black cod with miso and toro tartare.
Nobu Malibu 
 22706 Pacific Coast Highway, Malibu, CA 90265
---
MICHAEL JORDAN: 1000 NORTH
Photo Credit: CJ Walker
NBA legend Michael Jordan is just one of the investors of 1000 North, a restaurant and private members club in Jupiter, Florida that serves lunch, dinner and brunch. Try the decadent Lobster Tail Benedict with spinach, tomato and blood orange hollandaise.
1000 North 
1000 North U.S. Highway 1, Jupiter, FL 33477
---
LUDACRIS: CHICKEN + BEER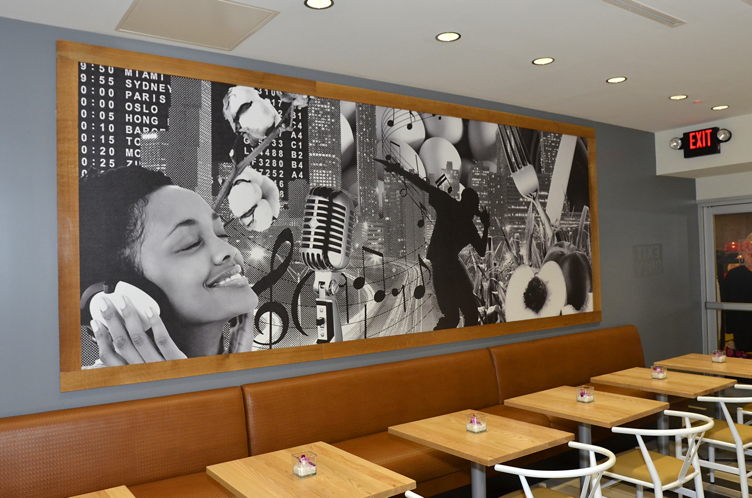 Photo Credit: Chicken + Beer
Rapper-turned-actor Ludacris is the brainchild behind this eatery in his native Atlanta at the Hartsfield-Jackson Atlanta International Airport that serves fried Southern staples. Go big before your flight and opt for Luda's chicken and sweet potato butter pecan waffles with bourbon maple syrup.
Chicken + Beer
Hartsfield-Jackson Atlanta International Airport, Concourse D
---
NAS: SWEETCHICK 
Photo Credit: Jake Ahles
Nas and restaurateur John Seymour opened this chicken and waffle joint in New York before expanding operations to Los Angeles, which features a radio station room, a photo of Samuel Jackson's "DJ love Daddy" character from Do the Right Thing and a neon sign that quotes Ice Cube's "Today was a Good Day." We dig the crawfish hush puppies Crawfish Hush Puppies served with jalapeno jam. 
448 N Fairfax Ave, Los Angeles, CA 90036
---
CHRIS NOTH: THE CUTTING ROOM 
Photo Credit: The Cutting Room
Mr. Big was always a cool customer on Sex and the City, and it's only fitting that the guy who plays him on the small screen, Chris Noth, should own a live music venue that follows suit—one that has hosted the likes of John Mayer, Lady Gaga, Sting, Sheryl Crow and David Bowie. The extensive menu at The Cutting Room's new location on 32nd St. between Park and Madison has everything from steaks and salads to pizzas and lobster.
The Cutting Room 
44 E 32nd St, New York, NY 10016
---
JAY-Z: THE 40/40 CLUB 
Photo Credit: The 40/40 Club
A venue befitting musical royalty has to be opulent, and 40/40, Jay Z's nightclub homage to baseball greats Jose Canseco, Barry Bonds, Alex Rodriguez and Alfonso Soriano—the only four players to steal 40 bases and hit 40 home runs in a single season—doesn't disappoint. After a $10 million renovation, the sports bar and lounge includes a custom 20' x 20' illuminated resin top bar encircling an 18-foot tall illuminated champagne tower, four 165in state-of-the-art video walls, a 'catwalk,' one-of-a-kind jersey hall of fame featuring the 40/40 club members and five VIP lounges.
The 40/40 Club
6 W 25th St, New York, NY 10010
---
CHANNING TATUM: SAINTS & SINNERS
Photo Credit: Saints and Sinners/Facebook
After countless childhood visits and several on-location film shoots, Magic Mike actor Channing Tatum, along with longtime friend and business partner Keith Kurtz, fell in love with New Orlean's laissez les bons temps rouler attitude and decided to open a lounge that embodied the Big Easy. They modeled Saints & Sinners after famous red-light district bordellos and burlesque halls of New Orleans' Storyville era, and the city's ribald, good-time reputation. Even better, it's a bar with a conscience: Saints & Sinners uses its venue and profits to help charity organizations locally and world wide.
Saints and Sinners
627 Bourbon St, New Orleans, LA 70130
---
ARMIE HAMMER + ELIZABETH CHAMBERS HAMMER: BIRD BAKERY 
Photo Credit: BIRD Bakery
BIRD Bakery is the adorable brainchild of Elizabeth Chambers Hammer and Oscar-nominated husband Armie Hammer, located in her native San Antonio. The cupcakes are sublime—make sure to try them! But best of all, at the end of each day, all remaining cupcakes and treats are given to local non-profits and philanthropies. How's that for sweet?
BIRD Bakery 
5912 Broadway St, San Antonio, TX 78209
---
RALPH LAUREN: THE POLO BAR 
Photo Credit: The Polo Bar
World-famous fashion designer Ralph Lauren is the man behind The Polo Bar, an elegant, classic eatery that serves up American classics while paying homage to the equestrian world he's centered his brand upon.
The Polo Bar
1 E 55th St, New York, NY 10022 
---
JON BON JOVI: SOUL KITCHEN
Photo Credit: Soul Kitchen/Facebook
You've got to love a man with soul. Jon Bon Jovi and wife Dorothea own and operate two locations of their volunteer-run Soul Kitchen in New Jersey, where diners of all socioeconomic backgrounds sit together at communal tables: Both paying customers, and those in need. All ingredients are local to the area, and are sourced from within five miles of the eateries.
Soul Kitchen 
207 Monmouth Street, Red Bank, NJ 07701
---
LISA VANDERPUMP: PUMP, VILLA BLANCA, SUR 
Photo Credit: Pump/Facebook
Real Housewives of Beverly Hills star Lisa Vanderpump is also a restaurateur. She owns several eateries in the L.A. area, including Pump, Villa Blanca and SUR—which even has its own reality show—Vanderpump Rules. Go in search of your 15 seconds.
Pump
8948 Santa Monica Blvd, West Hollywood, CA 90069
---
MOBY: LITTLE PINE 
Photo Credit: Little Pine
Singer-songwriter Moby opened this awesome vegan eatery in the Silver Lake neighborhood of Los Angeles to much fanfare. Dinner is great, but we suggest the weekend brunch: The lemon poppyseed pancakes with  coconut whip and fresh fruit are out of this world.
2870 Rowena Ave, Los Angeles, CA 90039
---
FLORIDA GEORGIA LINE: FGL HOUSE 
Photo Credit: Susan Berry
Country band Florida Georgia Line are the owners of the eponymous FGL House (get it: Florida Georgia Line House), serving up Southern-style food with a California flair including gluten-free flatbreads, burgers, sandwiches, steak and fish — plus the exact same salads the band's chef makes Brian Kelley and Tyler Hubbard when on the road. The extensive drink menu includes cocktails mixed with the band's Old Camp Whiskey.
FGL House
120 3rd Ave S, Nashville, TN 37201
Subscribe to discover the best kept secrets in your city