Photo Credit: Sarunyu L / Shutterstock.com
The sixth film in Tom Cruise's Mission: Impossible series, Mission: Impossible – Fallout, hits theaters today, and it was more than the star himself—and the death-defying stunts that he does himself—that had audiences gasping in awe: The shooting locations were absolutely out-of-this-world spectacular. While we don't envy his job as covert field operations agent Ethan Hunt, Cruise does get to travel to some pretty amazing places throughout the film, including London, Paris, the United Arab Emirates, Norway and—during its grand finale—New Zealand, which doubled for Kashmir. Here, we take you through some of Cruise's Kiwi locations in Queenstown—otherwise known quite aptly as the adventure capital of the world—and share how you can have a similar, though exponentially more luxurious, stay… minus, you know, the death-defying stunts.
---
FILMING LOCATIONS

Photo Credit: Over The Top Helicopters
Queenstown, which also served as Middle Earth in Peter Jackson's Lord of the Rings trilogy, doubled as Kashmir. The cast and crew utilized the wild landscape and natural beauty of Rees Valley, Otago to shoot the nail-biting finale. Cruise—who spent two years training to get his pilot's license specifically for the film—showed off his prowess in a helicopter (New Zealand, for the record, is said to have the highest number of helicopters per capita) zooming around Lake Quill and Sutherland Falls, which has a drop of almost 2,000 feet. The movie also shot in Milford Sound, one of the most breathtaking places in the world, but also one of the wettest, so much so that tour groups only, on average, head out three days a week, which may have been tough (but so worth it) for the crew. The tiny settlement of Glenorchy also served as the village in the film's final scenes (you might recognize it from Hugh Jackman's X-Men Origins: Wolverine, as well).
---
HOW TO HAVE A LUXURY EXPERIENCE IN QUEENSTOWN (NO FALLOUT NECESSARY)
Photo Credit: Matakauri
While the cast and crew stayed in private homes closer to the film set, visitors may want to have a slightly less isolated stay… unless you value your privacy, that is. There are a plethora of amazing places to stay in the Queenstown area, but here are our top two choices.
---
WHERE TO STAY
The first of our picks is Matakauri, which is owned by investor, hedge fund manager, philanthropist and signatory of The Giving Pledge Julian Robertson. The New Zealand luxury lodges are incredibly unique: Service is impeccable, and while the stays are lavish but the ambiance and staff are, while professional, also friendly in a way that isn't forced—this could be your home away from home (but better, as we're fond of saying). Sit at the pool on a sunny day or swim in the lake, which is literally feet way. Take a bath in a sunken tub which also overlooks said lake; it's the ultimate indulgence. There's the overflowing mini bar laden with complimentary snacks and New Zealand wines, a fabulous gym with doors that spill out to majestic views of the Queenstown landscape, and a restaurant that offers a five-course, gastronomic feast—that's included with your stay—every single night. It's no wonder that the Duke and Duchess of Cambridge stayed here when they toured New Zealand in 2014. Naturally, they stayed in the lavish Owner's Cottage, the largest and most opulent place on the property.
Then, there's Eichardt's Private Hotel, a radically different experience, but just as amazing. This boutique hotel is literally in the heart of downtown Queenstown, in the midst of the action, but with a bird's eye view of Lake Wakatipu. We love the lalmost masculine energy here, masterminded by renowned New Zealand designer Virginia Fisher. Each suite is elegantly appointed with a super king bed finished with platinum linen and a possum fur throw, large dressing room and generous double bathroom, a lounge area featuring a snug gas fireplace, and custom touches like hand-cut lilies. There are heated floors, one-touch heating and integrated entertainment systems and that view. We suggest sitting on your lakefront balcony with a glass—OK, a bottle—of New Zealand pinot and being mindful of all that's around you. Add in the fact that the hotel has acquired the region's first premium nautical offering, the Pacific Jemm, a 79-foot Falcon 80 S, and we're in love. As a side note, the the lavish vessel includes four luxury suites and has at its beck and call two crew alongside Eichardt's' chef, who will prepare custom menus with an emphasis on locally-sourced fare.Three expansive terraces provide the perfect vantage point to explore hidden coves, mountain vistas or Insta-worthy backdrops looking back to the famous Queenstown bay. Options for cruising include scenic daytrips to Glenorchy and a helicopter over to the West Coast for crayfish before anchoring up to cook the catch. For the truly adventurous, guests can super-charge the experience with their pick of an Aston Martin, Lamborghini Gallardo Spyder, Audi R8 or Porsche 911 to race to Glenorchy before again being helicoptered over the Southern Alps, gathering West Coast delicacies and devouring the freshest Kiwi seafood aboard a cruise back to Queenstown. Custom fireworks displays over gourmet dinners that light up The Remarkables, Cecil Peak and Walter Peak mountain ranges will set the scene for epic moments.
---
WELLNESS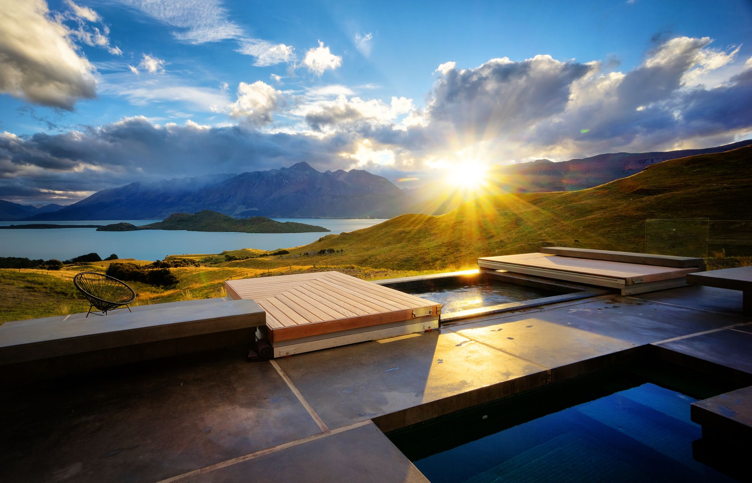 Queenstown is so much about adventure that it's hard to remember sometimes to find your center without going, going, going. Damian Chaparro has brought some of the SoCal Zen to Queenstown for a truly retreat in Aro Hā. Here, just minutes from Glenorchy, guests are invited to find their center at this all-inclusive, plant-based retreat. Aro Hā is an adventure in wellness, so to speak, offering yoga, sub-alpine hiking, world heritage surroundings, mindful practices, un-cooking classes, functional strength training, a daily massage and contrast spa therapy. We love the purposefully built, secluded facility, the Zen-inspired eco-accommodation, the overall feeling of inclusivity and the overall sensation of serenity that greets you the moment you set foot on site.
---
ADVENTURE
Photo Credit: Over The Top Helicopters
Queenstown is the perfect spot for daredevils like Cruise, who not only does all of his own stunts—including jumping out of planes, learning to fly helicopters and scaling buildings—which earned him a broken ankle for his efforts while shooting Fallout in London. But what makes it adventurous? First and foremost, Queenstown is best known for being the home of the world's first commercial Bungy operation—developed by A.J. Hackett in 1988 at the historic Kawarau Bridge. There's also whitewater rafting, river surfing, canyon swinging, jet boat adventures, crazy hikes, a zipline, quad biking, off-roading, horseback riding, luge, motorcycle tours, hang gliding, paragliding, parasailing, hot air balloons, kayaking and—our favorite—landing on a glacier after zooming through Milford Sound courtesy of Over The Top helicopters. It's a bucket list adventure, indeed… and if you haven't gotten it by now, yes, we're talking about Queenstown.
Photo Credit: AJ Hackett/Tourism New Zealand
Queenstown 1
Milford Sound Fiordland
Photo Credit: Rob Suisted
Queenstown 3
Clarke Glacier
Photo Credit: Tourism New Zealand
Queenstown 4
Gibston Valley
Photo Credit: Miles Holden
Queenstown 5
Winter activities in Queenstown
Photo Credit: Julian Apse
Queenstown 6
Lake Wakatipu
Photo Credit: Tourism New Zealand
Queenstown 7
Glenorchy, which served as a village in Kashmir in "MI - Fallout"
Photo Credit: Miles Holden
Queenstown 8
The Parlour, Eichardt's
Photo Credit: Eichardt's
Queenstown 9
Eichardt's Private Hotel
Photo Credit: Eichardt's Private Hote
Queenstown 10
The exterior of Eichardt's Private Hotel
Photo Credit: Eichardt's Private Hotel
Queenstown 11
Matakauri Owner's Cottage master bedroom
Photo Credit: Matakauri
Queenstown 12
Matakauri Owner's Cottage balcony
Photo Credit: Matakauri
Queenstown 13
Matakauri Owner's Cottage master bedroom seating area
Photo Credit: Matakauri
Queenstown 14
Matakauri Owner's Cottage bahtroom
Photo Credit: Matkauri
Queenstown 15
Matakauri Owner's Cottage lounge and dining room
Queenstown 16
Aro Ha Queenstown spa
Photo Credit: Aro Ha
Queenstown 17
Aro Ha pool view
Photo Credit: Aro Ha