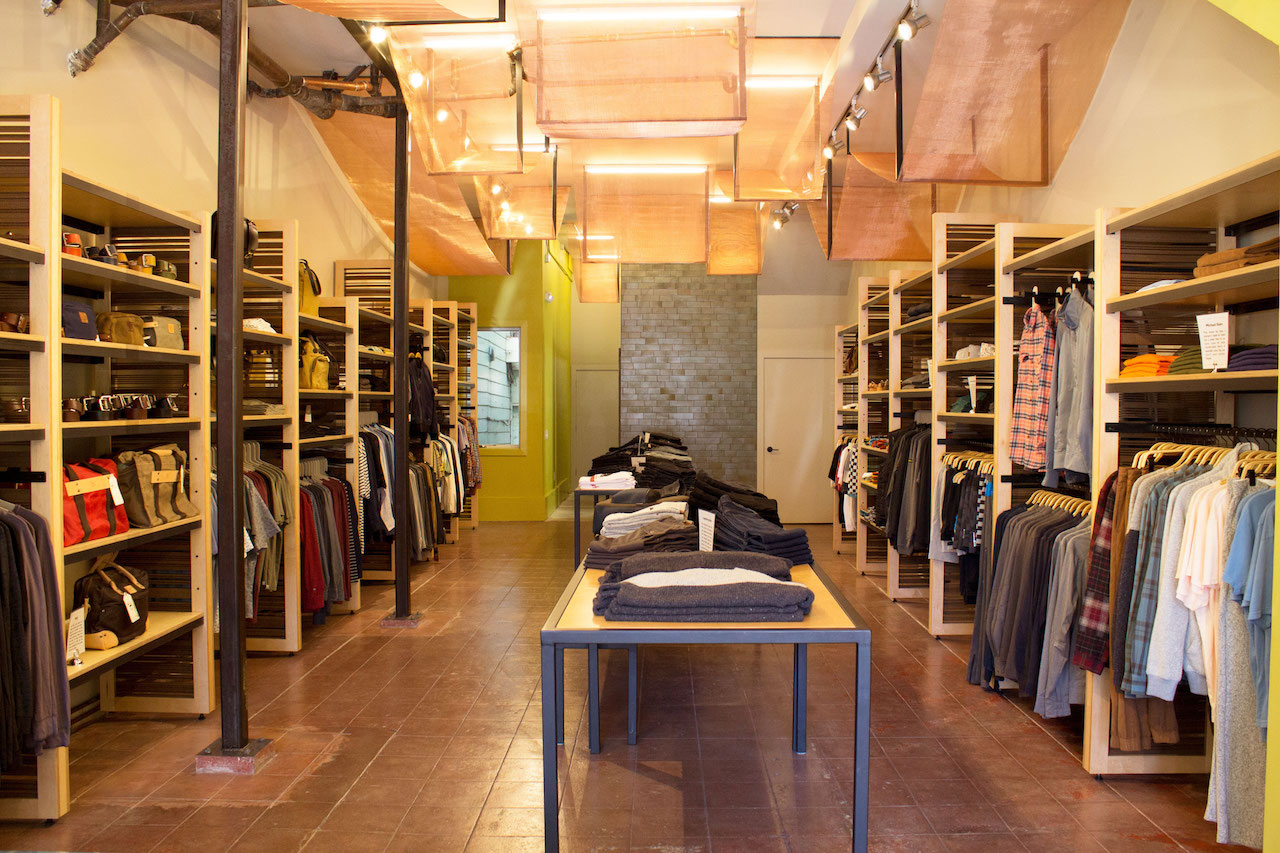 This holiday season instead of doing a traditional gift guide, I've reached out to my favorite local shop owners to learn what they recommend giving. The retailers stock their respective stores with gorgeous clothing, covetable home goods, sensational spirits, and delicious eats, so naturally they have a knack for selecting the perfect gift. I came up with a list of 10 quintessential SF personalities, from the gentleman farmer to the Color Factory girl, and asked the curator what they would give each unique type. Now through Christmas, I'll be sharing their gift guides.
Randy Brewer has been keeping shop in San Francisco for over 30 years. The co-owner of Convert (which has three locations—one in Hayes Valley and two in Berkeley) is also ahead of his time. He was sourcing sustainable fashion brands and clothing made in the USA long before it became a trend. A longtime champion of eco-friendly fashion, Brewer also enjoys traveling. Although he's been to "practically every corner of Italy," the handsome gent has never been to Sicily and he's added a trip to the Italian island to his holiday wishlist. What's he giving to his friends and family? Here, Brewer shares his gift guide in his own words.

The Lady Who Launched: The Bailey 44 Jekyll Jacket ($312, made in the USA) is a stretch ponte jacket with collar and lapel detail, over- sized patch pockets and single buQon closure that sits higher towards the chest.

The Hoodied Tech Bro: Modern cards, such as a transit pass, credit cards, have a chip and antenna for wireless communication. These RFID (Radio- Frequency IDentification) or NFC (Near Field Communication) cards increase convenience, but consequently the risks too. They can be activated, selected and copied from up to many feet away, without you noticing. The Secrid miniwallet prism ($95) has the aluminium core of all Secrid wallets and works as a firewall in your wallet. Digital pickpocketing is made impossible. It carries six flat cards or four embossed cards, business cards, cash, and four extra cards. Prism is made from corrected grain leather sourced from European cowhides. The sharp angular lines of the embossing give this artisanal leather a distinctly modern feel.
The Fabulous Couple: Sometimes you just need the basics. This simple tote ($145, made in exclusive colors for Convert) is fully lined and has one inner pocket. What's cool is that its made locally in Oakland by MoMurray. It can easily fold to fit in another bag or be the primary for the day. 

The Cool Mom: Gorgeous, warm and sustainably made, this Indigenous studded fleece coat ($172) has unique details throughout. Small, paired metal studs run down either side of the zipper for an elongating effect. Horizontal embroidered detailing adds a quilted appearance around neck, cuffs, waist and hemline. Our eco-friendly organic cotton fleece creates the perfect sustainable outerwear.

The Wine Country Escapists: Graf Lantz Wine-O's ($18) are perfectly simple and incredibly useful. Attach to wine glass stems in a crowd for easy identification. The Graf Lantz Wine Carrier ($48) is an easy way to transport your best bottles and an even better way to gift them.

The Budding Mixologist: Graf Lantz traditional Bierfilzl coasters ($24) are the highest quality German merino wool felt coasters on the market today. Their clean and minimal execution offers an unexpected textural and refined modern heritage element to any home decor. The set includes four hand-cut heavy-duty thick wool felt coasters to provide extra surface protection from the naturally water resistant material.

The Restaurant Hound: Headline Shirts T-shirt ($28) of a pig that says "Eat Your Veggies."

The Gentleman Farmer: The Apolis + Convert Market Bag ($70) in black has a longer strap handle and a water proof lining. People in Bangladesh are paid a living wage to make these bags, then they are finished in California. It's waterproof, so you can fill it with ice to make a portable ice bucket.

The Interior Aesthete: A-Lamp Cohen lamp ($231) has a fully dimming switch with hardwood walnut knob, copper piping, black and gray cotton weave cord, and small globe bulb with spiral filament.

The Color Factory Girl: The Fjallraven Kånken backpack ($80) is made out of durable, lightweight Vinylon F. The Kånken has a big main compartment with a large opening, two side pockets, a zippered pocket in the front, handle at the top, narrow, supple shoulder straps, and a pad in the pocket and logo that doubles as a reflector.
Check out the other gift guides in this series! 
Jay Jeffers and Michael Purdy of Jay Jeffers The Store
Hero Shop's Emily Holt
Bi-Rite market's Liz Martinez
St. Frank's Christina Bryant 
Subscribe to discover the best kept secrets in your city